Excellent teamwork skills can help you excel in any academic or professional environment where you need to work with others.
In this article you'll find a definition of teamwork skills, eight teamwork skills examples, and how to highlight your teamwork expertise on your resume.
What are teamwork skills?
Teamwork skills are the soft skills you need to work well with others to achieve a common goal. You use basic teamwork skills whenever you work on a collaborative project or participate in a group meeting.
Possessing a strong set of teamwork skills makes you an effective team member and can help you advance into leadership roles. Because of this, employers are always looking for candidates with good teamwork skills.
Teamwork soft skills can be an asset even in occupations where work is often performed independently. For example, a custodian needs to be able to coordinate with a custodial team or administrative staff, and an author must be able to communicate with agents and publishers effectively.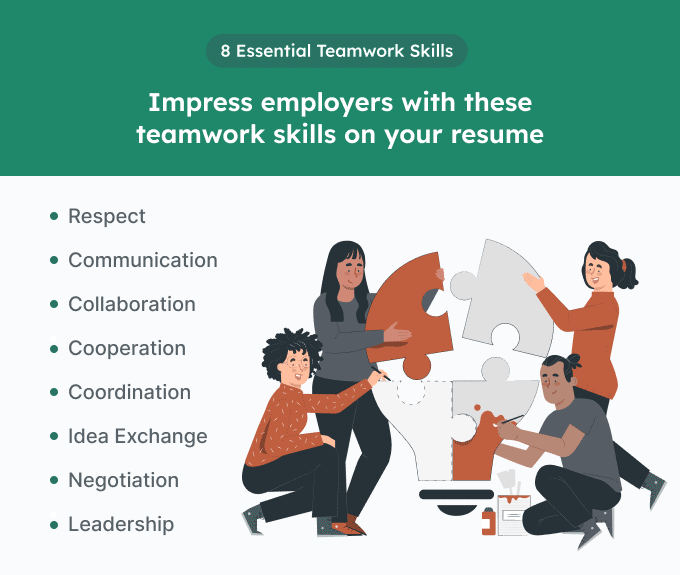 8 examples of teamwork skills
Teamwork is one of the best skills to put on a resume, as long as you can demonstrate your ability to work on a team with real-life examples.
Below are some essential examples of teamwork skills that you can highlight on your resume to set yourself apart from the competition.
1. Respect
Respect is a vital characteristic of any healthy team, and provides a strong basis for productive collaboration. Being respectful of your peers helps build relationships and a sense of trust.
Creating an environment of mutual respect allows team members to openly express themselves and confidently share new ideas.
While "respect" is not really a quality you list on your resume, think about how you've demonstrated respect for others in the workplace in the past, and use some examples in your work experience section.
2. Communication
Strong communication lays the foundation for good teamwork skills.
Your communication skills determine how effectively you can express yourself and how well you understand others, both of which can greatly impact your ability to work on a team.
The ability to communicate clearly is a critical interpersonal skill that will serve you well in the workplace.
Here are several communication-related teamwork skills to highlight on your resume:
Active listening – being part of a team means listening to others. Active listening allows you to fully understand what your peers are saying, which will make them feel respected and help form a clear idea of the team's vision as a whole.
Verbal communication – the ability to speak clearly with your peers will help you to build connections with them as well as communicate your ideas effectively.
Digital communication – with so much collaboration taking place online, it's more important than ever to communicate constructively over digital platforms, whether it's email, Slack, or Twitter.
Responsiveness – responding to colleagues in a timely fashion is not only respectful, but demonstrates that you're a good team player by ensuring others can proceed with their work.
3. Collaboration
The ability to collaborate is useful in any position that involves group projects or working with other departments. If you work in an industry that often requires close collaboration, such as design or marketing, then it's particularly important to demonstrate your skills by showcasing previous collaborative projects.
If there are any collaboration tools that you have experience with, you should list those on your resume. Here are some examples:
4. Cooperation
Cooperating as part of a group requires putting collective goals above personal goals, which often means learning to compromise. Employers know that workers who are good at cooperating with others will help strengthen their team and boost productivity.
Demonstrate your ability to cooperate by listing group projects on your resume or including times when you had to cooperate with departments outside your own, and what you achieved in the process.
Convincing others to cooperate with you is also an important skill, and one that will definitely make a good impression on employers.
Consider ways you've helped foster cooperation and include these in your resume. For example, if you've ever organized an event, you've also likely had to get multiple people to cooperate with you to make the event happen.
5. Coordination
When every team member has a different task, it can be challenging to keep track of what's going on. Coordinating a team's workflow is a skill that ensures efficiency and smooth operation, which is what makes it so valuable to employers.
Coordinating effectively with others often requires some organizational skills, and sometimes even technical skills like using specific productivity software. Here are some examples of skills that can help demonstrate your ability to coordinate:
Scheduling
Prioritizing
Project planning
6. Idea exchange
Idea exchange isn't just for people in creative industries.
If you're working as part of a team, idea exchange is a great way to solve problems and develop creative solutions. Exchanging ideas can drive a team forward and lead to innovation (which employers love).
A team that's growing, adapting, and developing innovative solutions is a successful team.
Exchanging ideas with your teammates can be a powerful tool for finding new paths to success. Here are some skills to demonstrate on your resume that show you're great at exchanging ideas on a team:
Creativity
Curiosity
Brainstorming
Experimenting
Questioning
Inspiration
7. Negotiation
Different perspectives and opinions will inevitably emerge when multiple people are involved in a project. How a team handles these differences determines their ability to move beyond them.
Even on the most cooperative teams, it's likely that a disagreement will arise at some point. Negotiation is a respectful way to acknowledge each party's stance and find a way to integrate them so that everyone is satisfied.
Employers want to hire negotiators who can help solve internal conflicts effectively, so highlighting strong negotiation skills on your resume will help you stand out from other candidates.
8. Leadership
Many teamwork strengths are also qualities that make a great leader. Leadership skills require the ability to manage a team and inspire team members.
Here are some examples of teamwork skills that show employers you have what it takes to lead other people:
Delegation – entrusting team members with tasks that match their individual skill level and work pace helps a team to operate effectively.
Problem solving – the ability to take responsibility and initiative to solve problems is a key leadership skill.
Conflict resolution – leading others means managing a group dynamic. You should be equipped to mediate and diffuse an issue when it arises.
If you can demonstrate these teamwork skills on your resume, you'll convince employers that you're well suited for a leadership role.
How to put teamwork skills on your resume
If you want to demonstrate your teamwork skills to employers, you need to know the right way to include them in your resume.
Here's how to effectively highlight teamwork skills throughout your resume:
1. Pinpoint specific teamwork skills most relevant to the position
When including teamwork skills on your resume, you should consider the position you're applying for and what skills will be most relevant.
The easiest way to figure this out is by looking at the job description.
For example, look at this job ad for a candidate with graphic design skills, with relevant teamwork-related skills underlined in blue: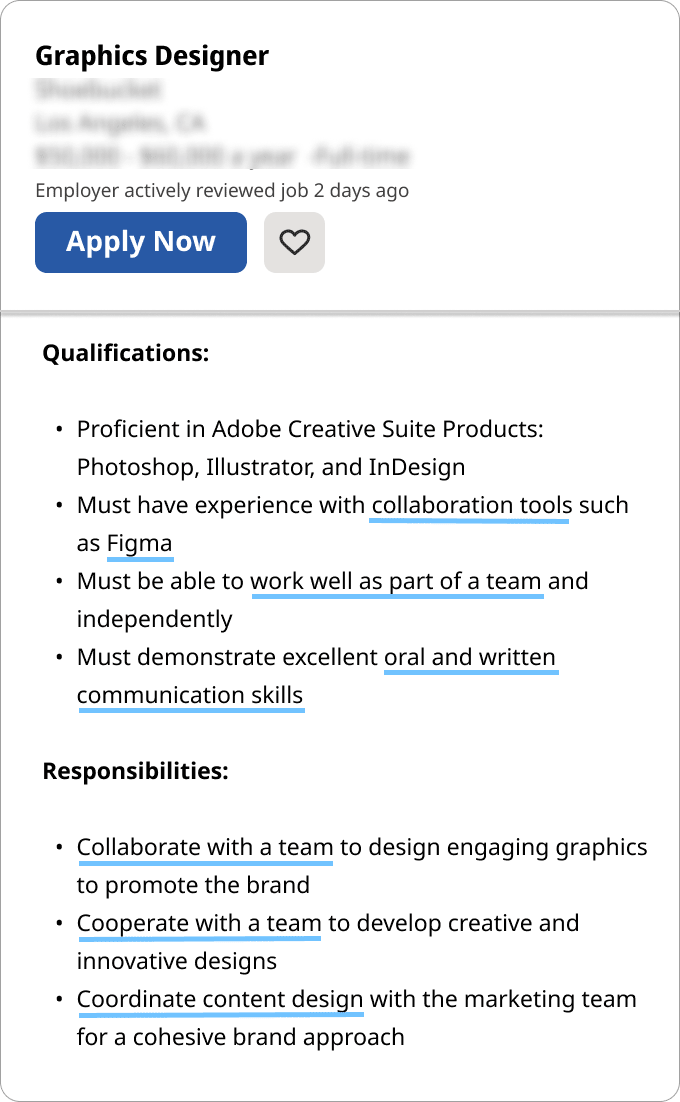 By picking specific teamwork skills from the job listing and including these on your resume, you'll grab a hiring manager's attention by letting them know that you have the exact qualifications they're looking for in a candidate.
2. Use your work experience section to showcase your top teamwork skills
While the skills section of your resume is a good way to show off your qualifications, it's not always the best option.
When it comes to showcasing soft skills, it's always more effective to provide examples of them in your work experience section. Doing this allows you to put the skill in the context of an achievement, making it much more compelling.
For example, if you want to show employers that you're a team player on your resume, demonstrate it in a work experience bullet point, like this:
Coordinated with members of marketing and PR teams to generate innovative brand design ideas before collaborating with design team to create and edit illustrations, graphics, and brand content
In this point, the candidate provides a good example of them working in a team. Even though they don't use the term "team player", the skill is evident based on their ability to work with multiple teams and across departments.
Including key teamwork skills such as coordinating and collaborating also highlights the candidate's ability to be a valuable team player.
Demonstrating your skills through examples makes a much stronger impression on employers and helps you avoid listing overused buzzwords on your resume like "team player".