"Dear Sir or Madam" is one of the most common greetings used in business correspondence. It's respectful, professional, and widely applicable.
But, is it the best choice for addressing emails and cover letters? Keep reading to learn if you should use "Dear Sir or Madam" or go for a different alternative.
Our free-to-use cover letter builder can make you a cover letter in as little as 5 minutes. Just pick the template you want, and our software will format everything for you.
Why "Dear Sir or Madam" isn't appropriate in 2023
While hiring managers are unlikely to reject your application simply because you use "Dear Sir or Madam" to start your cover letter or email, there are several reasons why you should choose a different salutation.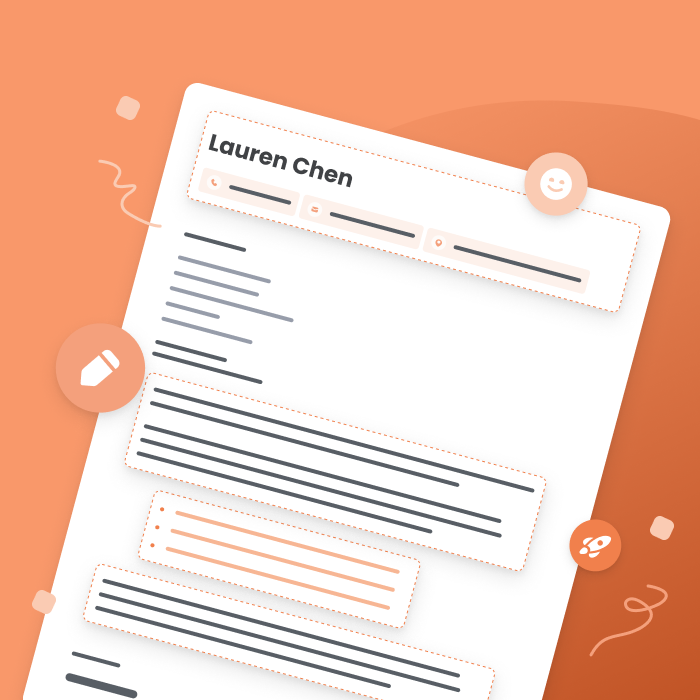 Dread writing cover letters? Read our guide to learn how to write a great cover letter that convinces hiring managers you're the ideal person for the job.
Here's why you shouldn't use "Dear Sir or Madam" when reaching out to hiring managers:
1. It's generic
One of the most common mistakes job seekers make is to send out the same generic application to numerous companies, believing that sending out more applications increases their chances of landing an interview.
While this is true to an extent, what's more important is the quality of your resume and cover letter.
To get the attention of the hiring manager, you should always address your cover letter to the hiring manager by name (if possible).
Starting off with a generic greeting like "Dear Sir or Madam" instead of addressing your email or cover letter to a specific individual is a missed opportunity to show hiring managers that you've done your research on the company.
2. It's outdated
Do you ever encounter the phrases "Dear Sir" or "Dear Madam" in your day-to-day life, except for in written form? Probably not, and that's because this way of speaking is outdated.
Letter writing etiquette changes over time, as do the standards for business correspondence.
While "Dear Sir or Madam" or "To Whom It May Concern" used to be the recommended way to address a letter or email when you didn't know the name or gender of the recipient, it's considered overly formal today.
3. It's not all-inclusive
Not everyone appreciates being greeted with gendered terms. For example, if the hiring manager of a company is non-binary, they likely wouldn't want to be addressed as either "sir" or "madam".
Just to be safe, it's better to use a cover letter introduction that's gender-neutral.
4. It looks like spam
If you check your spam folder, you'll notice that many generic sales emails contain the greeting "Dear Sir or Madam".
Spam filters are designed to spot emails that contain certain words and phrases that frequently appear in unsolicited bulk emails, and "Dear Sir or Madam" is one of them.
To prevent your email cover letter from getting sent to the hiring manager's spam folder, it's better to go for a different salutation.
Alternatives to using "Dear Sir or Madam"
The best way to address someone in a cover letter or business email is by their full name, or by their title followed by their last name.
However, if you're unable to locate the name of the of the person you're trying to reach by looking at the company website or searching LinkedIn, here are some acceptable alternatives:
For a cover letter
Use one of the following salutations to start your cover letter:
Dear Hiring Manager
Dear Recruitment Manager
Dear Human Resources Director
Dear [Job Title]
This is what a greeting on a cover letter should look like:
For an email
Here are a few good alternatives to using "Dear Sir or Madam" when you send a business email or if you email your resume and don't know who to address:
Dear [Department Name]
Dear [Team Name]
Dear [Title or Position]
Here's an example of how to correctly address an email:
Gender-neutral alternatives
The use of gender-neutral titles in professional settings is becoming increasingly common. If in previous correspondence with a hiring manager or colleague they have signed off with "Mx." or another gender-neutral title, avoid addressing them as either "Sir" or "Madam" and use their preferred title instead.
Here are some gender-neutral titles you might come across:
Mx.
Ind.
Mre.
Msr.
M.
Div.
Misc.
Pr.
Nb.
The most commonly used gender-neutral title is "Mx." (pronounced "mix"), which can be used in any situation when you don't know someone's gender or which title they prefer. Here's an example of how to use it in a formal greeting in a follow-up email after an interview:
How to use "Dear Sir/Madam" correctly
If you decide to use "Dear Sir or Madam", follow these steps to do it correctly:
Capitalize "Sir" and "Madam"
Add a comma at the end of your greeting
Include a space between your greeting and the body of your email or cover letter
Here's a good example of what this looks like in action: