When to use "please find attached my resume"
"Please find attached my resume" is a standard phrase used by job seekers to draw attention to their resume in written correspondence with employers. Here are five examples of when to use it:
1. When you're turning in your application via email
If you're sending your resume by email, you'll need to decide how to attach it.
There are three ways to attach your application documents to an email:
Write your cover letter in the body of the email and include your resume as an attached file
Attach each document as a separate file and write a short email cover letter stating your intention to apply and giving a brief overview of your career highlights
Include a link to your resume or LinkedIn summary
Adding a note to your email about where to find your resume reminds the hiring manager to look for it (just don't forget to actually attach it), and shows them that you're detail-oriented.
2. When you're requesting an informational interview
An informational interview is a conversation between a professional with experience in a certain industry and someone who is considering entering that industry.
When you set up an informational interview, you should send the interviewer a copy of your resume to give them a look at your current qualifications.
Include a reminder that you've attached your resume to the email to prevent it from getting accidentally overlooked.
3. When you're submitting a letter of interest
A letter of interest is similar to a cover letter in that both are used to express your interest in working for a certain company. However, including a resume is optional for a letter of interest.
Because you don't always send a resume with a letter of interest, you should point out that you've attached your resume to make sure the reader doesn't miss it.
4. When you're asking for a letter of recommendation
Having a compelling letter of recommendation can greatly improve your chances of landing a job in a competitive field.
Providing the person writing your recommendation letter with a copy of your resume helps them elaborate on your qualifications and talk about why you're a perfect fit for the role.
It's your responsibility to ensure the person writing your letter of recommendation has all the information they need, which is why you should alert them to your attached resume.
5. When you're replying to an interview invitation
When a hiring manager reaches out to you to invite you for an interview, it's because your resume has left a positive impression on them and they consider you to be a good candidate for the position.
However, if you've made changes to your resume since you turned in your application, you should re-submit it before the interview to make sure they have the most up-to-date version.
Besides, it makes their job easier if they don't have to scan through hundreds of emails or documents to locate your resume. Just remember to give the hiring manager a heads up so that they don't scroll past the attachment.
Our free-to-use cover letter builder can make you a cover letter in as little as 5 minutes. Just pick the template you want, and our software will format everything for you.
Should you use the phrase "Please find attached my resume"?
"Please find attached my resume" is frequently used by job applicants at the end of their cover letters. However, many hiring managers find this phrase to be clunky and outdated. Unless the job you're applying for requires a high degree of formality (like those in law or accounting), you should use different wording.
Here are some other variations to avoid:
"Please find my resume attached"
"Please find attached: my resume"
"Please see attached resume"
"Attached you will find my resume"
A good way to decide whether you should use formal or more casual language is to pay attention to the language used in the job ad, on the company website and during any previous correspondence with the hiring manager.
Then, try to match their tone when you submit your application.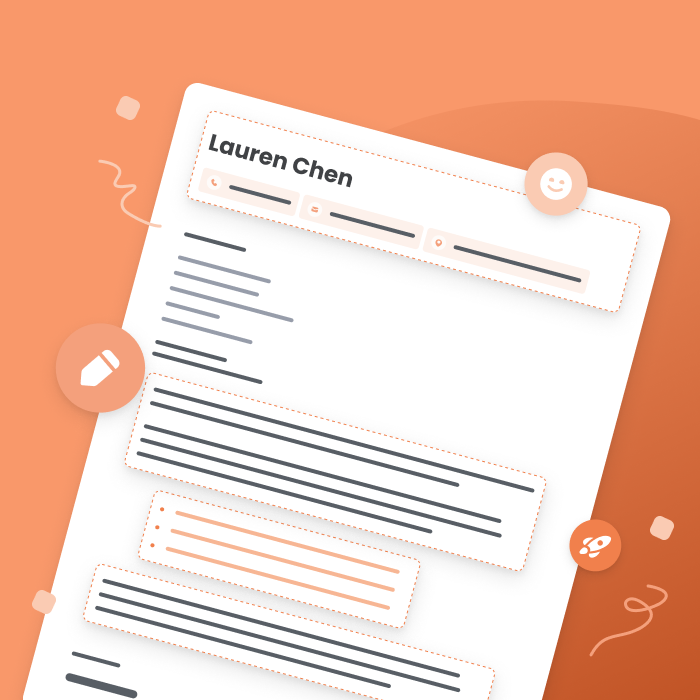 Dread writing cover letters? Read our guide to learn how to write a great cover letter that convinces hiring managers you're the ideal person for the job.
Alternatives to "Please find attached my resume"
There are numerous other ways to effectively call attention to your resume when you turn in your job application.
Here are some more natural sounding alternatives to "please find attached my resume":
Alternatives to "Please find attached my resume"
"I've attached my resume for your review"
"I've enclosed my resume in this envelope along with my cover letter" (for printed documents only)
"I've included my resume"
"In my attached resume, you'll see that I…"
"I've attached my resume to this email"
"Please feel free to reach out with any questions about the attached resume"
"I've attached my resume for your reference"
"Please refer to my resume for an overview of my qualifications"
"I've attached my resume for your consideration"
"I've attached a copy of my resume for you to review and consider"
"As instructed, I include my resume and cover letter for your consideration"
Here's an example of how to use one of these phrases in an email to a potential employer:
This conveys the same message as "Please find my resume attached", but doesn't come across as overly formal.