In 2023, female employees in the US earned 82% of what male employees earned for similar work. In other words, for every $1 a man earned, a woman in the same position earned 82 ¢. This discrepancy is referred to as the gender pay gap.
Let's explore why the gender pay gap continues to exist, and investigate whether it's realistic to expect this wage gap to disappear in the coming decades.
How workers view the gender pay gap situation
Resume Genius commissioned a series of polls to find out what Americans think about the gender wage gap and their attitudes on whether its exit will occur in their lifetimes.
Most people agree that both the racial pay gap and gender pay gap are substantial problems:
In total, 72% of people acknowledge that the gender pay gap is a problem, while 28% percent (less than 3 out of 10 people) say that the gender pay gap (and the racial pay gap) isn't a problem.
We'll see that it's a recurring phenomenon that a smaller proportion of men than women state women's workplace issues are a concern.
Here's an example, where we can see that men are more likely to say that neither the gender wage gap nor the racial wage gap are as problematic than are women: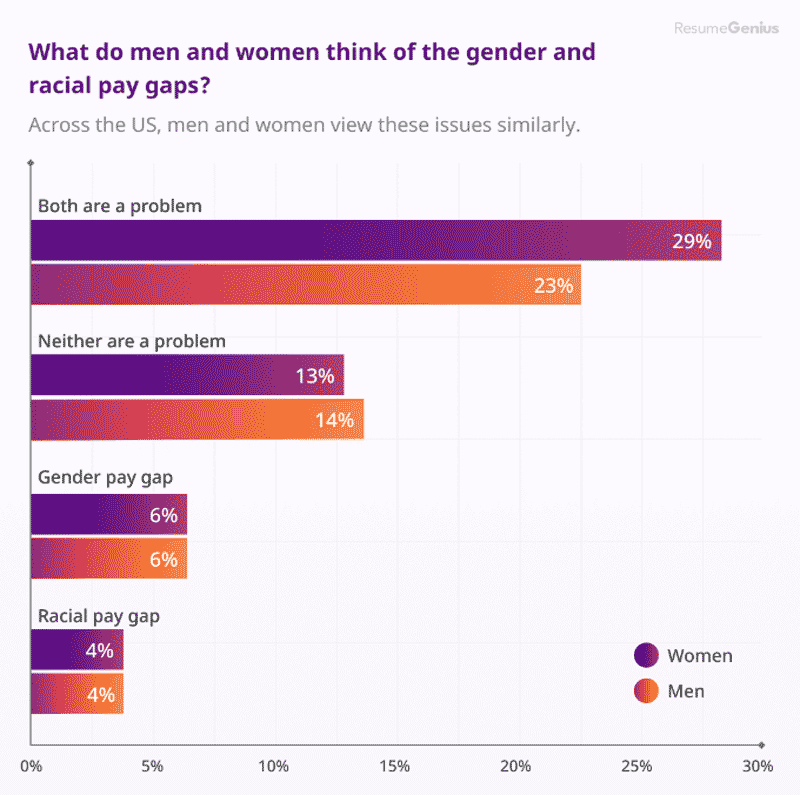 Turning to attitudes about the outlook for the gender pay gap, overall just over a third of women (38%) believe that complete gender pay equality will be achieved in their lifetimes:
This viewpoint indicates that despite the narrower gender pay gap today  — it's risen from 64 ¢ in 1980 to 84 ¢ for every $1 a man earns — capitalism and the state of the US economy still make women pessimistic that wage equality will be achieved.
The data also shows that the majority of men — 60%, almost double the percentage of women — believe the gender pay gap will cease to exist within their lifetimes. Whether this notable difference reflects how men don't have enough insight into gender-based wage discrepancies or is related to some other reason is unclear.
Maternity leave
One major consistency with our data is that men and women have different perspectives on gender workplace issues. Whether it's the gender wage gap or maternity leave, men are less likely to consider the issues women face to be as important as women view them.
For example, on maternity leave, men are more likely than women to claim their company's maternity leave is fair.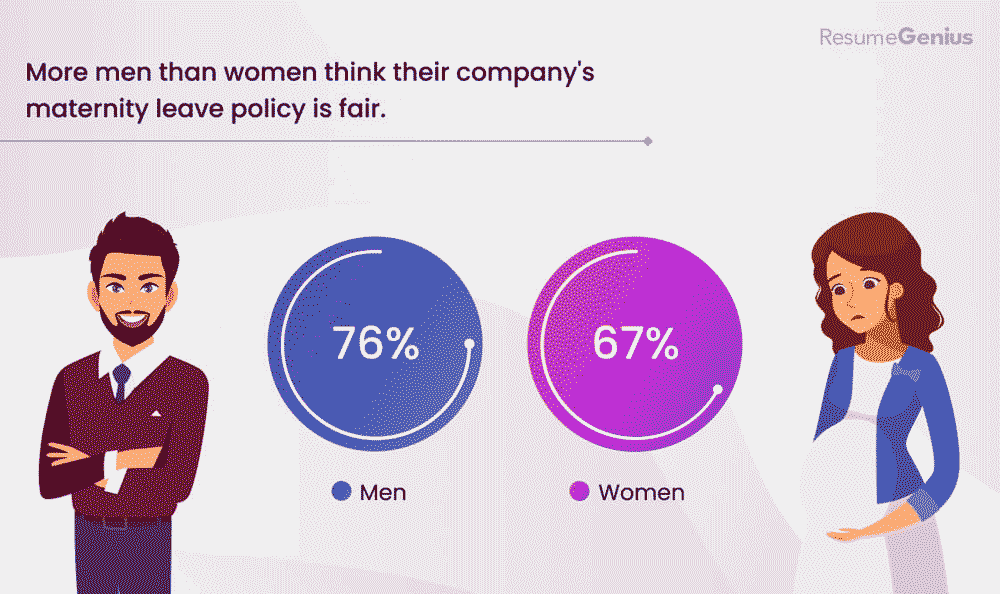 Interestingly, people in New England are much more likely to say their company's maternity leave policy is unfair compared with people in the other 44 states of the USA: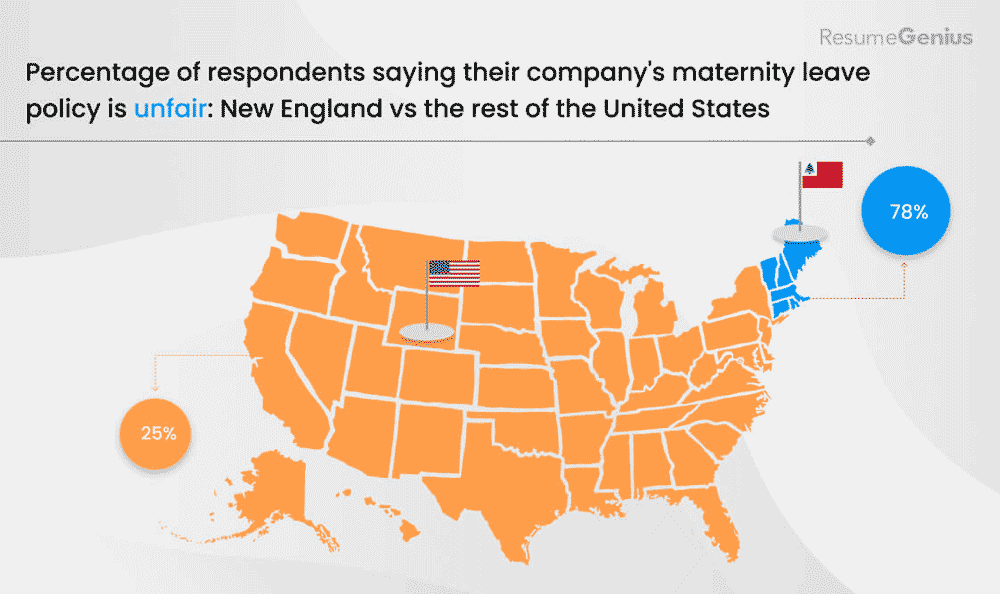 Because we only sampled 500 people, it's unclear whether this difference is statistically significant. It'd be interesting for a larger scientific study to look into this difference and see if it also finds this discrepancy.
Overall though, across the US, 73% of people thought their company's maternity leave policy was fair.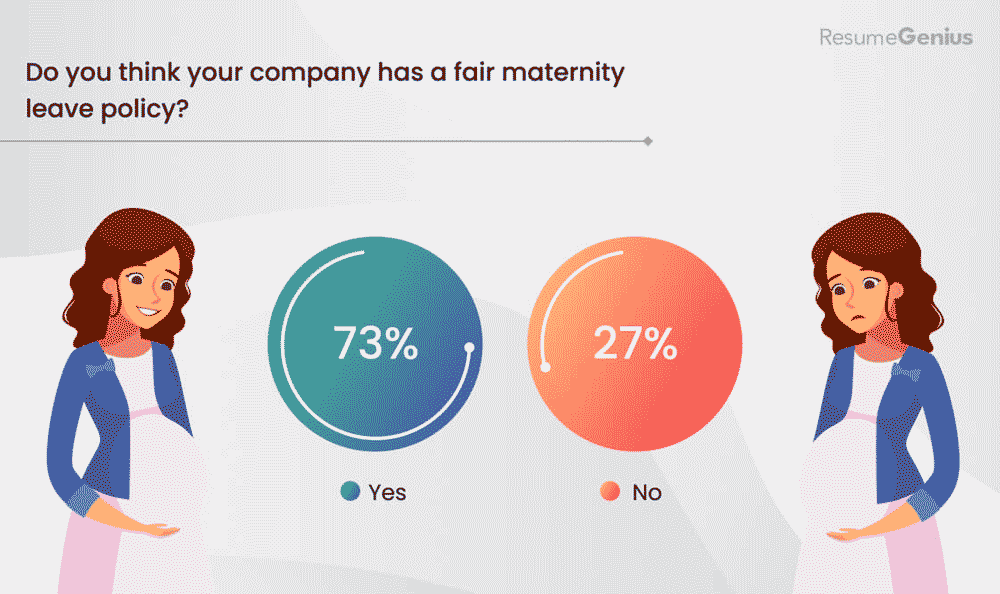 The data indicates that the vast majority of respondents are happy with the maternity leave policy offered by their company.
By region
The most pessimism regarding the gender pay gap is found in the American West:
This data is somewhat surprising because the West includes California, the state with the smallest gender pay gap. In California, women make 88 ¢ for every $1 dollar a man makes, placing California above every other state in the US in terms of wage equity.
The West also includes Nevada (5th smallest gender pay gap) and Oregon (9th smallest). By contrast, the state with the biggest gender wage gap is Louisiana, where women make only 69 ¢ for every $1 a man makes.
Overall, the gender pay gap exists in every state, and the majority of women remain unconvinced that it will be overcome in their lifetimes. Let's examine the reasons behind this lack of optimism.
Effect of discussing salary on the gender pay gap
Our survey found that most people believe the gender pay gap will persist — and even get worse — if companies discourage their employees from discussing their salaries:
Women — who are more likely to be affected by the gender pay gap — are more certain that the gender pay gap will widen if they're discouraged from discussing their salaries: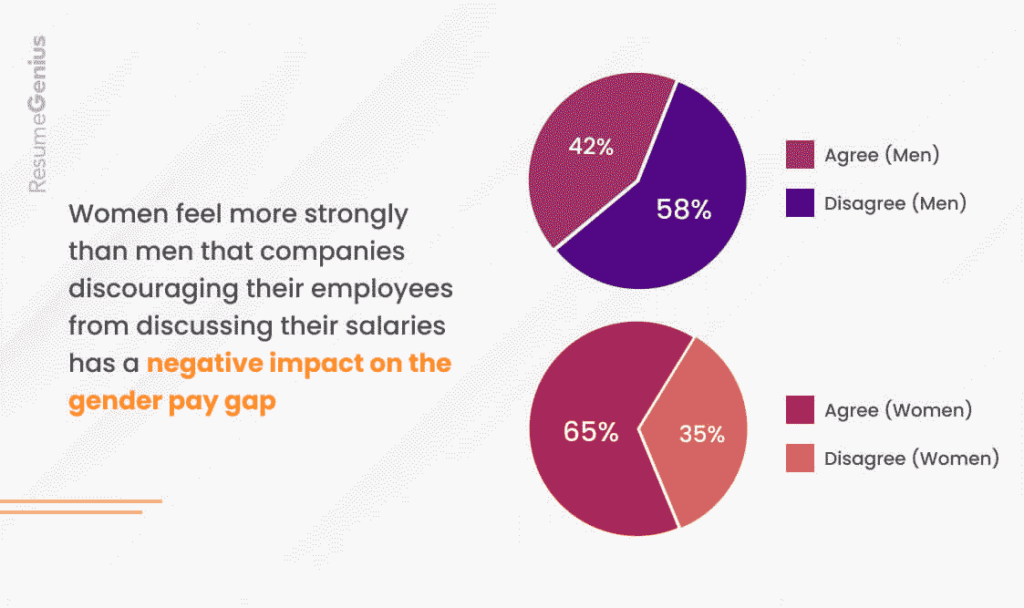 The legal basis (or lack thereof) for banning salary discussion
This sentiment certainly makes sense: President Obama signed an executive order in 2014 that forbids federal contractors from saying employees can't discuss their salaries, stating "compensation discrimination is much more difficult to discover" when workers can't compare their wages.
Yet despite Obama's executive order, around 20% of US-based companies still contractually forbid their employees from talking about their salaries, even though it's been illegal to do so since 1935.
The 1935 National Labor Relations Act allows employees to "to engage in other concerted activities for the purpose of collective bargaining or other mutual aid or protection." The courts have interpreted this law to include comparing salaries, since it's a form of mutual aid or protection.
And half of all Americans work at companies that officially discourage or forbid their employees from discussing their salaries even if it's not part of their contract.
Salary discussion in practice
For example, Elizabeth, who worked in sales for an arts company was chastised for "creating a bad environment" by disclosing her salary, and told she was forbidden from sharing it with her coworkers. There are countless other examples of employees being punished for talking about their salaries with their coworkers.
Booking.com and Cisco top the list of companies that put pressure on employees not to bring up salary issues with colleagues, but even bigger household names do the same: Apple, Google, Airbnb, Amazon, and eBay have been accused of preventing their employees from discussing their salaries with each other.
How Americans feel about discussing salary with coworkers
Whether they're contractually obligated to keep quiet about their salary, feel pressure to do so, or just prefer to keep that information private, it's clear that most workers don't wish to talk about how much they earn with their colleagues.
The majority of people we surveyed (76%) stated that they're uncomfortable discussing this topic with coworkers: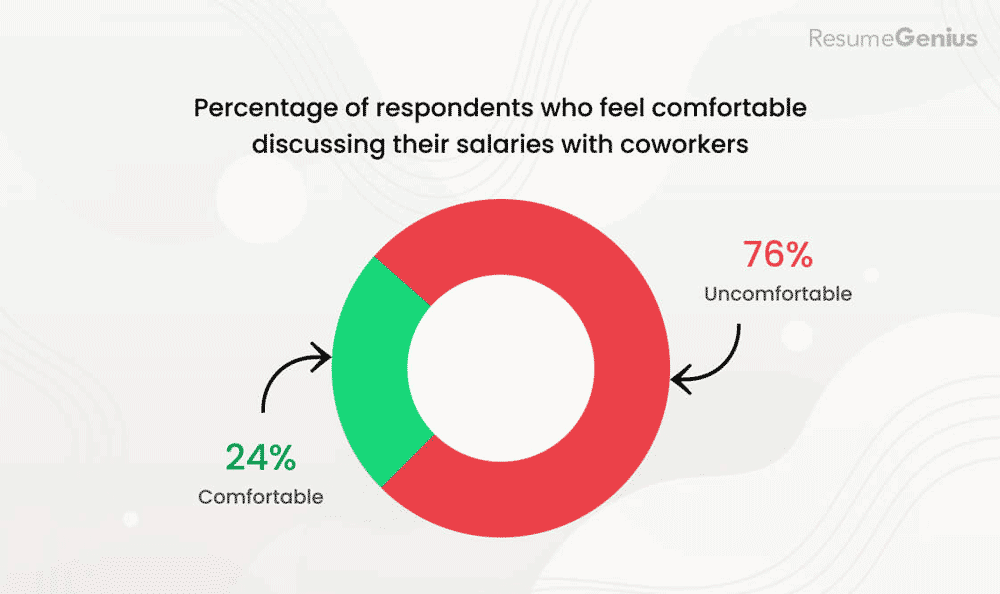 And women are even more likely to feel uncomfortable about discussing their salary, with over 80% saying they don't feel comfortable mentioning these numbers to coworkers: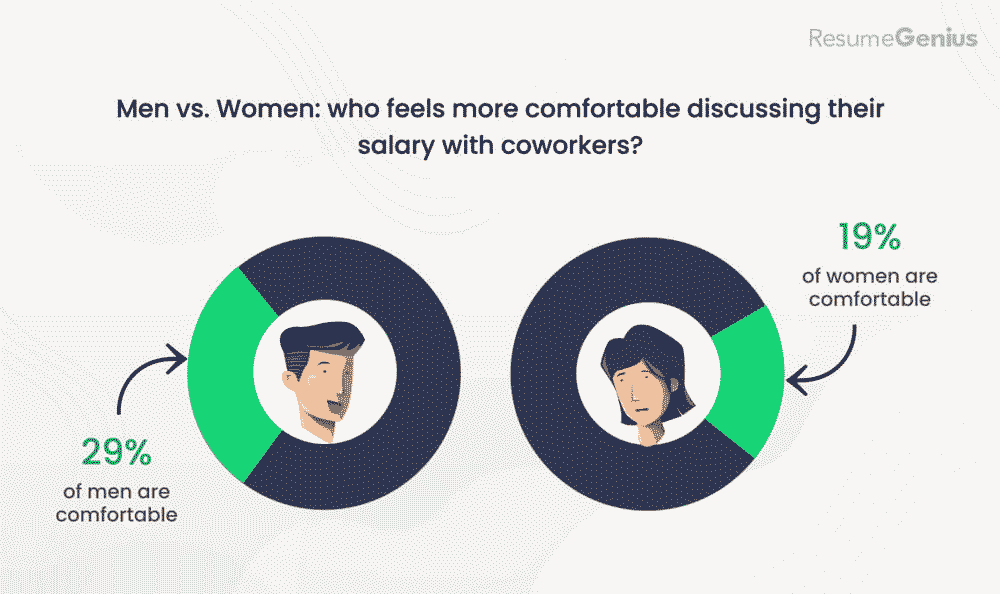 These statistics may indicate that women are aware of the gender wage gap and are less willing to disclose their salary because they fear they make less than colleagues do and would rather not know.
How younger Americans feel about discussing their salaries
However, younger generations are more likely to feel comfortable talking about their salary, which could help the gradual shrinking of the gender wage gap in the future.
Almost half of the people we surveyed aged 24 and below say they'd be happy to talk about their salary with their colleagues.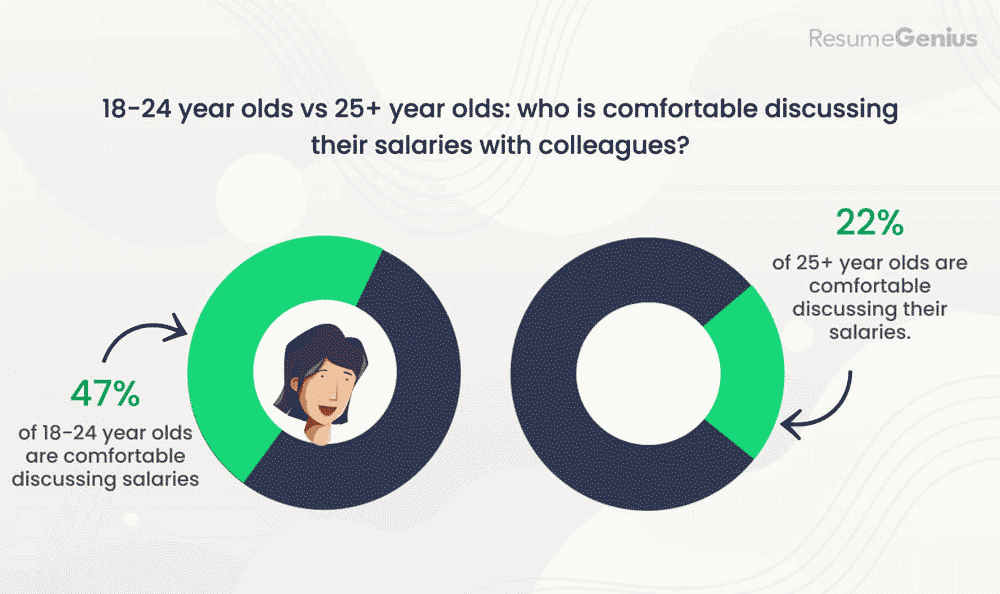 One report concluded that because the younger generation entered the workforce during the Great Recession and face challenges such as a lack of affordable housing and substantial college debt, they're more willing to talk about these challenges with their coworkers, including sharing how they're struggling in terms of salary.
Plus, Gen Z (24 and younger) and Millennials (25 to 40 year olds) are more used to sharing personal information on social media platforms and networking sites like LinkedIn and Glassdoor, having grown up with these services.
This willingness to share data alone may make any optimism about stamping out the gender pay gap within a generation or two valid: the more comfortable people are discussing their salaries, the less ambiguity there'll be about what people are earning, which will force companies to offer fair wages.
Strangely, though, despite younger people being more willing to discuss their salary with their colleagues, they also are more likely to say discussing their salary with them won't reduce the gender pay gap: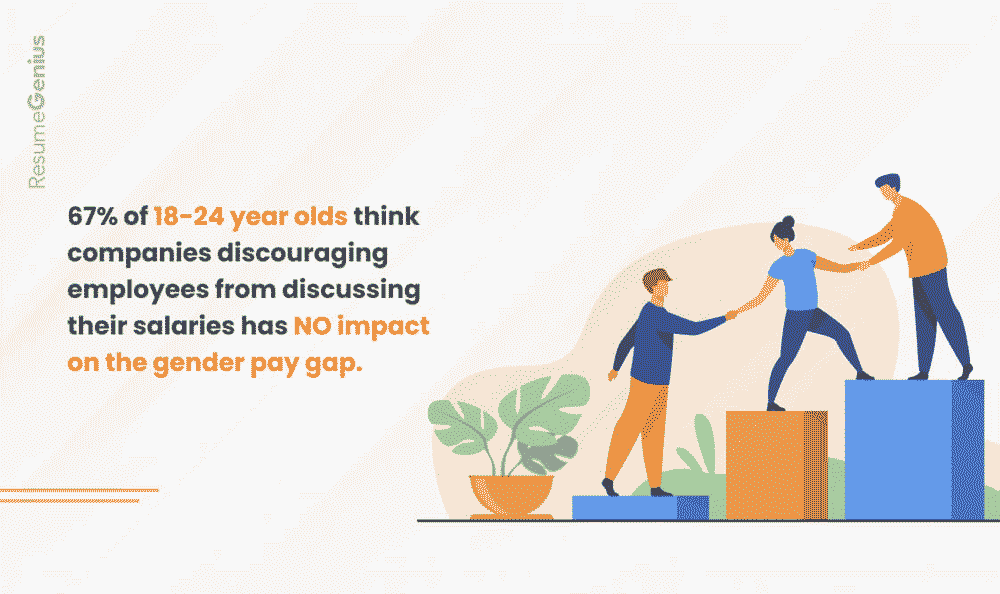 Perhaps because younger people are more open about their salaries anyway, they're less likely to care whether their company formally discourages it.
How people feel about asking for a raise
The data shows that people are overall comfortable asking for a raise:
However, women are less likely than men to say they feel comfortable asking for raise:
The data also indicates that younger people are less willing than older Americans to ask for a pay raise: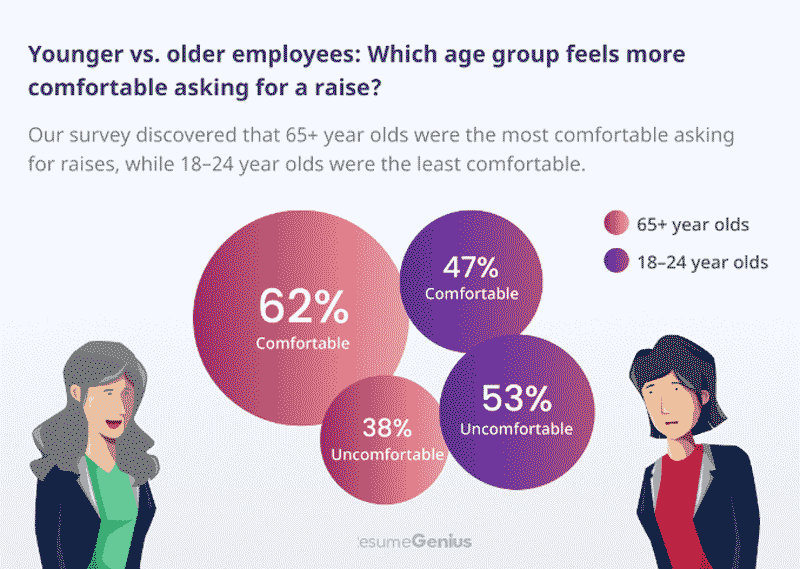 Effects of COVID-19 on the gender pay gap
While most people agree that being discouraged from discussing their salary with their colleagues has an effect on the gender pay gap, more than two-thirds of the people we surveyed don't think that the COVID-19 pandemic has had an effect on it:
While most of the country felt the same, 34% of respondents from the Midwest stated they believed COVID-19 had widened the gender pay gap — the highest percentage of Americans who felt this way:
It's worth investigating whether COVID-19 has had more of an effect on the pay gap in Midwestern states because this difference is notable.
How other countries are combating the gender wage gap
Other countries around the world have taken great strides toward combating the gender wage gap For example, in the UK, companies with more than 250 employees must publicly disclose the average (mean and median) salaries and bonuses they pay to men and women separately.
Iceland is another leader in combating the gender pay gap. In Iceland, any company with 25 employees or more must prove to an external auditor that it's paying equal salaries to men and women. This auditing process must be repeated once every three years. Thus, the burden of wage equity in Iceland has shifted from employees to employers.
Within the current system, American women can only combat the gender pay gap by first discovering they're being underpaid compared to their male colleagues, and then bringing a claim against their employer proving the discrimination. Ultimately, it's a much more challenging process than in a country like Iceland, where employers need to actively prove they're paying equal salaries.
Attitudes to the future of the gender pay gap
Still, without a change in the law, the biggest shift in the US remains younger employees feeling more secure in talking about their salary — indeed, a quarter of workers aged between 35 and 45 are optimistic that the gender pay gap will disappear in their lifetimes in contrast to 7% of those aged 45 years or older:
Takeaways & how you can help
It's likely to take collective effort on the part of both women and men, but if people are willing to show social solidarity by disclosing their salaries and putting pressure on companies to publish gender wage gap information, then the US gender pay gap may cease to exist in the future.
If you want to help us fight for gender pay equality, there are a few things you can do: