You've done it: after hours of job hunting, you're finally ready to apply to that perfect position.
Your resume is fine-tuned.
Your interview skills are sharp.
But there's one thing left: a cover letter.
Writing a cover letter is an essential part of the job hunting process. But knowing how to do it right takes effort.
And that's why you're here.
We're going to show you how to write a cover letter for a job that will impress any employer, step by step.
Combined with these samples, expert resources, and HR-approved writing tips, you can create your own stunning cover letter in no time.
Here's what we cover in this article:
1. Cover Letter Basics: What is a Cover Letter?
A cover letter (sometimes called a covering letter) is a one-page document written to express why you're the best candidate for a job.
It's always paired with a resume, and should:
Highlight your relevant experience
Showcase your familiarity with the company and their goals
Convey a bit of personality
A strong cover letter is an essential part of any job application —  it can get you interviews even if your resume is lacking.
However, a bad one will torpedo your chances of getting a job offer — no matter how much experience you have.
Before you start writing, you should first ask yourself:
What is the Purpose of a Cover Letter?
A great cover letter packs a punch. Within minutes, a well-written cover letter can:
Successfully introduce you to the hiring manager
Make a strong case why you'd be a good fit for the job
Prove your desire to work at the company
Fill in any missing data that couldn't be included on your resume
Give the hiring manager a call to action
Check off these boxes, and your cover letter will be a powerful companion to your resume.
2. What to Include in Your Cover Letter
If you want to know what to include in a cover letter, this handy dissection breaks things down:
3. General Cover Letter Example (With Experience)
Our first example is a general cover letter that works for any candidate with a few years of prior work experience.
In this example, Aadhira is a mid-level candidate applying for a Digital Marketing position. She already has two years of experience she can reference in her cover letter.
Here's how she pitches her qualifications and wins over the hiring manager: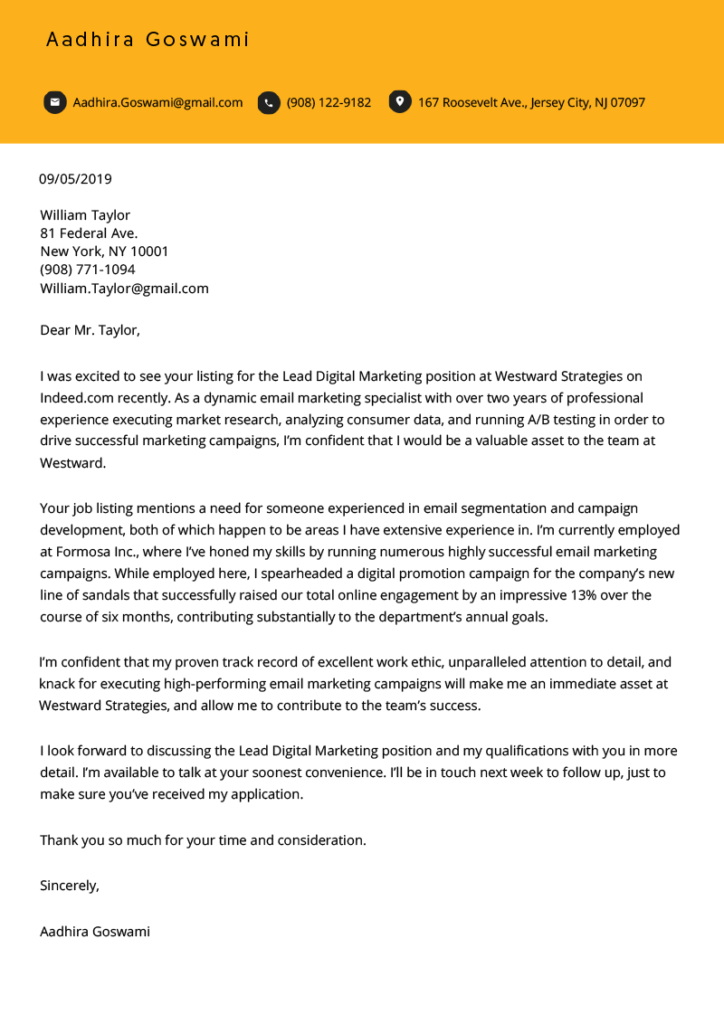 General Cover Letter Example (Text Version)
09/05/2019
William Taylor
81 Federal Ave.
New York, NY 10001
(908) 771-1094
William.Taylor@gmail.com
Dear Mr. Taylor,
I was excited to see your listing for the Lead Digital Marketing position at Westward Strategies on Indeed.com recently. As a dynamic email marketing specialist with over two years of professional experience executing market research, analyzing consumer data, and running A/B testing in order to drive successful marketing campaigns, I'm confident that I would be a valuable asset to the team at Westward.
Your job listing mentions a need for someone experienced in email segmentation and campaign development, both of which happen to be areas I have extensive experience in. I'm currently employed at Formosa Inc., where I've honed my skills by running numerous highly successful email marketing campaigns. While employed here, I spearheaded a digital promotion campaign for the company's new line of sandals that successfully raised our total online engagement by an impressive 13% over the course of six months, contributing substantially to the department's annual goals.
I'm confident that my proven track record of excellent work ethic, unparalleled attention to detail, and knack for executing high-performing email marketing campaigns will make me an immediate asset at Westward Strategies, and allow me to contribute to the team's success.
I look forward to discussing the Lead Digital Marketing position and my qualifications with you in more detail. I'm available to talk at your soonest convenience. I'll be in touch next week to follow up, just to make sure you've received my application.
Thank you so much for your time and consideration.
Sincerely,
Aadhira Goswami
4. Entry-Level Cover Letter Example (No Experience)
Don't have any experience yet?
No worries — there are many ways to write an entry-level cover letter that stands out and convinces the hiring manager to grant you an interview.
In this example, Marianne is an entry-level candidate applying for an IT position.
Here's how she convinces the hiring manager of her strengths and wins an interview:
Entry-level cover letter sample (text version)
Sep 28, 2019
Robert Jacobson
19 16th St.
New York, NY 10005
(781) 182-1110
Robert.Jacobson@gmail.com
Dear Mr. Jacobson,
As a long-term admirer of the impressive work being done by the team at Mayflower Technologies, I'm delighted to submit my application for the entry-level IT technician position posted on Indeed.com. As a recent graduate from the University of Rochester with a B.S. in Computer Science, I'm confident that my knowledge of Linux systems, experience in backend coding, and precise attention to detail would make me an asset to the team at Mayflower.
In my former role as a student worker at the University of Rochester's Technical Services department, I was responsible for troubleshooting a variety of technical issues for staff, assisting with server maintenance, and installing a wide range of equipment. While employed there, I assisted in the development and rollout of new department practices, and helped improve our ticket response time by 12%. I'm sure that this experience will help me hit the ground running at Mayflower.
I also understand that Mayflower is seeking to expand their cloud computing services. While at the University of Rochester, I specialized in and completed my thesis on cloud computing. The IT technician position at Mayflower would be an exciting opportunity for me to bring my educational background to the table, and learn more about a growing industry.
I've attached my resume, which further details my skills and educational background. Please do not hesitate to reach out if you have any questions about my background. I look forward to the opportunity to speak with you further; thank you for your time and consideration.
Sincerely,
Marianne Zhong
5. Writing a Good Cover Letter (4 Steps)
Not sure what to write in a cover letter? No problem.
This easy-to-follow cover letter guide will show you exactly what you need to do:
Step #1: Appropriately Address Your Cover Letter
Even the best cover letter will have a 0% success rate if it never reaches its intended destination.
That's why before you do anything, you need to know how to address your cover letter.
Just include:
The employer's contact information (name, address, phone number, and email)
Your own contact information (name, address, phone number, and email)
Seems simple, right? But be careful — a small slip-up could send your application to the wrong place.
When addressing your cover letter, put your contact information in the header (centered, at the top of the page), with your employer's contact information above "Dear [hiring manager's name]".
Here's an example of a properly addressed cover letter:
All the information here is required, but remember: there is more than one way to format this section.
The most important thing is that all the information is complete and correct.
Use an Appropriate Cover Letter Greeting
Next, find out who you're writing to.
Put yourself in the hiring manager's shoes. Would you rather be called "To whom it may concern" or your actual name?
Even worse, writing "Dear Sir or Madame" makes it sound like you're 300 years old.
Writing a great cover letter greeting takes research, so find the hiring manager's name.
Here's how to do that:
Look through the company's website
scour Linkedin, or
call to ask for the correct name to address your cover letter.
It's that simple.
Even if you end up addressing the wrong manager, it still shows that you've made an effort — and to hiring managers, that's what counts (at least with your greeting).
Step #2: Start Your Cover Letter With a Strong Opening
Your cover letter introduction is the first thing a hiring manager will see, so it's critical you make a great first impression.
Want to get more interviews? Make your introduction stand out.
Your Cover Letter Opening Line
Don't get fancy. The first sentence of your cover letter should simply include:
a personal introduction
an explanation of how the job opening was discovered
Your opening line is like a firm handshake — a formality, but still important. You'll have time to elaborate on the value you offer a company later.
Your Cover Letter Opening Paragraph
The rest of your first paragraph should briefly describe your background.
Let's sum up: a great cover letter introduction states:
The position you're applying for
A short blurb regarding your background
A brief introduction to your accomplishments or talents
Here's a breakdown of a sample introduction one candidate used to start their cover letter:
Dear Mr. Lasker,

I am writing to you regarding your company's Customer Service Representative opening. I have been working as a Customer Care Specialist at Satellite TV Co. for more than 2 years now, and during that time I've developed impeccable phone manners and an ability to politely deal with disgruntled customers. I am accustomed to working on multiple projects simultaneously, and can offer new ideas to help your company grow and surpass all goals and objectives.
Your background includes information like your degree, area of study/expertise, career goals, or relevant job experience. Make sure to emphasize anything that is relevant to the position.
Also, don't be afraid to let a little personality shine through.
Adding some light humor — emphasis on light — or personal flair is a great way to make sure the hiring manager remembers you. Just don't be a total goofball.
Keep in mind that serious companies might not share your sense of humor, and that a good cover letter should always keep things professional.

Step #3: Fill Out Informative Body Paragraphs (2 & 3)
Second Paragraph
You're done with the formalities — it's time to move onto the substance.
And by substance, we mean your qualifications.
Your second paragraph should directly respond to the job description posted by the company, and explain why you're qualified to handle this role.
Use this paragraph to prove how your previous work experience, skills, and abilities make you perfect for the position, and how this expertise will help you to meet the needs of the company.
But how can you do that?
It's easy — literally use words and phrases from the job description in your cover letter. There's no faster way to make a hiring manager think, "This person seems like a good fit."
Here's an example of a job description — the skills and duties have been highlighted:
Essential Duties and Responsibilities
Generates revenue utilizing a consultative selling approach in the sale of Home Warranty services on

warm outbound calls

Consistently

meets or exceeds monthly sales goals

by utilizing consultative top down selling, connecting to customer's pain points, and overcoming objections selling approaches.
Establishes and maintains a high level of

customer satisfaction

in all sales transactions
Consistently

meets or exceeds weekly and monthly sales

activity goals
Demonstrates

excellent organizational and problem solving skills

Exhibits proficient knowledge and use of personal computer and

computer software applications
Here's how the applicant wrote their second paragraph. Notice how the skills and duties use the same words.
Duties at my previous company included making

60 outbound calls a day

to businesses and private individuals in order to solicit sales. During my tenure, I implemented a new sales strategy,

improving our customer satisfaction

ratings and

exceeding monthly sales goals by an average of 11%

. My experience at Satellite TV Co. has helped me

improve my customer service acumen, hone my organizational skills,

and has provided me with extensive knowledge of how to upsell services and goods to potential clients.
But what if I don't have the skills or experience required in the job description?
If you have transferable skills and related work experience, you should still use the language from the job description. You'll just need to thoroughly explain how your experience is transferable.
Here's an example:
I also understand that Big Corp is seeking a candidate with experience in mobile sales. While I don't have any direct knowledge of mobile sales, I do however, have

extensive experience writing sales emails

. I'm confident that my skills related to email, such as

persuasive copywriting, lead generation, and demographic research, are transferable

and will allow me to quickly contribute to your team.
This is the "what you bring to the table" portion of your cover letter, so be sure to take your time and make it great.
Third Paragraph
You already proved you're perfect for the role in the second paragraph.
Now use the third paragraph to illustrate how you'll use your abilities to help the company succeed.
I also understand that Big Corp is seeking a candidate that can

make an immediate impact on their sales numbers

. While at Satellite TV Co., I consistently

surpassed monthly sales goals by 8% on average

, and served as a model for

effective sales strategy

. I'm confident that my proven track record and aptitude for

making cold calls

will allow me to be an

instant contributor to the team's success

at Big Corp.
This example quickly demonstrates the candidate's skills, and how they're able to use those skills to contribute to the company's goals.
Not to mention, your third paragraph is also the perfect opportunity to tie your cover letter and resume together.
Use this section to cover resume content that you didn't have space to explain on your resume. For instance, elaborate on one of your more impressive work accomplishments here.
Just be sure to keep things consistent between your resume and cover letter, or it might get confusing for the reader.
Step #4: Write a Professional Cover Letter Closing Paragraph
You've sold the hiring manager on your experience.
You showed them how you fit into the company.
Now it's time to seal the deal.
Think of your cover letter closing paragraph as the spark that sets everything in motion.
In your closing, push the hiring manager to contact you by including a convincing "call to action" (CTA).
A strong CTA includes three key actions:
Inform the employer that you'd love to come in for an interview.
Tell them that you'll reach out within a week if you don't hear back.
Thank them for their time, and for the potential interview opportunity.
You want your CTA to have conviction, but don't make it sound pushy or aggressive. A good cover letter sign-off will stick in the mind of the reader — make sure yours has the right tone.
Here's an example of an irresistible closing paragraph CTA:
I'm looking forward to

discussing the position and my qualifications

with you in more detail soon.

I'll be in touch next week to follow up,

just to make sure you've received my application.

Thank you for your time and consideration.
This candidate's CTA is simple, yet hits upon all the major points of an effective closing. Being polite and direct is a good way to leave the right impression here.
Writing a Cover Letter for Unique Situations
It's no secret that life doesn't always go as planned.
If you have a particular background that makes landing work challenging, just know that you're far from the only one.
Thankfully, there are ways to downplay any life situation with a strong cover letter (although you might still need to address such issues during an interview).
Here are several scenarios that might cause a hiring manager to second guess your cover letter. If one applies to you, click on the corresponding link and learn how to overcome your career roadblock:
Give Your Cover Letter a Distinct Look
You filled out your cover letter, wrote the perfect CTA, and double checked for errors.
It's time to send out those applications, right?
Not so fast. It's also important that your application has a consistent look.
That's why tying the appearance of your resume into your cover letter is the cherry on top of your perfect job application.
Here's an example: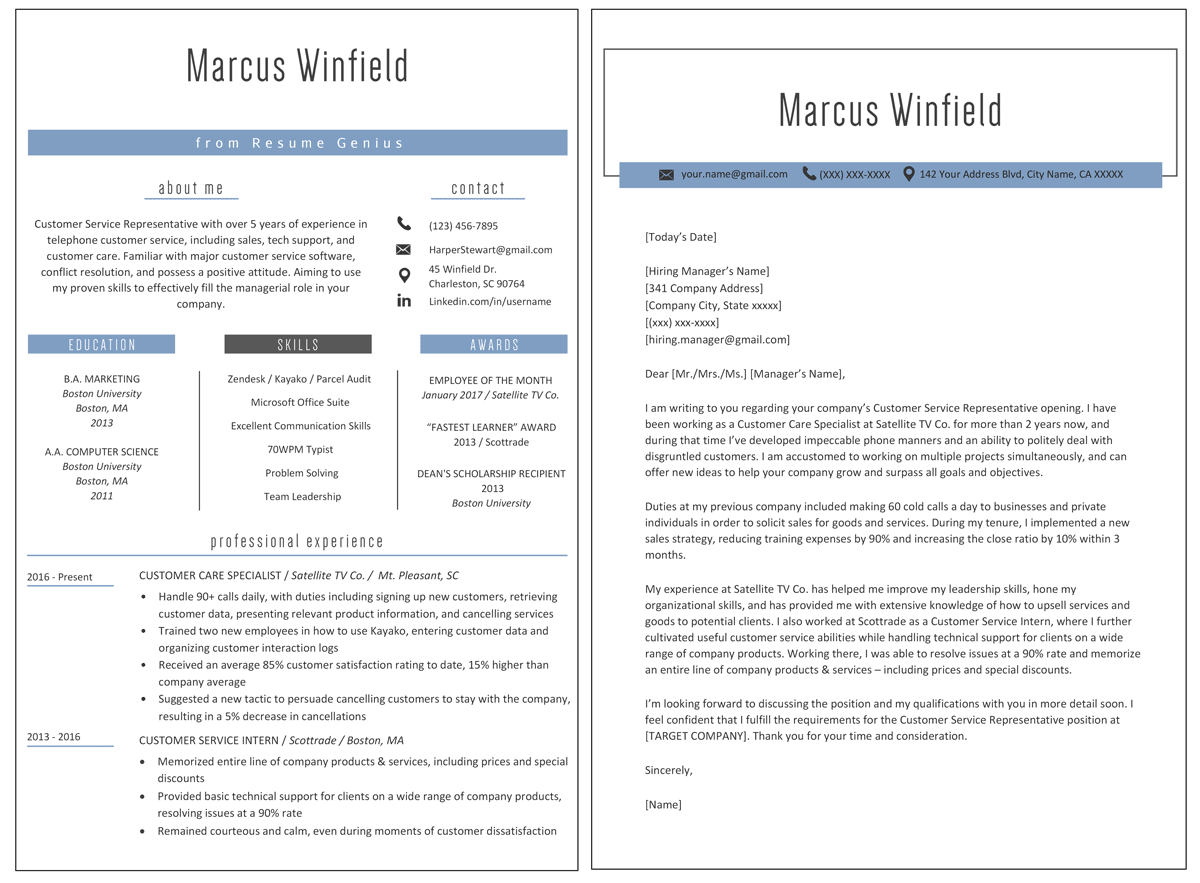 Although your application's content matters more than what it looks like, a visually striking resume and cover letter combo can draw attention.
A good looking application will make you more memorable, which is important for every job seeker.
6. Formatting Cover Letters: Layout & Structure
Believe it or not, your cover letter format plays an important role in the success of your application.
Margins, font size and style, and alignment all factor into the hiring manager's overall impression of you.
Here are a few quick cover letter formatting tips:
1" – 1.5" margins are always a safe bet. If you're having trouble fitting everything on one page, there's some wiggle room. Just don't cram the content together, or space it out too broadly.
Don't go below a 12-point font unless absolutely necessary. Anything below 12 is hard to read, causing strain on the eyes.
Choose an appropriate font. The best cover letter fonts include Helvetica, Times New Roman, and Calibri. Don't use anything too creative, or it will hurt its readability.
Keep all your paragraphs left-aligned. It's important to have uniform formatting throughout your resume.
How Long is the Ideal Cover Letter?
Now that you know what to include in your letter, you might be wondering how long should a cover letter be anyway?
The short answer is that your cover letter should NOT exceed one page, and should clock in around 200-300 words, with three to four paragraphs.
This gives you time to introduce yourself, hit your main selling points, and inform the hiring manager of your interest in the position.
7. Our Best Cover Letters: Examples & Templates
Writing a good cover letter will be much easier if you first look at cover letter examples and cover letter templates.
In the gallery below are a few samples of our popular templates being used by actual applicants. 
8. Other Cover Letter Writing Resources
Key Resource Pages
How-to Guides
Types of Cover Letters
You've made it this far, which shows you're dedicated to creating the most professional cover letter possible. More interviews and better jobs await you.
Did we miss anything? Leave a comment (or several) below, and our team of career experts will get back to you soon. In the meantime, you should check out our new and improved cover letter builder, which fills out your cover letter for you!