Job descriptions belong in your work experience section, as you can see in this hostess resume example: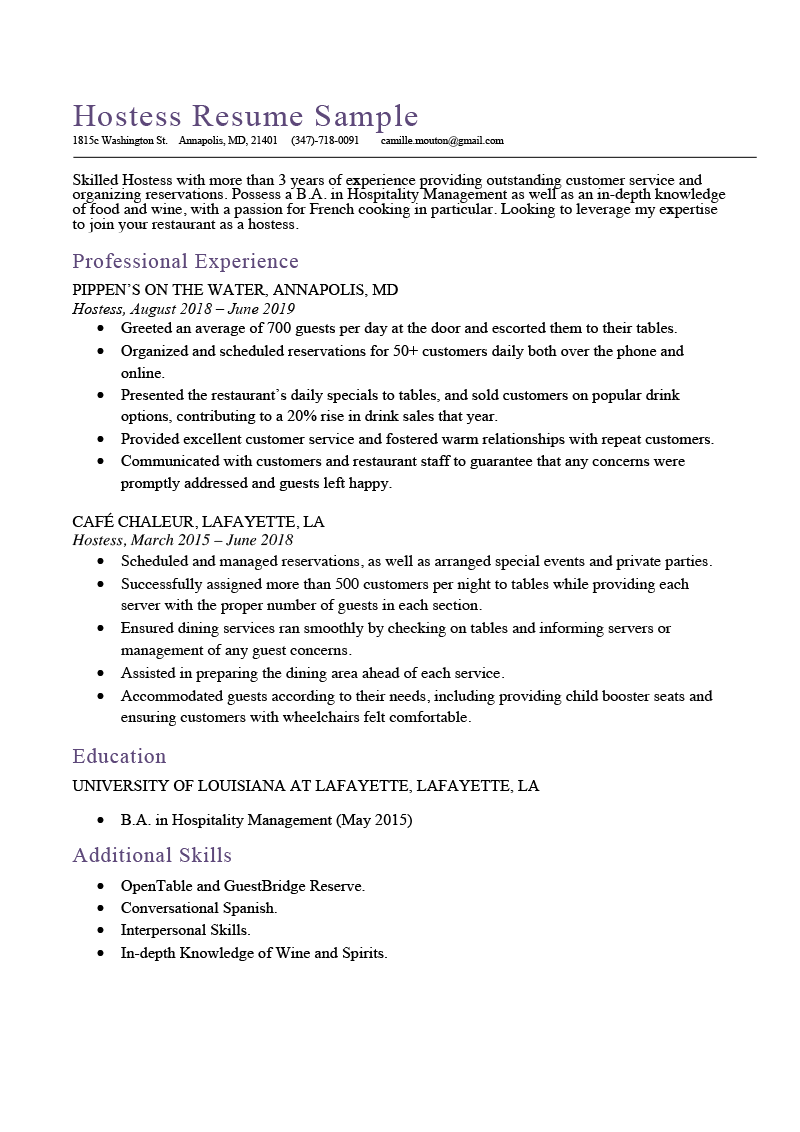 If you write clear job descriptions that highlight your past work experience, your application will be stronger. Read on to learn how to write effective job descriptions and improve your job prospects.
How to Write Job Descriptions on Your Resume
These four tips will help you present your work experience effectively.
1. Begin each job description with your job title
Every job description begins with a mini-header containing your job title, company name, location, and dates of employment.
The job title should be on top, the company and its location should be on the next line, and the dates of employment should appear next to the location.
Customer Service Representative
AMC Theaters, New York, NY  /  June 2016 – November 2019
If you're having trouble filling your one-page resume, move the dates you were employed down to the third line.
However, once you choose a layout, keep it consistent throughout your resume. Inconsistent resume formatting:
looks sloppy
makes it hard for hiring managers to locate your relevant information
will cause hiring managers concern about your organizational skills
2. Use numbers in your job description bullet points
When you add numbers to the achievements on your resume, you boost your chances of landing an interview because you show hiring managers what you'll do for them if hired.
Here is an example of a job description bullet point with and without numbers:
Cut office expenses by 17% out of a budget of $4,700.
Just be sure your numbers are accurate when you quantify your achievements. Estimating is OK, but only if you're able to explain how you arrived at the numbers you used during the interview.
Lying on a resume never works with hiring managers, and will destroy your chances of getting employed.
3. Take words from the job listing and put them in your resume
Hiring managers don't personally review every application. Instead, they use applicant tracking systems (ATS) software that scans all applications for resume keywords and forwards the ones that contain them to the employer.
Make your resume ATS friendly by taking words from the job listing and putting them in your resume. Doing so boosts your chances of it bypassing the ATS and being seen by a hiring manager.
To find the right resume keywords, examine the job posting. The skills and experience that they list (particularly the ones they mention multiple times) are what they'll be searching for, so take words from the job listing and put them in your resume.
Resume keywords also make it clear which of your skills and accomplishments are transferable to the new job when the hiring manager reads your application.
By focusing on resume keywords that reflect what the job ad is seeking, you make it clear that you're perfect for the position.
4. Describe your job responsibilities with strong action verbs
Powerful resume words make your accomplishments clear to the hiring manager. Instead of simply saying what you had to do at work every day, use action verbs that highlight the impact of the work you did.
A bullet point with "Responsible for answering phone calls from customers" only shows that you know how to use a phone. But "Recognized as 'Employee of the Month' four times in a row for excellent customer satisfaction on phone calls" proves that you excel at customer service and were recognized for it.
Provided customer service over the phone.
Reconciled customer complaints and retained 97% of their business.
3 Resume Job Description Examples
Check out how to write a job description using these three samples. Or use other industry-specific resume samples that you can adapt when you write your resume.
1. Sales Associate Job Description for a Resume
Sales Associate
H&M, Atlantic City, NJ  /  March 2015–June 2017

Gained customer trust through accurate comparisons of store products to Fashion Week items, leading to a 15% customer return rate
Helped teammates operate registers, handle cash banks, clean, maintain displays, and organize inventory
Launched a new contest-based sales initiative, resulting in a 20% increase in profits
Assisted an average of 45 customers per day, 15% higher than the team average
2. Customer Service Job Description for Your Resume
Customer Service Representative
AT&T, Ann Arbor, MI  /  April 1989–present

Earned an average 93% customer satisfaction rate
Corresponded with 75+ customers per day, addressing customer concerns, assisting with basic technical support, and providing relevant product data
Received "Employee of the Month" award 5 times over 14 months
Trained 12 new employees in company best practices leading to trainees having a roughly 6% higher customer satisfaction rating than company average
3. Server Job Description for Resume
Waiter
Applebees, San Luis Obispo, CA  /  January 2019–present

Served 50+ guests per shift in a 120+ seat restaurant
Created a positive employee atmosphere by aiding teammates with sidework, carrying food to tables, and checking in on guests when necessary
Memorized restaurant's wine, beer, and liquor stock and suggested pairings with entrees, leading to a 40% increase in alcohol sales
Conversed with guests to create a personal relationship, turning 17 customers into loyal restaurant regulars