Including accurate job descriptions in your work experience section is important for writing a resume.
To help you craft a job description that highlights your professional achievements, we explain what a job description is, how to write one, and provide five resume job description examples.
Our free-to-use resume builder can make you a resume in as little as 5 minutes. Just pick the template you want, and our software will format everything for you.
What is a resume job description?
A resume job description is the part of your resume where you list your job duties, accomplishments, and projects.
Each job description entry should tell the hiring manager exactly what you did at your previous or current employer, to give them a complete picture of your employment history.
How to write a job description on your resume
Eva Chan, your Certified Professional Resume Writer, sums up how to write work history entries on your resume at the 21-second mark in this video:
Now that Eva has explained what a job description is and how to write one, here's more information on writing them effectively:
1. Begin by listing basic details about your job
Every job description should include the following information:
job title
company name
location
dates of employment
The order in which you display this is up to you. If you'd like to emphasize your position, then put your job title on top, followed by the company, location, and employment dates below.
However, suppose you worked for a prestigious company that is well known in your industry. In that case, you could first highlight the company's name, followed by your position, location, and employment dates on the following line.
Here are two examples of how to include your job title, employer's name, location, and employment dates in your job description. The first example highlights the position title, while the second example highlights the company's name:


No matter how you choose to format your job description, you should be consistent throughout your resume by using the same order for all of your entries. This is because inconsistent resume formatting:
looks sloppy
makes it hard for hiring managers to locate your relevant information
will cause hiring managers concern about your organizational skills
2. Use numbers and action verbs to describe your role and responsibilities
The primary purpose of describing your role and responsibilities to potential employers is to provide them with examples of what you achieved on the job and how you contributed overall to the company.
When including your accomplishments in your job description, use hard numbers to give the hiring manager a metric to measure your success. Simply describing your duties and responsibilities won't be enough to capture their attention.
Additionally, you should include action verbs in your job descriptions. Actions verbs are great at conveying your leadership potential, and work much better at impressing hiring managers compared with using phrases such as "responsible for" and "duties include."
Here's an example of two job description bullet points, the first with action verbs and hard numbers and the second without either:
Reduced office expenses by 17% out of a budget of $4,700.
Just make sure your numbers are accurate when you quantify your achievements. Estimating is OK, but only if you can explain how you arrived at the numbers you used during the interview.
Lying on a resume never works with hiring managers and will destroy your chances of being hired.
3. Use specific keywords from the job posting
Employers don't always personally review every job application submitted for a position. Instead, they use applicant tracking system (ATS) software to scan all incoming applications for specific resume keywords. If the software finds the keywords it's looking for in your resume, it forwards your application to the hiring manager.
The best way to ensure you pass the ATS is to write an ATS-friendly resume by taking words from the job posting and strategically putting them in your job descriptions and other parts of your resume.
To find the right resume keywords, examine the job posting. The skills and experience the company lists that they require for the position (particularly the ones they mention multiple times) are what they'll be searching for in your resume.
Take the keywords from these bullet points or paragraphs and ensure you include them in your job descriptions.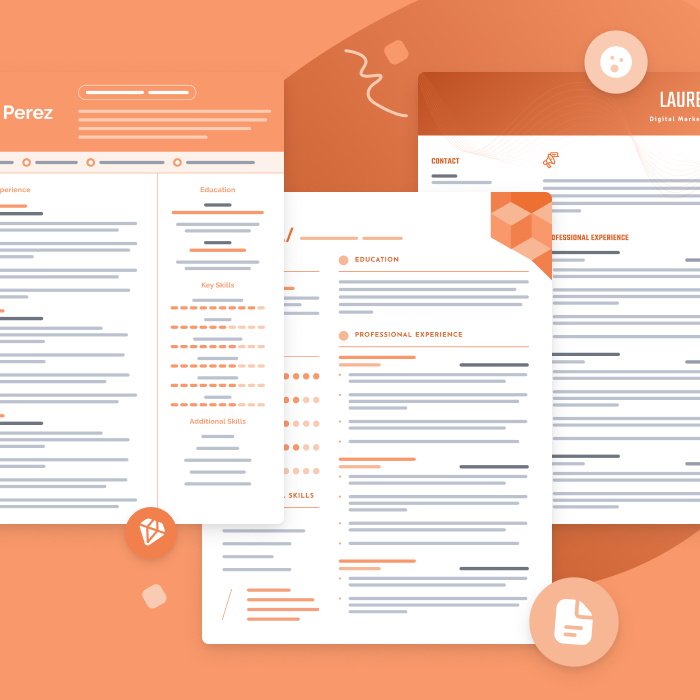 One of the best ways to make your resume is by filling out one of our free resume templates. All our templates are designed by experts and free to download for Microsoft Word or Google Docs.
5 job description examples for your resume
Now that you've learned how to correctly identify what information needs to be included in your resume job descriptions, here are five job description examples for you to reference before you begin writing:
1. Sales associate job description example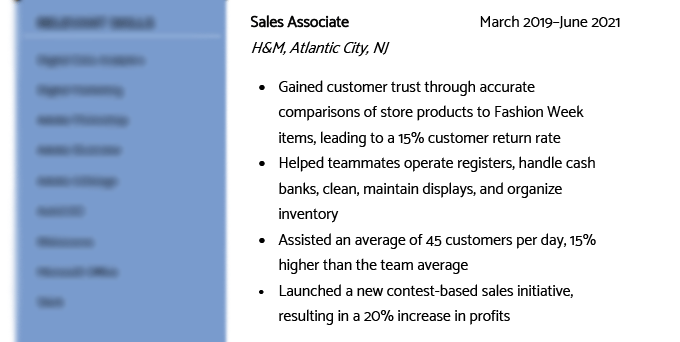 2. Customer service job description example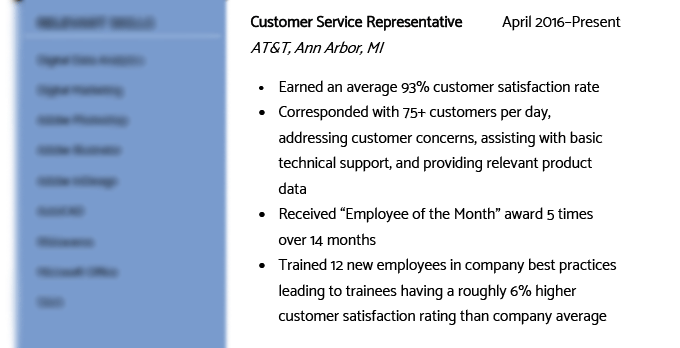 3. Server job description example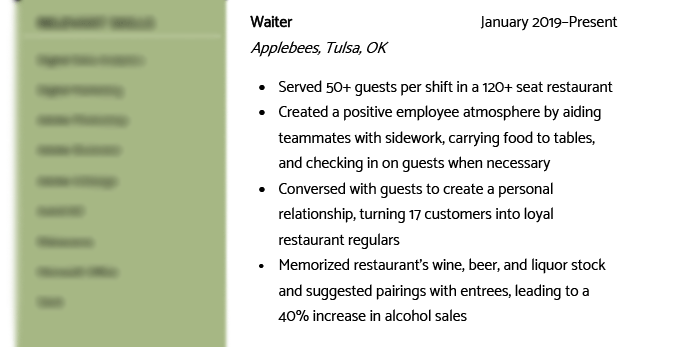 4. Teacher job description example
5. Nurse job description example