The two cover letters on this page are both for the Food Service industry. The first is a culinary arts professional seeking a managerial position, the second is an entry-level candidate hoping to land a full time job as a waiter. These cover letters have been written based on real resume samples hosted on our website. If you need help with your resume, check out our How To Write a Resume Guide.
In a hurry? Our state of the art cover letter builder can help you write a convincing cover letter in minutes.
Build My Free Cover Letter Now >>
Both of the letters on this page follow the template outlined in our cover letter writing guide:
Table of Contents
SEE ALSO > Cover Letter Template Library
---
1. Food Service Cover Letter Sample
Based on the following resume (click to enlarge):
Click Here to Download Our
Waiter CL Templates
(Manager's Name)
HR Manager
Company Name
Company Address
Date
Dear Mr./Mrs./Ms. (Manager's Name)
I'm writing to you today to apply for the position of Restaurant Manager at (Company Name), which I saw posted on a job board at (Website Name). With a BA in Culinary Art, more than seven years of experience in the food service industry in a variety of establishment, and exceptional hospitality skills to complement this experience, I am confident in my abilities to perform this role and become a central element to your team.
I have proven my ability to manage the workflow of both the back and front end of many restaurants, evidenced by my ability to consistently earn high customer satisfaction ratings on all take-home surveys. This has been a major aspect of my success throughout my career. In my present role of Food Service Worker at Riverside Restaurant, I have demonstrated strong leadership qualities while supervising the staff in a manner which adheres to the restaurant's ideals and image. I have also memorized the wine list and their appropriate entrée pairings, which resulted in monthly sales 10% above company average.
Furthermore, I've also gained extensive knowledge and insights into providing outstanding customer services by anticipating customer needs. Having previously worked at Carrabba's Italian Grill as a Trainee Food Service Worker, I became proficient in handling the concerns of less satisfied patrons by ensuring that they never left the restaurant without resolving any issues they had without a positive outcome.
My resume is enclosed, and will give you further insight into my skill sets, accomplishments, and experience in this sector. I look forward to discussing my application with you further.
Sincerely,
Name
Address
T: Phone number
E: email address
---
2. Restaurant Manager Cover Letter
Based on the following resume (click to enlarge):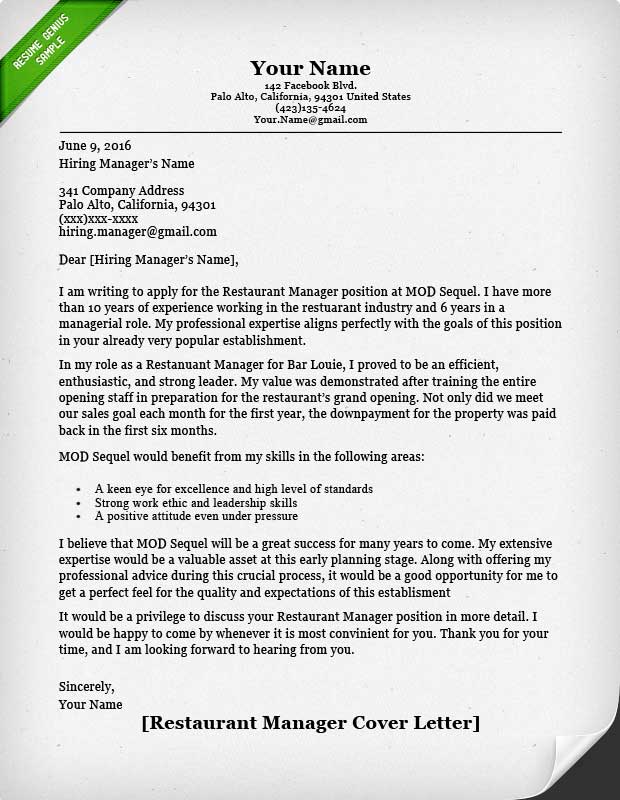 Click Here to Download Our
Restaurant CL Example

341 Company AddressHiring Manager's Name
Palo Alto, California, 94301
(xxx)xxx-xxxx
Dear [Hiring Manager's Name],
I am writing to apply for the Restaurant Manager position at MOD Sequel. I have more than 10 years of experience working in the restuarant industry and 6 years in a managerial role. My professional expertise aligns perfectly with the goals of this position in your already very popular establishment.
In my role as a Restanuant Manager for Bar Louie, I proved to be an efficient, enthusiastic, and strong leader. My value was demonstrated after training the entire opening staff in preparation for the restaurant's grand opening. Not only did we meet our sales goal each month for the first year, the downpayment for the property was paid back in the first six months.
MOD Sequel would benefit from my skills in the following areas:
A keen eye for excellence and high level of standards
Strong work ethic and leadership skills
A positive attitude even under pressure
I believe that MOD Sequel will be a great success for many years to come. My extensive expertise would be a valuable asset at this early planning stage. Along with offering my professional advice during this crucial process, it would be a good opportunity for me to get a perfect feel for the quality and expectations of this establisment
It would be a privilege to discuss your Restaurant Manager position in more detail. I would be happy to come by whenever it is most convinient for you. Thank you for your time, and I am looking forward to hearing from you.
Sincerely,
Your Name
---
3. Entry-Level Waiter Cover Letter
Based on the following resume (click to enlarge):
Click Here to Download Our
Entry-Level Waiter CL Templates
(Manager's Name)
HR Manager
Company Name
Company Address
Date
Dear Mr./Mrs./Ms. (Manager's Name)
Dear Mr Name of the hiring manager,
I am writing to you today regarding the open position for Food Service Worker at (Company Name). I came across your posting on (Website Name), and am excited by the possibility of joining your establishment.
As a customer service driven individual who has a proven history of exceeding performance expectations, I believe I would be a strong addition to your team, and contribute to the ongoing operational success of your company. Some of the key talents I can bring to your company include safety/sanitation/quality control, inventory management, team building and training, and accurately determining a customer's needs before providing them with prompt service.
My present employment at Bob's Steak House as a Food Service Assistant has helped me to develop my abilities in key areas such as meeting and greeting customers, making reservations in person and over the phone, maintaining hygiene, and training and assisting new employees.
Your company is a market leader in the food service industry, and I would love to become a part of your winning team. I am confident that I can smoothly fit into your company culture. I will be an excellent candidate for your vacancy as I have a proven track record of attaining exceptional customer service satisfaction levels.
I have enclosed my resume for your review, and would be thankful for an opportunity to meet with you in the near future to further discuss my application.
Sincerely,
Name
Address
T: Phone number
E: email address