This is a Secretary Cover Letter free sample. It is based on real and successful cover letters used for real positions. Feel free to download for free and adjust according to your experience and circumstances.
SEE ALSO> Cover Letter Samples By Industry
Build My Free Cover Letter Now!
Secretary Cover Letter Sample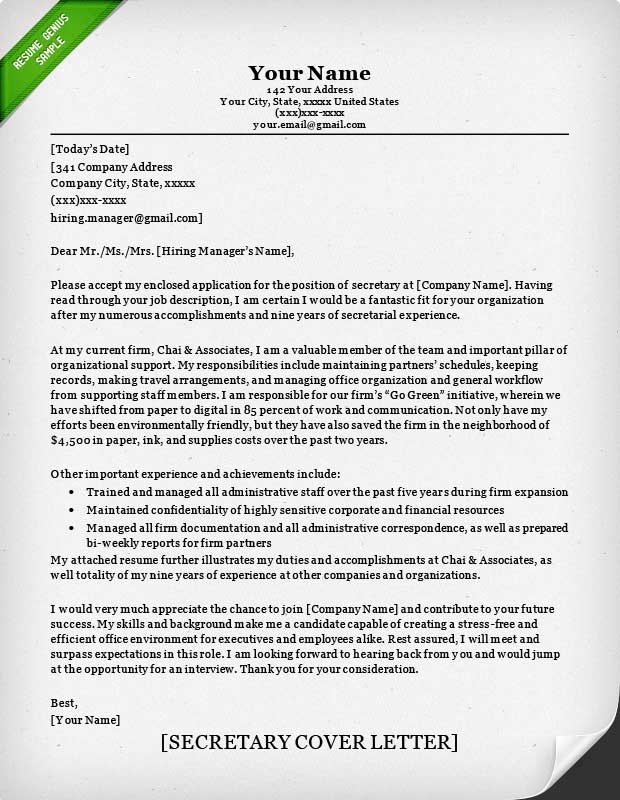 Click Here to Download Our
Secretary Cover Letter Sample
Secretary Cover Letter (Text Format)
[Today's Date]

[341 Company Address

Company City, State, xxxxx

(xxx)xxx-xxxx

hiring.manager@gmail.com]

Dear Mr./Ms./Mrs. [Hiring Manager's Name],

Please accept my enclosed application for the position of secretary at [Company Name]. Having read through your job description, I am certain I would be a fantastic fit for your organization after my numerous accomplishments and nine years of secretarial experience.

At my current firm, Chai & Associates, I am a valuable member of the team and important pillar of organizational support. My responsibilities include maintaining partners' schedules, keeping records, making travel arrangements, and managing office organization and general workflow from supporting staff members. I am responsible for our firm's "Go Green" initiative, wherein we have shifted from paper to digital in 85 percent of work and communication. Not only have my efforts been environmentally friendly, but they have also saved the firm in the neighborhood of $4,500 in paper, ink, and supplies costs over the past two years.

Other important experience and achievements include:

Trained and managed all administrative staff over the past five years during firm expansion

Maintained confidentiality of highly sensitive corporate and financial resources

Managed all firm documentation and all administrative correspondence, as well as prepared bi-weekly reports for firm partners

My attached resume further illustrates my duties and accomplishments at Chai & Associates, as well totality of my nine years of experience at other companies and organizations.

I would very much appreciate the chance to join [Company Name] and contribute to your future success. My skills and background make me a candidate capable of creating a stress-free and efficient office environment for executives and employees alike. Rest assured, I will meet and surpass expectations in this role. I am looking forward to hearing back from you and would jump at the opportunity for an interview. Thank you for your consideration.

Best,

[Your Name]
If you are looking for administrative assistant cover letters, we also offer those. Or, let us build your cover letter from scratch!