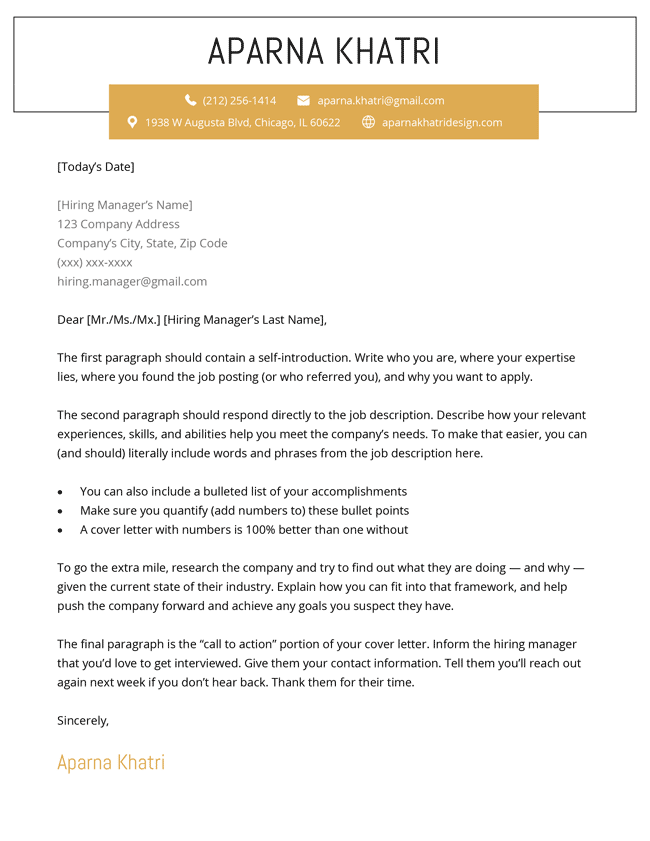 Windsor
Why It's Called the "Windsor"
Sleek and colorful, the Windsor cover letter template's bold header and simple font were inspired by the elegance of the royal family. It's the perfect template to grab attention without being flashy.
Who Should Use It?
The Windsor template is perfect for anyone in a creative field who wants to add some stylish color to their job application. In particular, it's great for people working in design or social media.
Format and Style
Colored contact bar and elegant header
Top – 2.54 cm
Bottom – 1 cm
Left – 1.9 cm
Right – 1.9 cm
Name/Header Font: Abel
Content Font: Open Sans
Name Font Size: 35pt
Body Font Size: 11pt
How to access this template
Cover Letter builder
Making a cover letter that stands out from the slush pile is easier and more convenient with us. You can follow a pre-made cover letter template or create your own design from scratch using our intuitive drag-and-drop editor tool.