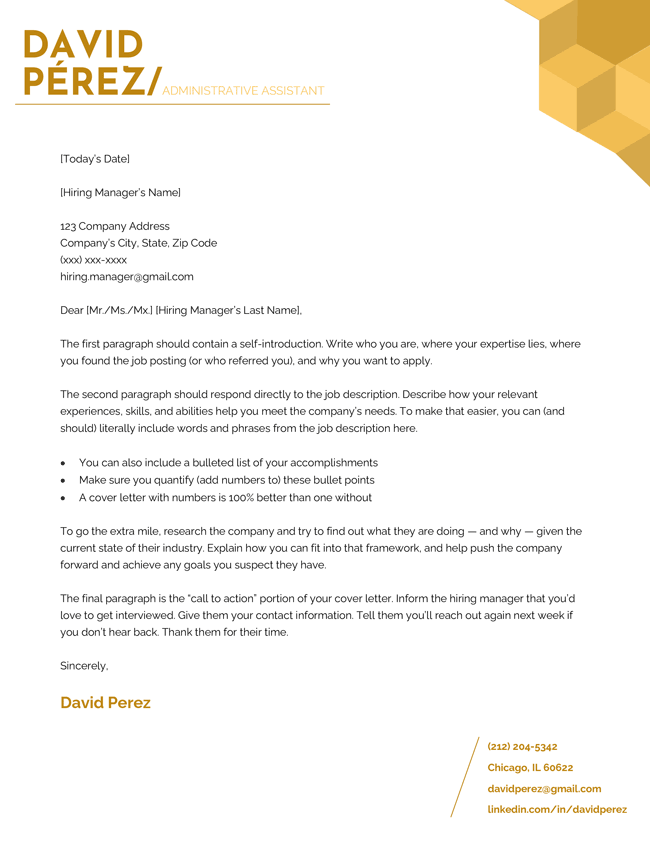 Current
Why It's Called the "Current"
With a modern geometric design and contemporary style, the "Current" cover letter template tells employers that you're on the cutting edge of your industry and ready to take on new challenges.
Who Should Use It?
The "Current" template is well-suited to candidates entering technical fields such as engineering or IT, but can be used by any job seekers looking to bring a fresh and modern approach to their application.
Format and Style
Aesthetic header featuring stylized cubes
Diagonal design elements that highlight a candidate's title and contact information
Top – 2.54 cm
Bottom – 1 cm
Left – 1.9 cm
Right – 1.9 cm
Name/Header Font: Josefin Sans
Content Font: Raleway
Name Font Size: 35pt
Body Font Size: 10pt
How to access this template
Cover Letter builder
Making a cover letter that stands out from the slush pile is easier and more convenient with us. You can follow a pre-made cover letter template or create your own design from scratch using our intuitive drag-and-drop editor tool.