Are you a Mac user getting ready to start a new job search? One of the best ways to make a resume quickly is by using one of the many free resume templates available for Pages and filling it in with your information.
Read on to find out what options are available and which Pages resume template best matches your needs.
However, if you're looking for other resume template options, check out some of the following resources:
Our free-to-use resume builder can make you a resume in as little as 5 minutes. Just pick the template you want, and our software will format everything for you.
10 free Apple resume templates for Pages
Here are ten free Mac resume templates available for Pages. You can easily find all these templates available by default in Pages:
1. Classic Resume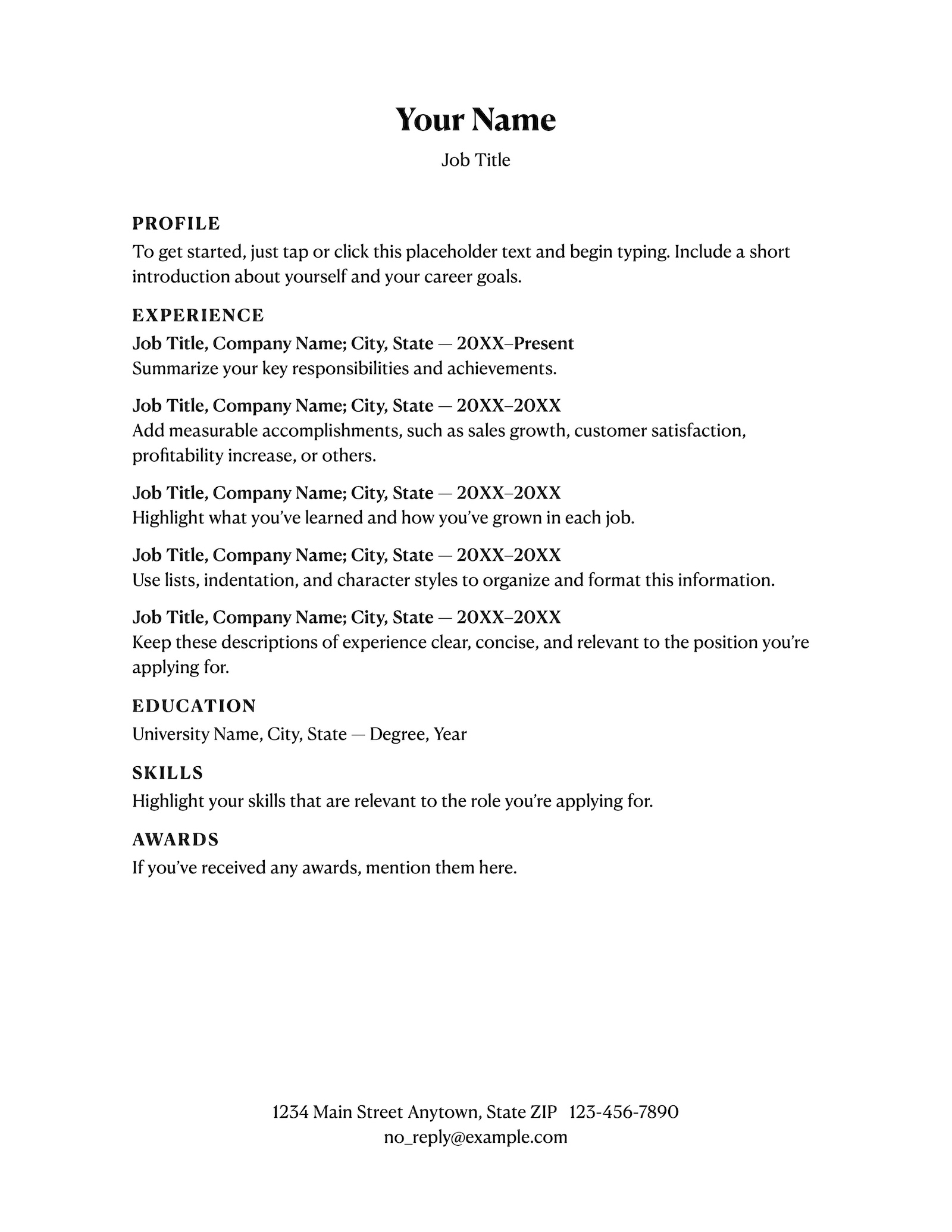 This is your standard minimalist resume template. The Classic template has a clean, straightforward layout that gets the job done.
However, if you're applying for a competitive position you might want to opt for a more unique template that helps your application stand out.
2. Professional Resume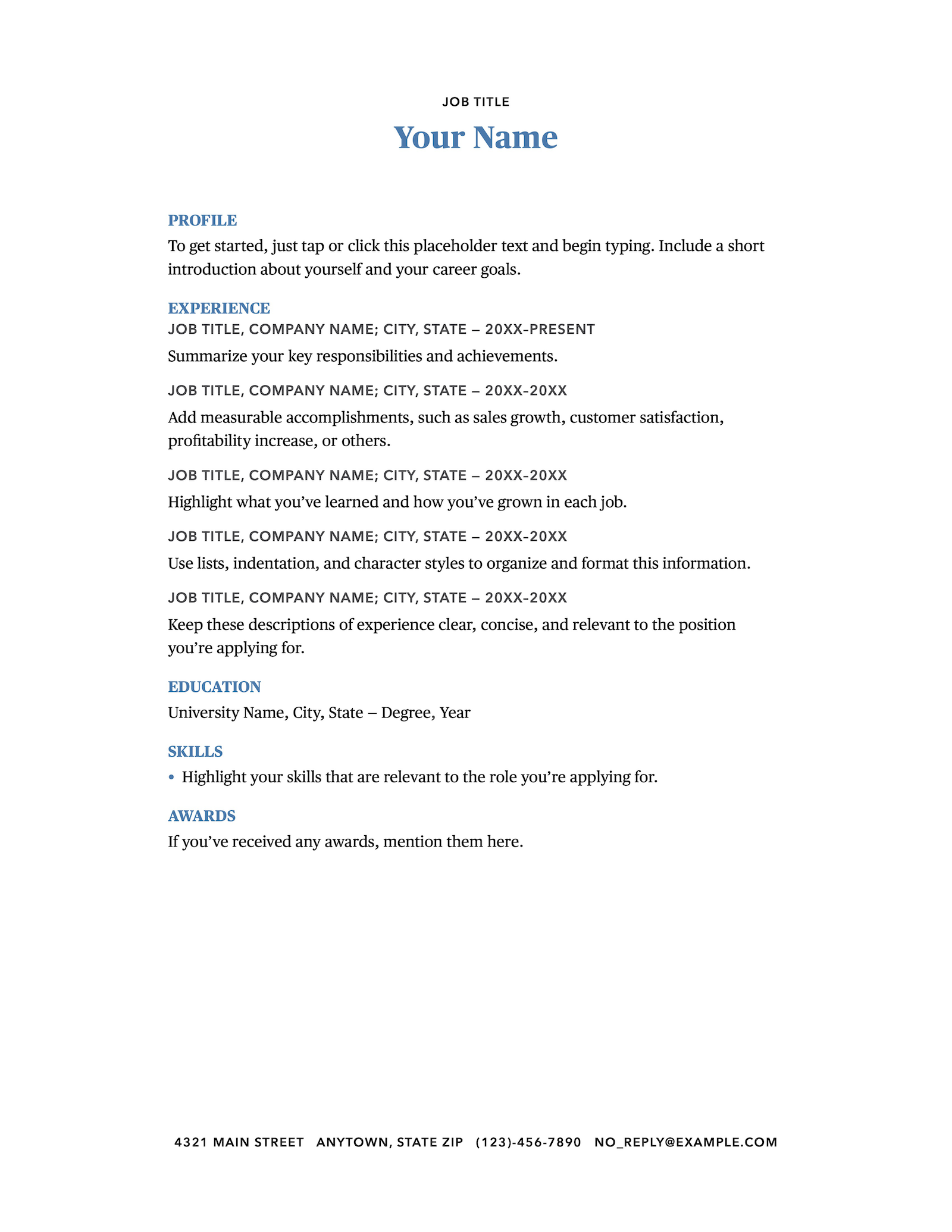 The Professional Pages resume template is fairly basic, but there are a few pops of color that effectively highlight the header and each resume section.
This not only adds visual interest to the page but also guides the reader's eye to the most important information.
3. Contemporary Resume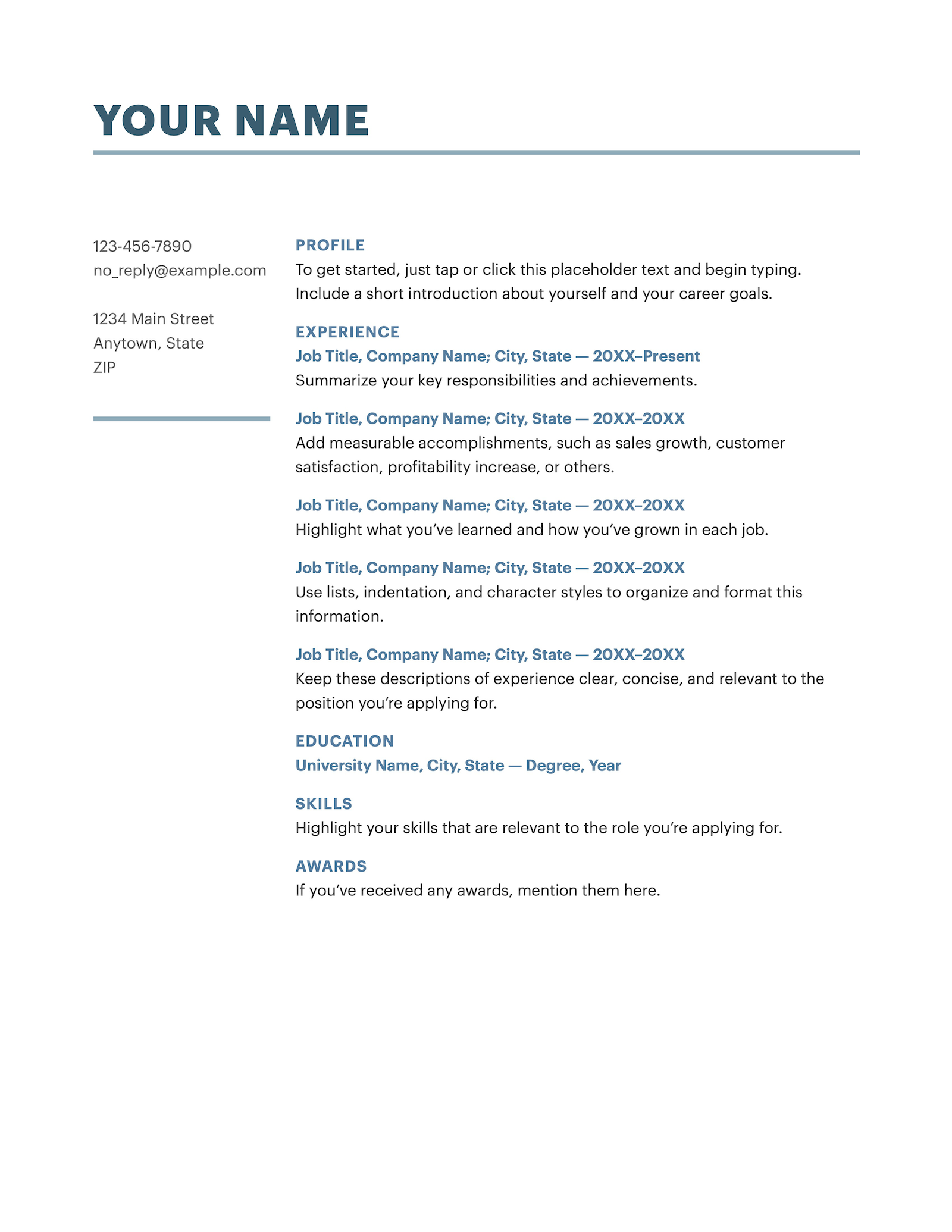 The bold, underlined header differentiates the Contemporary from other Apple Pages resume templates.
If you're struggling to stick to the recommended resume length of one page, go for the Contemporary template. Because your contact information is placed on the left side of the page, it gives you some extra room to list your skills and professional experience on your resume.
4. Personal Resume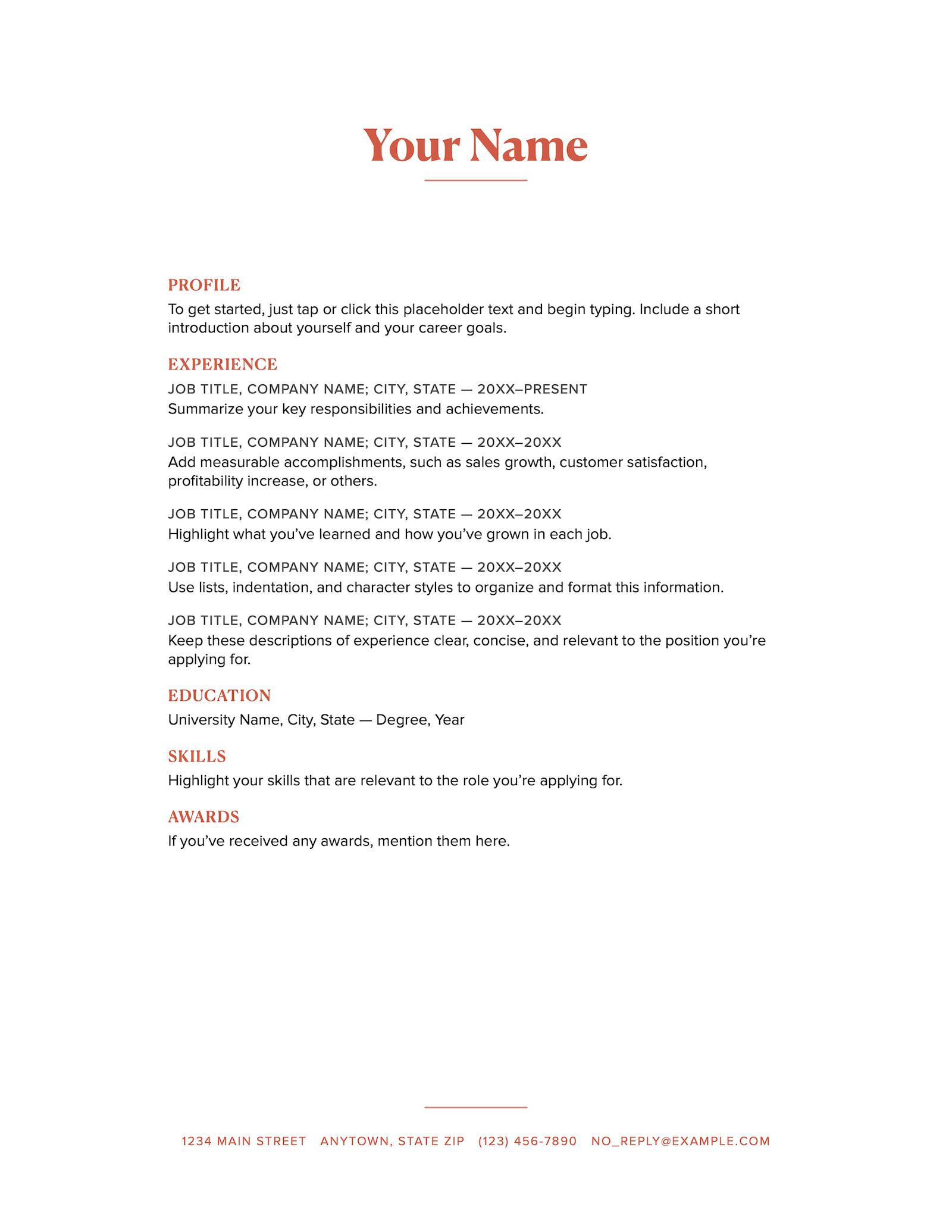 Add a stylish touch to your resume with the Personal resume template for Pages. This template uses colorful orange headers that emphasize your name, contact information, and each part of your resume.
The Personal template follows a traditional resume layout that will suit a wide range of professionals, from entry-level applicants to candidates vying for senior-level positions.
5. Modern Resume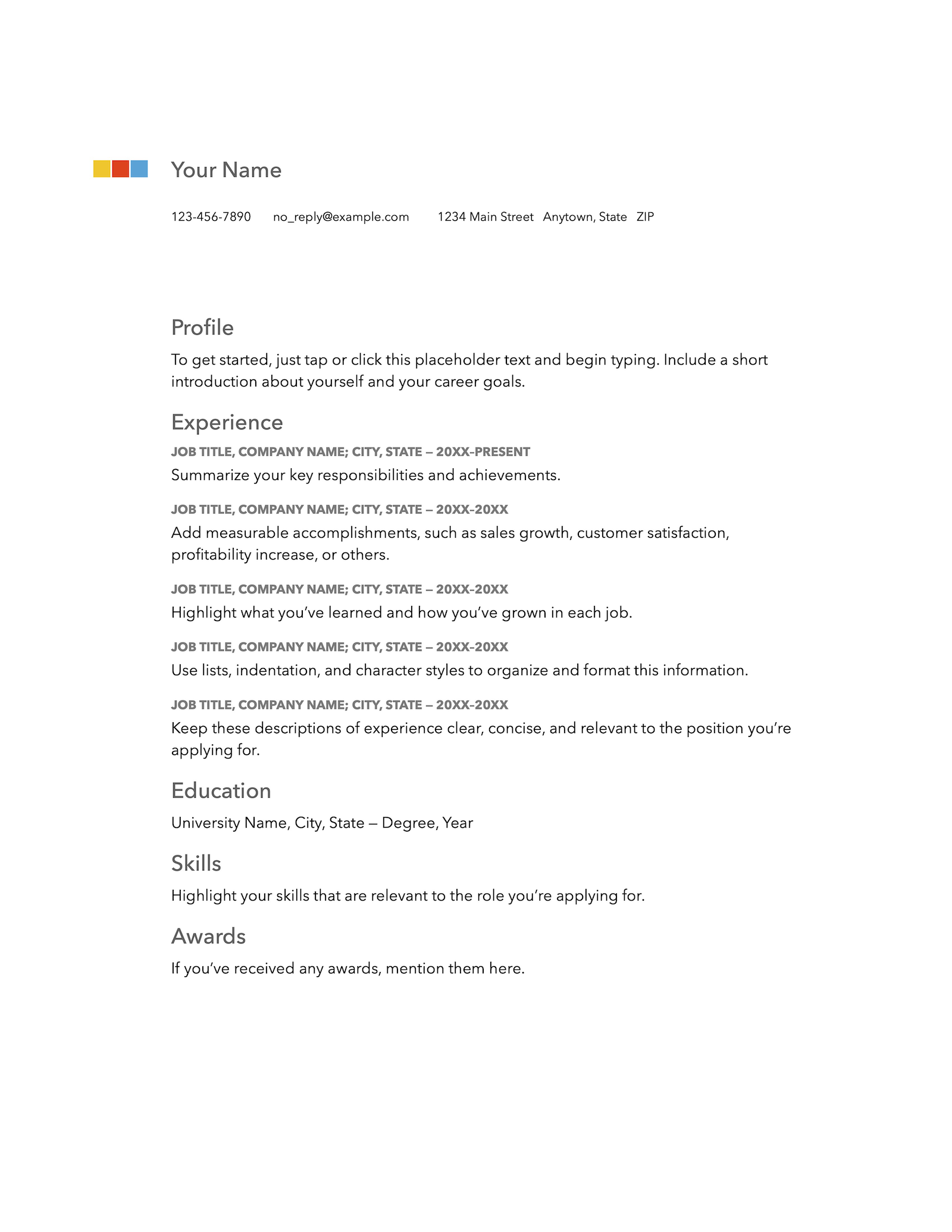 The layout of the Modern resume template for Mac is clean and modern, making it a great choice for job seekers in all industries. While the design is minimalistic, the three colorful squares at the top give it some personality.
6. Business Resume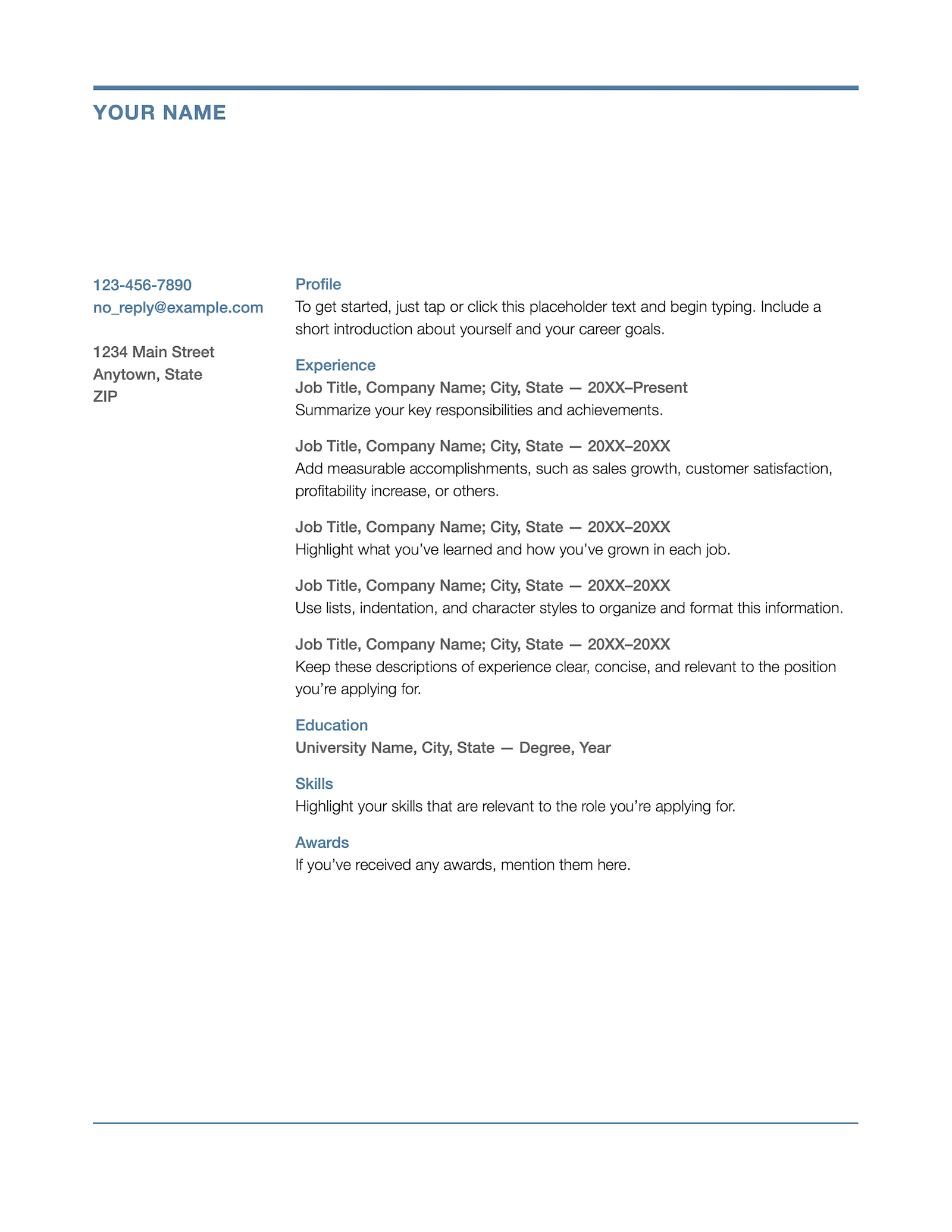 The free Business resume template from Pages is the perfect choice if your main concern is making a professional impression on employers.
The blue line in the header sets it apart from the other available templates, and hiring managers will appreciate the no-nonsense design that makes your accomplishments the center of attention.
7. Elegant Resume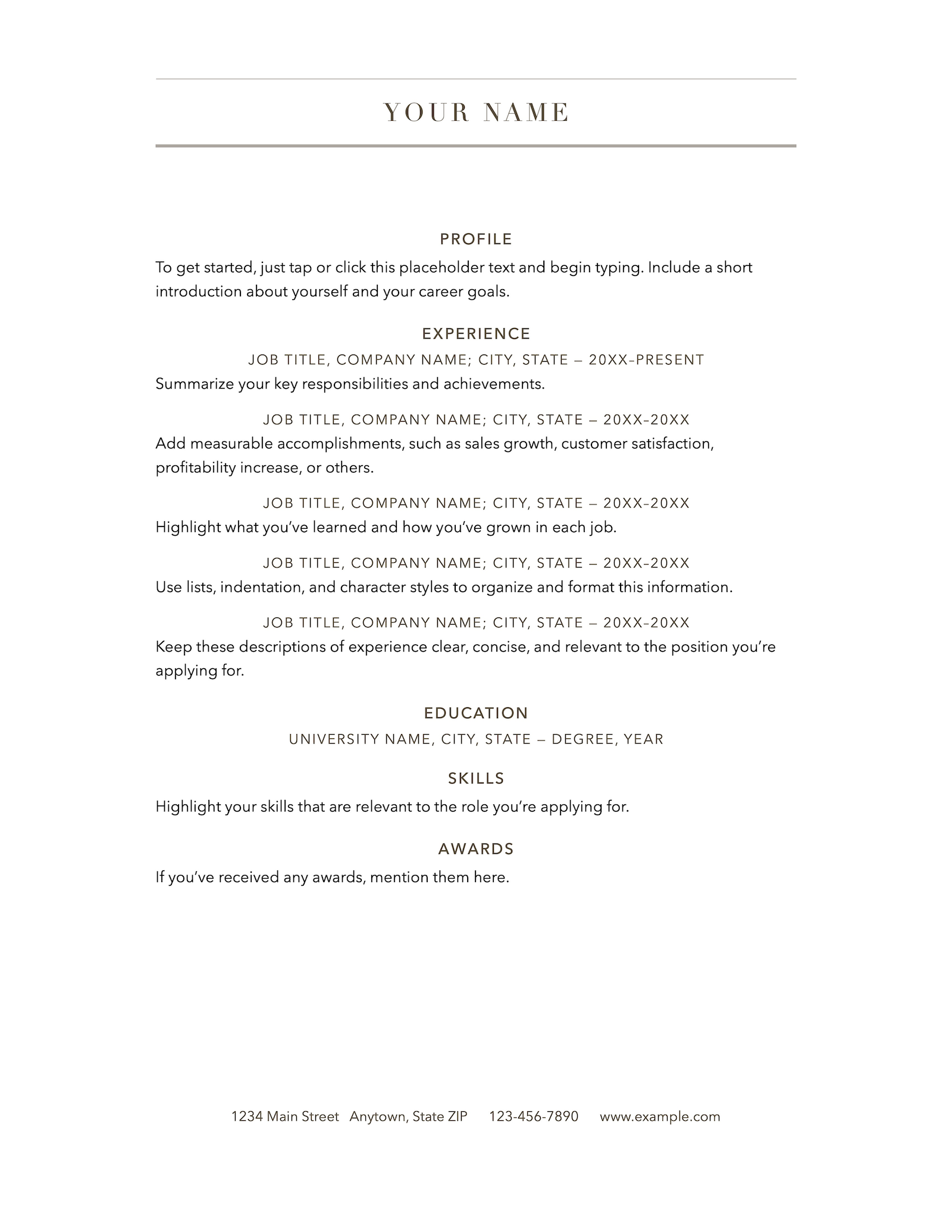 With its sleek design, the Elegant resume template is sure to leave a lasting impression on hiring managers. The layout is simple yet effective, with plenty of white space and a color scheme that gives it a timeless look.
This makes it appropriate for job seekers in a variety of industries, but it's especially suitable for applicants in creative fields where aesthetics are important such as fashion or architecture.
8. Bold Type Resume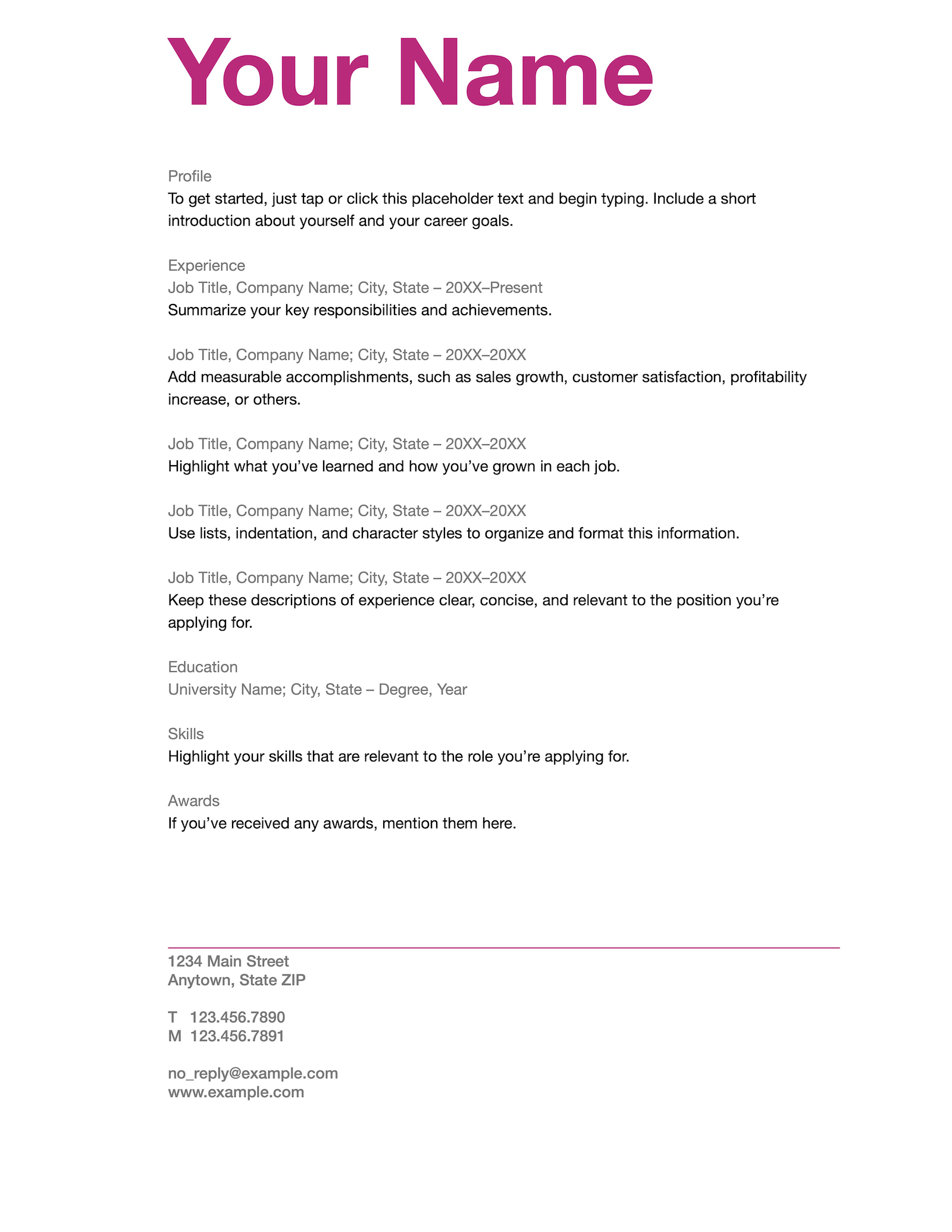 Concerned that your resume won't make an impact? Choose the Bold resume template in Pages to present your qualifications in a visually appealing way.
This resume features an eye-catching header that will immediately grab hiring managers' attention and make them remember your name.
9. Informal Resume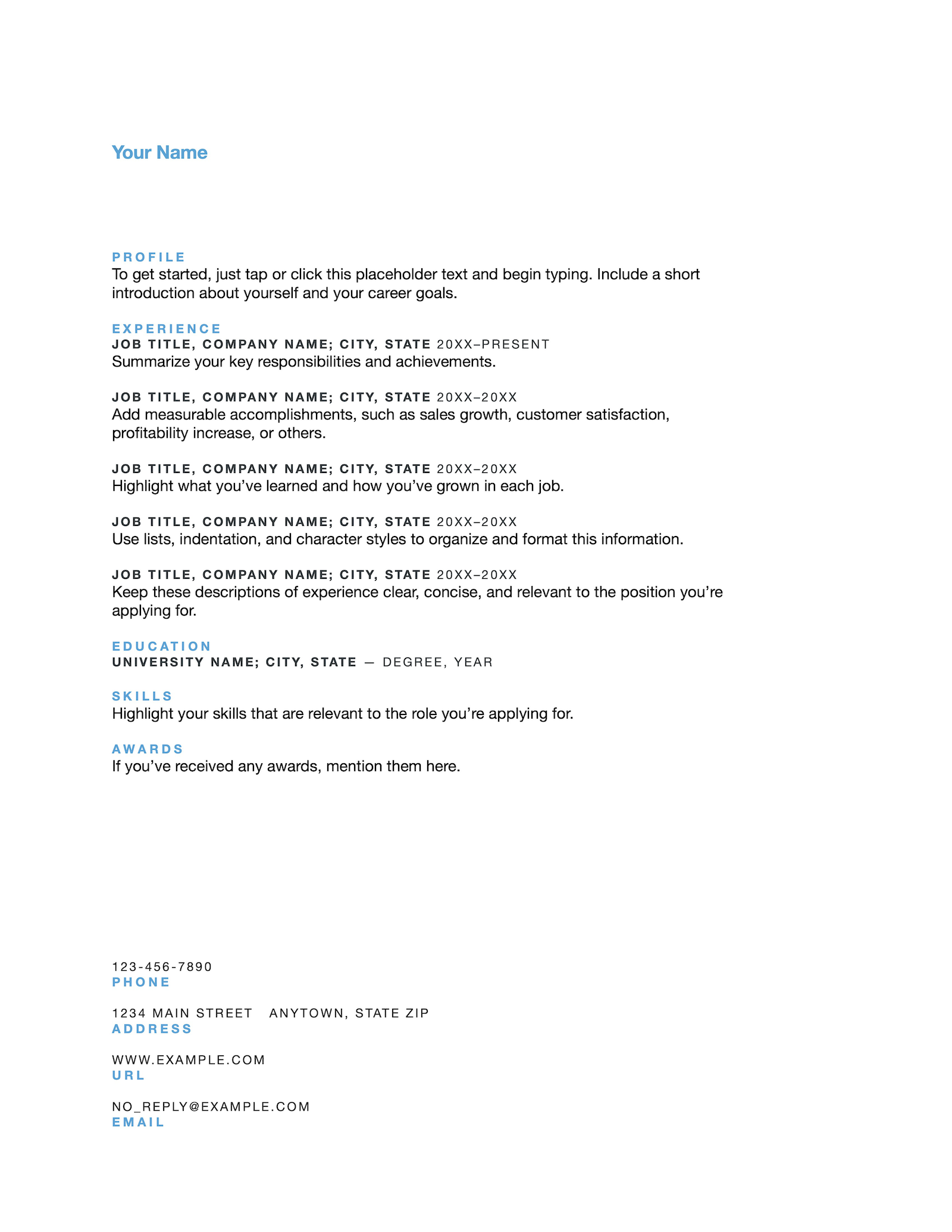 Although it's called the Informal Resume, this template can be used even if you're applying for a managerial role.
If you feel like the light blue color used for the header and resume sections doesn't fit your industry, you can adjust it and choose a color that you like better.
10. Curriculum Vitae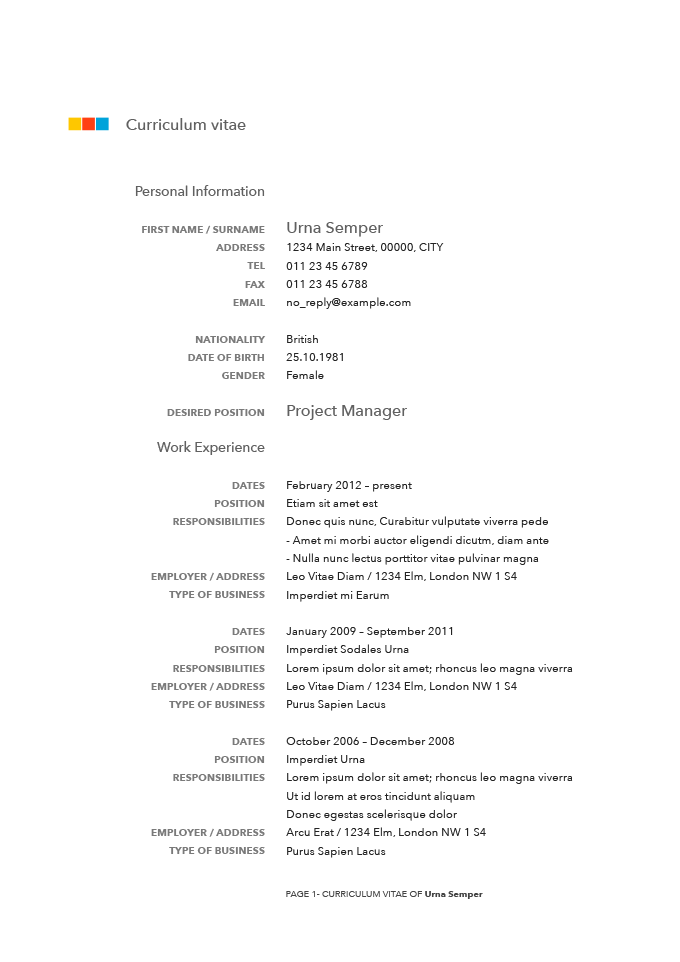 Applying for a job in the UK? This CV template is two pages long, the standard length of job application documents in most parts of Europe.
If you're writing an academic CV for a position in the US, you can adjust this template to fit your needs by adding sections for publications, conferences, and research experience.
5 custom Pages resume templates
Looking for something a little different from the standard Mac resume templates available by default in Pages? Here are five custom-made resume templates for Pages that you can download:
1. Easy Resume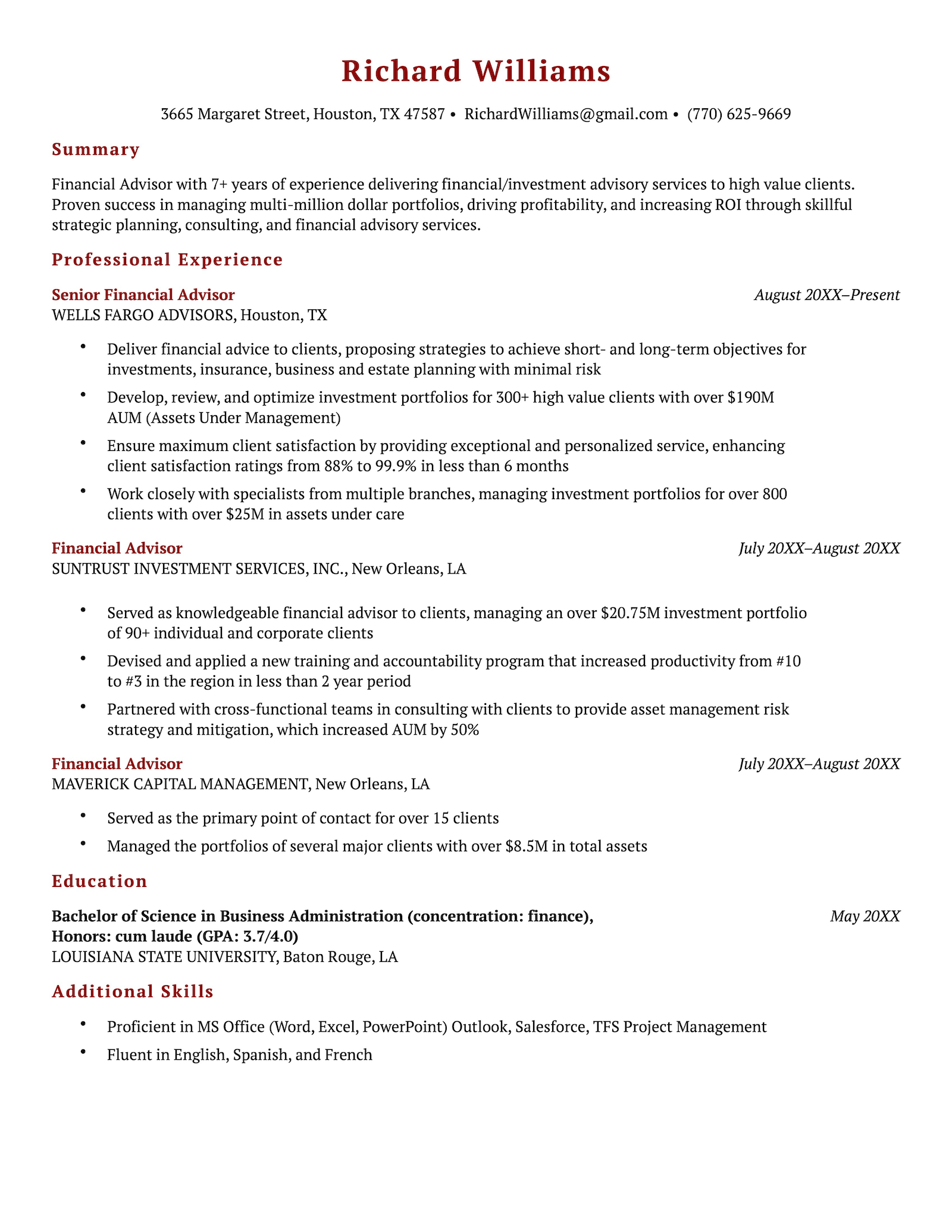 Looking for a simple free template for Pages without distracting design elements? The Easy Resume is a great candidate. This template is designed to draw attention to your abilities and areas of expertise.
This type of layout also makes it easy to add and change the order of the different resume sections if necessary.
2. Photo Resume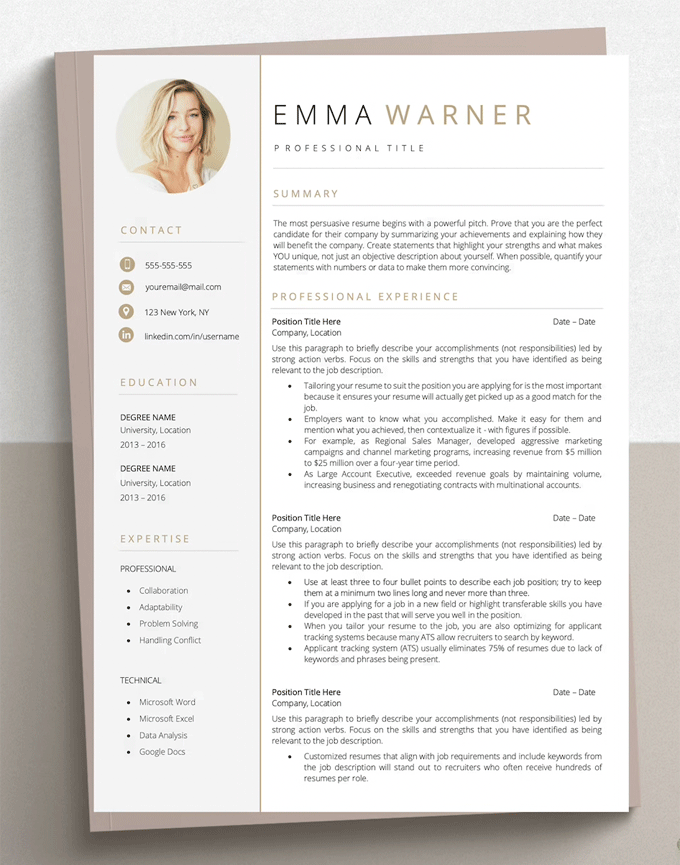 Applying for a job in social media or showbiz? If so, presenting yourself and your personal brand in the right way should be one of your main priorities when choosing a resume design.
The Photo Resume from Etsy is available for Pages and gives hiring managers a glimpse into who you are as a person while listing your qualifications in an easy-to-read way.
3. Pantheon Resume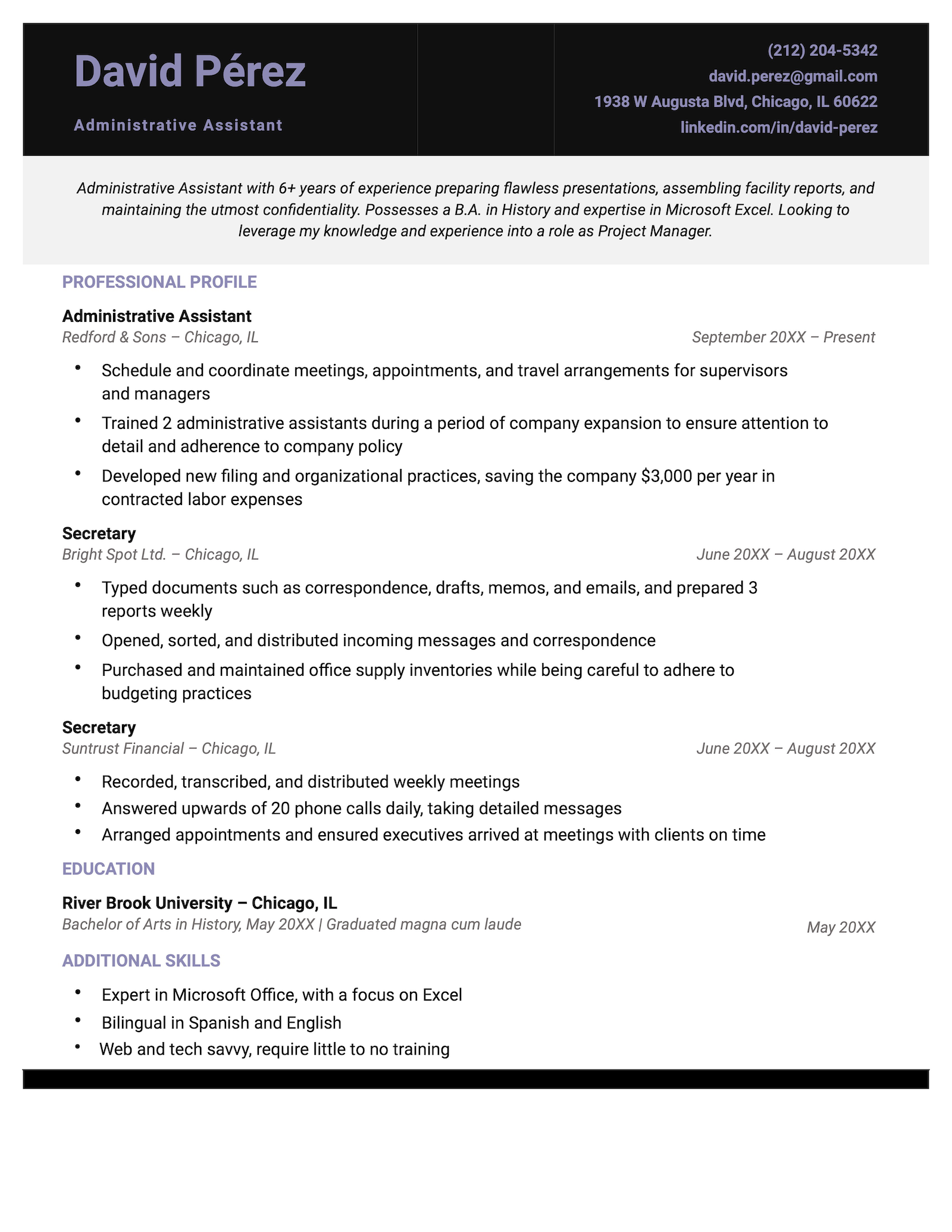 The distinct header of the Pantheon resume template for Pages emphasizes your name and resume summary, giving employers a quick overview of your most impressive accomplishments. Meanwhile, the purple highlights are aesthetically pleasing while giving it a unique look.
4. Clean Resume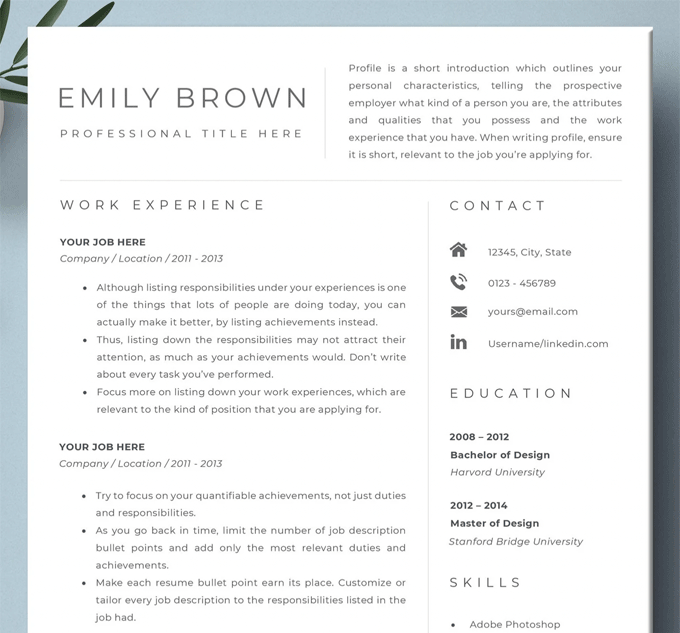 Unlike the other templates listed, the Clean resume template for Mac features the candidate's resume introduction in the header instead of underneath it. The Clean Resume is an excellent choice for job seekers looking for a modern, well-balanced design.
The neutral colors make it easy on the eye, and the icons next to the contact information are a nice touch.
5. White House Resume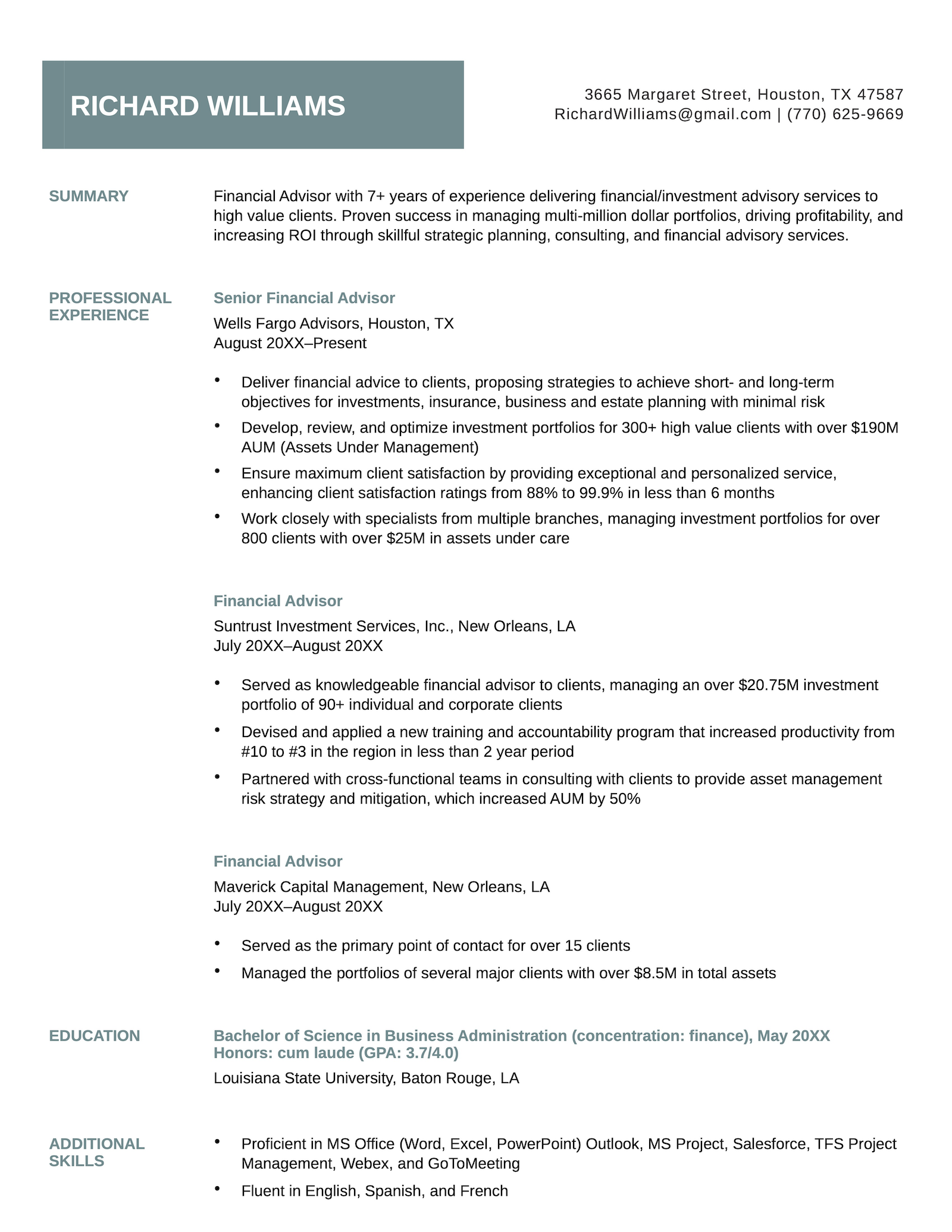 The turquoise accents of the White House template for Pages effectively separate your work experience entries without compromising on space, giving you plenty of room to describe your professional background.
This is a great template choice for candidates with years of experience and numerous achievements to list.
How to create a resume using Pages
Looking for advice on how to write a resume in Pages? Here are five tips to help you get started:
1. Choose the right design for your target role
Not all resume templates for Mac are suitable for every type of job. For example, a template with a striking pink header isn't the best option if you're applying for a job in the legal field.
In this case, choosing a resume design with a simple design and dark colors would be a better choice, because it looks more subtle and professional.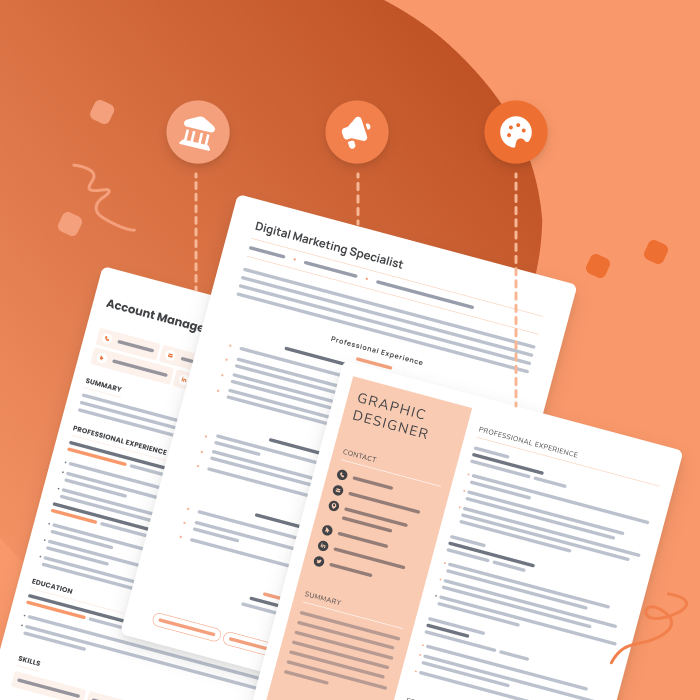 Not sure what your resume should look like? The best way to learn is by taking inspiration from resume examples written by other candidates in your industry.
2. Format your resume correctly
Picking the correct format for your resume will ensure your information is listed in the right order with your most relevant qualifications at the top.
Most job seekers should use a traditional chronological resume. However, if you're applying for a job and have little relevant experience, a functional resume is a good alternative that emphasizes your skills.
Or, if you're a seasoned professional with decades of experience, consider a combination format which is a mix of a functional and chronological resume.
3. Add additional sections
This step is optional, but if including additional sections on your resume will help you showcase abilities relevant to the job, consider adding them.
Some examples of sections you could add are:
Languages
Certifications
Awards
Publications
4. Select a legible font
If a hiring manager can't read your resume, they'll reject your application before they get past your resume introduction.
An appropriate resume font is clear and easy to read. Candidates applying for work in creative fields can get away with using more decorative fonts for the header of their resume, but each section should be written in a common font like Arial, Georgia, or Calibri.
Also, be sure to pick an appropriate font size – something between 10 to 14 point font.
5. Fill in your information
The final step of creating a resume in Pages is to replace the placeholder text with your own information.
Remember to proofread it before you send it off to ensure that it's error-free and, once you're done, print it out or download it as a PDF if you plan on emailing your resume.