Your resume objective (or 'career objective') sets the tone for your entire resume. Job seekers from all walks of life use this introduction to great effect, and you can too – but first you need to learn how.
Introduction to Writing Resume Objective Statements
Writing a resume objective statement is a smart way to capture the attention of the hiring manager, if written correctly. Unfortunately, most people misunderstand what a resume objective is supposed to say.
If you follow that one rule, your career objective will naturally be strong. However, you should read this guide to get concrete ideas about how to write yours.
General Resume Objective Examples & Writing Guide for Professionals
(2-3+ years of work experience in an entry-level job)
View these resume objective examples:
As a professional with years of experience under your belt, you are probably writing a resume in order to move to a better working environment, transfer jobs, earn more money, or attain a managerial role. Your career objective will need to reflect your wishes, and make a strong argument for why you'd be a strong candidate.
A successful professional's resume objective can be broken down into these sentences:
1st:

Mentions number of years of work experience in chosen industry, and the types of duties you filled

2nd.

Mention the qualities that make you a strong candidate for a SPECIFIC job role — ensure that they are RELEVANT to the job you're applying for

3rd.

Note what kind of degree you hold, and any relevant licenses or certificates you've earned
Here's an example of a professional customer service resume objective, which has been color coded according to the above bullet points.
Customer Service Representative with 4+ years of experience of telephone and face-to-face sales, hotel bookings and account administration. Aiming to use my proven customer service, sales, and communication skills to effectively fill the managerial role in your company. Possess a BA in Communications.
What Makes This a Good Resume Objective?
This career objective successfully (and quickly) makes the argument that this candidate would succeed in a managerial role. The hiring manager would immediately be interested in a candidate with 4+ years of experience learning relevant skills of telephone/face-to-face sales, hotel bookings, and account administration. The hiring manager would be even more interested in the fact that this candidate has proven to be masterful in previous job roles, specifically in sales and communication skills.
When the candidate writes that he/she has "proven" skills, this is because the Professional Experience section of the resume will expand upon the experience and achievements that prove he/she has those skills. For instance, this candidate might consistently meet or exceed sales targets, which would provide sufficient proof that the candidate is skilled at his/her job, and could potentially fill a managerial role.
Click Here for More Professional Resume Objective Statements
Retail Manager Resume Objective Sample
Head Cashier with over 8 years of experience in providing excellent customer service, handling daily accounts and maintaining inventory. Aiming to use my knowledge and expertise to effectively fill the managerial role in your store. Possesses a Bachelor's degree in Arts.
Sales Resume Objective Statement
Sales manager with 7+ years of experience driving profitability through strategic growth, leading teams, and quality control. Fiercely competitive in my approach to acquire business, and able to handle complex situations from a strategic and tactical perspective. Presently seeking a suitable leadership position with a market-leading, high-growth company that offers opportunities for advancement into sales management.
Accounting Resume Objective
Certified Public Accountant with 5+ years of experience of ledger processes, account reconciliations and streamlining accounts. Possess an MBA with a focus in accounting. Seeking to leverage accounting expertise and experience into a managerial role as a corporate banker.
Entry-level Resume Objective Examples & Guide for College Students
(Some or no professional experience)
View these resume objective examples:
As a college student or recent graduate, you are likely looking for entry-level work or an internship. Your career objective will need to emphasize your personal character traits as viewed through the lens of your education. We suggest dividing your resume objective statement into these sentences:
1st:

Mention your degree and how many years of work experience you have (if you have any)

2nd:

Describe your strongest PROVABLE traits, and the role you'd like to apply them to in the company

3rd:

Emphasize that you are hard working and reliable, and that you are focused on achieving company goals
Here's an example of a complete resume objective paragraph, which has been color coded according to the bullet points above.
Recent college graduate with a BA in English Literature and six months of international internship experience. Seeking to leverage acquired academic knowledge and work experience to effectively fill your office clerk position. A dedicated worker aiming to help achieve company goals and take on more responsibility as quickly as possible.
This student does have some internship experience, which is extremely valuable and should be included in the first sentence of the resume objective.
If you have no work experience, you'll need to demonstrate traits that make you a strong candidate based on your achievements as a college student. We have a comprehensive guide for how to describe extracurricular activities in your resume that will help you write an effective resume objective.
Click Here for More Graduate Resume Objectives
Applying for a Construction Worker Position
Skilled laborer seeking to leverage acquired academic knowledge and work experience into an entry-level position at your construction company. Enthusiastic worker who is always willing to learn new skills and take on more responsibility. Possess an Associate's Degree in Building Construction Technology.
Applying for a Janitorial Position
Energetic and passionate entry-level professional seeking a full-time janitorial position. Seek to use my proven skills and knowledge to provide a safe and, healthy environment for your customers. Dedicated employee and possesses a strong work ethic with fastidious attention to detail.
Applying for a Waiter Position
Enthusiastic Food Service Worker with 2+ years of experience. Possess a Certification in Food Handling and Safety. Seeking to leverage proven skills and acquired knowledge into an entry-level position to help achieve your company's goals.
Career Objective Examples & Writing Guide for High School Students
View this resume objective example: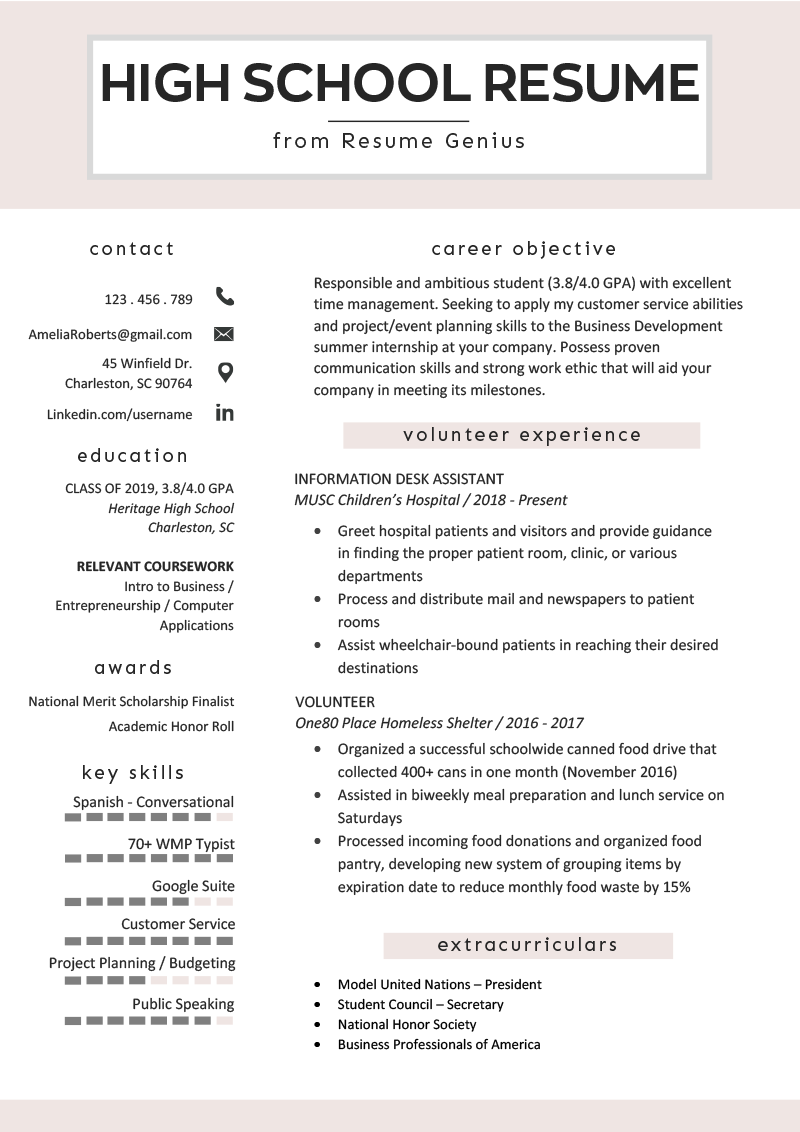 If you do not have professional experience or a college degree, you may be hoping to land an entry-level job, apprenticeship, or internship.
In your resume objective, you'll need to emphasize general traits about your character, personality, and work ethic that would make you a valuable employee.
You can do that by splitting the objective for a resume into three sentences:
1st: Self introduction via mentioning your strongest (provable) traits
2nd: Telling the hiring manager which role you want to fill
3rd: Emphasizing that you are reliable, and have company goals in mind
Here's an example of a career objective for a high school resume. (Each section is color coded according to the bullet points above.)
Hard-working student (3.5/4.0 GPA) with proven leadership and organizational skills, and minute attention to detail. Seeking to apply my abilities to fill the internship role in your company. I am a dedicated team player who can be relied upon to help your company achieve its goals.
This student claims to have leadership and organizational skills as his/her main traits, as well as a strong GPA.
Each of these will need to be PROVEN later in the resume – perhaps he/she is an elected student official, or helped organize school dances. That information would be contained within the resume.
Two Rules of Thumb
Don't just make up nice sounding words to describe yourself
Make sure that the traits you claim to have are actually reflected in the bullet points on your resume. You'll need to think about what personality traits and strengths you exhibit in the activities you participate in at school.
Here's a short list of school activities and their associated character traits you can get some resume objective ideas from:
| | |
| --- | --- |
| School Activity: | Associated Character Traits: |
| Student Government: | Leadership, Management, Organization |
| Sports: | Team Player, Disciplined, Strategic |
| Theater Arts: | Public Speaking, Presentation Skills, Interpersonal Skills |
| Various Clubs: | Engaged, Active, Friendly, Enthusiastic |
| Academics: | Analytical, Hard Working, Fast Learner |
Target the career objective at the role that you're applying for
A hiring manager for an internship role in finance might be less interested in your public speaking ability, and more interested in your analytical ability. However, a restaurant manager might be more interested in your interpersonal skills than your analytical ability.
Click Here for More Student Resume Objective Examples
Resume Objective for Retail Positions
Diligent high school student (3.7/4.0 GPA) with excellent communication and research skills. Aiming to use my abilities to successfully fulfill the cashier position at your store. My enthusiasm to learn new skills quickly will help your company meet its milestones.
Customer Service Resume Objective Example
Earnest high school student with strong interpersonal and management skills. Seeking to leverage my experience in student government and theatre to fulfill the duties of a customer service representative at you company. My abilities to cooperate with other and manage conflicts will be an asset to your company.
Administrative Assistant Resume Objective Sample
Committed high school student (3.4/4.0 GPA) with outstanding planning and creative thinking ability. Aiming to utilize my experience as a member of the basketball team and honors society to effectively satisfy the responsibilities of administrative assistant at your company. I am a driven worker who can meet deadlines and is eager to help your company succeed.
Looking for a Great Career Objective Resume Template?
Check out our gallery of HR-approved, battle-tested resume objective templates. They are free to download, and will help you land interviews faster:
If these aren't a perfect match, we have a whole host of other free resume templates ready to be customized with a resume objective.
Alternatively, our easy-to-use resume maker will create a resume that's flawless from start to finish in only a few minutes.