Our free-to-use resume builder can make you a resume in as little as 5 minutes. Just pick the template you want, and our software will format everything for you.
Costs nothing
Easy to use
Templates are unimpressive
The builder lacks features found in other software options
Convenient and fast
Helpful pre-written content
Templates all use the same style
Many resume template options
Highly customizable
Need to manually fill in each section
Little resume writing guidance offered
Numerous template options
Fast, easy-to-use builder
Great resume templates
Beginner-friendly builder
Lacks some features offered by other builders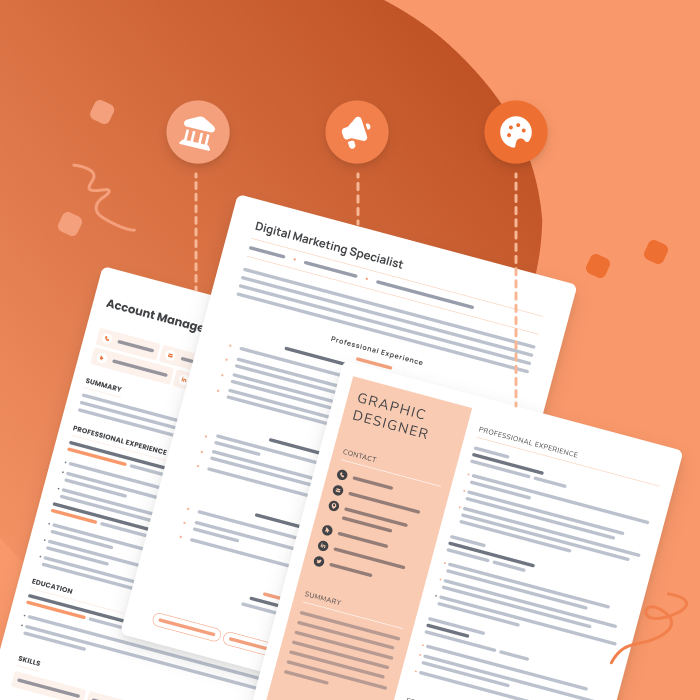 Not sure what your resume should look like? The best way to learn is by taking inspiration from resume examples written by other candidates in your industry.
Helpful writing tips inside the builder
Free to try
Might be confusing for U.K. or U.S. users
Template offerings are very similar looking
Premium access is expensive
Beginner-friendly
Pre-written content helps with writer's block
Modern resume template designs
Polished experience
Not beginner-friendly
Full access is pricey
Templates are tailored for different experience-levels
Helpful pre-written content
Many templates are old-fashioned or are poorly formatted
Free
Includes an ATS scan
Very basic templates
Few features