When applying for a job, it's important to make a great first impression with the hiring manager.
Using professional resume paper for your physical application is one of the best ways to leave that positive impression. The paper you use to print your resume immediately communicates that you're serious about the role, and willing to put in the extra effort to make an impact.
In this article, we'll break down everything you need to know about resume paper, what type of paper for your resume works best, and what (in our opinion) is the best resume paper.
What Is Resume Paper?
Many job seekers believe that resume paper and regular printer paper are the same thing. This is incorrect.
Resume paper is designed specifically to print a hard copy of your resume on.
Typically, it's heavier stock than standard printer paper, and features a more refined color.
Is resume paper necessary?
Yes, resume paper is necessary in the following situations:
You're attending an in-person interview
You want to check out job fairs
You're mailing a physical copy of your resume
Today, most jobs accept online applications and simply require a PDF version of your resume, so a hard copy resume isn't always necessary.
However, you still need a physical copy of your resume for job fairs and interviews, and it's important that yours makes an impression on anyone who holds it. That's where high-quality resume paper comes into play.
After all, if you were a hiring manager, would you rather receive a resume printed on floppy, plain printing paper, or refined, smooth resume paper?
That's why — if you're making hard copies of your resume — you need to use high-quality resume paper.
Choosing the Best Resume Paper
We'll be blunt:
In our opinion, the best resume paper is linen 100% cotton (32lb). But that doesn't mean it's the only option.
Resume paper differs in three aspects: color, weight, and material.
Read on to learn more about each aspect, so you can choose the best resume paper for you.
Resume Paper Color
First, you'll have to decide what color resume paper you want.
Typically, there are two options: ivory resume paper or plain white.
White or Ivory Resume Paper?
The best resume paper color depends on the look you want your application to have.
White paper is crisp, easy to read, and makes the colors on your resume pop. Meanwhile, ivory resume paper has an earthy tone, and conveys a refined, timeless look.
Check out this quick resume paper color comparison (the ivory paper is on the right, plain white paper on the left):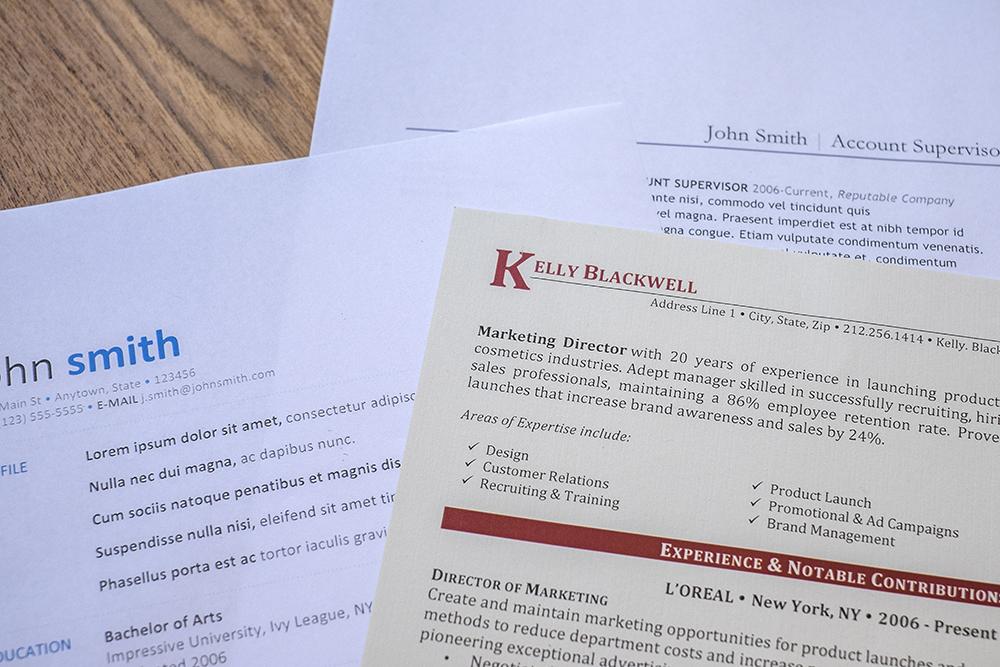 While you can't go wrong with either, we recommend using ivory paper as it looks highly professional, and makes your resume stand out from others in the pile.
Our verdict: choose ivory resume paper to help your resume look distinctive.
Resume Paper Weight
Another important factor when choosing resume paper is the thickness of the sheet, otherwise referred to as the weight.
Paper normally comes in three different weights: 20, 24, and 32lb, with 20lb paper being the standard for office printing paper (this weight is measured per ream, or package of 500 sheets of paper).
Your typical resume paper, meanwhile, is usually made of heavier 24 or 32lb paper.
24lb or 32lb?
For most people, the decision over which resume paper weight to buy comes down to price.
If you're okay splurging, 32lb resume paper is the best option. It's weighty, thick, and has an impressive, official feel.
24lb paper, on the other hand, is more transparent and flimsy. However, it's an acceptable option if you want to save money.
Our verdict: buy 32lb resume paper if you can afford it.
Resume Paper Material
Next, consider the material your resume paper is made of, formally referred to as the paper "finish."
There are a wide variety of finishes, such as woven, parchment, granite, linen, and standard cotton paper. But for resume paper, linen and plain are the most standard choices.
With that in mind, ask yourself:
Linen Resume Paper or Plain?
Once again, the choice of resume paper material comes down to personal preference.
Plain 100% cotton resume paper is a safe choice. The texture is coarse, but the extra weight added by the higher cotton content gives your resume a nice thickness, making it pleasant to hold.
However, linen resume paper is a step above the rest. Its woven texture and added thickness give your resume a professional, premium feeling that no hiring manager can resist.
Our verdict: if you really want to make an impression, go with linen resume paper.
What's the Best Resume Paper Size?
One of the last things to consider when buying resume paper is the size of the page.
However, there's actually nothing to consider: the standard 8.5 x 11 inches is the only acceptable resume paper size.
Resume Paper Comparison
If you're still wondering what paper to print your resume on, don't worry. To help you decide, we went out and purchased the top 6 types of resume paper from Office Depot and rated them on their look and feel.
1. Linen 100% Cotton (32lb) ★★★★★
This 32lb linen resume paper was by far the best resume paper we tried.
The linen finish has a unique, premium texture that makes holding the paper irresistible. Not only that, but standard linen paper is made of 100% cotton and weighs 32lb, making it durable.
To give your resume a sophisticated look and make a lasting impression on the hiring manager, this is the resume paper for you.
2. White 100% Cotton (32lb) ★★★★☆
Want to play it safe? This white cotton resume paper is the perfect choice.
The plain texture and white stock keep distractions to a minimum, making your resume look crisp and formal. Meanwhile, the heavier weight gives the paper a nice heft. The only thing this resume paper is lacking is something that really sets it apart from the competition, like a distinctive texture or color.
3. White 100% Cotton (24lb) ★★★☆☆
To highlight the difference resume paper weight can make, we also bought white 100% cotton paper in 24lb.
Immediately, we noticed the paper is flimsier, less impressive, and more likely to get crumpled than its higher-quality 32lb counterpart. However, this resume paper is an acceptable choice if you need something understated and formal on a budget.
4. Ivory 25% Cotton (32lb) ★★☆☆☆
Sophisticated and subtle, this ivory 32lb paper is a great choice if you need a resume paper with some flair. The warm ivory color stands out, and gives your resume a timeless, chic look.
However, the low cotton content prevents us from wholeheartedly recommending this resume paper. At 25% cotton, it lacks the premium feeling and pleasant texture that 100% cotton paper has.
5. Ivory 100% Cotton (24lb) ★★★☆☆
This resume paper is nearly identical to the previous one, except that it boasts a higher cotton content — and it makes a serious difference.
The higher percentage of cotton toughens the paper, making it harder to tear and crease. Additionally, the cotton adds a pleasant texture and makes the resume feel more premium.
Not only that, paper with a higher percentage of cotton lasts longer. If you need a durable resume paper with a classic look, this is a solid option.
6. Ivory 25% Cotton (24lb) ★★☆☆☆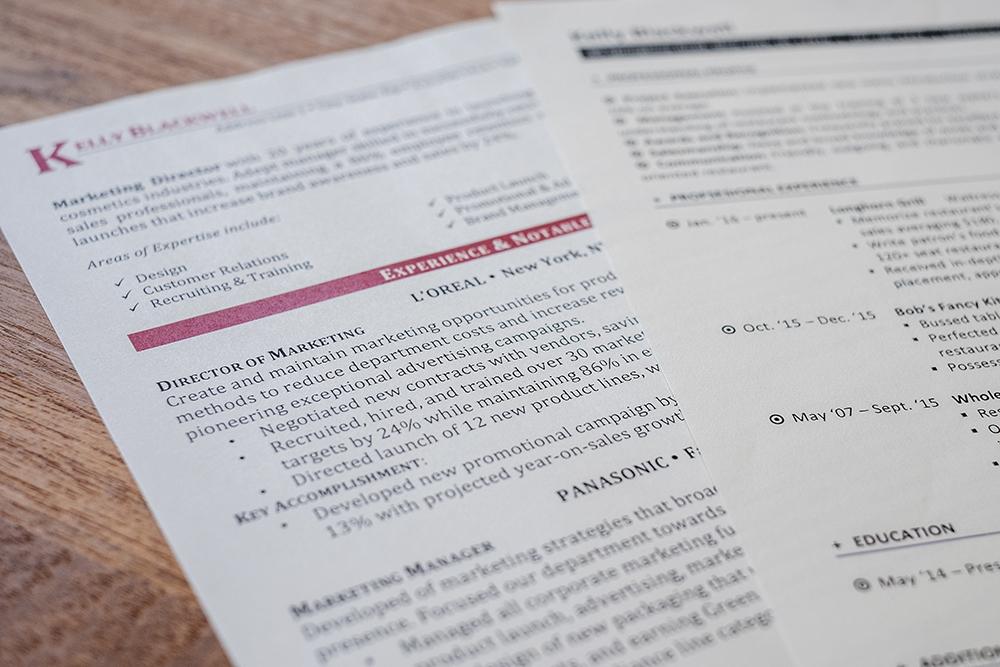 This was the least impressive of the resume paper options we purchased.
While ivory looks timeless and classy on higher quality paper, on this lower-cotton content sheet, the color is washed out — almost like it's stained.
Not only that, but the lighter weight is noticeable. Compared to a 32lb sheet, this paper feels flimsy and cheap.
Although it's an improvement on regular printer paper, we don't recommend this resume paper.
Where to Buy Resume Paper
You know what type of paper to buy, now you just need to know where to buy it.
For that, you have a few options:
You can find basic resume paper at any big box store like Target and Walmart. For more options,  office supply stores such as Staples and Office Depot boast a wider selection of resume paper with different colors, weights, and stocks.
Otherwise, you can buy resume paper online at the following retail establishments:
Walmart
Staples
Target
Office Depot
Walgreens
Amazon
What are the best resume paper brands?
If you're on a budget, companies like HP produce affordable resume paper.
But if you want your resume to pop, Southworth resume paper is the industry standard, and is widely available.
Resume Printing: Where Can I Print My Resume?
Today, few people have printers at home.
If this describes your situation, you can have your resume printed professionally at these places:
FedEx
Staples
Office Depot
Your local public library
Takeaway
We hope our breakdown and comparison have made it easier to decide which resume paper is best for you.
But before you print out your resume on expensive paper, make sure you know how to write a resume that highlights your strengths.
And if you're in a hurry, try our easy-to-use resume builder and cover letter builder to create a stunning job application in minutes.