Choosing how to design your resume is one of the most important decisions you make when job-hunting.
Good resume design adds personality and flair to your application, communicates information effectively, and helps your application stand out.
On the other hand, a poorly designed resume will leave a negative impression on recruiters, and might sink your chances of landing an interview.
To give you some incredible resume inspiration, we've compiled a list of 16 cool resume designs and professional resume templates of 2023, and explain what makes them effective below.
Our free-to-use resume builder can make you a resume in as little as 5 minutes. Just pick the template you want, and our software will format everything for you.
Best resume designs
Ask any hiring manager and they'll agree: there's an endless supply of bland resumes out there.
These 16 resume design examples are not bland. Each one embodies a unique aesthetic or boasts an inspired design choice, all while remaining professional and including the necessities of a strong resume.
1. A clean & minimal resume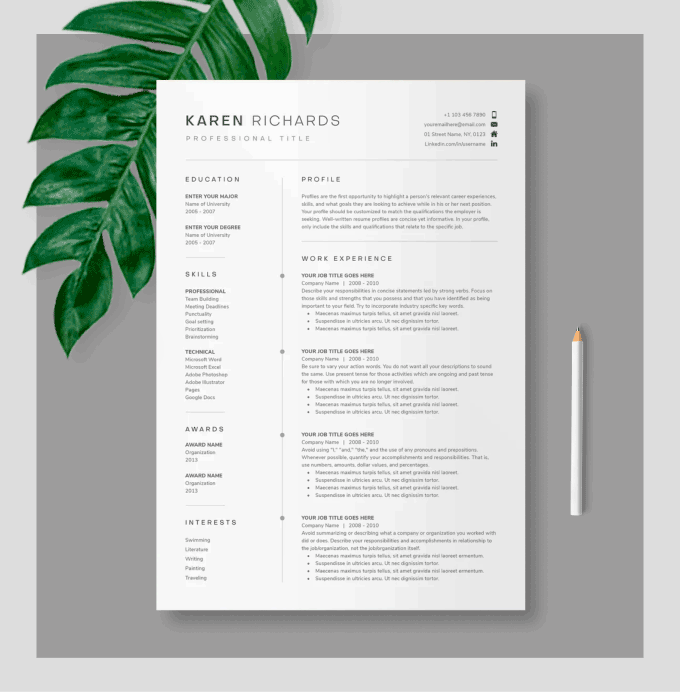 This modern resume from Etsy is an excellent example of good resume design, showing how you can design a resume that draws attention to your experience without sacrificing its visual appeal.
The subtle, minimal lines break up space in a way that's both efficient and pleasing to the eye. Meanwhile, the sleek icons used in the resume header communicate information without distracting the reader.
Without a doubt, this design is minimalism done right.
2. A professional but beautiful resume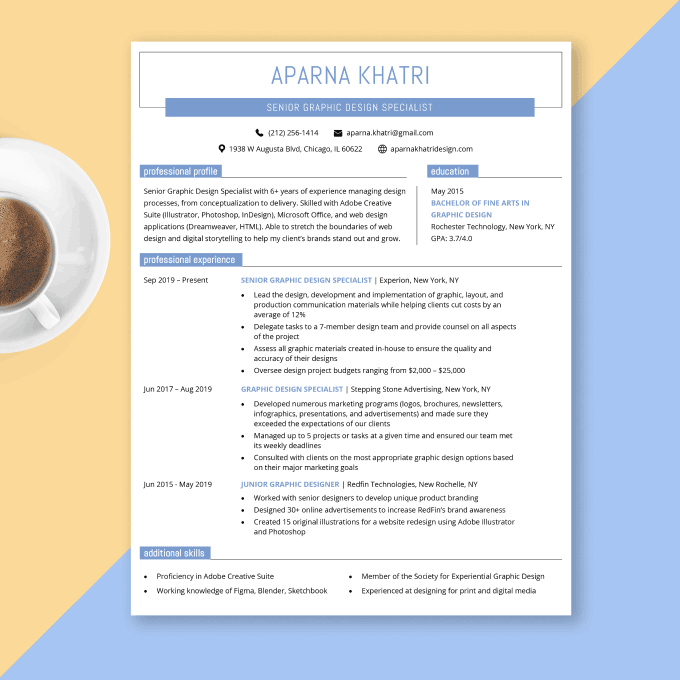 Playful but elegant, the Windsor resume template is an example of how to balance professionalism with personality. Bold, colorful lines frame each section and help guide the reader toward the most critical points of your experience.
Not only that, but the extra-large header packs a visual punch and guarantees that — if nothing else — the hiring manager will remember your name long after reading your resume.
3. A bold & creative resume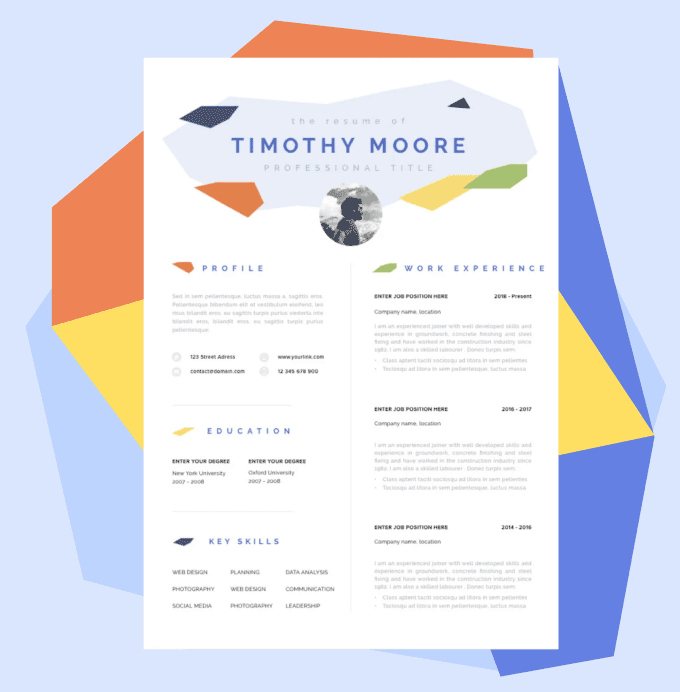 The "Jaipur" design from Etsy is a confident, modern, and unabashedly creative visual resume. A large, colorful header immediately draws attention to your name and adds a sense of balance to its vertically split resume layout.
Additionally, the splashes of color before each section add visual consistency, quickly guiding the reader toward each section.
4. A corporate & confident resume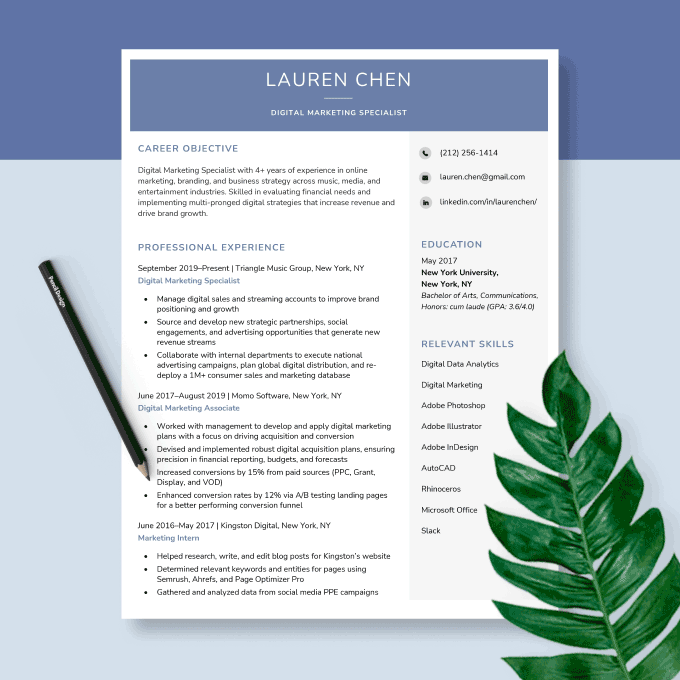 Featuring a bold header and no-nonsense layout, our Corporate resume template is the perfect example of a resume design that's confident and modern.
The use of a shaded sidebar organizes your contact information, so that your experience can take the spotlight. Meanwhile, the wide header adds a bit of color and gives your name and title the impact they deserve.
This design is ideal for those working in business and anyone aiming to upgrade their career.
5. A confident and sophisticated resume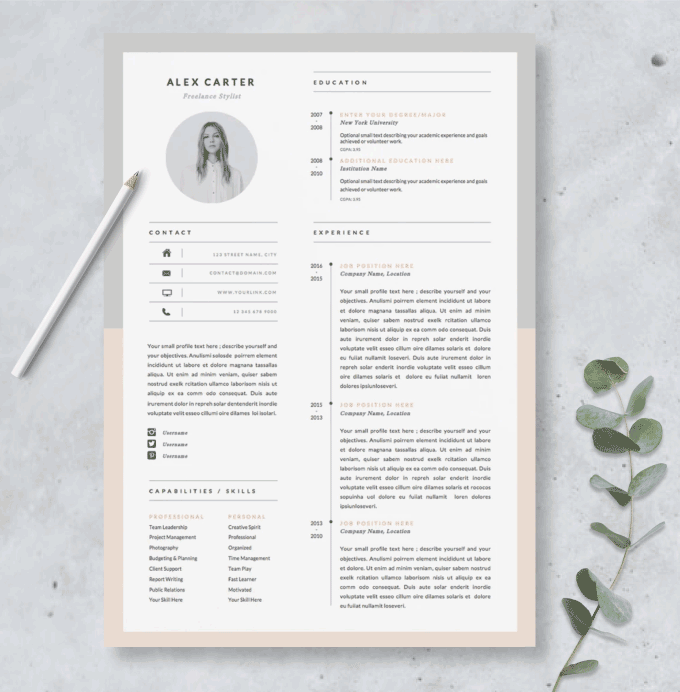 Bold but not overly serious — this well-designed resume from Etsy shows how to hit the perfect balance between professionalism and personality. It uses subtle, warm colors and a friendly italic font to offset the hard lines dividing each section.
In addition, the solid border demands attention and frames the content of the resume.
6. A resume featuring unique fonts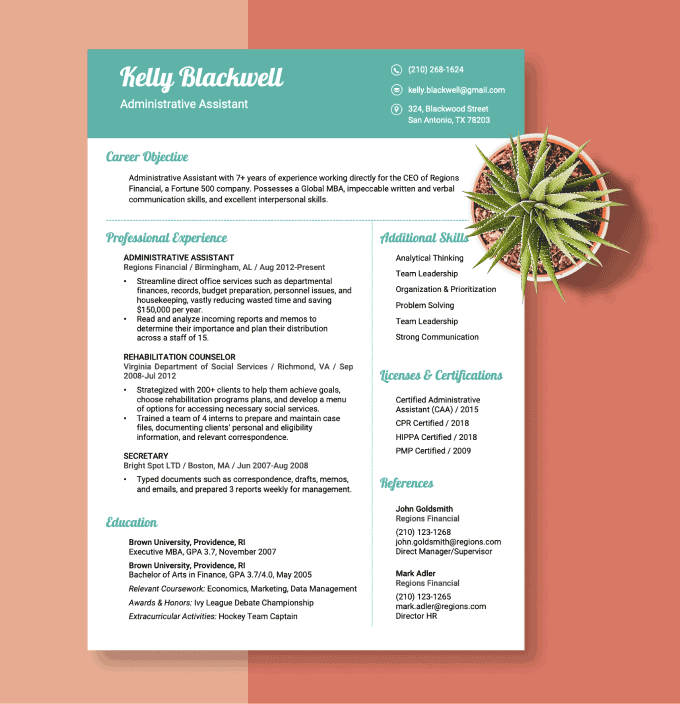 Sporting a slick shade of aquamarine, the Fancy resume template from ResumeCompanion feels contemporary, sleek, and professional.
But what we really love about this design is its use of a creative font to introduce the candidate's name and resume sections, which is a refreshing departure from standard fonts.
While it makes a daring break from tradition in color and font, the Fancy resume template uses a simple and professional layout that keeps the focus on your qualifications.
7. A skill-centric resume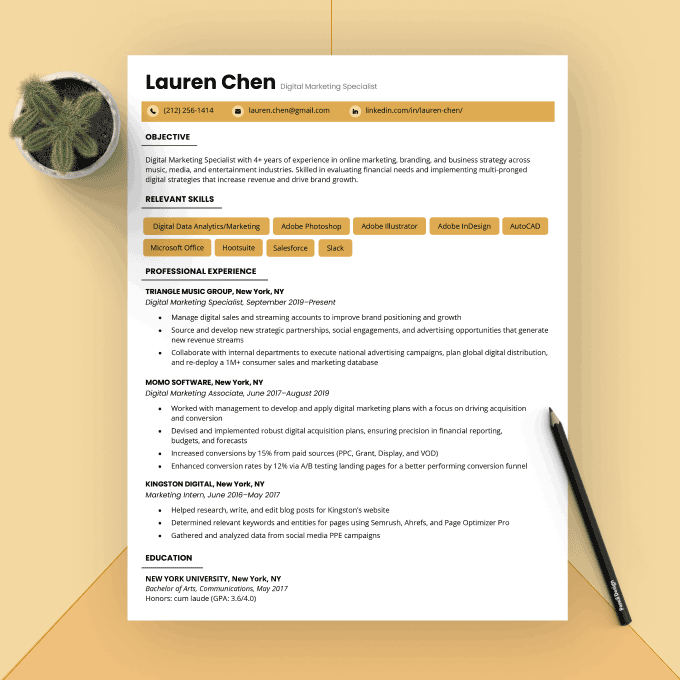 Titled the Advanced resume template, this skill-heavy design uses shading to emphasize key parts of your resume. By moving the skills section toward the top of the page and highlighting each skill in a colored bubble, for instance, this design immediately brings attention to your core resume skills.
Your contact information also immediately stands out using the same effect, helping to make your name stick in the hiring manager's mind.
This design trick — plus a professional, space-efficient design — makes this the perfect format for those working in a more technical industry, as well as anyone who needs to highlight their skillset.
8. An infographic resume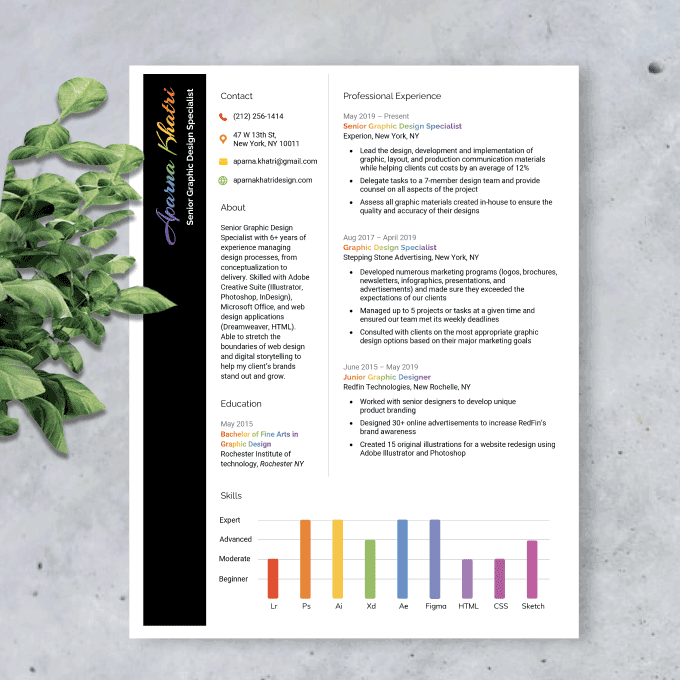 Titled the Detailed resume, this resume sample design is a good example of a bold and creative resume design. It incorporates an infographic element into the design with a detailed skills chart and bright colors. Using the chart, you can highlight a range of skills and show employers how proficient you are in each. This is particularly useful for displaying a more technical skill set.
This resume template also includes a bold sidebar that draws attention to your name and job title, making it more likely that your name will stand out as memorable for hiring managers. Two columns help to organize the additional resume sections, keeping the design clean and aesthetically pleasing.
9. A high-contrast resume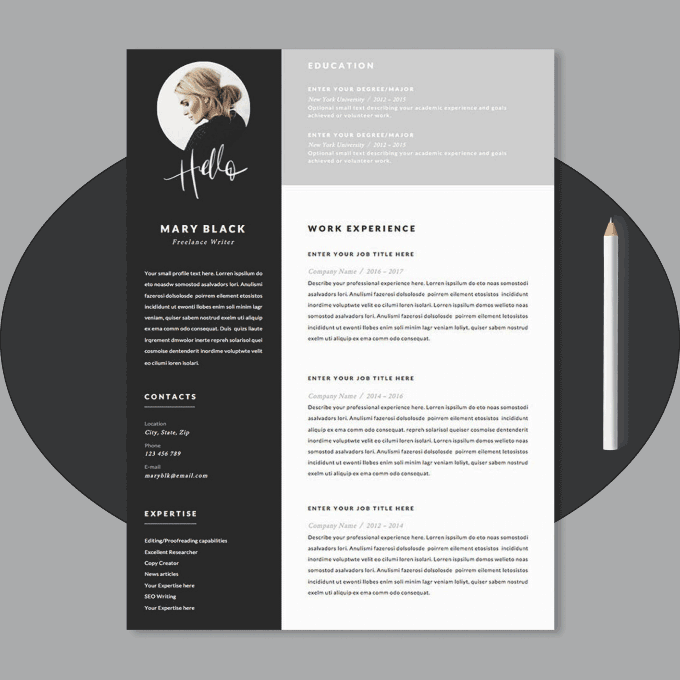 This template from TheResumeBoutique on Etsy creates a strong impression with its use of contrast. The juxtaposition of the black, white and gray shapes clearly separate each resume section, while the contrast of the font color against the page draws the hiring manager's eye to your important information.
Most striking is the black sidebar featuring the header, resume introduction, contact information and expertise sections. This is a resume design that is sure to make a lasting impression on any hiring manager.
10. A resume with an eye-catching header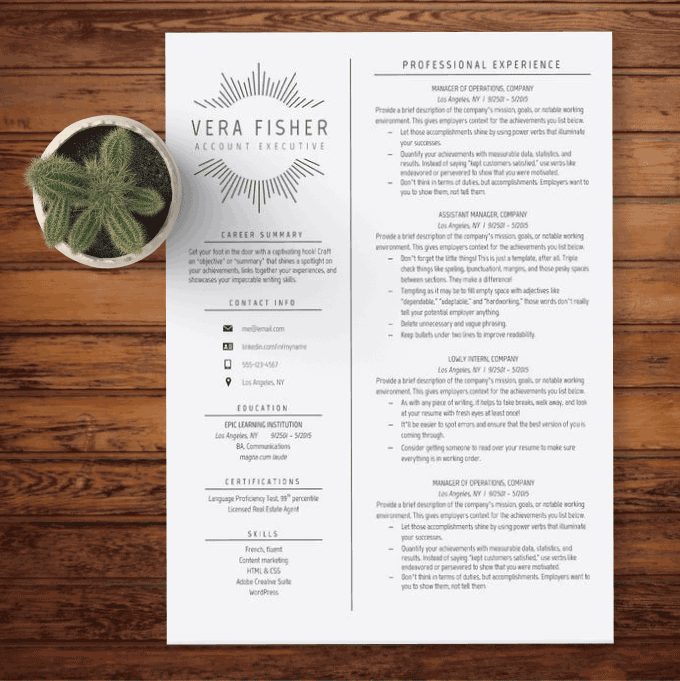 This beautiful resume design from CareeristDesignCo features a unique header design that immediately draws attention to the candidate's name and professional title. It's simple yet effective, creating visual appeal without sacrificing any professionalism.
This design is well-organized with a simple structure, which hiring managers always appreciate. From the header, the hiring manager's eyes naturally follow the flow of the two columns, making your information very easy to navigate and skim.
11. A resume with a bold border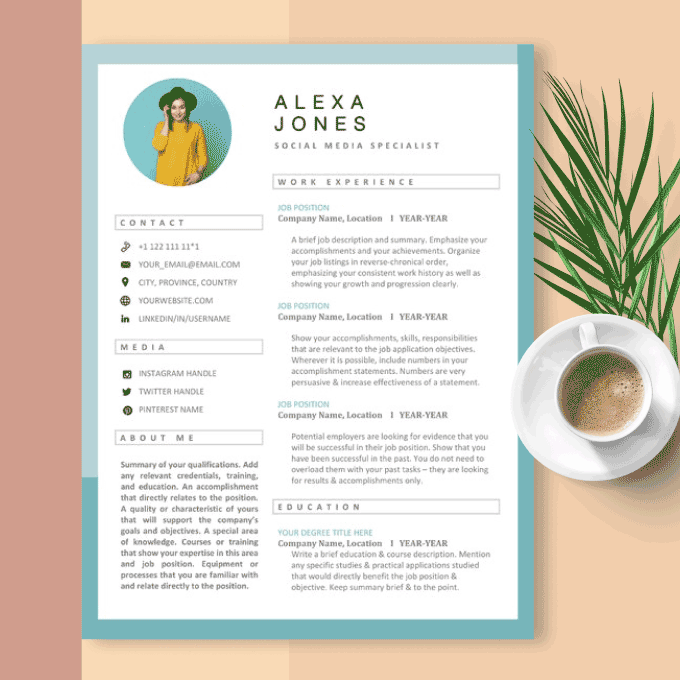 This resume from TheArtofResume offers a simple design framed by a two-toned blue border. Creating a border around your resume is a great way to personalize your application and add some visual flair. A border is also an easy addition because it doesn't require any complicated formatting or rearranging your resume sections.
If you want to use a traditional resume layout but are looking to add some personality to the design, including a border is a good option.
12. A resume with a little design flair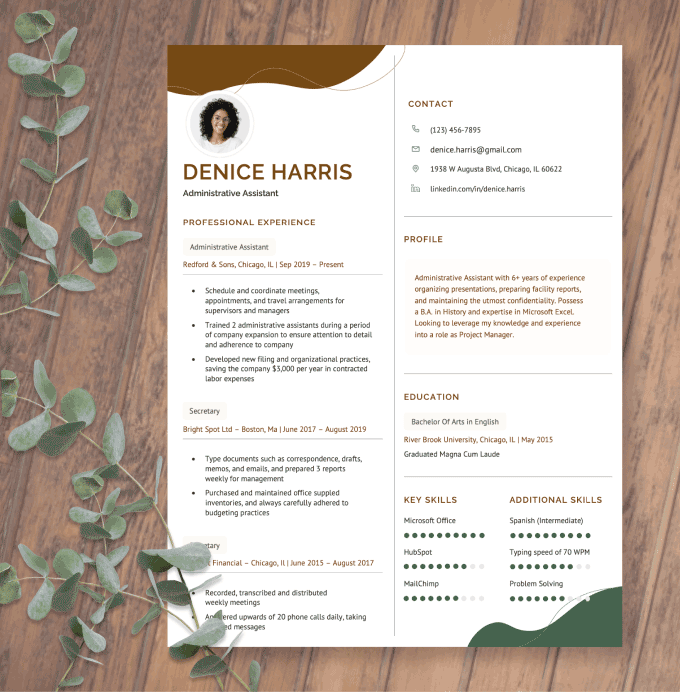 Choosing a good color for your resume and adding some simple design features will make your resume stand out from the rest. This Two-Column resume template organizes the candidate's contents neatly on the page, and uses color to highlight important information in each section.
The template also includes color features on opposing corners of the page, which adds some visual flair and frames the candidate's resume.
If you're working in a creative industry like graphic design, using a resume that has extra visual elements can help give employers an idea of your personal style.
13. A sleek and classy resume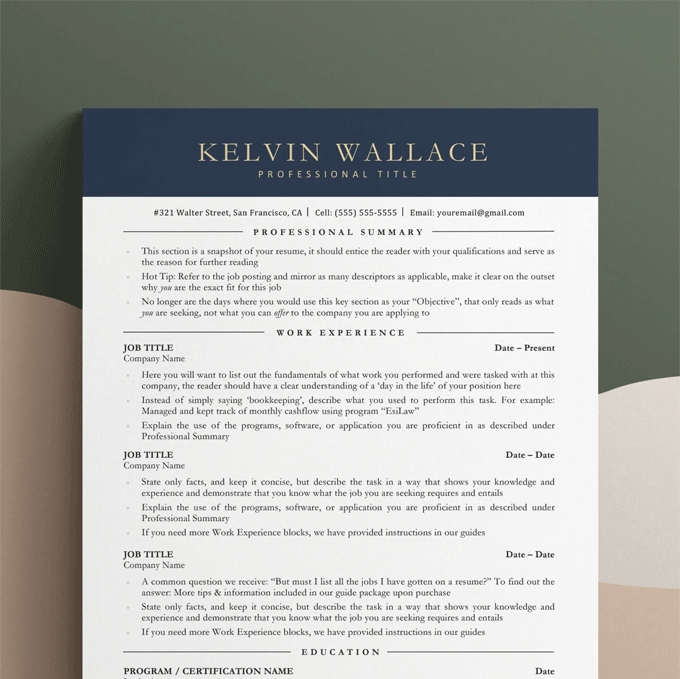 This classy resume design elevates your application with its dark blue header and elegant gold text. This tasteful color combination not only makes a striking first impression but also conveys a sense of refinement and confidence.
With clearly organized sections, the template excels in presenting your qualifications with precision. The strategic use of white space throughout ensures your qualifications remain in the spotlight.
A sleek design like this is ideal for anyone writing an executive resume.
14. A gradient resume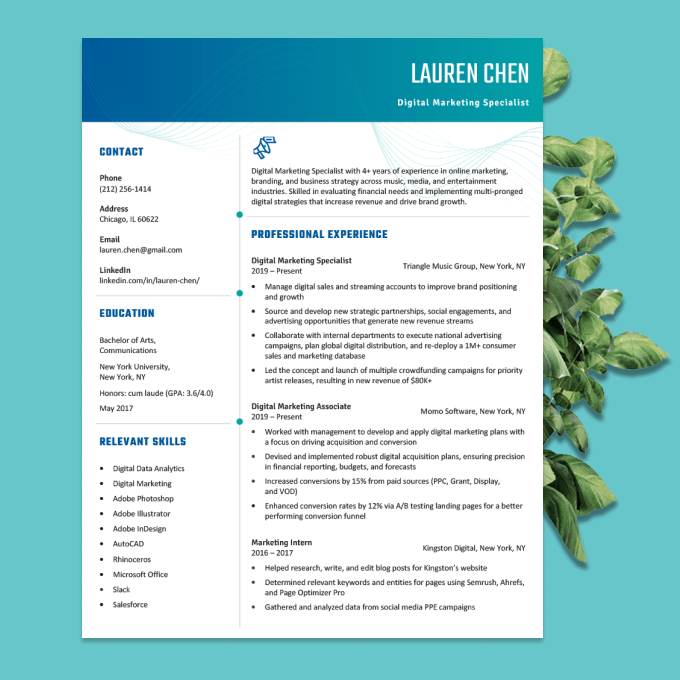 Professionals in creative fields will benefit from a resume design that showcases their artistry, making this aesthetic template the perfect choice.
What sets this template apart is the visually striking header in which colors flow harmoniously from one hue to another. The eye-catching gradient header sends the message that you're a creative and innovative thinker.
15. A structured resume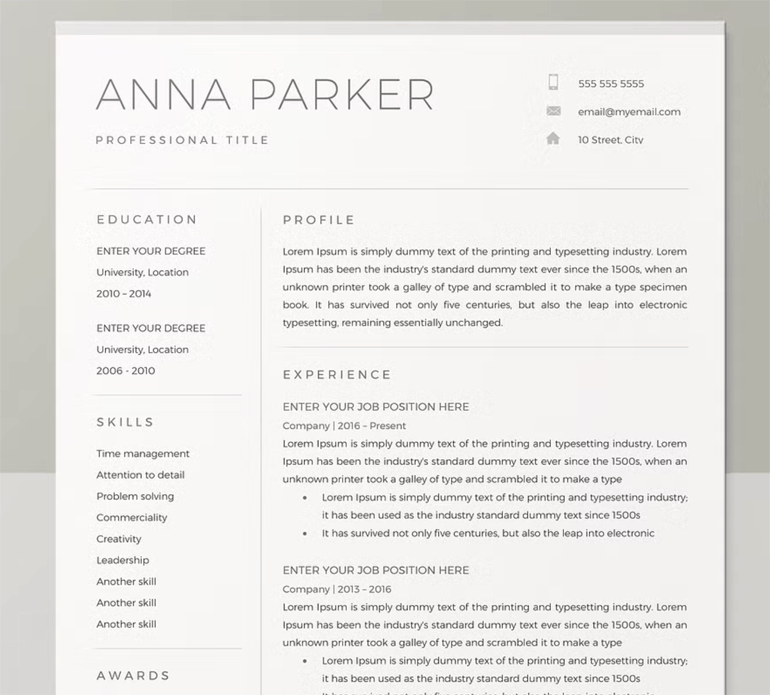 This simple yet attractive resume design from Etsy effectively conveys your skills and achievements to employers. The clean lines separating the different sections are both functional and aesthetically pleasing, adding visual interest to the page while keeping the content organized.
Additionally, with your work experience front-and-center, potential employers get an easy overview of your professional background even if they're skimming your resume.
16. A colorful resume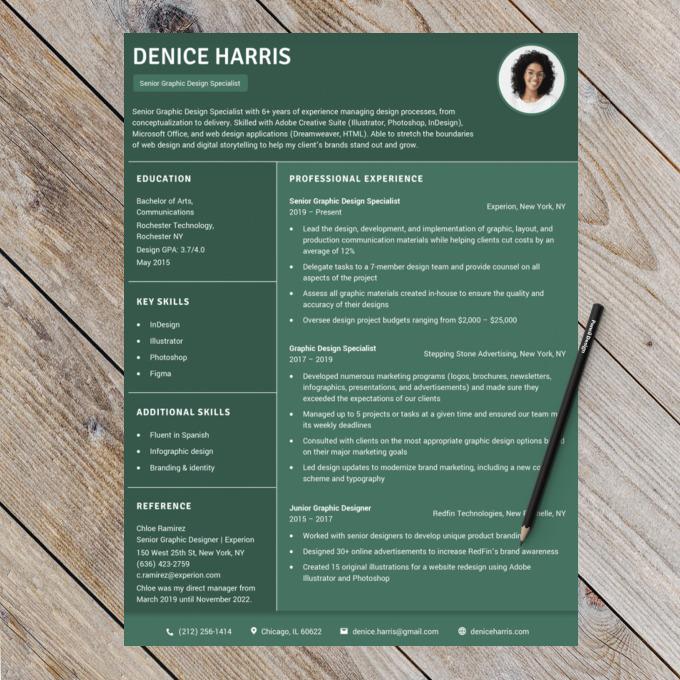 This design doesn't just follow trends, it sets them. If you're looking to make a statement, there's no better way than to use our Quick template.
The bold but tasteful use of color combined with the white text creates a contrast that immediately attracts the eye while enhancing readability of key information, making your skills and achievements pop.
Although not suitable for all industries, if innovation and originality is encouraged in your field, it's the design for you.
How to design a resume the right way
Knowing where to start when designing your resume is difficult — especially if you don't have a background in design.
Whether you're making your resume yourself in Microsoft Word or using an AI resume generator, here are three tips to get you started and help you nail down the fundamentals of resume design.
1. Choose your font
It may not seem like it, but it can be tough to choose the best font for your resume.
To make the best choice, note the level of formality expected of a professional in the field you're applying to. Then, use a font that is appropriate for that level of formality.
For example, for the vast majority of jobs, fonts like Garamond, Helvetica, Cambria, and Georgia are acceptable. Fonts like Impact, Courier, and (of course) Comic Sans are not.
2. Hit the perfect length
With all this talk of design, you may be wondering: how long should a resume be, anyway?
Unless you have decades of experience, your resume should be a maximum of one page.
One page is enough space to summarize your relevant professional experience, without going on for so long that you bore the hiring manager.
However, if you have a wealth of experience, or your particular career requires a longer resume format (academia, government, etc.), then your resume can be two pages or more.
3. Use graphics sparingly
It might be tempting to use bold graphics to make your resume more eye-catching. However, this won't necessarily put you at an advantage.
In fact, a resume with too many graphics can end up looking unprofessional and draw attention away from your qualifications.
While it's a bonus if your resume design goes beyond the standard black-and-white resume, it's your accomplishments that will compel hiring managers to extend an interview invitation.
4. Make your header stand out
The most visually impactful part of your resume design should be your header. Use design elements such as lines, fonts, and icons strategically to help your name stick in employers' minds.
Adding a touch of color to your header is another effective way to emphasize your name. Just make sure that the color you choose is appropriate for the industry you're targeting.