Choosing how to design your resume is one of the most important decisions you make when job-hunting.
Good resume design adds personality and flair to your application, communicates information effectively, and helps your application stand out.
On the other hand, a poorly designed resume will make you look like an amateur, leave a negative impression with recruiters, and sink your chances of landing an interview.
To ensure your application isn't weakened by its layout, we've compiled a list of the eight best resume designs and professional resume templates of 2020, and explain what makes them effective.
7 Well Designed Resumes
Ask any hiring manager and they'll agree: there's an endless supply of bland resumes out there.
These 7 resume styles are not bland. Each one embodies a unique aesthetic or boasts an inspired design choice, all while remaining professional and including the necessities of a strong resume.
1. A clean & minimal resume
This modern resume design from Etsy is a great example of how you can design a resume that draws attention to your experience without sacrificing its visual appeal.
The subtle, minimal lines break up space in a way that's both efficient and pleasing to the eye. Meanwhile, the sleek icons used in the resume header communicate information without distracting the reader.
Without a doubt, this design is minimalism done right.
2. A professional but beautiful resume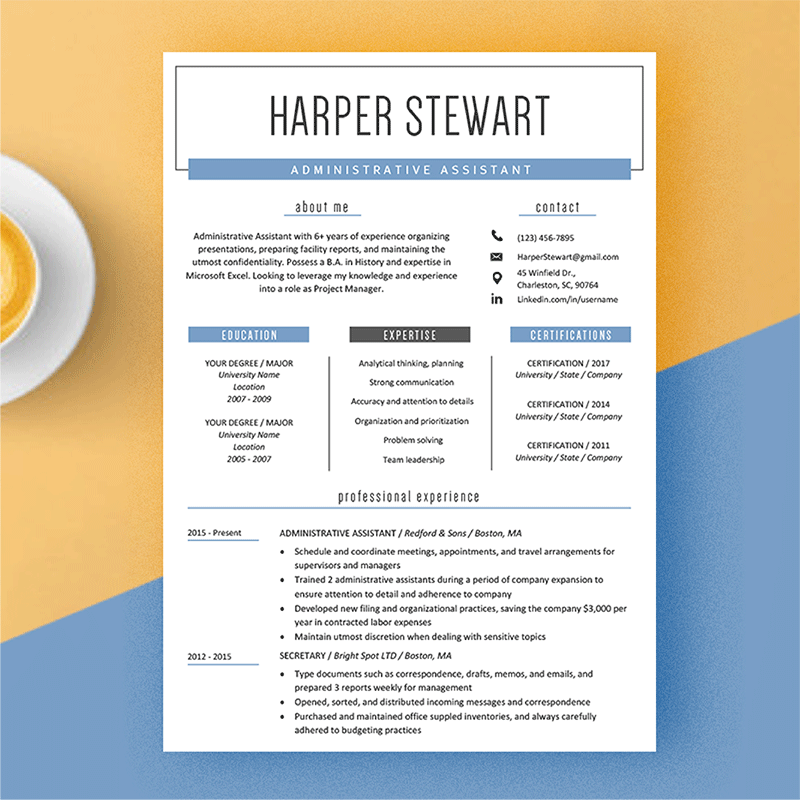 Playful but elegant, our Windsor resume template is an example of how to balance professionalism with personality. Bold, colorful lines frame each section, and help guide the reader toward the most critical points of your experience.
Not only that, but the extra-large header packs a visual punch, and guarantees that — if nothing else — the hiring manager will remember your name long after reading your resume.
3. A bold & creative resume
The "Jaipur" design from Etsy is confident, modern, and unabashedly creative. A large, colorful header immediately draws attention to your name, and adds a sense of balance to its vertically split resume layout.
Additionally, the splashes of color before each section add visual consistency, and quickly guide the reader toward each section.
4. A corporate & confident resume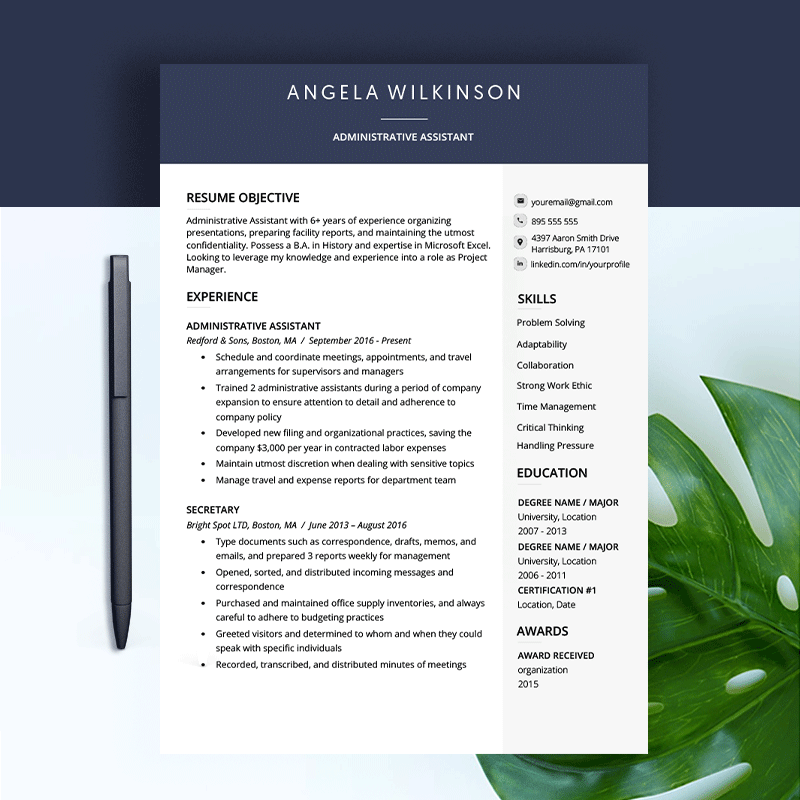 Featuring a bold header and no-nonsense layout, our Corporate resume template is the perfect example of a resume design that's confident and modern.
The use of a shaded sidebar organizes your contact information, so that your experience can take the spotlight. Meanwhile, the wide header adds a bit of color and gives your name and title the impact they deserve.
This design is ideal for those working in business and anyone aiming to upgrade their career.
5. A confident but pretty resume
Bold but not overly serious — this striking design from Etsy shows how to hit the perfect balance between professionalism and personality. It uses subtle, warm colors and a friendly italic font to offset the hard lines dividing each section.
In addition, the solid border demands attention and frames the content of the resume.
6. A trendy, cool resume
Sporting a slick shade of millennial pink, the Stylish resume template from ResumeCompanion feels contemporary, sleek, and professional.
But what we really love about this design is the color contrast of the sidebar, which is a refreshing departure from the standard horizontal layout. Not only that, but the sidebar also packs in all of your additional information so that the reader's primary focus is your work experience.
7. A skill-centric resume
Titled the Advanced resume template, this skill-heavy design uses shading to emphasize key parts of your resume. By moving the skills section toward the top of the page and highlighting each skill in a colored bubble, for instance, this design immediately brings attention to your core resume skills.
Your contact information also immediately stands out using the same effect, helping to make your name stick in the hiring manager's mind.
This design trick — plus a professional, space-efficient design — makes this the perfect format for those working in a more technical industry, as well as anyone who needs to highlight their skillset.
How to Design a Resume the Right Way
Knowing where to start when designing your resume is difficult — especially if you don't have a background in design.
Here are three tips to get you started, and help you nail down the fundamentals of resume design.
1. Choose your font
It may not seem like it, but it can be difficult to choose the best font for your resume.
To make the best choice, note the level of formality expected of a professional in the field you're applying to. Then, use a font that is appropriate for that level of formality.
For example, for the vast majority of jobs, fonts like Garamond, Helvetica, Cambria, and Georgia are acceptable. Fonts like Impact, Courier, and (of course) Comic Sans are not.
Additionally, avoid fonts that are difficult to read, as they often confuse applicant tracking systems (ATS) and get your resume eliminated before it's even seen by the hiring manager.
2. Use the right margins
While resume margins may seem insignificant, they actually play a major role in the design of your resume.
Too wide and you not only waste space, but your resume design also looks awkward and sparse. But too narrow, and the page will look cramped.
Most applicants default to 1" margins, the international standard. However, adjust your margins depending on your needs. If you find you need more space, don't be afraid to narrow them a bit.
3. Hit the perfect length
With all this talk of design, you may be wondering: how long should a resume be, anyway?
Unless you have decades of experience, your resume should be a maximum of one page.
One page is enough space to summarize your relevant professional experience, without going on for so long that you bore the hiring manager.
However, if you have a wealth of experience, or your particular career requires a longer resume format (academia, government, etc.), then your resume can be two pages or more.
Now You're Ready to Design Your Resume. What's Next?
Now that you're properly inspired, you're ready to design your dream resume.
But before you start applying to jobs, make sure you pair your resume with an expertly designed cover letter template.
And if you need to save time, check out our easy-to-use resume builder. Our state-of-the-art software will do the work for you so you can design a world-class resume in mere minutes. Happy job hunting!