In most cases, a resume should be one page long. Sounds simple, right?
Well, it's a little more complicated than that. Depending on your situation, you might benefit from a longer resume length.
So how do you know when to make your resume longer? Below, we'll explain exactly how long your resume should be and why it should be that length. Let's get started:
Our free-to-use resume builder can make you a resume in as little as 5 minutes. Just pick the template you want, and our software will format everything for you.
How many pages should a resume be?
A resume should be one page for most applicants, especially for students and anyone with fewer than 10 years of relevant work experience.
Hiring managers are busy people, and a one-page resume gives you enough space to communicate your professional experience and skills without going into excessive detail.
However, if you have more than 10 years of experience in your industry, you can make a two-page resume to elaborate on that experience and showcase all of your job skills and qualifications.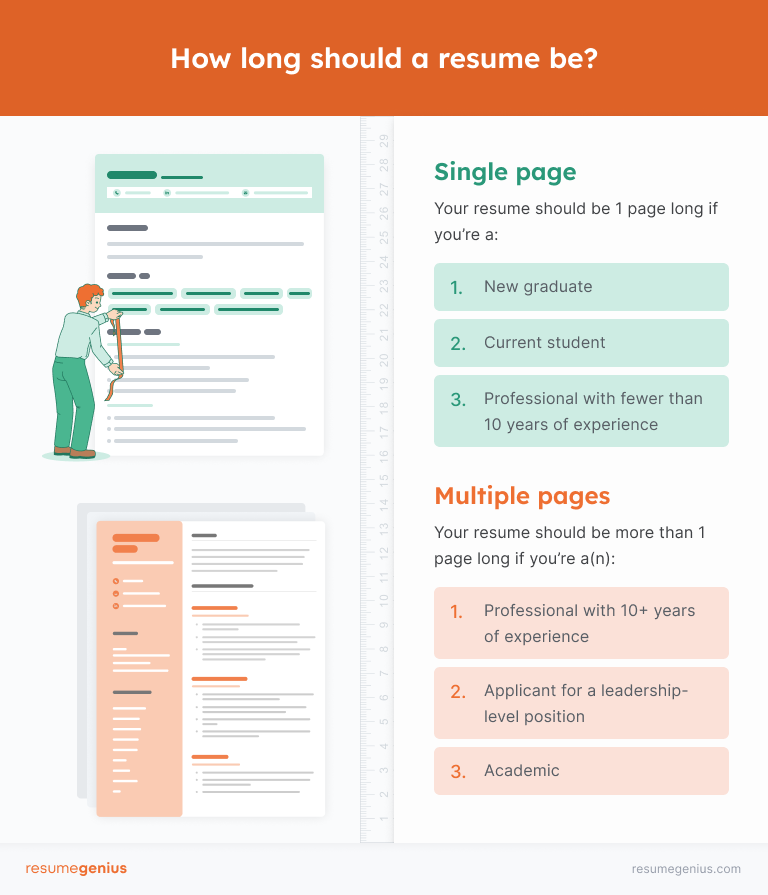 When it comes to the length of your resume, what's most important is that all the information you include is relevant and concise.
A two to three-page resume is only a problem when it's full of irrelevant information or old jobs that no longer represent your current skill set.
Resume Genius's in-house resume expert, Eva Chan, sums up why a one-page resume is the ideal length for most job seekers at the 2:48 point of this video:
How to achieve the ideal resume length
So now you know how long your resume should be. But condensing all your experience and skills onto a single page is tough.
Don't worry — anyone can hit the ideal resume length with these three tips (really, anyone: even Elon Musk's resume can be trimmed to one page):
1. Tailor your resume to each application
Many job seekers mistakenly assume that their resume should list all the jobs they've held in their lives. However, this is only the case if you're writing an academic CV.
The best way to ensure you achieve the proper resume length when writing your resume is to tailor the information you include to the position you want.
Every job you apply for has different requirements and qualifications. Whenever you apply for a new job, your resume (and cover letter) should change to reflect these requirements.
For example, if you're writing a marketing resume, including information about your experience waiting tables is irrelevant and should be left off.
To tailor your resume, start by looking at the job description, and remove anything that isn't directly mentioned in the listing. In particular, look out for the specific skills they're looking for, and how many years of experience they want.
Additionally, remove any positions that you held a long time ago. If you're unsure how far back your resume should go, just omit anything over 10–15 years old.
Shaving down your resume to only the most relevant information not only helps you fit it on one page, it also makes you look perfectly suited for the position.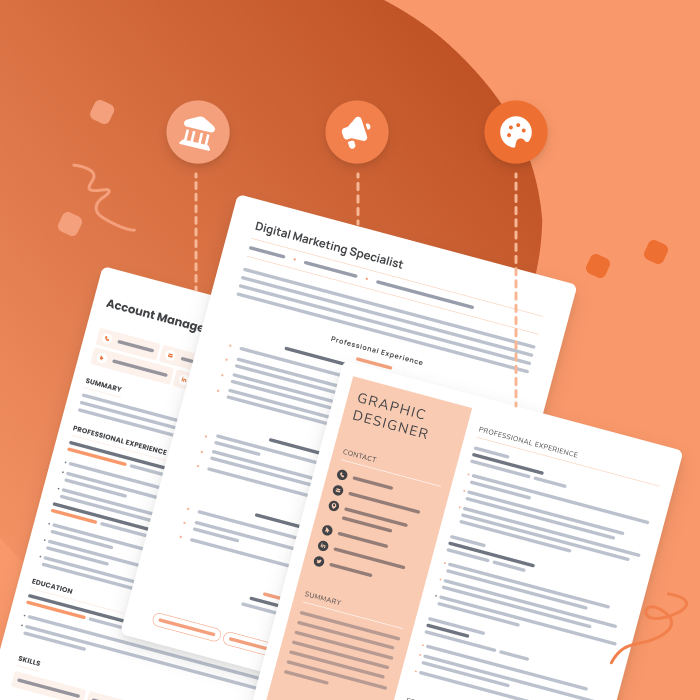 Not sure what your resume should look like? The best way to learn is by taking inspiration from resume examples written by other candidates in your industry.
2. Adjust your formatting
Have you fine-tuned the language in your resume but still can't fill every page? Try adjusting your resume's format.
First, try making your resume margins smaller to fit more words on the page. Then, make your resume font smaller. Just don't go under 10 pt font, otherwise it risks becoming hard to read.
You can also try to shrink your resume header or remove unnecessary graphics to free up more space.
And if you still can't fit everything on one page, try using tables to organize the smaller parts of your resume. For example, many job seekers format their skills section like this:

Instead, use a table (and with the borders removed) to format your skills section like this:

Using tables helps you format your resume efficiently, and gives you more space to include valuable information.
3. Get to the point
Recruiters don't want to read about every detail of your work history when reviewing your application. To ensure you highlight the information they do want to read, the professional experience section of your resume should be concise but informative. 
Rather than try to cover everything you did at your previous jobs, narrow your achievements down to three to five bullet points, highlighting only the most impressive details.
Additionally, if you have an older position on your resume or one in which you were an entry-level employee, provide just two to three bullet points. This way, you have more space to elaborate on your most current experience.
Then, go through your resume several times and see if you can simplify the language. Remove filler adverbs (like "very" and "extremely") to shorten sentences and make everything easier to read.
Resume length FAQs
Still have some questions about the length of your resume? Here are answers to some of the most frequently asked questions about how long your resume should be:
What's the standard number of pages on a resume?
One page, although two-page resumes for senior-level employees and executives as well as multi-page CVs aren't unusual.
Can a resume be 3 pages?
Yes, if you have enough relevant experience. But don't make it three pages long unless every piece of information applies to the job you're applying for.
How long should a CV be?
There's no limit to how long a CV can be. Academics are expected to list every publication and academic achievement, so the standard academic CV format is quite flexible in terms of length.
Does a resume have to be 1 page?
No, a resume doesn't have to be 1 page. Your resume can be 2 pages or longer if:
You have 10+ years of experience
You're applying for a senior management position
You're writing a resume for a federal government job
If you're applying for an academic or scientific research position or writing an academic CV, the rules about resume length don't apply. The standard CV format provides unlimited space to list your research, publications, and achievements.
Just remember to submit at least a 1-page resume.  The lack of information on a resume that's less than 1 page will make you appear inexperienced. Instead, when you write a resume with no experience, fill empty space with extracurricular activities, volunteer work, or hobbies to showcase your relevant skills.
How specific should a resume be?
A resume should be completely specific to a target job. When you write your resume, only list information related to the job you're applying for to keep your application short and easy to read.
To write a specific resume:
include keywords from the job ad
research the company to learn which of your hard and soft skills, achievements, and work experience are most relevant
place your most impressive job-specific qualifications in the resume summary at the top of your resume
put the job title you're targeting in your resume's filename
Even if you're writing a general resume to post on a job site, your resume should be concise and specific to the type of work you're seeking.