Regardless of your preferred resume format, experience level, or even industry, a strong skills section is an important part of your resume. However, if you put yours together carelessly, it will waste the hiring manager's time (and hurt your chances of getting hired).
The three keys to writing an effective resume skills section are:
knowing how to list skills that impress employers
choosing the most suitable skills section format for you as a job seeker
understanding exactly what to put in your skills section
If you cover these three areas, your chance of landing more interviews immediately increases.
This page focuses specifically on the skills section of a resume. If you're looking for a list of skills for your resume, articles focused on hard skills or soft skills, or even a guide that discusses hard skills vs soft skills, you're on the wrong page.
If you want to know everything there is to know about a resume skills section, however, read on for answers to your most pressing questions.
How to List Skills on a Resume Skills Section
Getting started is often the hardest part when it comes to writing a resume. Follow these three steps and the skills section of your resume will start to shape up quickly.
1. Write down your most marketable abilities
Every job seeker is equipped with a distinct set of marketable skills. Making a physical list of your skills and then deciding which ones are relevant to the job you want will help you create the best resume skills section possible.
Some of your top work-related abilities are learned in school, others are mastered on the job, and sometimes they're even picked up through extracurricular activities or independent study. There are also skills more inherent to your own personality (known as soft skills) that you can list on your resume to help round out your skills section.
Write down every skill you possess in a Google doc (don't worry if the list is small, we all have to start somewhere). Then, organize them into hard and soft skills. A combination of these skills should be put in the skills section of your resume.
2. Cut all non-relevant skills
Which skills you end up listing on your resume depends on where you're applying. If you want to work at a bank, your time management skills and ability to handle numbers should be on full display. However, if you're an aspiring yoga instructor, you have no reason to mention math anywhere on your application — and should instead focus on certifications and teaching-related soft skills.
Once you've narrowed down your list to only skills related to your target job, you're much closer to creating a good skills section.
3. Pair with the job description
To truly create a home-run resume skills section, you want to put in skills that are:
Relevant to the position
Touched upon in the job description
While job descriptions sometimes explicitly mention skills that are required and/or preferred, there is usually more to gather if you read between the lines. Take this 5th grade science teacher job listing, for instance (yellow highlights denote soft skills, and orange signals hard skills):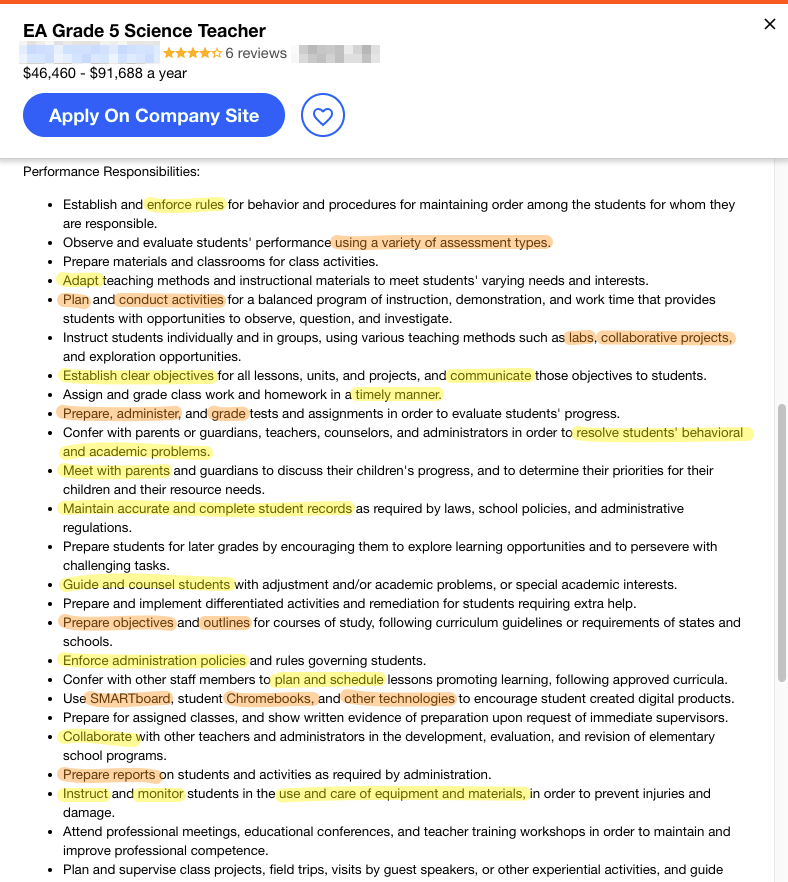 While not all listings will be this detailed, you can always figure out what the hiring manager is truly seeking from job seekers if you look close enough — particularly when it comes to desirable soft skills.
"Adapt teaching methods and instructional materials"? Adaptability.
"Resolve student's behavioral and academic problems"? Conflict Resolution.
"Enforce rules for behavior" and "Enforce administration policies"? Classroom Management.
"Communicate… objectives to students"? Communication skills.
Some of your skills will exactly match the ones on the job description, and others will be loosely related (stretching the truth a little bit is fine, but don't lie). It's okay if you end up with more matching hard skills than soft skills or vice versa, since everyone has a different background and skill-set.
If you have an abundance of both hard and soft skills, let your industry dictate the content of your resume skills section. For instance, jobs like engineering require a significant number of technical skills to perform, and technical skills tend to be hard skills.
By contrast, if you're a bartender, you'll need to have well-rounded interpersonal skills to deal with customers and colleagues. In this case, soft skills should be featured in your resume skills section (except for the variety of delicious cocktails you know how to make — definitely display those hard skills).
How Many Skills You Should List on Your Resume
How many skills you end up putting on your resume depends primarily on you. If you've built up an impressive number of work-relevant skills throughout your career, it's in your best interest to spread them across your resume in places like your work experience section and resume introduction.
With that said, your resume's skills section has a limited amount of space. Each skill you list on it should be related to the job you want, or else your application won't make much sense to a hiring manager.
There are three types of skills sections job seekers employ to highlight their key marketable abilities, and the type you choose will determine how many skills you list.
The three resume skills sections
The three primary types of resume skills sections are the:
Additional skills section
Technical skills section
Relevant skills section
Additional skills section (examples + who should use one)
An "Additional Skills" section (or "Skills" section) is a standard component of a resume. Hiring managers expect it, and it can be found on most resume templates you see online.
However, the additional skills section should never be placed at the front and center of your document.
In most cases, your work experience is more marketable than your skills. Since you can use your experience section to quantifiably show off your skills anyway, featuring it makes the most sense.
Although this is the case, don't neglect your additional skills section. You still have room to put down anywhere from three to eight or nine relevant skills and abilities there, and each one can help make a stronger case as to why you're the perfect hire.
If you work in a position listed below (or are aiming for such a job), you'll likely want to use an additional skills section in your resume.
You can examine some additional skills resume examples here:
Technical skills section (example + who should use one)
If your skill-set is more important to the job than your work experience, then having a dedicated "Technical Skills" section on your resume is an effective way to impress hiring managers.
Check out the following example to get an idea of how this might look for you:
Since IT work demands a special set of abilities, this IT-industry applicant begins his resume by listing key technical skills at the top.
He also breaks them down into core areas, which helps organize what would otherwise be an extensive list into easy-to-digest chunks of skills for the hiring manager to read.
Industries where a technical resume skills section may work better than an additional skills section include the following:
Manufacturing
Technical Writing
Executive Level Positions, like CEO
Relevant skills section (examples + who should use one)
The last type of resume skills section is most useful if you're using a functional resume, and would like to downplay your work experience for any reason.
Known as the "Relevant Skills" section, this format allows you to elaborate on how past achievements and work have helped you hone specific skills. Check out this substitute teacher resume sample to see this in action:
As you can see, a relevant skills section operates similarly to a work experience section, but simultaneously allows you to avoid mentioning specific dates and job titles (great if you have employment gaps). Plus, it gives you the chance to elaborate and prove your core work skills, whereas a standard skills section doesn't have the necessary space.
What to Put in the Skills Section of a Resume
Still not entirely sure how to fill out the skills section of your resume? Try the following out for size:
1. Universally useful skills
While some skills are specific to certain industries, many are transferable. Such abilities can help you bolster your resume skills section in the event yours is looking thin.
Hard universal skills (Microsoft,  foreign languages, & more)
You'd be surprised by the number of people who want to know how to list Microsoft skills on their resume. That's because many companies have made using Microsoft Office Suite a fundamental part of their employees' daily routine.
In addition to listing the various Microsoft skills you've mastered onto your resume, you should also consider employing some of these other key universal hard skills:
Language fluency (Spanish is a great asset in the US, Mandarin Chinese is important for business, and many languages will be useful depending on your industry and where you are located)
Computer skills (G Suite, Microsoft Office 365, HTML, cloud management)
Writing (technical writing, copywriting, blogging)
Spreadsheets (creating pivot tables on Excel, organizing and setting filters on Google Sheets)
Marketing (Search Engine Optimization, Google AdWords, Google Analytics)
Soft universal skills
Regardless of your industry, most soft skills are transferable. This is why you should cultivate them during your time at every company.
Time management, communication, interpersonal skills — all of these and more can be honed and developed in any job, and can be conveyed on a resume and in interviews.
Some key universal soft skills include:
2. Industry-specific skills
We've taught you how to analyze a job description and locate skills you can include on your resume, but sometimes those skills may not be descriptive enough. That's when a little research into your target company can go a long way.
Find & absorb a company's mission statement
Take a close look at the website of your target company to learn more about them. See what products they're offering, explore their "About Us" page, and try to learn what makes them tick.
Most companies also have career pages where they post positions they need filled, and sometimes those pages have mission statements that highlight their core values, as well as what they look for in employees. Take Nike, for instance.
If you found a job listing on Indeed.com for Nike, you would have missed the major insight provided by their careers page (which includes the word innovation three times, by the way). From this short note about what Nike does, you can see they are looking for someone who is:
Driven
Passionate
Creative
Capable in design or coding
Innovative
Look at job descriptions of other companies
Some companies do a great job creating an online presence — having highly visible, aesthetically pleasing websites, blogs with useful content, and frequently updated career pages with vivid job listings. Others fall a bit short.
Checking out job descriptions posted by other businesses in your industry is a good way to find additional hard and soft skills for your resume skills section, especially when your target company's listings are lacking.
Pay attention to skills listed by employees on LinkedIn
Similar to website research, look for people employed in your target industry (or even job) on LinkedIn, and read their LinkedIn summary.
Let's say you were applying for an open Digital Marketing Director role.
Here's an example of a digital marketing director I discovered on LinkedIn at random. Immediately, you can see some core industry-related skills you'd put into your skills section:
Content creation
Link building
Outreach
Keyword research
WordPress
Leadership
Creativity
Conclusion
Putting together the skills section of your resume will set the tone for the rest of your application. Whether you're building a robust technical skills section or simply peppering a few key abilities into your additional skills section, taking the time to do it right will ultimately aid you in your quest to find fulfilling work.
Ready to build your resume? There's no time like the present. Resume Genius' free resume builder provides built-in professional phrases to help illustrate your skills.