Top skills for graphic designers
Here are the best skills for graphic design resumes:
Our free-to-use resume builder can make you a resume in as little as 5 minutes. Just pick the template you want, and our software will format everything for you.
Communication
Your communication skills are as important as your graphic design hard skills are. Even if your technical skills are on point, you won't get far in a graphic design career if you can't:
understand client requirements
negotiate timeframes, payment, and specifications
explain and defend your design choices
Here are five communication skills to highlight on your graphic design resume:
Interpersonal skills
Presentation skills
Active listening
Confidence
Public speaking
Graphic design software
Every resume your target employer receives brags about Adobe Photoshop and Illustrator proficiency. And yes, you should list those industry-standard tools on your resume.
However, you should also make your application stand out by including other software you use to show that you can:
save the employer money by using an affordable Photoshop substitute
quickly adapt to the company's preferred software
Here are some top Adobe alternatives to put on your resume:

Marketing
Marketing skills are a major plus on your graphic design resume. These skills show that you know how to make graphics and images that maximize conversion rates and increase brand awareness:
Social media marketing
Knowledge of image copyright laws
Branding
Image SEO
Sales techniques
Creativity
Don't merely say you have software skills and design concept knowledge when you apply for a graphic design job. Instead, fill your resume with proof that you use your technical skills creatively.
Putting these skills on your resume shows employers that you're a creative graphic designer:
Innovation
Problem-solving skills
Brainstorming
Curiosity and open mindedness
Fine art and music
Organizational skills
Even if you're applying to be a full-time graphic designer for a single company, expect to simultaneously work on multiple projects from different departments with varied requirements.
Show the hiring manager that you can handle a diverse workload with ease by describing your organizational skills, including the following:
Time management
Multitasking
Self-motivation
Stress management
Scheduling
Teamwork
To be successful in graphic design, you must be good at collaborating with others. Your resume should prove that you respond to feedback, handle criticism well, and create work that meets the requirements of various departments.
Highlight the following teamwork skills on your resume to show that you work well with others:
Leadership
Decision making
Friendliness
Cloud collaboration (Google Drive and Dropbox)
Coordination
Basic coding
Rise to the top of the graphic designer talent pool by featuring coding skills on your resume. If you do basic coding work to get your graphics optimized and online, you'll save a company time and money.
Here are the top coding languages for graphic designers:

Design principles
Simply stating your professional title and listing your graphic design degree in your resume's education section won't impress the hiring manager.
To stick out from the crowd of applicants, describe your ability to apply advanced graphic design principles, including these:
Typography (font matching, sizing, and spacing)
Visual hierarchy
Color theory
Reading direction
Activating negative space
Flexibility
To capture the attention of hiring managers looking through hundreds of graphic designer applications, emphasize your flexibility on your resume. Add the following skills to your resume to indicate that your design skills extend beyond image creation:
Animation
Writing skills
Video editing
UI/UX design
Freehand drawing
How to choose skills for your resume
There's no single way to write the perfect graphic design resume because every employer is looking for different skills. To find the skills that that will jump off the page to the hiring manager, read the job ad and underline relevant keywords in the job description, like this: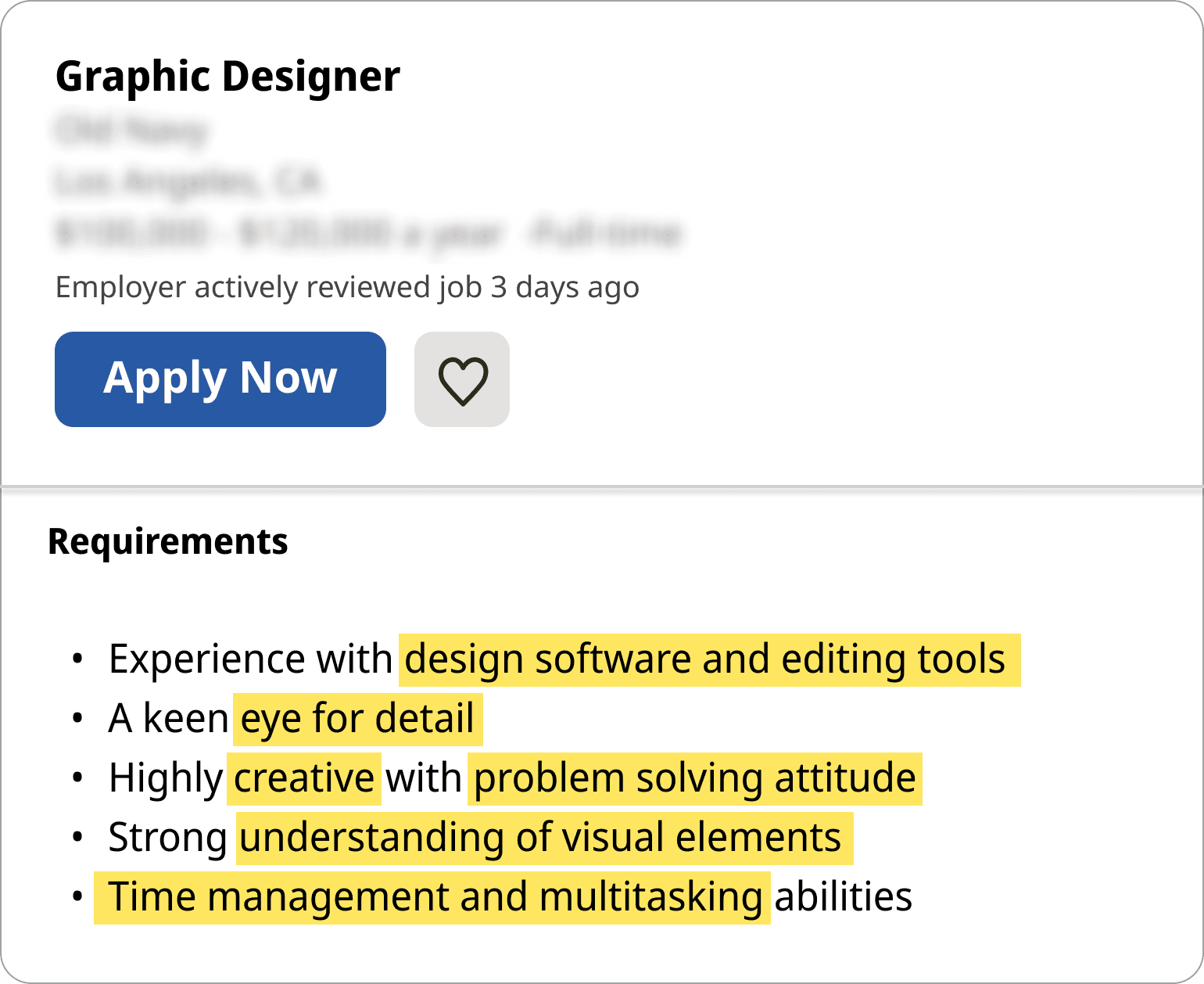 Also, research the company to determine which skills will have the most impact on your resume. When you research:
browse the company's website, social media accounts, and press releases to determine its design style and branding and discover skills that its design team values
look for descriptions of the job from the company's designers on websites like Glassdoor or Comparably
Putting relevant skills on your resume is also essential to getting your application through applicant tracking systems (ATS).
ATS systems automatically prioritize applications based on relevant resume keywords. Adding skills from the job ad and your research increases the chances that the ATS labels your resume as a match for the position.
How to add skills to your resume
Here are three ways to add graphic design skills to your resume:
List them in a bulleted resume skills section
Quantify your skills with hard numbers and examples in your resume's work experience section
Describe your most relevant skills in your resume summary