Your education section is an essential part of your resume, especially if you're a student or recent graduate. But knowing what information to include to fully communicate your qualifications and where to put this section can be confusing.
In this article, we'll walk through each step of listing education on your resume and provide some examples you can follow.
How to list education on your resume
Watch the video below where our career expert Eva shows you exactly how to list your education on your resume, with helpful tips and examples.
Here's exactly how to list education on your resume in a way that highlights your most marketable qualifications:
Decide what to include in your education section
There are a few standard details you should always include in your resume education section. These are your:
name and location of the school you received your highest degree from
degree name/major (and minor, if applicable)
graduation date (or anticipated graduation date)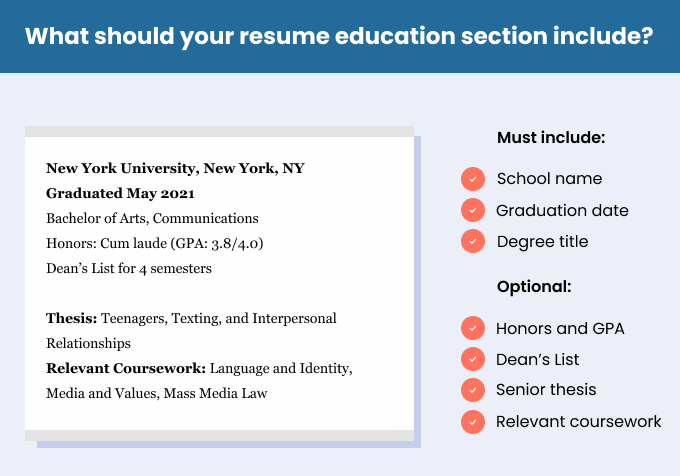 Beyond this basic information, there are additional details you can include if you want to highlight some of your relevant academic achievements.
Here's some optional information to consider listing in your education section:
GPA (if above 3.5): Including a high GPA on your resume demonstrates that you're capable of producing high-quality work and managing your time well.
Honors and academic awards: Listing that you graduated with honors (with distinction, cum laude, magna cum laude, or summa cum laude) or awards (such as making the Dean's list) shows employers that you're responsible and diligent.
Scholarships and grants: Including merit-based scholarships and grants indicates to hiring managers that you're driven and worth investing in.
Thesis: A completed thesis is definitely an accomplishment worth showing off, particularly if the subject matter is relevant to the industry you're applying to work in.
Relevant coursework: Including relevant coursework on your resume shows employers that you have foundational knowledge in your field and skills to build upon.
Extracurricular activities: If you took part in clubs or sports that demonstrate relevant skills, include these extracurricular activities in your resume as well.
Remember that you should only list information that's relevant to the job you're applying for. For example, only mention relevant coursework in your resume's education section if the course topic is related to the job you're applying to.
Put your education in the right part of your resume
Once you've decided what information to highlight in your education section, you need to decide where on your resume to put it.
Although your resume's formatting might sound unimportant, where you place your education section in relation to the other parts of your resume helps emphasize (or de-emphasize) your educational background. This is why choosing the right resume format is crucial to send out the right message and make a good impression on a potential employer.
Are you a recent college graduate, are currently pursuing a degree, or lack relevant professional experience but have a degree related to the job you want? Then your education should be featured toward the top of your resume, above your resumes work experience section.
Here's an example of a resume with the education section featured near the top: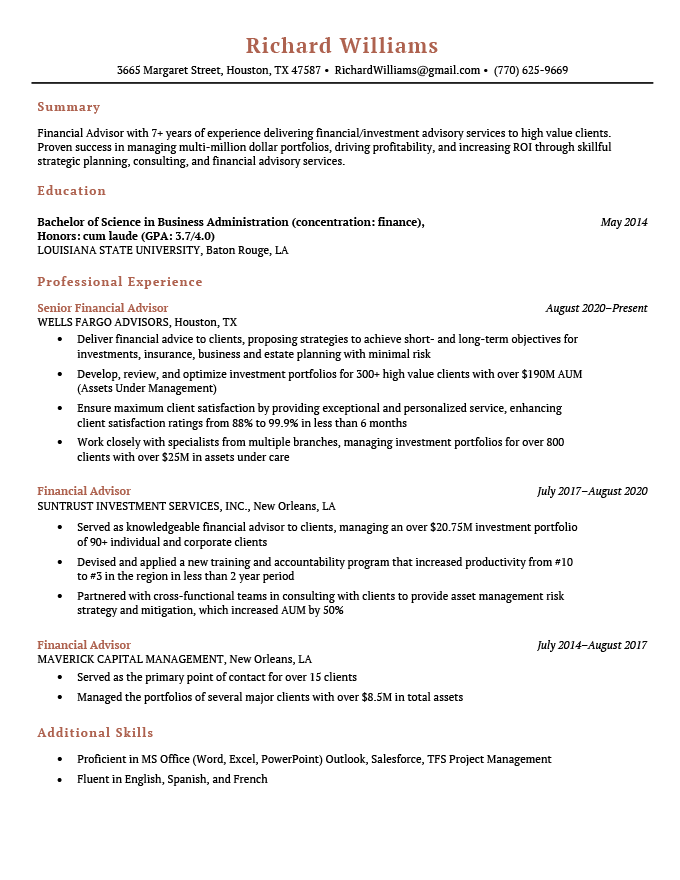 Have more than a couple of years of relevant work experience? List your education below your work experience section. For 99%+ of jobs, your education is less relevant to your ability to do the job than your hands-on work experience.
Here's an example of a resume with the education section featured below the professional experience section: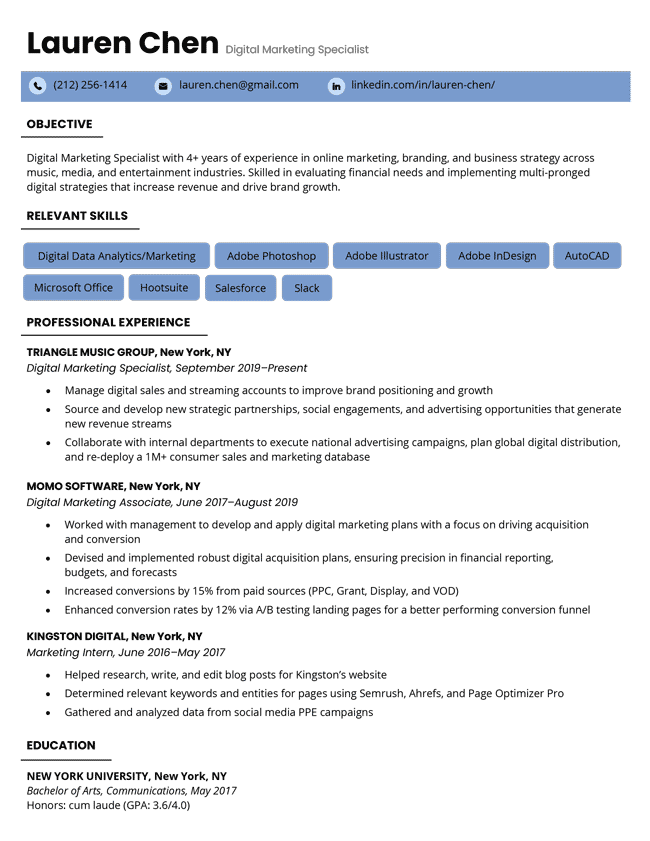 If you're still confused about how and where to list your education, you can save time and effort by using a free resume builder. Resume builders are designed to do the formatting work for you, quickly providing you with a resume that suits your experience and education levels.
Format your education section properly
There are numerous ways to properly format your resume's education section. The most important thing is that you list all necessary information clearly.
For example, you should always bold the most important information in your education section to help it stand out. For most people, this is the name of their school or their degree title.
Here are a couple examples of how to properly list education on your resume:
May 2017
New York University, New York, NY
Bachelor of Arts, Communications
New York University, New York, NY
B.A., Communications, May 2017
Additionally, if you want to list a double major on your resume, make sure the most relevant major comes first.
Here's an example of how to format your education section with additional information:
May 2017
New York University, New York, NY
Bachelor of Arts, Communications
Honors: Cum laude (GPA: 3.8/4.0)
Dean's List for 4 semesters
Thesis: Teenagers, Texting, and Interpersonal Relationships
Relevant Coursework: Language and Identity, Media and Values, Mass Media Law
Active member of the Wagner Student Association and the NYU Arts and Culture Network
7 resume education section examples
Still not sure what your education section should look like on your resume? Here are seven different examples that demonstrate the different ways you can format your education section.
High school student
If you're a high school student or don't have a higher education degree, you should list your high school education on your resume.
Here's an example of how to list your diploma if you're:
Currently in school
Graduated
College student/recent graduate
If you're currently in or graduated from university, you should always include your degree on your resume. Even if it's not relevant to the job you want, a college degree is often a requirement for professional-level positions.
Currently in school
Graduated
Graduate student (master's)
Here's an example of how to list a master's degree on your resume:
Doctorate student (PhD)
If you're applying for positions that require a PhD, you should make sure to include your dissertation in addition to when you earned your degree. Here's an example of how to include a doctoral degree on your resume:
Working professional education section
If you've already entered the workforce and have a few years of experience, your education section should be short and to the point, like this: