How to write a resume for a career change
Learning how to write a great resume as someone changing professions with little related experience can seem difficult.
Fortunately, it doesn't have to be. Anyone can write a strong resume to change careers by emphasizing these two things in their application: 1.) relevant experience, and 2.) transferable skills.
To make sure you cover all the information hiring managers want to see on a career change resume, follow these five steps:
Our free-to-use resume builder can make you a resume in as little as 5 minutes. Just pick the template you want, and our software will format everything for you.
1. Use the functional resume format
When changing careers, you want a resume format that highlights your transferable skills while downplaying your lack of experience in your new industry.
That's why the functional resume format (also called a skills-based resume) is your ideal choice.
As a career changer, you bring certain skills with you from past jobs that make your application more attractive to employers. Some of those skills can be listed in your skills section, and others can be highlighted as examples of work experience.
Here's what a functional resume for a career change candidate looks like: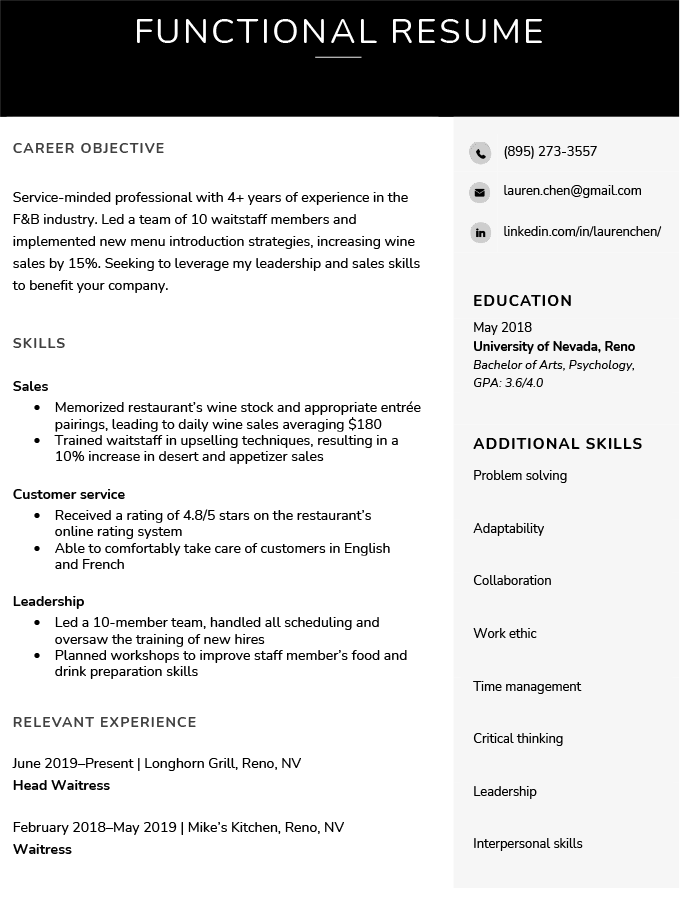 2. Open with a strong resume summary
Knowing how to start a resume is essential for anyone changing careers. That's because a good introduction quickly establishes the value of your contributions at work, showcases your relevant skills, and sets the tone for the rest of your resume.
As a career changer, you should write either a resume summary or a resume objective.
A resume summary is the best choice if you've got numerous accomplishments that demonstrate skills relevant to the position you're applying for, while a resume objective allows you to focus on relevant professional, educational, or volunteer experience.
Here are two examples of each to give you an idea of how to write a good career change resume introduction:
Career change resume objective examples
Example #1

Example #2

Career change resume summary examples
Example #1

Example #2

3. Use your work experience to highlight transferable skills
Transferable skills are valuable because they make it easier for you to transition into a career where you have less or no experience.
Think about experience from previous jobs that applies to work in your new industry, and then make bullet points in your experience section that highlight those skills in action.
For example, if you're transitioning from a career in marketing to a career in NGO fundraising, you should highlight your ability to convince people to part with their money for a product or cause.
When describing your past work experience, "clarity is key", according to Nikki Bromley, Founder and CEO of Out Of the Class:
"Avoid using job-specific jargon and acronyms that might be unfamiliar to those outside your previous field. Your resume should be easily understandable to hiring managers from diverse backgrounds, allowing them to quickly grasp your skills and experiences, regardless of their industry expertise."
A well-written experience section for a career change resume should look like this: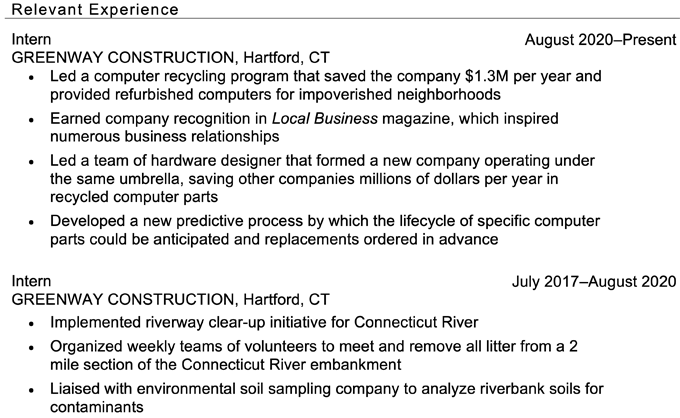 Additionally, there are certain skills that are universally important. Leadership skills, for instance, can be applied to a broad range of professional contexts, making them a strong addition to any career change resume.
Other transferable skills you've probably picked up through your career include:
Problem-solving abilities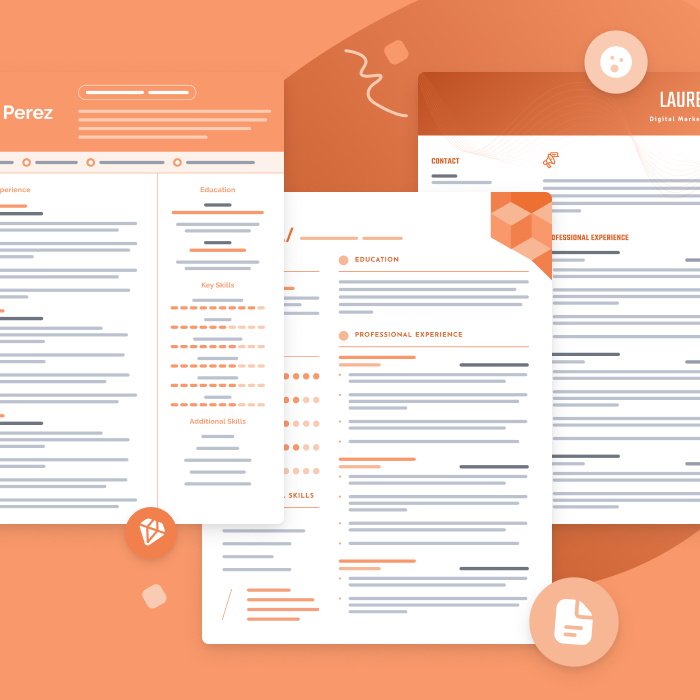 One of the best ways to make your resume is by filling out one of our free resume templates. All our templates are designed by experts and free to download for Microsoft Word or Google Docs.
4. Emphasize relevant school experience
You can also use your resume education section to highlight transferable skills you picked up as a student.
If you completed relevant coursework that makes a strong case for you to get a job in your new industry, add it to your work experience section. Use bullet points to highlight skills you learned in class, like this: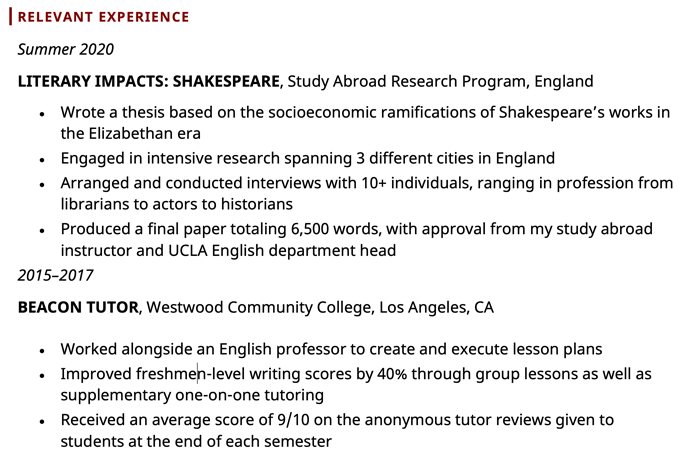 You can also list a relevant class plus your GPA on your resume, or other school honors you received. These relevant details show employers you're more interested in their field than your work experience might first suggest.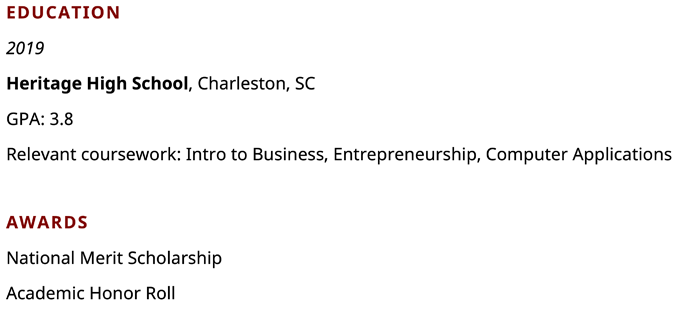 5. List any relevant certifications
Many fields require specific credentials and certifications. If you have them, position the certifications on your resume where they can be easily seen, like in this example:


If you're unsure what certifications to get for your target industry, look at job analysis sites like Onetonline. Online resources like these have detailed information about what certifications, skills, and education are required for a wide variety of professions.
If you don't have job-specific certifications that apply to your new career but have other ones that are relevant to the job, you can mention those too.
Career change resume examples
Here are two effective career change resume examples:
Example #1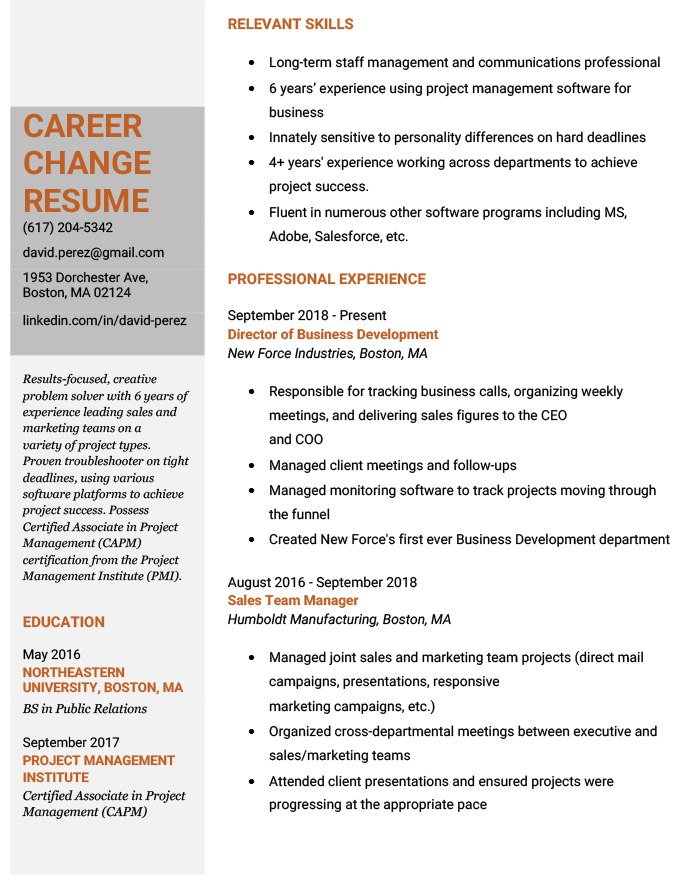 Example #2