Editing your resume by taking out information or including your recent experiences and new skills sounds like a lot of work, but it doesn't have to be.
Here's why and how often you should update your resume, followed by 10 tips on how to upgrade your existing resume and make it stand out in 2023.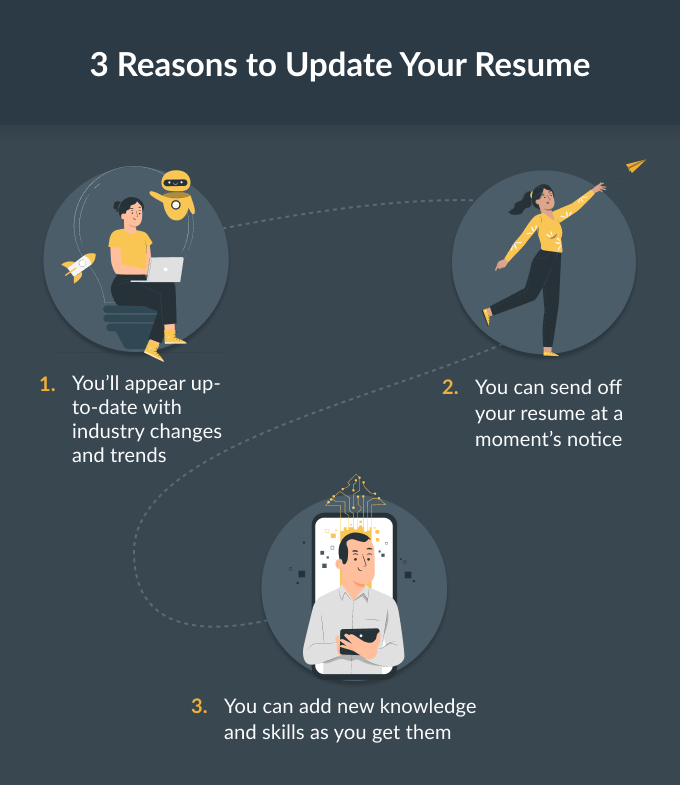 Our free-to-use resume builder can make you a resume in as little as 5 minutes. Just pick the template you want, and our software will format everything for you.
Why is updating your resume important?
Providing employers with an updated resume tells them you have recent work experience, skills, and qualifications, and makes them more likely to pick you over other candidates because they can see you've kept your skill set relevant.
Submitting a new and improved resume also shows that you're:
learning new knowledge and upgrading your skill set
moving upward in your career path
staying up-to-date with the latest changes in your industry and the newest resume trends
How often should you update your resume?
You should update your resume every time you obtain new hard and soft skills, certifications, or major work or volunteer experience that are relevant to the career path you want.
If you don't have time to maintain your resume regularly, try updating your resume every 3–6 months (even if you already have a job).
Although you can still make a great resume when you're starting your job search, refreshing your resume consistently will save you time and unnecessary stress.
Actively updating your resume and being ready at a moment's notice also prepares you for job opportunities that come up.
If you're wondering when or how often you should update your resume, this TikTok provides the answer along with some tips to make the process easier:
10 tips for updating your resume
Updating your resume is straightforward. Below are 10 expert tips for presenting hiring managers with a job-winning, up-to-date resume in 2023:
1. Include the appropriate resume sections
Hiring managers spend mere seconds scanning each resume, so create a standard resume with all of the essential components for them to quickly read your information.
When starting your resume, organize your resume sections in this order:
2. Update your resume format and design
If you've been using the same type of resume since the early 2000s, it's time for a change. A simple way of enhancing your resume's appearance is to modify the formatting and layout.
Here are three quick ways to upgrade your resume design:
Change your resume format.

Use the reverse chronological resume format to present your work history in chronological order from your most recent experience to the oldest. This format is the best for most job seekers because it's what hiring managers are used to.
However, if you're changing careers or have a work gap in your resume, consider using a:
Adjust your resume font and size.

You won't look like the best candidate for the job if your resume doesn't follow proper resume formatting rules. Hiring managers don't want to look at a resume with a font that is small, large, or unprofessional.
So use a standard resume font like Arial, Verdana, Times New Roman, or Georgia.
Keep your font size between 10–12 points so your words fit neatly on the page and appear organized and professional.
Use 1″ margins on all sides.

The appropriate resume margins tell employers you've paid attention to your resume formatting — and made it easier for them to read the rest of your resume.
Although 1″ margins are the standard, you can adjust them within a range of ½"–1″ if you need extra space.
3. Remove old positions and dates
You may want to list all of your previous positions on your resume, but employers have limited time and would rather see a one-page resume with the exact qualifications and skill set they seek.
To write a concise one-page resume, try:
listing 3–6 bullet points for each of your jobs
removing dates and positions that are 15+ years old
taking out skills and experiences that aren't relevant to the industry you're applying for
4. Refresh your contact information (if necessary)
If you've recently changed addresses, got a new phone number, or updated your professional profiles, don't forget to modify your contact information on your resume header to reflect the changes.
Listing your mailing address or current city on your resume is optional, but make sure to place these details in your resume header:
first and last name
phone number
email address
5. Tailor your resume keywords to the job posting
Modern companies use applicant tracking software to find suitable candidates who used the same resume keywords from their job postings. Write an ATS friendly resume in 2023 by selecting the exact keywords from the job description and using them throughout your resume.
By tailoring your resume keywords to the company's requirements, you have a higher chance of moving past the ATS software and getting noticed by recruiters. You also show that you've read the job description carefully and understand what qualifications and skills the employer is looking for.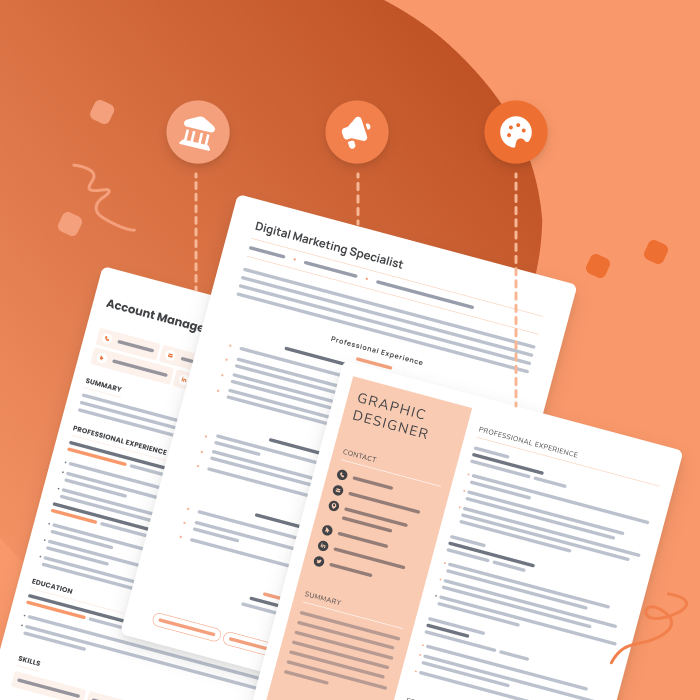 Not sure what your resume should look like? The best way to learn is by taking inspiration from resume examples written by other candidates in your industry.
6. Adjust your resume objective
A resume objective (also known as a career objective) is a 2–4 sentence introduction that summarizes your best skills, years of experience, and purpose for applying to a job.
Resume objectives are best suited for inexperienced job seekers, recent graduates, or applicants applying for a specific position.
As you progress through your career, your career goals will likely change. So you should make sure your resume objective reflects your current career goals.
Mention your years of experience, relevant training, educational background, and how your skills or qualities make you a perfect candidate for the role.
This is an example of a well-written resume objective for a high school teacher resume:
Example of an updated Resume Objective
High School Teacher with 2+ years of experience managing classrooms of 25–45 students. Licensed teacher in California with a Master's of Arts in Teaching from the University of California, Irvine. Specialize in teaching History and Geography. Looking to adapt my creativity, empathy, and curriculum planning skills and serve as the next History Teacher at Lakewood High School.
If you're an experienced worker with many career highlights, try writing a 1–5 sentence resume summary. A resume summary is longer than a resume objective and focuses more on your professional, personal, or academic achievements.
7. Mention hard numbers and specific details
Add hard numbers to the bullet points of your job descriptions to make more of an impact on hiring managers.
Hard numbers such as data, percentages, lengths of time, or dollar amounts show employers evidence of what you've achieved.
Try using a range or estimate if exact numbers aren't available, and use numerals rather than worded numbers to save space on your resume.
Additionally, provide as much detail in each bullet point as possible so employers can clearly see what you've done in each role.
Here's an example of work experience section bullet points with and without hard numbers:
Updated resume bullet point with hard numbers
Supervised a design team of 10+ to launch the new Don't Quit, Be Fit class app in December 2022, which increased fitness class sales by 90%
Resume bullet point without hard numbers
Supervised a team to launch a fitness app
8. Use powerful action verbs
Substitute weak, overused verbs at the beginning of each work experience bullet point with an impactful resume action verb.
Starting each bullet point with an action verb (e.g., "managed" rather than "tasked with") is a simple way to capture the attention of hiring managers and make yourself look like a confident applicant.
Have a look at this example of a statement with and without action verbs:
Updated resume bullet point with action verbs
Completed 430+ phone calls per week with customers, providing them with helpful solutions and excellent service regarding their inquiries
Resume bullet point without action verbs
Responsible

for providing customers on the phone with answers to their inquiries
Avoid using resume buzzwords like "hard worker" and "think outside the box" that are overused and basic. Instead, re-read your resume and replace generic phrases with more exciting, active words that highlight your top resume accomplishments.
9. Replace passive voice with active voice
Passive voice adds unnecessary words to your resume and can make your previous duties unclear to employers.
So read each job description carefully and replace any phrases or expressions that use the passive voice, and change them to the active voice.
Using the active voice throughout your resume gives a clearer look at your participation and leadership in a role and makes your work experience appear more dynamic and direct.
Updated resume bullet point using active voice
Led a team of 70+ package holiday specialists, achieving a 50% increase in year-on-year revenues in summer 2022
Resume bullet point using passive voice
Team of 70+ package holiday specialists led by me was responsible for 50% increase in year-on-year revenues in summer 2022
10. Save your resume as a PDF
After proofreading your updated resume and making your final changes, save it as a PDF or docx file.
Sending your resume as a PDF maintains the exact formatting you used and ensures recruiters see the same version when they download and print your application.
About Resume Genius
Since 2009, Resume Genius has merged innovative technology with up-to-date industry expertise to simplify job hunting for people of all backgrounds and experience levels.
Resume Genius's easy-to-use resume builder paired with a wide range of free career resources like resume templates, cover letter samples, and resume writing guides can help anyone improve their job hunt. Resume Genius has been featured in esteemed publications such as CNBC, Business Insider, Forbes, and The New York Times.
Supported by a team of dedicated career advisors and HR experts, Resume Genius's ultimate mission is to guide job seekers toward fulfilling work and help them reach their career goals. For media queries or concerns, please contact us.