Chronological resumes are the gold standard resume format. Yet while they remain the most popular way to structure a resume today, it doesn't mean they're necessarily the best choice for you. Read on to find out if you should use one to land your dream job.
Table of Contents
1. What is a Chronological Resume?
A chronological resume (sometimes called a reverse-chronological resume) is the most commonly used resume format among job seekers. This style is what most people think of when they hear the word "resume." It gets its name from the fact that the job seeker lists lists their past jobs in reverse-chronological order in the work experience section.
Job seekers prefer this format because it accommodates all industries and levels of experience; HR departments prefer it because it is so conventional.
Since work experience is listed chronologically, this format is fantastic for those who want to demonstrate a vertical career progression.
The only reasons why this format might not work for you is if you have work history gaps or frequently change jobs.
In these cases, you might want to consider a skills-based functional resume or alternatively, the hybrid combination format.
Outside of these situations, the chronological format is often a safe bet for job seekers.
Anatomy of the Chronological Resume Template
Take a look at this typical chronological format resume: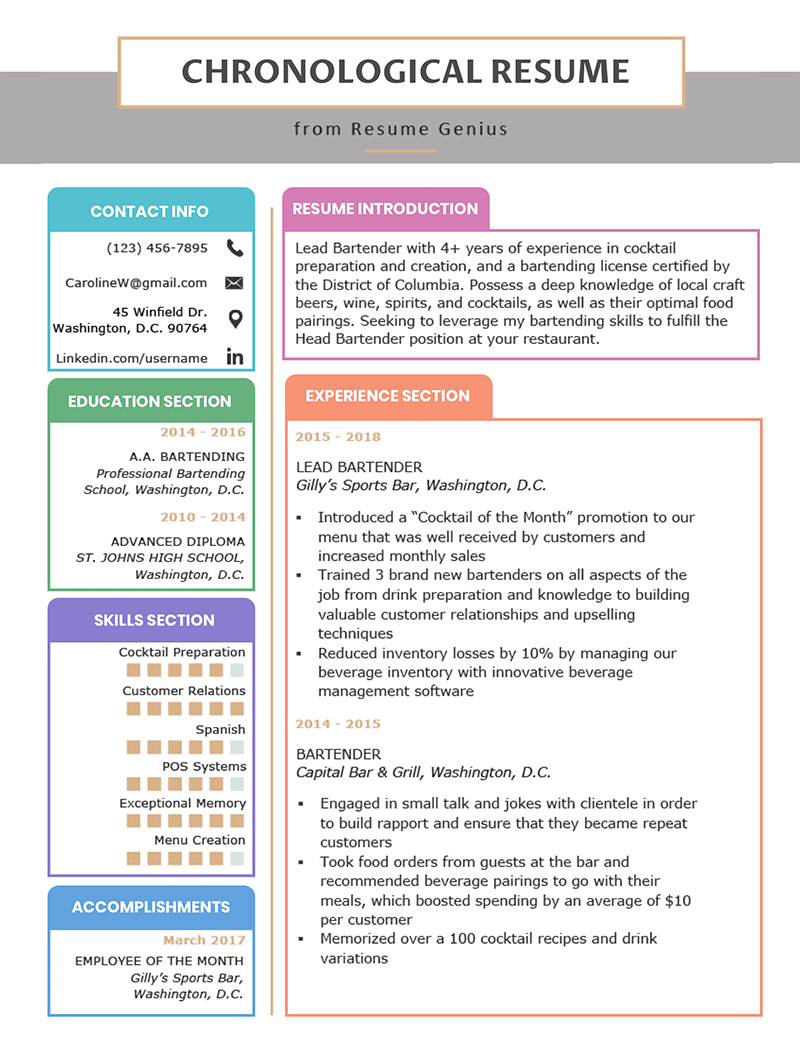 Contact Info – Vital information, so it goes in a prominent place at the top of your resume.
Resume Objective – A resume objective is an introduction that briefly outlines your experiences and skills.
Work Experience – Here, summarize your present and past jobs in reverse-chronological order.
Key Skills Sections – The purpose of the key skills section is to show off your attributes and skills. Remember to include a mix of hard and soft skills.
Education – List your degree, where it was obtained, and your GPA. Other certifications can be added too.
Accomplishments  – Whether it's employee of the week or something from college, note relevant awards and honors here.
2. The Order of a Chronological Resume
Generally, chronological resumes are ordered in a tried-and-tested way. You'll want to stick to the following order when writing your resume.
1. Contact Information
When it comes to writing a resume, this section is as straightforward as it gets. Here are the essentials: name, address, email address, and phone number.
If you want to go above and beyond, then add a link to your personal website (but only if it's professional!) or your LinkedIn profile.
2. Resume Introduction
The chronological resume format allows you to choose between three resume introductions: the more traditional resume objective, resume profile, and bullet-point qualifications summary.
Each type of introduction has its own advantages and disadvantages based on the type of job seeker you are. For instance, a qualifications summary is great for applicants with a wealth of skills and abilities, which means it's helpful for experienced candidates but not ideal for recent college grads.
3. Professional Experience
The professional experience section is the meat and potatoes of chronological format resumes.
The goal here is not to provide a list of tasks you performed at your past jobs but rather to showcase your achievements and how you excelled in previous roles. The best way to do that is to add measurable accomplishments to your bullet points.
Numbers illustrate your accomplishments and provide the employer with a better understanding of your abilities.
Another way to make this section more effective is to start each bullet point with an action verb. Action verbs target your bullet points, making it clear to the HR manager exactly how you achieved your goal.
4. Education (or Part 3 for Students)
Unless you are a student or a recent graduate, your education section does not have to be too detailed.
Providing the name and location of your university, type of degree, when you graduated, and your GPA (if 3.0 or above) is usually enough.
However, if you are still in school or have just graduated, your education section will be a bit different. For example, educational experience should be listed before professional experience on a student resume.
5. Additional Skills (Optional)
Including an additional skills section on your resume allows you to add any extra skills that you did not have an opportunity to add elsewhere.
But remember, make sure the skills you add apply to the position you're applying for—by using our guide to writing the skills section of your resume to properly convey your skills, you will land you more jobs.
3. Twelve Industry-Specific Chronological Resume Examples
We've gathered some of the best examples of chronological format resumes. Simply click the images below to see a larger version.
Food Service
Download These Food Service Resumes
Food Service Resume Example Text Versions
Open these text versions, and then copy and paste them into your word processor.
Waiter Resume (Text Format)
Waitress with 5+ years of experience in providing excellent service to diners at quality establishments. Possesses familiarity with POS terminals and common restaurant machinery. Expert with a proven ability to "upsell" alcohol, dessert, and appetizers to customers. Looking to leverage my knowledge and experience into a waitressing role at your restaurant.
Professional Experience
WAITER
Longhorn Grill, Los Angeles, CA / September 2016 – Present
Memorize restaurant's wine stock and appropriate entrée pairings, leading to daily wine sales averaging $180, fully 15% higher than company average
Write patron's food orders on slips, memorize orders, and manage food resources in a 120+ seat restaurant
Operate POS terminals to input customer orders, swipe credit cards, and enter cash amounts received
Receive in-depth training for proper food handing techniques, including proper freezer placement, appropriate soup temperatures, and equipment cleaning processes members
Assist in the training of 6 new waiters, ensuring attention to detail and comprehensive understanding of restaurant methodology and practices
HOSTESS & WAITRESS
Mike's Fancy Kitchen, Los Angeles, CA / June 2013 – August 2016
Implemented new menu introduction strategies, increasing customer purchases of wine by 10% on average
Bussed tables, presented menus, seated customers, and assisted waiters with drink orders
Cleaned tables and floors of dining area, ensuring that customers had a pleasant, hygienic dining experience
Trained 3 new hosts in providing excellent customer service and conflict resolution techniques
Education
B.A. / ENGLISH
UCLA, Los Angeles, CA
May 2013
Awards
EMPLOYEE OF THE MONTH
Mike's Fancy Kitchen
2015
Skills
Salesmanship
Problem Solving Customer Service
POS Terminals
Critical Thinking
Strong Memory
Bilingual (English/Spanish)
Line Cook Resume (Text Format)
Line Cook with 5 years of experience in Cajun, Creole, and Middle Eastern Cuisines. Possess expertise in creating sauces and cooking seafood and poultry, as well as following recipes and presentation with meticulous detail. Demonstrated skills in improving cooking processes and reducing food waste and costs. Recipient of awards, commendations, and numerous positive feedback from patrons.
PROFESSIONAL EXPERIENCE
UPPERLINE RESTAURANT                                                                                             New Orleans, LA
Line Cook                                                                                                                           Jul 2012 – Present
Worked in sauce and grill stations within 50-seat fine dining Cajun and Creole restaurant, with expertise in cooking seafood and poultry
Awarded 'Line Cook of the Month" six times, out of 5 line cooks, consistently receiving positive feedback from patrons for quality and taste of food
Developed process that accurately tracked food costs more efficiently, resulting in savings of $3K per month in food waste
Sourced vendors, negotiating agreements that cut supply costs by 18% without affecting quality, and ultimately approved by Head Chef and restaurant manager
Created and recommended new sauce recipes to Head Chef, subsequently added to menu items
SHAYA                                                                                                                             New Orleans, LA
Line Cook                                                                                                                      Mar 2010 – Jun 2012
Prepared all food items in 30-seat Middle Eastern restaurant with lunch and dinner services, assisting restaurant in ranking top restaurant for 3 consecutive months in the Zagat
Trained, managed, and guided 5 other line cooks, improving overall performance, service quality, and productivity by 20%
Participated in monthly catering services with 400 guests, while receiving 93% in positive feedback from guests regarding food quality
Reorganized and streamlined station's food process, expediting cooking and food delivery to customers by 23%
EDUCATION
AMERICAN CULINARY FEDERATION                                                                        New Orleans, LA
Certified Culinarian® (CC®)
DELGADO COMMUNITY COLLEGE                                                                          New Orleans, LA
Associates in Applied Science in Culinary Arts
Chef Apprenticeship Program
ADDITIONAL SKILLS
Fluent in English, Spanish, and Persian
ServSafe Certified
Exceptional memory for recipes
Food Service Resume (Text Format)
Food Service Worker with 6+ years of experience serving and preparing food in a variety of different food establishments. Provides excellent customer service, and possesses encyclopedic knowledge of wines, entrees, restaurant equipment, and POS terminals. Looking to leverage my knowledge of the industry for a host role at your restaurant.
Professional Experience
FOOD SERVICE WORKER
The Big Lobster / Greenville, SC / 2016 – 2018
Took customer orders with a friendly demeanor, consistently scoring over 90% satisfaction rating on customer feedback surveys
Kept track of inventory to ensure that the restaurant never ran out of napkins, utensils, or POS paper rolls.
Prepared appetizers, entrees, salads, and alcoholic beverages when the kitchen staff was stretched too thin, increasing workplace efficiency by 20%
Trained 4 underperforming waiters in salesmanship methodology, increasing their sales to meet the company average of 83%
Learned how to manually calculate and split bills, completing 53 orders during an instance when the POS terminal was down
ASSISTANT FOOD SERVICE WORKER
Smokey Joe's BBQ / Greenville, SC / 2012 – 2016
Perfected menu presentation skills, providing customers a holistic understanding of the restaurant offerings, leading to a 15% increase in sales
Helped take down phone orders, and passed on those orders to the kitchen using Smokey Joe's BBQ's special shorthand
Maintained a hygienic kitchen by regularly mopping and disinfecting the workspace and washing all utensils and dishes.
Mastered 3 types of POS Terminals, as well as receipt roll replacement
Education
 B.S. / MARKETING
University of South Carolina, Columbia, SC
May 2012
Awards
EMPLOYEE OF THE MONTH
The Big Lobster
2017
Skills
Salesmanship
POS terminals
Restaurant equipment
Conflict resolution skills
Basic math skills
Bilingual (English/Spanish)
Customer Service & Retail
Get These Customer Service & Retail Resumes
Customer Service & Retail Resume Example Text Versions
Click on the buttons below to get the text versions, and then copy and paste them into a word processor to edit them.
Flight Attendant Resume (Text Format)
Flight Attendant with 6 years of experience in domestic and international charter and commercial flights. Demonstrated exceptional customer service, receiving positive feedback from passengers and commendations from crew. Proficient in emergency situations, fully trained in CPR and AED, as well as diffusing situations from reaching dangerous levels.
PROFESSIONAL EXPERIENCE
DELTA AIR LINES – San Francisco, CA
Flight Attendant, June 2013 – Present
Completed over 2,000 hours of international and domestic flights within Boeing and Airbus commercial jets holding up to 400 passengers
Assisted passengers stow carry-on luggage, with ability to increase luggage space by 15% through efficient stowing techniques
Served meals and refreshments and provided exceptional service to passengers, consistently earning recognition from flight crew and receiving 93% positive feedback from passenger surveys
Ensured adherence to FAA and company regulations, while trained in emergency situations, helping to diffuse two high-level situations from escalating to emergency levels
Received "Flight Attendant Award" multiple times for safety adherence as well as cabin cleaning
LUFTHANSA – New York, NY
Flight Attendant, May 2008 – May 2013
Completed over 4,500 hours of domestic and international commercial and charter flights
Mentored over 30 new flight attendants, providing training in customer service, safety techniques, and health and sanitary standards, improving overall service quality by 30%
Operated all mechanical and safety equipment with industry regulations and standards
Conducted thorough aircraft preflight procedures to ensure a safe journey
EDUCATION
NATIONAL UNIVERSITY – La Jolla, CA
Associate of Arts in Hospitality and Customer Service
Dean's List
Collegiate Honor Award
ADDITIONAL SKILLS
FAA Certification: Certificate of Demonstrated Proficiency
Trained to inspect a wide variety of Boeing models ranging from 707-787
Member of American Association of Flight Attendants
CPR and First Aid Certified and trained in AED
Bilingual in Spanish and English, Fluent in Italian
Housekeeper Resume (Text Format)
Housekeeper seeking to utilize proven professional skills and hotel management knowledge to fill a full-time housekeeping role in your hotel. Possess excellent time management and efficient cleaning skills, always aiming to achieve and maintain elegance while adhering to a strong ethical foundation.
EDUCATION
KING'S COLLEGE
GPA 3.5/4.0
Pittsburgh, PA
Associate Degree in Hotel Management, June 2013
Graduated Summa Cum Laude
Class Valedictorian
Dean's List 2013
PROFESSIONAL EXPERIENCE
TROMMPHE HOTEL
Pittsburgh, PA | August 2011 – Present
Junior Housekeeper self-motivated to make our hotel a second home for all customers served. Awarded "Top 5 Employees of the Year" in 2012.
Increased SOP efficiency by 10% by prioritizing and organizing the replacement of stale and soiled towels and linen and vacuum the room carpets and other daily routines
Received the most "Smiles" (per our hotel rating system) and thank you notes by showing attention to detail while performing customer service, such as greeting and assisting with sales activities
Completed tasks per customer request, serving every customer as a VIP
Maintained floral bouquets by watering or replacing shriveled flowers on prominent display throughout the hotel
Thoughtfully organized the provision of complementary gift baskets and champagnes to greet every newly arriving guest, according to their tastes if possible
BOSTON COURT YARD HOTEL
Boston, MA | July 2009 – June 2011
Assistant Housekeeper performing general cleaning assignments and services in hotel rooms, hallways and common areas.
Established and maintained clean and comfortable "home" environments by performing cleaning duties including vacuuming, cleaning windows, dusting, and bathrooms
Reported any damage, maintenance problems, safety issues, and potential hazards to management, ensuring adherence to safety code procedures
Assisted floor manager in the achieving deadlines, inventory management, and ensuring top quality service to VIP customers
Assisted customers by providing detailed information, resolving their complaints, and putting smiles on their faces
ADDITIONAL SKILLS
Speak, write and read Spanish fluently
Strong passion for problem solving and able to multi-task
Adapt new concepts quickly while working under pressure
Work well without supervision
Cosmetologist Resume (Text Format)
PROFILE
Certified cosmetologist with 10+ years of experience delivering beauty solutions to clients, including hair, skin, and nail solutions, and providing quality advice on cosmetic and beauty product use. I aspire to leverage my record of high-quality customer service and my aesthetic laser operator certification to provide your clients with unforgettable beauty experiences.
EDUCATION
Wisconsin Indianhead Technical College
Cosmetology
Rice Lake, WI
2007 – 2008
KEY SKILLS
Strong communication
Skincare consultation
Product recommendation
Interpersonal skills
Aesthetic laser use
Creativity
AWARDS
Newcomer Stylist of the Year / 2009 / Professional Beauty Association
CERTIFICATIONS
Certified Aesthetic Laser Operator / 2015 Hennepin Technical College, MN
PROFESSIONAL EXPERIENCE
COSMETOLOGIST
Scissor Sisters' Hair and Beauty / Fargo, ND / 2015 – Present
Schedule client appointments (a daily average of 12)
Examine and treat clients' hair, skin, and nails
Develop and apply original hair styles and beauty treatments (to date, seven)
Train and oversee new hires (over 10 to date)
Perform approximately 10 laser procedures per week for diverse client needs, including hair removal, tattoo removal, acne treatment, and wrinkle amelioration
Recommend cosmetics, lotions, and gels to clients. Sales are 23% higher during my sessions compared with my colleagues'
COSMETOLOGIST
Curl Up and Dye / Grand Rapids, MI / 2008 – 2015
Performed facials, cut, styled, and dyed hair, and carried out manicures and pedicures
Shaped facial hair, including beards, moustaches, eyebrows, and eyelashes
Removed hair from problematic locations, including nasal and ear hair
Promoted consumer products, including shampoos and conditioners, leading to a 5% increase in sales
Healthcare & Wellbeing
Download These Healthcare & Wellbeing Resumes
Healthcare & Wellbeing Resume Example Text Versions
Click below to access the text versions, and copy and paste them into a word processor to edit them.
Dental Assistant Resume (Text Format)
RESUME OBJECTIVE
Dental Assistant with 4+ years of experience providing efficient and competent service in busy dental clinics. Able to handle all necessary assistant duties without supervision. Possess a 2015 DANB certification and a Dental Assistant Associate Degree. Provide superb customer service, ensuring patient retention and loyalty.
CERTIFICATION
DANB Certified Dental Assistant (CDA) – 2015
PROFESSIONAL EXPERIENCE
SMILEY'S DENTAL CLINIC–Orlando, FL
Certified Dental Assistant                                                                                               May 2015 – Present
Prepare 15 patients daily to undergo dental procedures, and assist dentist with sterilizing or disinfect instruments, setting up instrument trays, and preparing materials
Expose intraoral dental diagnostic x-rays in accordance with all guidelines to ensure patient safety
Take and record patient medical and dental histories and vital signs, and record treatment information in patient records with 100% accuracy
Provide postoperative instructions prescribed by dentist and instruct patients in oral hygiene and plaque control programs with a friendly and engaging demeanor
Monitor dental supplies and equipment inventory and make orders, achieving 5% reduction in expenses by discovering new suppliers
SUNSHINE DENTAL–West Haven, CT
Registered Dental Assistant                                                                                         Apr 2012 – May 2015
Scheduled appointments and send reminders using Appointy scheduling software, and fill in insurance documents, prepare bills and receive payment for dental services
Made preliminary impressions and occlusal registrations for mounting study casts, and mastered pouring, trimming, and polishing study casts
Fabricated and fit orthodontic appliances for patients, including bands, wires, and retainers
Cleaned teeth with dental instruments and finished with applications of fluoride
Assist in the management of dental and medical emergencies with professionalism and calm
EDUCATION
TRIDENT TECHNICAL COLLEGE–Hartford, CT
Dental Assistant Associate Degree, 2012
ADDITIONAL SKILLS
Software: Henry Schein Dentrix software; MS Office
Tools: Dental dams; Dental forceps; Dental hand pieces; Orthodontic pliers; Steam autoclaves
Personality: Excellent bedside manner
Personal Trainer Resume (Text Format)
RESUME OBJECTIVE
Personal Trainer with 9 years of health and wellness experience across fitness centers. Possess proven track record in helping clients achieve fitness goals through customized exercises programs and diet plans. Consistently improve fitness center revenue targets by developing new programs and retaining clients.
PROFESSIONAL EXPERIENCE*
PLANET FITNESS–Lansing, MI
Personal Trainer                                                                                                            Jun 2012 – Present
Assisted 80 customers per month, with track record of helping 70% of clients reach goal within first month
Designed personalized programs and nutritional plan for clients for optimal results
Provided exceptional customer service, securing 40% of new clients through referrals
Checked all gym equipment for proper use and functions, minimizing accidents or malfunctions
Received "Best Personal Trainer" Award in 2013
GENESIS FITNESS CENTER–Lansing, MI
Personal Trainer                                                                                                        Oct 2006 – May 2012
Taught fitness class based on Body Combat to over 30 students per class
Instructed clients on proper equipment use as well as exercises to be done at home
Exceeded revenue targets by 20% within 3 months
Co-developed new fitness programs with management, with successful implementation that increased sales revenue by 34%
EDUCATION
MICHIGAN STATE UNIVERSITY–East Lansing, MI
Bachelor of Science in Health Education
ADDITIONAL SKILLS
Certified ACE Group Fitness Instructor
Certified First-Aid and CPR (Level C)
Participant of Annual Capital City River Run Marathon
Pharmacist Resume (Text Format)
PROFESSIONAL PROFILE
Pharmacist with 10 years of experience in pharmaceutical services
Adept at dispensing medications with accuracy and efficiency
Possess strong communication skills, consistently providing exceptional customer service
Increased overall productivity by implementing processes that improved workflow and reduced errors
PROFESSIONAL EXPERIENCE
WALGREENS – Baltimore, MD
Pharmacist                                                                                                                                 July 2013 – Present
Managed drug inventory levels, ordering medications and supplies for replenishment, verifying deliveries against purchase orders, and resolving any discrepancies
Recruited, trained, and guided 3 pharmacy technicians, improving overall performance by 25%
Implemented new guidelines and process workflow that minimized administrative errors from 2.3% to 0.1%
Provided exceptional customer service that included additional information and education about medications, resulting in sales increase of $3K per month, while maintaining 83% in customer retention
RITE AID – Baltimore, MD
Pharmacist                                                                                                                     March 2005 – June 2013
Eliminated paper-only tracking system, automating data management that saved 15 hours of manual data recording per week
Dispensed medications according to written prescriptions with 100% accuracy and 29% more efficiency than other senior level pharmacists
Verified patient data and billing information, discovering and resolving 20+ erroneous bills that occurred due to system error, subsequently saving pharmacy $2.3K in potential loss
EDUCATION
THE UNIVERSITY OF BALTIMORE – Baltimore, MD
Bachelor of Pharmacy
ADDITIONAL SKILLS
MS Office Suite
Database Management
HIPAA Trained
Knowledge of Medicare and Medicaid
Administration & Office Support
Get These Admin & Office Support Resumes
Administration & Office Support Resume Example Text Versions
After you copy and paste the text versions below, modify the text to incorporate your own details.
Paralegal Resume (Text Format)
Recent graduate in paralegal studies with experience conducting interviews and legal research. Seeking to bring work experiences and academic training into an entry-level paralegal position at a mid-sized law firm. An organized, dedicated worker looking to work closely with attorneys.
EDUCATION
SOUTHERN COMMUNITY COLLEGE – Houston, TX
Associate Degree, Paralegal StudiesJune 2011
Graduated with a 3.8 GPA
Member of the Junior Paralegal Club
PROFESSIONAL EXPERIENCE*
WACHESTER LAW FIRM – Houston, TX
InternSeptember 2009 – June 2011
Assisted three senior paralegals with the research and gathering of legal documents in preparation for trials
Maintained database and files, answered phones, received messages, and performed other office administrative tasks
Supported the preparation of documents for criminal and civil trials by scheduling and conducting interviews with clients, witnesses, and other lawyers
Created and maintained a paper and electronic litigation database
MGA OFFICES – Houston, TX
SecretaryAugust 2007 – 2009
Used Microsoft Office Suite software to prepare legal documents and present evidence in spreadsheets for attorney review
Arranged travel plans for senior management, answered phones and emails
Scanned, organized, and filed exhibits, briefs, and legal documents into the firm's paper database
Coordinated conferences and meetings, and scheduled appointments on the firm's calendar
Participated in company-wide training to improve skills
Attended two annual in-house training seminars to understand office work flow
ADDITIONAL SKILLS
Experience with Microsoft Office Suite (e.g. Word, Excel, PowerPoint, Outlook, and Access)
Experience using online appointment scheduling software for a 20-person law firm
Typing speed: 90 WPM
Human Resources (HR) Resume (Text Format)
Human Resources Generalist with 6+ years of experience assisting with and fulfilling organization staffing needs and requirements. Aiming to use my dynamic communication and organization skills to achieve your HR initiatives. Possess a BA in Human Resources Management and a Professional in Human Resources certification.
PROFESSIONAL EXPERIENCE
MEADOW LABORATORIES – Chicago, IL
HR GeneralistSeptember 2010 – Present
Implement effective HR policies to ensure all practices are in compliance with labor and employment regulations.
Increased employee retention above 90% by rigorously maintaining a positive work environment.
Develop targeted outreach recruitment programs to recruit more minorities and meet affirmative action requirements.
Created a website with an embedded database and FTP functionality to enable online recruitment for the organization and reducing recruitment costs by 10%.
Develop user friendly application forms and questionnaires to be used by the organization during staff recruitment and interviewing.
Arbitrate labor disputes in collaboration with the legal department.
TRENTON CHILDREN'S HOSPITAL – Boston, MA
Human Resources InternSeptember 2009 – August 2010
Advised prospective employees on various tips and tricks that would assist them in gaining employment in the organization.
Conducted several seminars for hospital employees to update them on employee benefit options.
Invited 10+ motivational speakers and industry experts to give lectures and speeches to employees on new industry standards and how to build confidence and morale in the workplace.
Updated 100+ employee records and job assignments daily.
Relayed important messages from management to hospital employees quickly via word of mouth, memos and bulletin notices.
EDUCATION
MIAMI UNIVERSITY – Miami, FL
Bachelor of Arts in Human Resource ManagementJune 2009
Graduated Summa Cum Laude
Captain of varsity baseball and rugby teams
ADDITIONAL SKILLS
Superb typing skills (WPM: 90)
Proficient with Human Resource Management Systems Workday and Kronos
Skilled in Microsoft Office Suite (Word, Excel, Outlook, PowerPoint)
Data-Entry Clerk Resume (Text Format)
PROFESSIONAL EXPERIENCE
FOLES HEATLH GROUP – Atlanta, GA
Senior Data Entry Processor, January 2012 – Present
Type correspondence, reports, text and other written material from rough drafts.
Improve and consolidate spreadsheets, increasing efficiency and saving the company $22,000 annually in labor costs
Check source documents for accuracy, verifying when necessary.
Follow all internal security procedures to assure accordance with HIPPA.
Oversee 2 junior clerks' daily input to ensure accuracy, maintaining a 99% error free record
Maintain ongoing accounts of over 1000 patients.
LEWIS & LEWIS, LLC – Brookhaven, GA
Data Entry Clerk, September 2008 – January 2012
Compiled, prioritized, and sorted, and processed customer orders into local database.
Adjusted settings for format, page layout, line spacing, and other style requirements.
Transmitted work electronically to other locations upon request.
Researched further information for incomplete documents.
Maintained a hard copy backup of all sensitive information.
Performed other clerical duties such as answering telephone, sorting and distributing mail, running errands or sending faxes.
ADDITIONAL SKILLS
Proficient in Microsoft Word, Excel, Outlook, and Access
Typing speed of 68 wpm
Tech savvy with the ability to quickly learn new software and hardware attributes
Professionally personality suitable for direct customer relations
EDUCATION
MOUNT CLARE HIGH SCHOOL – Atlanta, GA
High School Diploma, June 2008