What is a functional resume?
A functional resume is a resume format that focuses more on your professional skills rather than each job you held and when you held that job.
Looking to emphasize your skills rather than your career progression? The functional resume format is the ideal choice for you. And if you're a career changer, job seeker with employment gaps, or someone with a highly developed skill set, the functional resume format gives you the best chance of impressing a hiring manager.
The biggest difference between a functional resume and the standard chronological resume is that a functional resume groups your experience under skill categories instead of job titles. Under each skill category, bullet points are used to highlight examples of your skills, and those examples can come from both work and life experiences.
Here's what a functional resume looks like:
Structure of a functional resume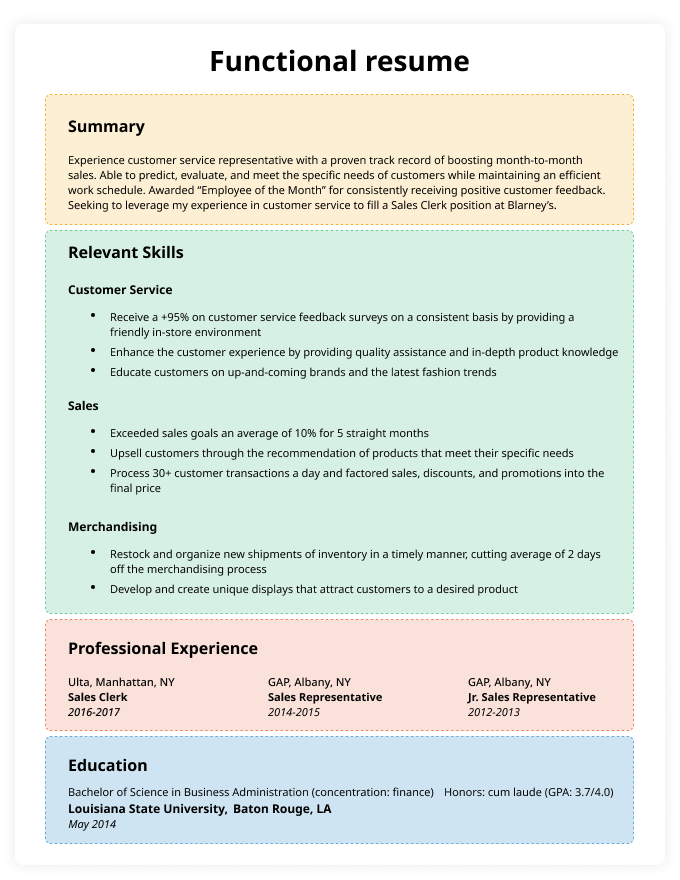 Should I use a functional resume?
Yes, you should use a functional resume in the following situations:
You have long periods of unemployment.
You're switching to a new industry. In particular, you're leaving the industry where you've built up most of your work experience.
You want to highlight specific professional skills rather than your experience.
Functional resume template and examples
Here's a functional resume template that you can copy and paste into Google Docs or Microsoft Word and fill in with your own information:
Functional resume template
1. Resume Heading
FIRST AND LAST NAME
Email: youremail@gmail.com | Phone: 895 555 555 | Address: 4397 Aaron Smith Drive Harrisburg, PA 17101 | Linkedin: linkedin.com/in/yourprofile
---
2. Resume Summary
Skilled [industry] professional with [# of years] years of experience. Seeking to leverage my expertise in [relevant skills] to fill your [position name] position. An intuitive worker aiming to help achieve [Company's Name]'s goals and take on more responsibility as quickly as possible.
---
3. Relevant Skills
First Skill
Include a bulleted list of accomplishments related to this skill
Make sure you quantify (add numbers to) these bullet points
Second Skill
List any accomplishments or responsibilities that demonstrate this skill
Assuming you no longer perform a task, make sure you use past tense verbs to describe the experience
Be as specific as possible. Mention the actual names of software or tools you've used
---
4. Work History
Most Recent Job Title
Employer Name / Location / Start Year – End Year
Earlier Job Title
Employer Name / Location / Start Year – End Year
---
5. Education
Degree Name / Major
University, Location | Start Date – End Date
---
6. Additional Resume Section
Here's where you can add any other relevant information
For example, this section could be for any of the following: publications, languages, volunteer experience, or relevant hobbies
Not sure what your functional resume should look like? Here are a couple different functional resume examples that you can download and use as a reference when writing your own:
Example 1: substitute teacher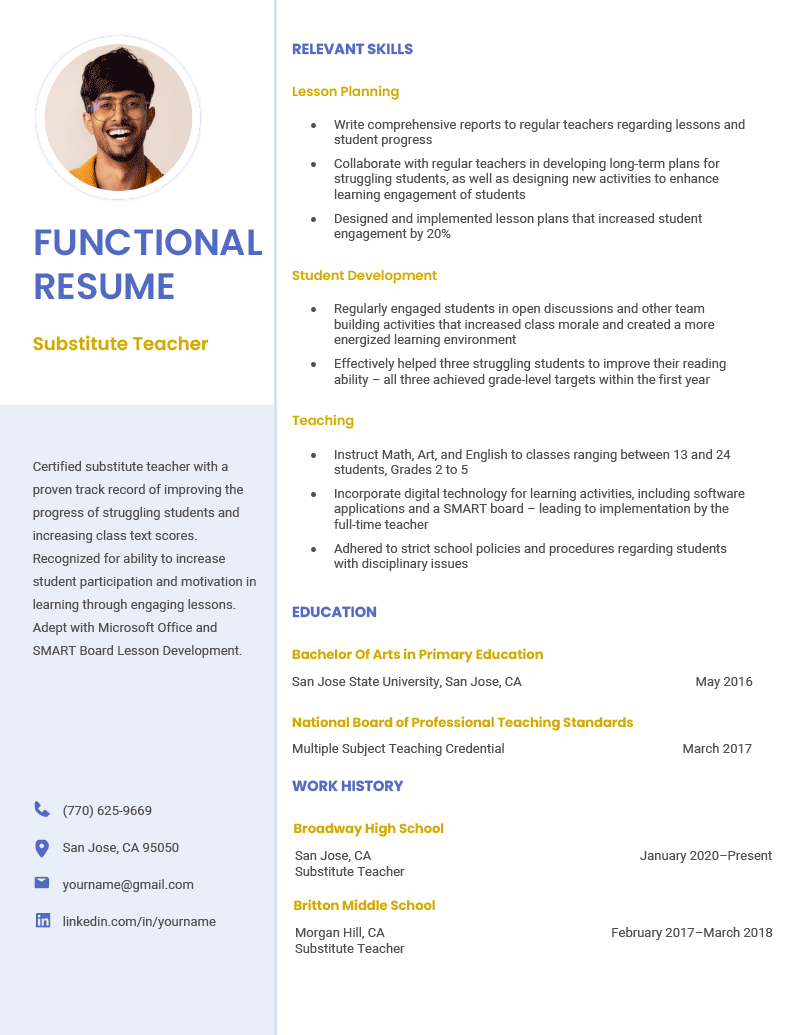 Substitute Teacher Resume (Text Format)
SUMMARY
Certified substitute teacher with a proven track record of improving the progress of struggling students and increasing class text scores. Recognized for ability to increase student participation and motivation in learning through engaging lessons. Adept with Microsoft Office and SMART Board Lesson Development.
RELEVANT SKILLS
LESSON PLANNING
Write comprehensive reports to regular teachers regarding lessons and student progress
Collaborate with regular teachers in developing long-term plans for struggling students, as well as designing new activities to enhance learning engagement of students
Designed and implemented lesson plans that increased student engagement by 47%
STUDENT DEVELOPMENT
Regularly engaged students in open discussions and other team building activities that increased class morale and created a more energized learning environment
Effectively helped three struggling students to improve their reading ability — all three achieved grade-level targets within the first year
TEACHING
Instruct Math, Art, and English to classes ranging between 13 and 24 students, Grades 2 to 5
Incorporate digital technology for learning activities, including software applications and a SMART board — leading to implementation by the full-time teacher
Adhered to strict school policies and procedures regarding students with disciplinary issues
EDUCATION
B.A. / Primary Education
San Jose State University, May 2016
National Board of Professional Teaching Standards
Multiple Subject Teaching Credential, March 2017
WORK HISTORY
Broadway High School, San Jose, CA
Substitute Teacher
January 2020 – Present
Britton Middle School, Morgan Hill, CA
Substitute Teacher
February 2017 – March 2018
Example 2: customer service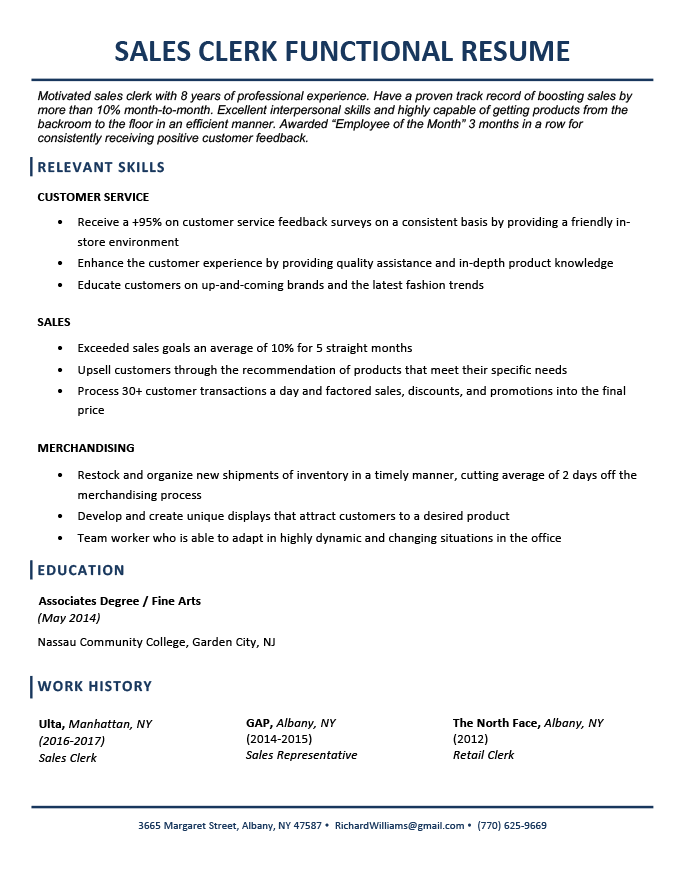 Customer Service Resume (Text Format)
RESUME SUMMARY
Proven track record of boosting month-to-month sales figures by +10%
Strong customer service skills: Predict, evaluate, and meet the specific needs of customers
Interpersonal skills: Expert at getting product from the backroom to the floor in a cost-effective and timely manner
Awarded "Employee of the Month" for consistently receiving positive customer feedback
RELEVANT SKILLS
CUSTOMER SERVICE
Receive a +95% on customer service feedback surveys on a consistent basis by providing a friendly in-store environment
Enhance the customer experience by providing quality assistance and in-depth product knowledge
Educate customers on up-and-coming brands and the latest fashion trends
SALES
Exceeded sales goals an average of 10% for 5 straight months
Upsell customers through the recommendation of products that meet their specific needs
Process 30+ customer transactions a day and factored sales, discounts, and promotions into the final price
MERCHANDISING
Restock and organize new shipments of inventory in a timely manner, cutting average of 2 days off the merchandising process
Develop and create unique displays that attract customers to a desired product
Team worker who is able to adapt in highly dynamic and changing situations in the office
WORK HISTORY
Ulta, Manhattan, NY
(2016–2017)
Sales Clerk
GAP, Albany, NY
(2014–2015)
Sales Representative
The North Face, Albany, NY
(2012)
Retail Clerk
EDUCATION
Associates Degree/Fine Arts
Nassau Community College, Garden City, NY
How to write a functional resume
Now that you have an idea of what a functional resume looks like, it's time to learn how to write one. Here's a section-by-section guide for writing a functional resume:
1. List your contact information
Include the following contact information on your resume:
Your first and last names
Current job title
Phone number
Email address
Your name should be the largest text on the page, and typed out in a professional resume font.
If you have a LinkedIn profile or personal website related to the job you're applying for, add it in this section.
2. Write a detailed resume introduction
If you've been out of a job for chunks of time, a convincing resume summary is the best way to start your resume.
A resume summary provides hiring managers an insight into your professional background and skills. It allows you to list 2-3 examples of your most relevant achievements and responsibilities at the top of your resume, either in a bulleted list or paragraph format. The best way to make a convincing resume summary is by doing some research and writing it yourself or by using a resume summary generator to do the work for you.
Here's an example of a strong resume summary in paragraph form:

Additionally, check the job description to find resume keywords that you can sprinkle into your resume summary.
3. Group your skills by type
If you use a functional resume format, the skills on your resume are more emphasized than your work history.
Typically the skills section of a functional resume is about the same size as the work experience section of a chronological resume.
When writing the resume skills section on your functional resume, choose at least three skills that are highly applicable to the job you're applying for. For each skill, add 3 or 4 bullet-point examples that prove you have that skill.
Then you should add numbers to those bullet points to give employers confidence you can fulfill the job requirements and deliver concrete results. These numbers could be anything that you impacted through your work, whether that's dollar amounts, percentages, numbers of people, or time saved.
Include at least one bullet point with numbers for each skill to catch the hiring manager's attention.
Here's an example of what a functional resume skills section with hard numbers looks like: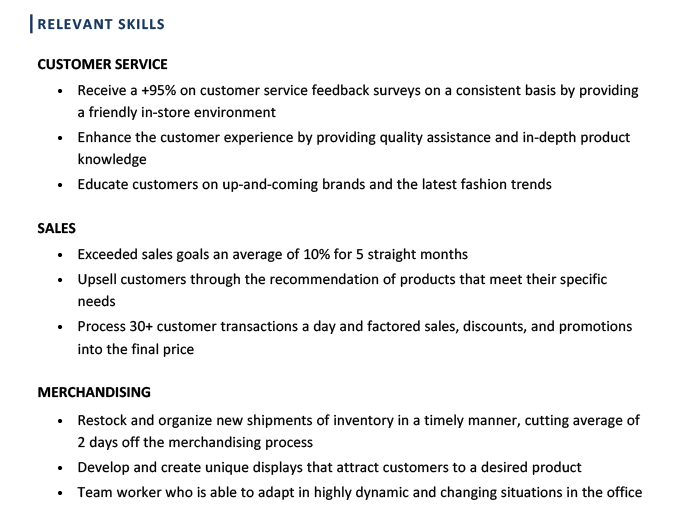 4. Write your employment history
The work history section of a functional resume is short. You only need to list the names of the companies you worked for, as well as each job title.
You don't have to list your previous jobs in a specific order either, because adding employment dates for those jobs is optional.
Ultimately, the goal of writing a functional resume is to downplay your chronological work history as much as possible, and your work experience section should reflect that.
Here's an example of an effective work history section on a functional resume:

5. List your relevant educational background
Unless your resume's education section directly relates to the job you're applying for, only include the name of your university or organization, the city and state, the degree you received, and your GPA (if it's above 3.5).
Here's an example of how to list your education background on a functional resume:
6. Highlight your professional accomplishments
If you have an award or honor related to your target position, add it to your functional resume.
Earning an award shows you've stood out among your peers, proving you'll be a valuable addition to a workplace.
If you have numerous accomplishments, you should list them in a separate "Awards" section on your resume. Otherwise, you can mention them in your summary or skills bullet points.