A skills-based resume is an alternative resume format that categorizes your qualifications under job-relevant skills instead of under a specific job title as you'd see on the standard chronological resume.
Also called a functional resume, the skills-based resume focuses on how you've applied key skills by giving specific examples for each one.
If you're struggling to showcase your achievements on a standard resume format, the skills-based resume might be for you. After providing you with a free skills-based template to use, we'll explain when to use this format and give you a few examples of skills-based resumes you can download.
Our free-to-use resume builder can make you a resume in as little as 5 minutes. Just pick the template you want, and our software will format everything for you.
Free skills-based resume template
Here's a template you can download and edit that uses a skills-based format: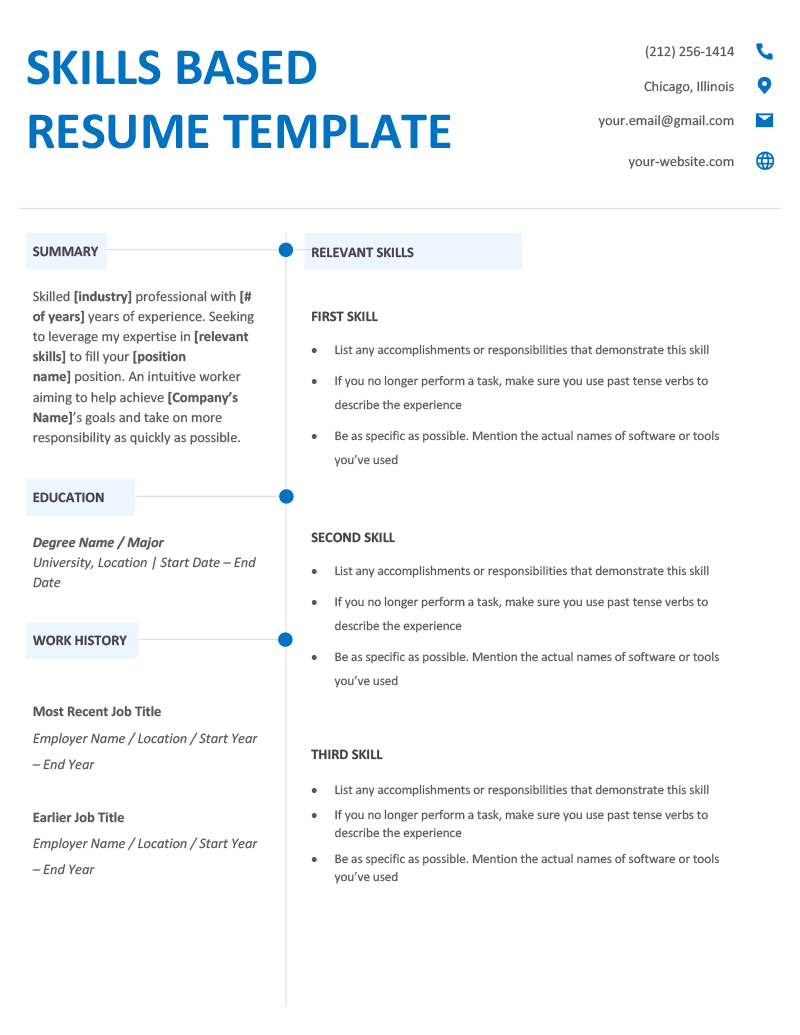 If you don't like the look of the template above, simply choose your favorite free resume template and edit the subheadings so your relevant skills make up the largest section and your work history is featured in a smaller section.
Is a skill-based resume right for you?
Most job seekers use formal work experience to demonstrate that they're a good fit for a role. But in some instances, work experience alone doesn't give hiring managers an accurate impression of how qualified someone is.
So when should you use a skills-based resume?
As a general rule, you should stick to the chronological resume format whenever possible. It's the most widely accepted resume format, and straying from the norm might make hiring managers think you're trying to hide something
Only use a skills-based resume if you can make a strong case that it will present your qualifications in the best light.
A skills-based resume is most appropriate if you:
have a non-traditional career path
are changing industries
have a long gap in your employment history
We don't recommend skills-based resumes if you're a recent graduate because you're not expected to have work experience when you're just entering the job market.
Instead, it's better to highlight volunteer experience, internships, and relevant coursework in place of work experience on a recent grad resume.
Tips for writing a resume that highlights skills
Here are a few things to keep in mind when writing a skills-based resume:
1. Showcase top job skills in your relevant skills section
When deciding what skills to include on your resume, take into account both the needs of the position and what you consider to be your greatest personal strengths. Striking the right balance between these two is key to landing the job you want.
If you're not sure where to start, one good approach is to carefully read through the job description and highlight all the skills the company mentions. From there, shortlist the skills you have and begin to note examples of your experience applying those skills in work or life experience.
After a bit of brainstorming, you should see the basic structure of your skills section coming together. Choose roughly 3-5 skills to serve as subheadings for your skills section.
Here's an example of how the skills section of a skill-based resume should look: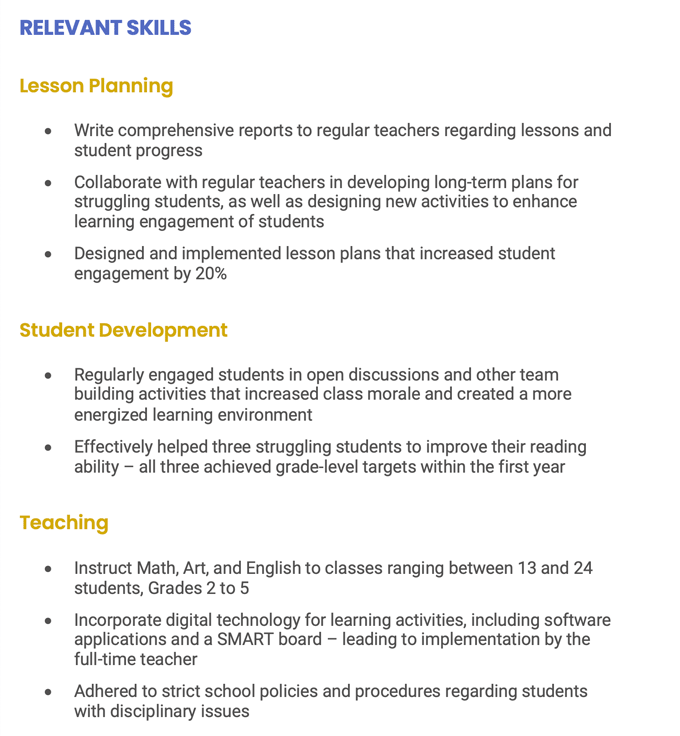 2. Give specific, action-oriented examples
Remember when using the skills-based resume format to give detailed examples of how you applied each skill you listed on your resume. This approach lets employers know you're not making empty claims.
Under each skill category, write a few bullet points describing how you've used this skill in a professional capacity.
As you normally would in the work experience section of a standard resume, start off each bullet point with an action verb rather than something passive like "responsible for".
Here's an example of how a candidate described their sales experience on a skills-based resume:
SALES
Exceeded sales goals by an average of 10% for 5 months straight
Upsell customers by recommending products that meet their specific needs
Process 30+ customer transactions a day using Square POS and regularly update system to factor in promotions and sales
To make your own relevant skills bullet points more effective, take a cue from the above example and add details like the type of project, any software or tools you used, and how your efforts helped reach a desired result.
Hiring managers also love to see hard numbers on a resume, so feel free to mention the following numbers whenever relevant:
budget size
number of clients served
revenue generated
success rate
reduction in expenses
customer satisfaction rate
3. Include a concise professional experience section
In a smaller section, list some basic information about your employment history. For each entry, include these details:
Company/organization name
Position title
Dates of employment (usually just the years)
Here's an example of a condensed work experience section from a skills-based resume:

The positions you choose to include in this section will depend on your professional background.
If you have lots of sporadic work experience, pick what you think hiring managers will most want to see or what gives essential context to the experiences you mentioned in your skills section.
4. Select a clean, well-organized template
When using a non-traditional resume format, it's especially important to make sure the other elements are in line with hiring managers' expectations.
To prevent your resume from getting overlooked for the wrong reasons, choose a professional resume template and adjust the section headers accordingly.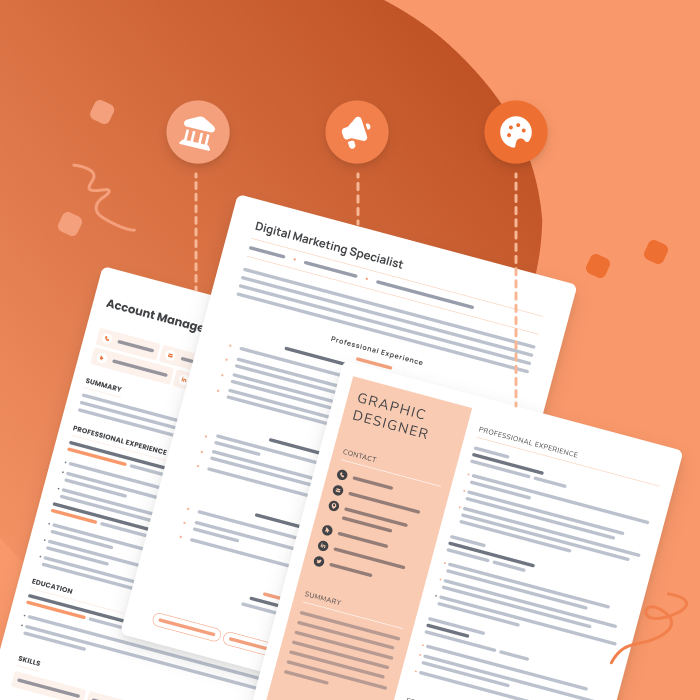 Not sure what your resume should look like? The best way to learn is by taking inspiration from resume examples written by other candidates in your industry.
Before submitting your resume, double check that it follows the standard rules of resume formatting and is error-free.
To give you a better idea of what a skills-based resume looks like in practice, here's an example of how one freelance virtual assistant grouped their relevant experience by skills:
Virtual Assistant Resume (Text Format)
SUMMARY
Adaptable, independent, and organized Virtual Assistant with 6+ years' experience providing multi-functional administrative support. Adept in project management, scheduling, data entry, and communication. Keen to leverage technological competence and time management skills to support senior leaders to thrive in their field.
RELEVANT SKILLS
Administration and Documentation
Manage administrative tasks for various clients, including scheduling appointments, managing emails, proofreading and editing documents, generating progress reports, and other tasks as needed
Perform data entry for various standard forms and human resources activities as needed, including payroll processing
Ensure effective file management with a discrepancy rate of less than 2%
Customer Service
Provide exceptional service to clients by maintaining consistent communication, promptly resolving issues, and proactively identifying areas for improvement, resulting in a 96% customer retention rate
Assume responsibility for phone and email communications, directing individuals through appropriate channels, with an average of 17 inquiries per hour answered
Developed and implemented a customer onboarding program that resulted in a 40% decrease in customer churn rate within the first 90 days of service
Organization and Time Management
Maintain a 48-hour turnaround rate for 97% of projects by employing effective prioritization techniques
Multi-task to manage calendars and communications for 4 consultants across multiple teams and time zones
Implemented electronic filing system to ensure compliance with data protection procedures and boost productivity
EDUCATION
High School Diploma
Oakton High School, Vienna, VA
May 2017
WORK EXPERIENCE
Remote Virtual Assistant
Multiple Clients – Upwork, Freelancer.com
(2019-Present)
Sales Associate
Francesca's, Arlington, VA
(2017-2019)
This virtual assistant resume example is so effective because it's polished, well-organized, and uses plenty of detailed examples.
Hiring managers can quickly grasp that the candidate chose the skills-based format to best present their freelance experience working for a number of different clients.