Job seekers are under increasing pressure to keep up to date with new software and applications.
To make sure you don't get left behind, we've compiled everything you need to know about putting computer skills on your resume into one handy guide.
Whether you're a technophile or technophobe, these HR-approved computer skills for your resume will get you hired.
What are computer skills?
The definition of computer skills varies across industries. One primary distinction is between software and hardware.
Software skills involve using computer programs such as Microsoft Office, whereas hardware refers to the physical devices that need operating.
We provide a comprehensive list of computer skills across this piece that includes examples of both. Whether you want to brush up on your Excel skills for your first office job or emphasize your technical background and computer science skills – we've got you covered.
Before we start, check out a computer skills resume example for these six common IT roles:

Infographic – computer skills list
Looking for a handy list of computer skills that you can use right now? Refer to the infographic below while you write your resume.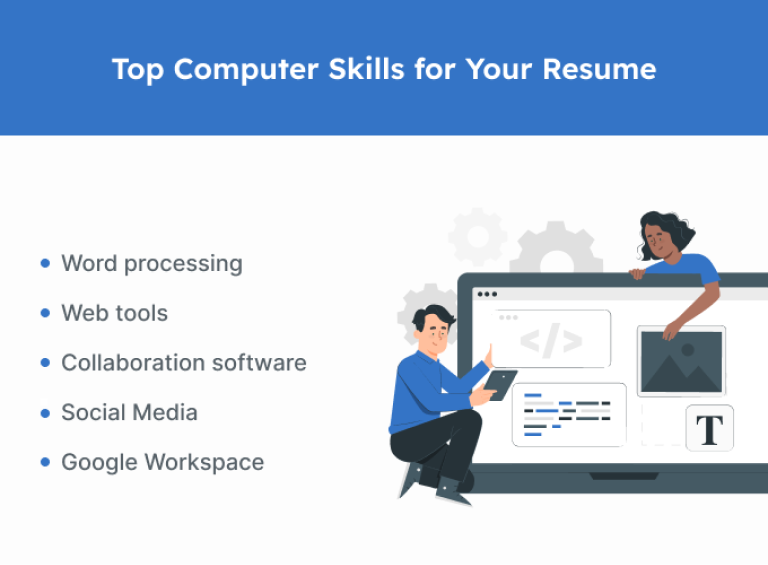 If you like this infographic and want to share it, we don't mind — just be sure to include a link to our website in the caption.
Now that you know the computer skills employers are looking for, it's time to be selective and choose which to include on your resume. Space on the page is tight, so it's important to understand why each skill is valued – and how to describe it.
Foundational computer skills for a resume
"The times, they are a changin'" – and so too are the skills employees use every day in the office. Stay ahead of the competition by showing you're familiar with some of today's most commonly used software.
G Suite
Businesses of all sizes now use Google's products, from Gmail for emailing to Google Docs for collaboration. G Suite has become so commonplace that it now often replaces Microsoft Office.
Thankfully, you can get started at home for free. Make sure you're familiar with:
Where to learn: G Suite Learning Center
Web tools
These are some of the most in-demand resume computer skills of the moment. As companies spend more time focusing on their online presence, you can become indispensable to employers by demonstrating knowledge of:
Where to learn: Skillshare
Social media
Many of us use Facebook and Instagram when we're avoiding work – but knowing how to engage and grow an online following is a key skill that companies want and will pay good money for.
If you're social media savvy, these are the platforms to mention:
Facebook

Twitter

Instagram

Pinterest

Hootsuite

Sendible
Where to learn: Hootsuite Academy
Collaboration tools
More technology often means more freedom, with some companies allowing employees to work from home or anywhere with an internet connection.
With the increasing popularity of remote work, teams need to collaborate and communicate digitally. Show that you're ahead of the curve by mentioning your fluency in workflow programs and video conferencing tools on your resume.
Where to learn: Lynda.com
Basic computer skills
One of the most common questions our career advisors are asked is what computer skills should I put on my resume?
Whatever job you apply for, some technological know-how will almost definitely be required.
When in doubt, focus on the fundamentals. These three basic computer skills are essential for candidates who don't work in IT.
Email
Most people know how to send and receive emails. However, if you understand advanced functions such as encryption and mail merges, make sure you mention them.
Where to learn: Study.com has courses on basic and advanced email functions
Operating systems
Many candidates forget to note that they're comfortable using both Microsoft Windows and MacOS. If you jump between the two with ease, say so.
This could give you a head start if you need to take a basic computer skills test at the interview.
Where to learn: Microsoft Training Center or Apple Training
Microsoft Office and iWork
Any office-based role role will expect some familiarity with Microsoft Word and Excel, as well as maybe PowerPoint, Outlook, and OneNote.
To keep your resume up to date, write that you're comfortable using the latest version of Office 365 and collaborating with SharePoint and OneDrive.
Likewise, if the job advertisement mentions it, include the Apple equivalents: Pages, Numbers, Keynote, and iCloud.
Where to learn: Microsoft Certification and Apple Certification
Key software skills
Levels of computer skills for a resume vary by candidate and by industry. We recommend looking at job ads to know which are most in demand for the type of position you're trying to land.
Here are the most useful types of computer skills prized across different sectors.
Accounting and enterprise systems
Quickbooks is a popular software package used by small- and medium-sized businesses for tracking expenses, calculating payroll, and invoicing. If you're a seasoned pro with similar software, put it in a prime location on your resume.
Candidates with knowledge of enterprise applications can include any of the following computer skills examples:
Enterprise resource planning (ERP)
Business continuity planning (BCP)
Customer relationship management (CRM)
Payment processing and e-commerce systems
HR management tools
Where to learn: Intuit Quickbooks Certification
Design and creative computer skills
Branding is more important than ever. Companies are always on the lookout for talented candidates who can bring their brands to life and give them the visual edge in the marketplace.
From designing magazine pages to retouching photos, proficiency with software such as Adobe Creative Suite is one of the hottest computer software skills you can put on your resume.
Where to learn: Adobe Certification
Data science and analysis
Businesses use data to better understand their customers and gain a market advantage, making these highly valuable skills to display in your resume. Things like data mining, modeling, and management, plus machine learning and examples of statistical software are all solid additions.
Here's a short software skills list related to data science:
Where to learn: Udemy has introductory courses if you don't have a background in data science.
Web development and programming
More and more people are learning to code – not just for work, but even as a hobby. According to the Bureau of Labor Statistics, the future is very bright for web developers and software engineers.
Add key computer programmer skills such as these to future-proof your computer skills resume:
Where to learn: Codecademy is perfect for beginners.
Artificial intelligence
Machines are going to be doing more jobs than humans by 2025, and that growth may be accelerated by the need to socially distance because of the impact of COVID-19. So employers need workers versed in:
Artificial intelligence
Machine learning
Neural networks
Deep learning
Algorithm development
Core computer hardware skills
Adding computer skills to your resume is not all about software – remember to include your expertise with physical devices if relevant to the job.
Depending on the specific role you're applying for, these could be the most important computer skills to list on your resume:
Network configuration
Tech support and troubleshooting
WAN/LAN and routers
Security systems
Cloud management
How to list computer skills on your resume
First, we recommend using a resume template with two columns. Grouping your information like this makes it easier to read. You can also simply place your skills section at the top of the page for extra emphasis.
Both options will catch the hiring manager's eye, and help quickly prove you're the skilled candidate the hiring manager is looking for.
Check out how these key technical skills are presented on a software engineer's resume:
Skills section: hard skills vs soft skills
All the computer skills mentioned this far are prime examples of hard skills. That means they can only be learned through training – either by self-study or taking a course.
Soft skills, on the other hand, are personality traits employers look for, such as attention to detail and teamwork.
To show you're a well-rounded candidate, you should include both hard and soft skills on your resume. This creates a more balanced application, and makes you seem like an actual human rather than a highly trained robot.
Here's a mix of hard and soft skills for a marketing assistant. To make things even clearer, our candidate grades their abilities in each. It's not a game changer, but it can be an effective visual trick if used tastefully.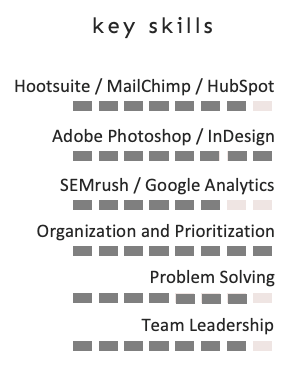 Quantify your computer skills
Once you've chosen which computer skills to put on your resume, it's time to prove you can use them in a way that contributes to the company's bottom line.
Write what your computer skills helped you achieve by stating your accomplishments and measuring them, using numbers such as timeframes, percentages, and dollars.
This is called quantification, and is key to writing an achievement oriented resume that impresses hiring managers. Not only does quantifying your skills prove you can drive results, but it's a perfect invitation to being asked more questions during your interview.
Here's an example from an IT specialist resume:
Most candidates don't know how to correctly quantify their duties, so you'll be ahead of the competition if you do this correctly.
Put computer skills in your introduction
Hiring managers can supposedly judge a resume in 6 seconds. When they look at yours, what will they see first?
A clear skills section is one way to make a positive first impression. However, it doesn't explain how you applied your computer skills. You can give the hiring manager some additional insight by linking your skills to your achievements in your introduction.
Writing a resume summary
There are several effective ways to begin a resume that showcase your computer skills. We recommend writing a professional resume summary because it gets straight to the point.
This format replaces a dull opening statement with concise bullet points. Your key skills are included with proof that you can get results.
For example:
Design: Create e-commerce websites using 8 programming languages.
Optimization: Increased user clicks and customer purchases by over 25%.
Leadership: Trained over 50 staff members to use internal functions.
Awards: Winner of the CREATE+ 'Developer of the Year' award 2018.
A resume summary is simple to write by following this formula:
Competency: example of computer skills and duty + result achieved
An introduction like this is suitable for all levels of computer skills.
Education and certifications
We're not done yet — the final thing to do is add an education section as well as a separate certifications section. You earned these, so don't be shy. Display them where they'll be noticed.
Remember: new graduates should focus on their education, but seasoned professionals should highlight their expertise.
For those who have a mix of high-level qualifications and on-the-job experience, highlight your education, certifications, and additional skills simultaneously with a creative resume template.
Takeaways
By now you should be equipped with all the tools necessary for effectively writing resume computer skills.
To recap, follow these steps:
Include your most relevant industry skills (or learn ones you don't know)
Highlight them in your skills section
Quantify your achievements and add computer skills to your introduction
Get ready for the interviews to start rolling in