There are two ways to add your resume to LinkedIn after the platform's latest 2020 redesign:
Add your resume to your profile as featured media.
Upload a resume every time you apply for a job using LinkedIn's Easy Apply function.
1. Upload a Resume to LinkedIn as Featured Media
LinkedIn allows users to upload articles, links, and files to their profile. If you want employers to read your resume when they find you on LinkedIn, you should upload a resume under your name and headline as "featured media."
Here's how to upload your resume to your LinkedIn profile:
Step 1: Go to your profile.
Step 2: Click the "Add profile section" button, and expand the "Featured" tab.
Step 3: Select "Media" and choose the resume file you want to upload from your computer.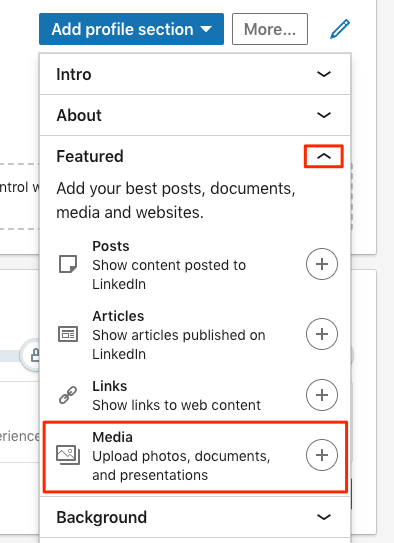 Although you can post a resume on your LinkedIn profile, we don't recommend uploading your resume here for two reasons.
First, depending on your privacy settings, your resume is available for anyone on LinkedIn to view and download. It's important to be careful when sharing personal information, such as your name and address.
Second, LinkedIn already shows your work history. Recruiters can see your resume by looking at your profile — an additional file isn't needed.
You should get recruiters to notice you on LinkedIn by regularly updating your work history and being active on the platform, not by adding your resume to your LinkedIn profile.
2. Upload a Resume to LinkedIn Using Easy Apply Job Applications
The best way to add your resume to LinkedIn is to upload a targeted resume each time you apply for a job using LinkedIn's "Easy Apply" function.
Follow these steps to upload your resume to LinkedIn during the job application process:
Step 1: Search for a job using the LinkedIn Jobs page.
Step 2: Find a job listing with an "Easy Apply" icon. Click on the job for more information.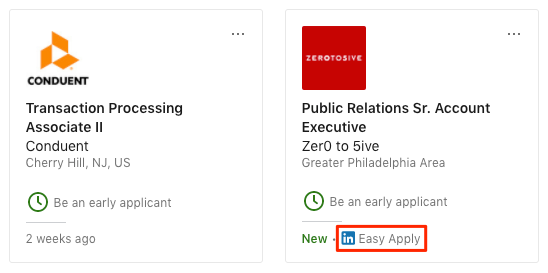 Step 3: Click the "Easy Apply" button and complete the required fields.
Step 4: Select "Upload Resume" to add a resume file.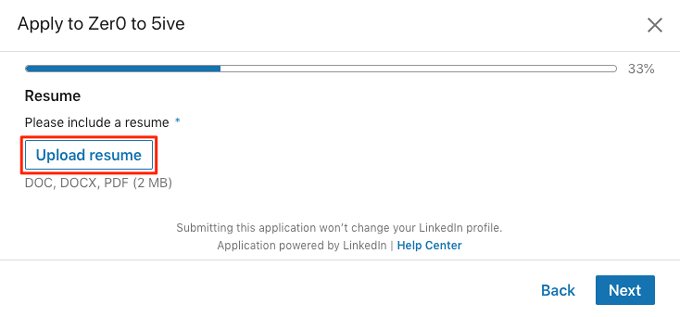 Step 5: Click "Submit Application."
LinkedIn will store your four most recent resumes, which allows you to update your resumes and target different jobs. You can find your saved resumes under LinkedIn's job application settings, and easily change them.
If you want to get your resume off LinkedIn, you can remove it by clicking "delete" on the application settings page or featured media page, depending on where you uploaded it.
3. Should You Add Your Resume to LinkedIn?
You shouldn't add your resume to your LinkedIn profile because you risk sharing personal information. However, uploading a targeted resume when you apply for jobs on LinkedIn is a great way to use the platform to its fullest.
4. Conclusion: Putting Your Resume on LinkedIn
Follow the steps above to add your resume to LinkedIn using a computer, or the LinkedIn Android and iPhone apps.
If you can't upload your resume to LinkedIn, you may be using the wrong file format. Or you're following the old method to import a resume to your profile's "About" section.
Remember that you can also add your LinkedIn profile URL to your resume. Many modern resume templates include a section where you can link to your social media profiles.
Used together, your resume and LinkedIn profile are powerful tools. Now that you know how to upload a resume to LinkedIn, try our free resume builder to write a perfect resume in minutes.
Good luck on the job hunt!