Writing a resume for your first job and submitting an application with no experience can be a scary prospect.
You may have no idea how to start your resume, list your job skills, or choose a resume format.
You may be wondering how you're even supposed to write a resume if you can't list professional experience. But we all have to start somewhere, and employers know it. There are many ways to highlight your value as a candidate without a hefty work experience section.
In this article we'll show you how to make a resume with no experience by giving you the resume guidelines you need, including several examples, and providing free templates for you to use.
Let's get started.
Our free-to-use resume builder can make you a resume in as little as 5 minutes. Just pick the template you want, and our software will format everything for you.
How to write a resume with no experience
Are you ready to learn how to make a resume without experience? Watch the following video to see our resident career expert Chloe break down everything you need to know:
Here's how to write a resume when you have no formal work experience, step-by-step:
1. Choose the best format and style for your resume
When you're writing a resume with no experience, you should pick a resume format and style that highlights your strengths (and downplays your weaknesses).
Resume format options
If you want to stick with a traditional format, use a chronological resume. This is the format most commonly used by job seekers, and details work history from most recent to least. In most situations, this the best resume format to use.
If you don't have any professional experience, you can modify your resume by substituting the work experience section with a "relevant experience" section and list details like volunteering, internships, or extracurriculars.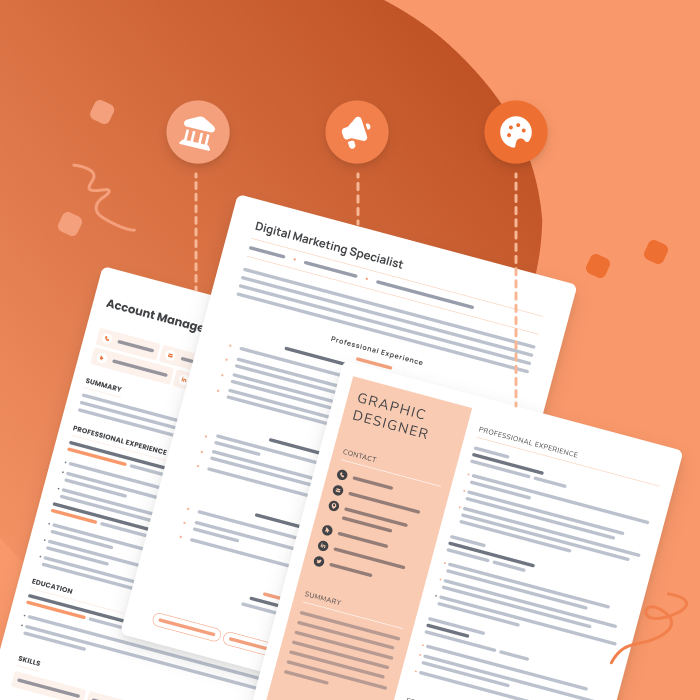 Not sure what your resume should look like? The best way to learn is by taking inspiration from resume examples written by other candidates in your industry.
However, if you're switching careers and don't have experience in the field you're transitioning to, you can put more emphasis on your skills by using a functional resume. Also called a skills-based resume, the functional resume format offers an alternative way to showcase your experience by categorizing it according to specific skills.
So, for example, you could list the skill "sales", and then use bullet points to provide examples of times you've demonstrated your sales skills (at a school bake sale, perhaps).
Here's an example of what that might look like:
Relevant Skills

Sales

Sold 100 pastries at a school bake sale, raising $200 for a senior class trip
Assisted in hosting a school auction to generate funds for new equipment, including new computers and software packages
Took volunteer shifts each year in the Climate Cause booth at Creek Festival to raise money for local environmental clean-up efforts
Pick an appropriate style
Once you've decided on a format, consider what style resume to choose. There are hundreds of resume templates available, but you need to find one that is appropriate for the job you're applying for and makes your experience shine.
Should you choose something more traditional and formal, or something more casual and modern? The answer depends largely on what type of job you're applying for.
If you're applying for an internship in a traditional field (at a law or accounting firm, for example), then it's best to stick with a simple and traditional resume with a minimalistic design.
If you're applying for a job at a tech start-up or in a very creative field, you can opt for a more modern resume design that has some added graphics or visual elements.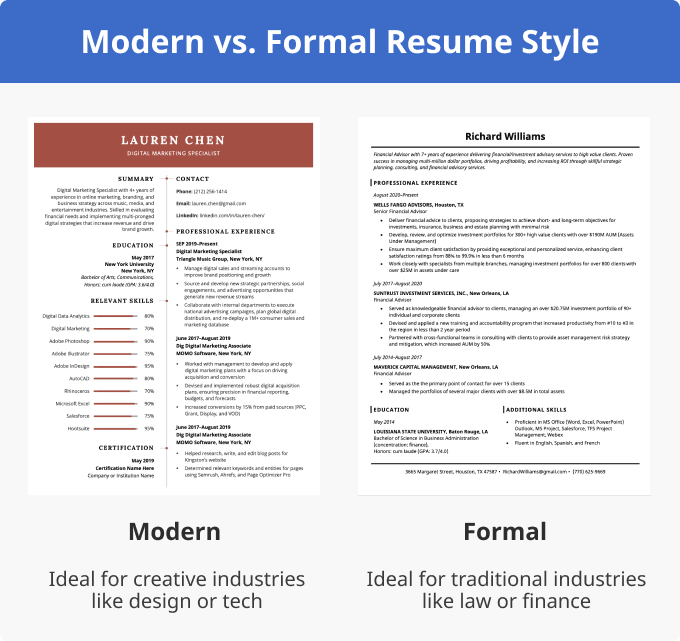 Doing some research on the company and getting a feel for the work culture before you apply can help you decide what style will be a good fit.
2. Write a strong summary for a resume with no experience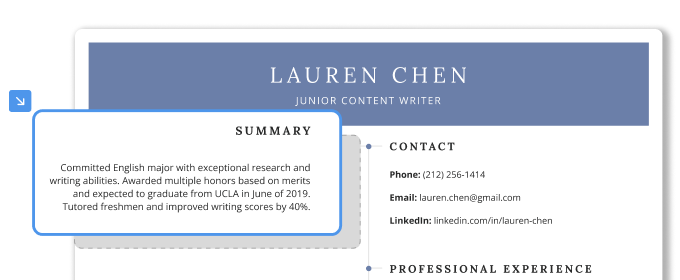 While researching how to write a resume, you probably read about the benefits of including a resume summary.
Your resume summary is an introduction to employers that highlights your qualifications and relevant background for a specific job. Thankfully, even without experience, you can still write one or use a resume summary generator to do the work for you.
If you picked up relevant skills during school or studied something related to the job, for instance, you can include it in your summary.
Here's an example of a computer science major's resume summary — note how they only include skills honed in school, and don't mention work experience:
Computer Science major seeking to leverage my experience in robotics, Javascript, C+, and C into a role as an Engineering Intern at Popov Technology. A highly motivated worker who is passionate about the future of computer technology and engineering.
3. Substitute work experience with other sections
Job hunting can feel impossible when you don't have work experience. How are you supposed to write an entire one-page resume with no experience?
Fortunately, many recruiters are looking for more than just formal work experience. Other things you can put on your resume to help you land work include:
Relevant skills
Life experiences (school, coursework, internships)
Your educational background
A combination of these elements can help you demonstrate how you're still an excellent fit for the job.
Here are six alternative resume sections you can put on your resume to impress employers:
Internships
Internships technically do count as work experience, even if they're unpaid, so you can list them in a professional experience section as you would a paid job.
Here's how to put an internship on your resume:
Research Intern
Green Energy Tomorrow
May 2021 – December 2021

Maintained excel data spreadsheets, updating all new outreach contacts, photo accreditation details, and updated website pages
Grew knowledge of SEO through content writing for website blog
Transcribed interviews to include as written online content
Volunteer work
Adding volunteer work on your resume shows employers that you're motivated and passionate, both qualities that make a great employee.
To list volunteer work, start by listing your position (volunteer), followed by the organization and dates you volunteered.
After this, you can detail your experience with a few bullet points.
Here's an example:
Volunteer
Denver Food Rescue
July 2021 – Present

Rescue and redistribute food from our community partners around Denver each week by bicycle, reducing food waste and minimizing C02 emissions
Create and share content across organization's Instagram, Facebook, and TikTok accounts as a Social Media Ambassador
Extracurricular activities
If your extracurriculars are relevant to the industry you're applying to, they can help to strengthen your resume and demonstrate your abilities.
Some particularly good types of extracurriculars for your resume are:
Student government: Being a member of the student government shows that you have leadership abilities as well as experience prioritizing, participating in meetings, and maybe even public speaking.
Club president: As club president, you've likely been in charge of planning and scheduling events, delegating, and communicating with club members.
Language club: Even better than listing a language in your skills section is relaying your experience participating in a club. Being able to speak a second (or third, or fourth) language is always a valuable asset.
Arts: Any artistic endeavours that you participate in, whether it's theater or painting, demonstrates that you're a creative individual with a unique perspective. Creativity is a valuable soft skill to include on your resume.
Sports: Participating in sports is a great indicator of drive, motivation, and physical endurance. Being a member of a sports team also requires several soft skills such as teamwork and communication.
You can list extracurriculars in a relevant experience section, or as part of an education or achievements section.
Here's an example of how to put an extracurricular activity on your resume:
Debate Team
Washington High School

Wrote and delivered 50+ compelling speeches to audiences ranging in size from 100–1000 people
Winner of the National Debate Tournament in 2021
Awards
Receiving an award is a sign of distinction and shows that you've been recognized for your standout achievement or performance. If you've received any awards, feature these on your resume to impress employers.
If you're writing a student resume with no work experience, you might have some academic achievement awards to include. You can put them in your education section, or make a special section for awards on your resume, even if it's just to display one.
Here's an example:
Awards

Recipient of the 2022 Award for Excellence in Volunteerism
Colorado Association for Engaged Volunteerism
Projects
Listing projects on your resume is a very versatile way to showcase some relevant experience that will make you stand out to employers. Projects to include could be school projects or personal projects.
For example, if you've been working on a website, building a niche social media following, or teaching yourself how to code, these are great skills to share with hiring managers.
Here's an example of how you can list an academic project on your resume:
Education

University of Maryland
Bachelor of Science in Psychology
May 2021

Capstone project
Psychological Impacts of the Adoption Process on Pre-Adolescent Youth

Studied a group of 100 adoptees over the course of 9 months, during the adoption process and transition period
Analyzed data from monthly surveys to evaluate participants mental states
If you want to showcase a personal project, you can do it like this:
Projects

bakingwitherica.com
April 2020 – Present

Prepare hundreds of pastires, finding the perfect ingredients and recipes to share with my readers
Use strategic SEO to increase organic traffic and boost CTR
Build, design, and maintain the website for optimal user experience
Hobbies and interests
Including hobbies and interests on your resume can give employers some extra insight into your personality, what motivates you, and what skills you possess.
It's best to include interests that are relevant to the job you want. For example, if you're applying to an internship as a tech start-up, include your tech-related hobbies and interests. These could be coding, website development, Figma, Adobe Photoshop, or other similar technical skills.
Showing an employer that you have these relevant interests lets them know that you'll be a motivated employee.
You can include your hobbies and interests in a dedicated section, like this:
Hobbies and Interests

HTML
Figma
Adobe Photoshop
Photo editing
4. Describe your educational background
As a job seeker without professional experience, your educational background is likely your strongest job qualification. This is especially true if you're writing a college freshman resume or recent college graduate resume.
One approach to highlight this background is to describe your relevant coursework first, like this: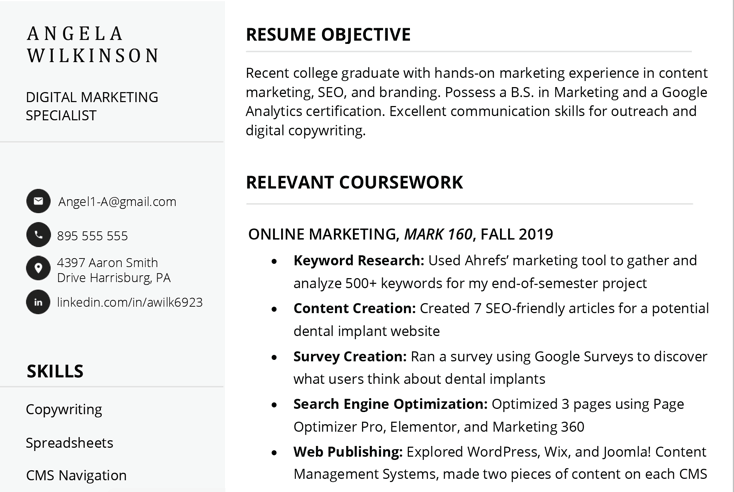 You also need a resume education section, regardless of whether you want to mention your relevant classwork. And because you're applying for your first-time job, it's okay to make this section longer to fit your academic experiences.
Expand your education section by mentioning any student committees you were part of, and any scholarships, awards, or honors you were awarded, like being on the dean's list.
Additionally, include your GPA on your resume (if it's over 3.5) to further emphasize your work ethic and potential.
These details are helpful for recruiters and hiring managers, and give them another way to assess your resume other than work experience.
Here's an example of a smaller resume education section taken from a resume for a student with no work experience:
UCLA – Los Angeles, California
M.S. in Computer Science (Graduated 2016)
California Institute of Technology – Pasadena, California
B.S. in Electrical Engineering (Graduated 2010)
5. Showcase your relevant skills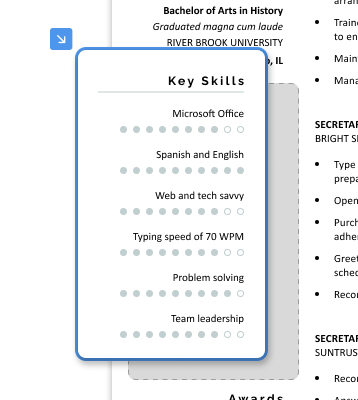 Writing a strong resume skills section will set you apart in your job search and increase your chances of landing an interview. However, if you're like most no-experience job -seekers, your technical skills may be limited.
In this case, use your resume to highlight the soft skills you've acquired throughout your life. Soft skills (such as interpersonal skills or communication skills) are applicable for nearly any industry, and are universally valued by employers.
Here are some examples of soft skills:
Critical thinking
Positive attitude
Assertiveness
You might also possess some relevant hard skills to showcase. These are technical skills gained through hands-on experience or training. Showing employers you possess relevant hard skills will strengthen your resume and set you apart from other entry-level candidates. List these in your skills section along with some of your soft skills.
Here are some examples to include on your resume:
Research
Mathematics
Writing
Social Media
Video editing
Photo editing
6. Format your resume properly
The right resume formatting makes your resume easier to read and highlights your most marketable skills and experiences.
Here are three tips to help better format your resume when you have no experience:
Don't center any of your text. All of the text on your resume should be aligned to the left. This makes your resume easier to read because the eye naturally returns to the left side of the page after reading a line. (Note that a good resume builder can quickly take care of these formatting details for you.)
Change "work experience" to "relevant experience." If you've never held a job, make your experience section more general. This way, you can include information about extracurricular activities, volunteer work, or relevant coursework on your resume.
Use digits when writing about numbers. Make your resume easy to read by using digits (i.e. 15% instead of fifteen percent).
7. Customize your resume to each position
With no experience, your best chance of getting an interview is to target your resume to the specific job you want. Check out their listing for the position, and see what skills they're looking for. From those skills, take the ones you have and place them in your skills section.
You can also reuse some of the language elsewhere in your resume, like in your resume summary or experience section.
Fitting these skills into your resume is important because many companies use applicant tracking systems (or ATS) to scan for resume keywords. This helps them filter large quantities of applicants and determine which ones are worth evaluating further.
If you make an ATS-friendly resume, you set yourself up for success against candidates who might have more experience than you.
If you need a quick refresher on each of the resume sections, check out this TikTok summarizing them below:
First-time resume with no experience samples
When you need to know what to put on a resume with no experience, it helps to look at some examples to see what others have done.
Here are two resume examples for students with no experience to help give you some ideas:
Resume for student with no work experience example
If you're a student with no work experience, here's an example that shows how you can use your education section to demonstrate your hirable skills:
Resume for internship with no experience example
If you're applying for an internship, this example can help give you some ideas for ways to show your relevant skills: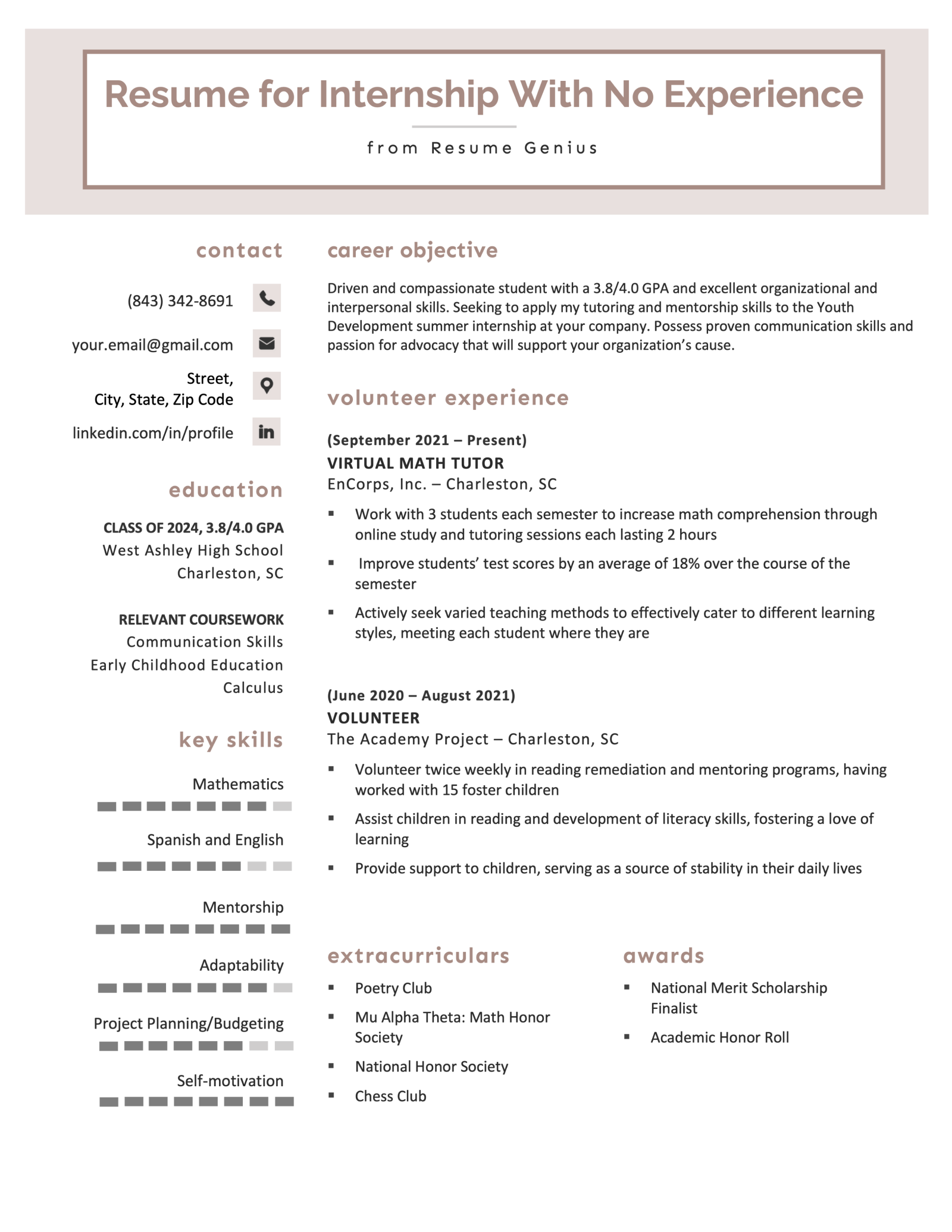 Resume template with no work experience
To help you get started on your resume with no experience, here's a resume template that you can use to help you write your own:
YOUR NAME
123 Street Name, City, State, 01234
youremail@email.com
(xxx) xxx-xxxx
OBJECTIVE
Use 3-5 sentences to highlight your relevant experience, skills, and qualifications. In the last sentence, describe how you plan to use your skills in the role you're applying for.
EDUCATION
University
City, State
Degree
Graduation Month and Year
GPA: 0.0/4.0 (only include this if it's above a 3.5)
Honors: summa cum laude
Relevant Coursework:
List any courses you took that are relevant to the position you're applying for
Optionally, use 2-3 bullet points to describe what you did in the course
RELEVANT EXPERIENCE
Relevant Experience #1 
City, State
Start Month and Year – End Month and Year
Use 3-5 bullet points to describe your experience
Start each bullet point with an action verb (like "assisted, collaborated, or organized)
Include numbers to quantify your experience where possible
Relevant Experience #2 
City, State
Start Month and Year – End Month and Year
Use 3-5 bullet points to describe your experience
HARD SKILLS
SOFT SKILLS
AWARDS & ACHIEVEMENTS
Award Name, Month and Year Received
Awarding Body
A brief description of what the award is and why/how you won the award
Achievement Name, Month and Year
Describe your achievement and how you accomplished it
Write a matching cover letter
When you're writing resumes without work experience, it can be difficult to know how to best showcase your strengths as a candidate. One way to make your application more compelling is to include a cover letter.
It can sound daunting to write a cover letter for the first time, but think of it as a way to introduce yourself to potential employers. The cover letter is an opportunity for you show some personality and tell employers what makes you the right candidate for the job.
Here are ten cover letter tips to help you land the job:
Use a matching cover letter template.
Include your name and contact information at the top.
Address your cover letter properly.
Keep it to less than a page.
Use your cover letter to add new information or perspective, not to rehash everything that's already on your resume.
Open with an introductory paragraph that explains your interest in the position and how you found out about it.
In 2-3 body paragraphs, describe your relevant experience, highlight your achievements, and explain what makes you qualified for the position.
Include a call to action in your closing paragraph, for example: "contact me at (xxx)xxx-xxxx to further discuss how the position will be a good fit".
Thank the hiring manager for their time.
Use a professional sign-off by ending your cover letter with "Sincerely," followed by your name.