Our free-to-use resume builder can make you a resume in as little as 5 minutes. Just pick the template you want, and our software will format everything for you.
Resume examples for your first job
Make a good resume for your first job by looking at some resume examples.
Below are two resume examples to give you some ideas and help you kickstart your writing process.
Example first job resume for high school student
If you're a high school student making a resume for the first time, have a look at this downloadable resume example to help you write yours: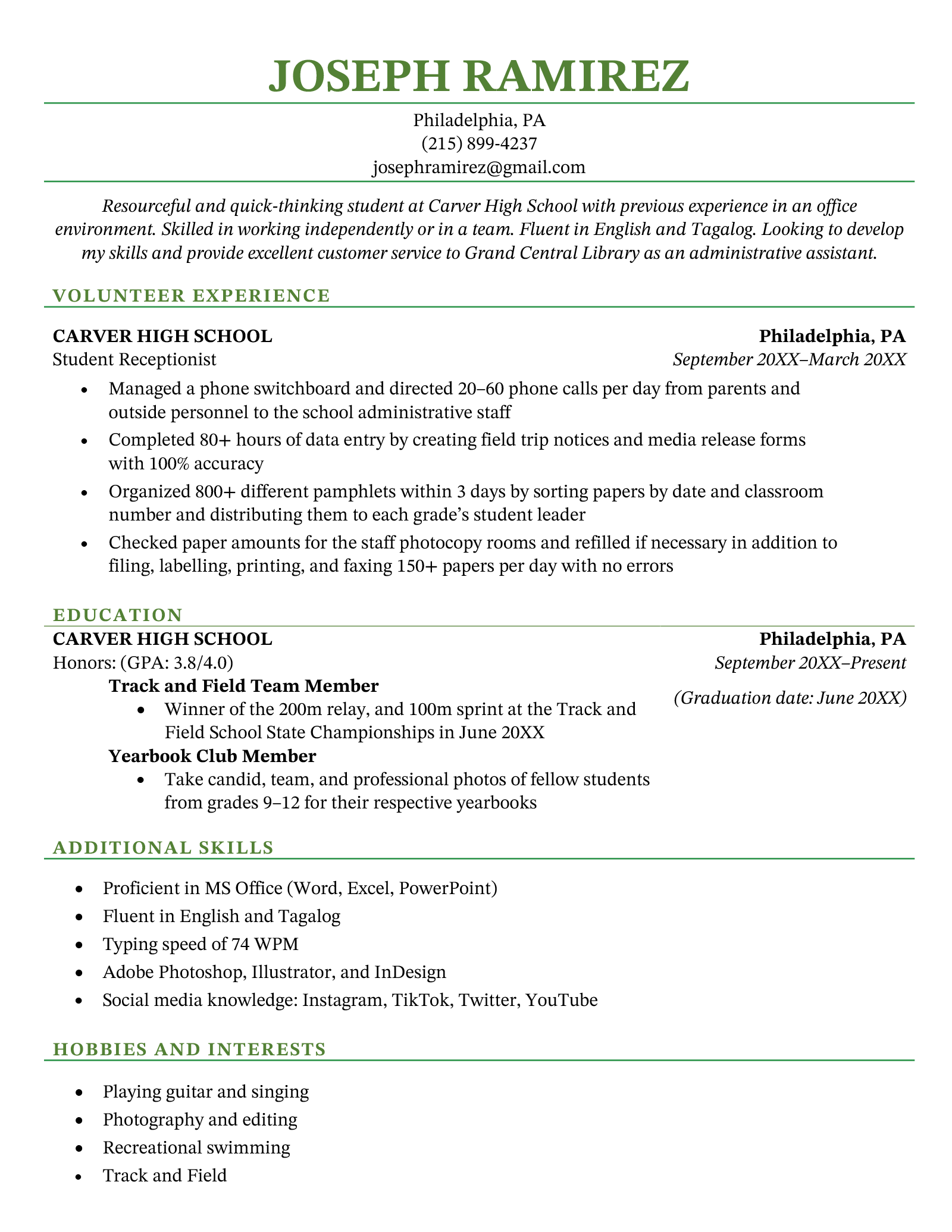 First Job Resume Sample | High School Student (Text)
Resume Objective
Resourceful and quick-thinking student at Carver High School with previous experience in an office environment. Skilled in working independently or in a team. Fluent in English and Tagalog. Looking to develop my skills and provide excellent customer service to Grand Central Library as an administrative assistant.
Volunteer Experience
Student Receptionist
Carver High School / Philadelphia, PA / September 2020–March 2021
Managed a phone switchboard and directed 20–60 phone calls per day from parents and outside personnel to the school administrative staff
Completed 80+ hours of data entry by creating field trip notices and media release forms with 100% accuracy
Organized 800+ different pamphlets within 3 days by sorting papers by date and classroom number and distributing them to each grade's student leader
Checked paper amounts for the staff photocopy rooms and refilled if necessary in addition to filing, labeling, printing, and faxing 150+ papers per day with no errors
Education
Carver High School
Honors: (GPA: 3.8/4.0)
Philadelphia, PA / September 2019–Present (Graduation date: June 2023)
Track and Field Team Member
Winner of the 200m relay, and 100m sprint at the Track and Field School State Championships in June 2021
Yearbook Club Member
Take candid, team, and professional photos of fellow students from grades 9–12 for their respective yearbooks
Additional Skills
Proficient in MS Office (Word, Excel, PowerPoint)
Fluent in English and Tagalog
Typing speed of 74 WPM
Adobe Photoshop, Illustrator, and InDesign
Social media knowledge: Instagram, TikTok, Twitter, YouTube
Hobbies and Interests
Playing guitar and singing
Photography and editing
Recreational swimming
Track and Field
Download This First Job Resume Sample
Example first job resume for a college student
Whether you're currently in college or a recent graduate, this resume example for a college student is here to guide you toward finding your first job: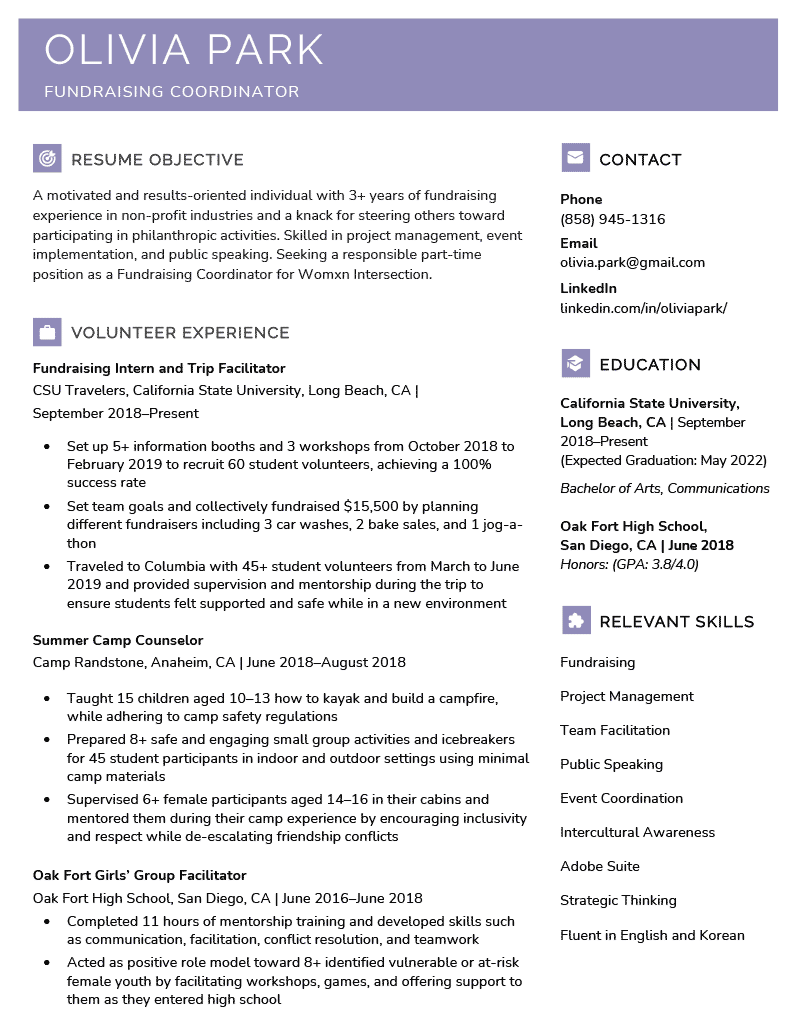 First Job Resume Sample | College Student (Text)
Resume Objective
A motivated and results-oriented individual with 3+ years of fundraising experience in non-profit industries and a knack for steering others toward participating in philanthropic activities. Skilled in project management, event implementation, and public speaking. Seeking a responsible part-time position as a Fundraising Coordinator for Womxn Intersection.
Volunteer Experience
Fundraising Intern and Trip Facilitator
CSU Travelers / California State University, Long Beach, CA / September 2018–Present
Set up 5+ information booths and 3 workshops from October 2018 to February 2019 to recruit 60 student volunteers, achieving a 100% success rate
Set team goals and collectively fundraised $15,500 by planning different fundraisers including 3 car washes, 2 bake sales, and 1 jog-a-thon
Traveled to Columbia with 45+ student volunteers from March to June 2019 and provided supervision and mentorship during the trip to ensure students felt supported and safe while in a new environment
Summer Camp Counselor
Camp Randstone / Anaheim, CA / June 2018–August 2018
Taught 15 children aged 10–13 how to kayak and build a campfire, while adhering to camp safety regulations
Prepared 8+ safe and engaging small group activities and icebreakers for 45 student participants in indoor and outdoor settings using minimal camp materials
Supervised 6+ female participants aged 14–16 in their cabins and mentored them during their camp experience by encouraging inclusivity and respect while de-escalating friendship conflicts
Oak Fort Girls' Group Facilitator
Oak Fort High School / San Diego, CA / June 2016–June 2018
Completed 11 hours of mentorship training and developed skills such as communication, facilitation, conflict resolution, and teamwork
Acted as positive role model toward 8+ identified vulnerable or at-risk female youth by facilitating workshops, games, and offering support to them as they entered high school
Education
California State University
Long Beach, CA / September 2018–Present
(Expected Graduation: May 2022)
Bachelor of Arts, Communications
Oak Fort High School
San Diego, CA / June 2018
Honors: (GPA: 3.8/4.0)
Relevant skills
Fundraising
Project management
Team facilitation
Public speaking
Event coordination
Intercultural awareness
Adobe Suite
Strategic thinking
Fluent in English and Korean
Download This First Job Resume Sample
First job resume template
If you're writing a resume with no experience or you're unsure what to put on your resume, use this customizable resume template by copying, pasting, and filling it with your information:
1.
Resume Header
FIRST AND LAST NAME
Email: youremail@gmail.com | Phone: 614 220 7452 | Address: 79 Parsons Avenue, Columbus, OH 43215
2.
Resume Objective
Motivated and dependable [student/individual] seeking to utilize my [relevant skill #1] to fill your [Name of job] position. Currently studying at [Name of school]. Possess a strong work ethic, [relevant skill #2], and a willingness to learn. Looking for an opportunity to make a positive contribution to society, develop my knowledge, and achieve [Company's name]'s goals.
3.
Volunteer Experience
Most Recent Volunteer Title
Employer Name | Location | Start Year–End Year
Use 3–5 bullet points for each entry to explain your responsibilities
Begin each bullet point with a resume action verb to portray yourself as a leader and help employers clearly visualize you in your role (e.g., Supervised 13 ten-year-old female students and encouraged their participation in our mentorship program's activities every Monday and Wednesday)
Add hard numbers (like percentages, dollar amounts, time spent, number of teammates) within your bullet points to highlight your accomplishments (e.g., the amount of sales your class made in a week at a school bake sale or the total number of hours you volunteered at an event)
Earlier Volunteer Title
Employer Name | Location | Start Year–End Year
Use past tense verbs if the experience has already happened (e.g., "led," "assisted," "wrote")
Be specific when writing your resume (e.g., list the actual names of events you were a part of, number of people you assisted, or programs and software you used)
4.
Education
Degree Name
University, Location | Start Year–End Year (or your expected graduation date)
Mention relevant licenses and your highest level of education, such as a bachelor's degree
If you don't have a degree, include the name of your high school, graduation date (if applicable), your GPA (if it's 3.5 or higher), and relevant coursework on your resume
High School Name
Location | Graduation Date (or the date you intend to graduate)
For example, Ohio Liberty High School, Columbus, OH
Graduation: 2022
GPA: 3.8/4.0
If you don't have any volunteer experience, list your education closer to the top of your resume (underneath your resume header)
Try including your academic highlights with numbers if you have any (e.g., Produced 6 interactive PowerPoint presentations for my Grade 12 Biology class, resulting in a perfect score and bonus points for details and creativity)
5.
Skills Section
List 3–6 hard and soft skills as bullet points that relate to the position you're applying for (e.g., you need organizational skills, customer service skills, and people skills if you're applying for a retail job)
6.
Additional Experience
Show employers more of your accomplishments or additional skills by including other sections such as your hobbies and interests or foreign language skills
How to make a resume for your first job
Follow these simple steps to make a resume that employers will be impressed with — regardless of your age or level of experience.
1. Use a professional resume header
Your resume header lets employers easily access your name and essential contact details so they can reach you if they're interested in interviewing you.
A standard resume header should:
present your first and last name clearly (in bold or a bigger size than the rest of your resume's text)
list your contact information (email and phone number)
sit at the top of your resume — in the center or aligned to the left side of the page
If you have LinkedIn, Twitter, or a portfolio, consider adding them to your resume header. Including your professional profiles shows employers you're present on social media and have nothing to hide.
To ensure that employers only see your professional side, don't link any personal profiles such as Snapchat, Instagram, or TikTok that are unrelated to the job or industry you're applying for.
2. Use the functional resume format
The functional resume format is a type of resume that highlights your skills and life experience — which can make up for your lack of work experience.
Here's an example of a functional resume: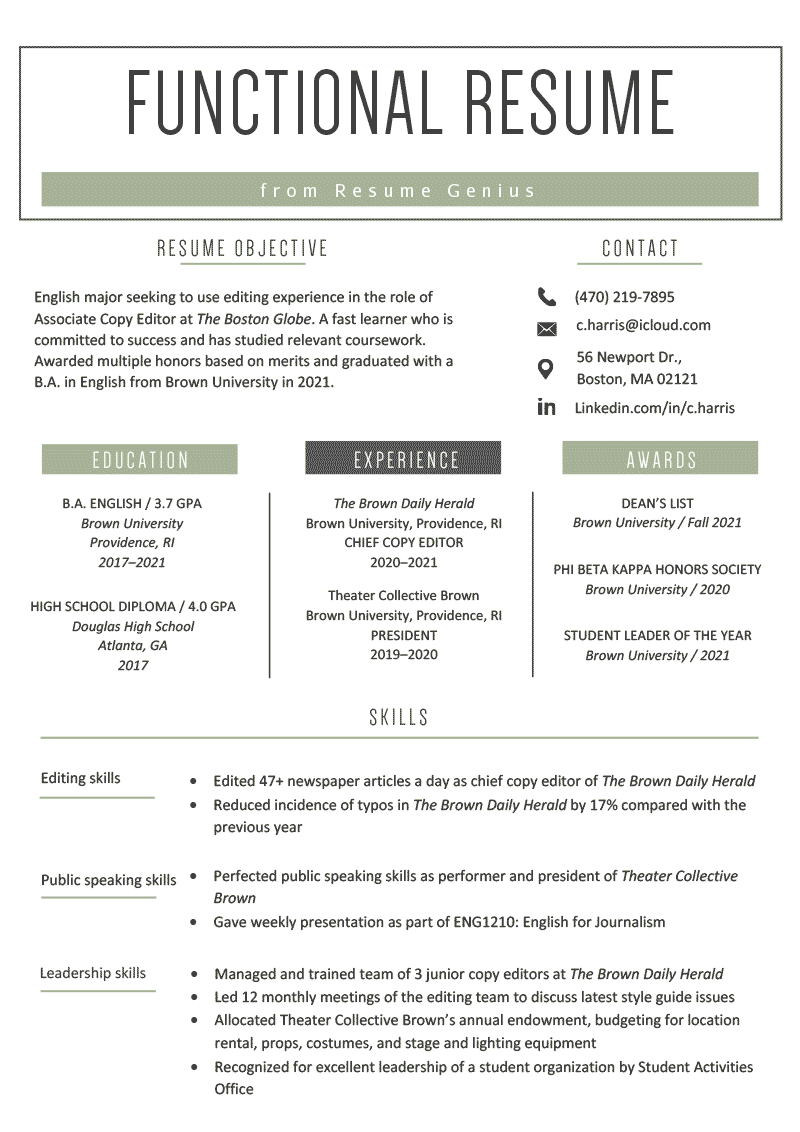 Functional First Job Resume Sample (Text)
Resume Objective
English major seeking to use editing experience in the role of Associate Copy Editor at The Boston Globe. A fast learner who is committed to success and has studied relevant coursework. Awarded multiple honors based on merits and graduated with a B.A. in English from Brown University in 2021.
Education
B.A. ENGLISH
3.7 GPA / Brown University / Providence, RI
2017–2021
HIGH SCHOOL DIPLOMA
4.0 GPA / Douglas High School / Atlanta, GA
2017
Experience
Chief Copy Editor
The Brown Daily Herald
Brown University, Providence, RI
2020­–2021
President
Theater Collective Brown
Brown University, Providence, RI
2019–2020
Awards
Dean's List
Brown University / Fall 2021
Phi Beta Kappa Honors Society
Brown University / 2020
Student Leader of the Year
Brown University / 2021
Skills
Editing skills
Edited 47+ newspaper articles a day as chief copy editor of The Brown Daily Herald
Reduced incidence of typos in The Brown Daily Herald by 17% compared with the previous year
Public Speaking Skills
Perfected public speaking skills as performer and president of Theater Collective Brown
Gave weekly presentation as part of ENG1210: English for Journalism
Leadership Skills
Managed and trained team of 3 junior copy editors at The Brown Daily Herald
Led 12 monthly meetings of the editing team to discuss latest style guide issues
Allocated Theater Collective Brown's annual endowment, budgeting for location rental, props, costumes, and stage and lighting equipment
Recognized for excellent leadership of a student organization by Student Activities Office
Download This First Job Resume Sample
Specifically, the skills section of a functional resume replaces the work experience section of a chronological resume.
Pick at least three skills relevant to the position to fill your functional resume's skills section. Then, add 2–3 bullet points that showcase those skills in action, like so:
Editing skills

Edited 47+ newspaper articles a day as chief copy editor of The Brown Daily Herald
Reduced incidence of typos in The Brown Daily Herald by 17% compared with the previous year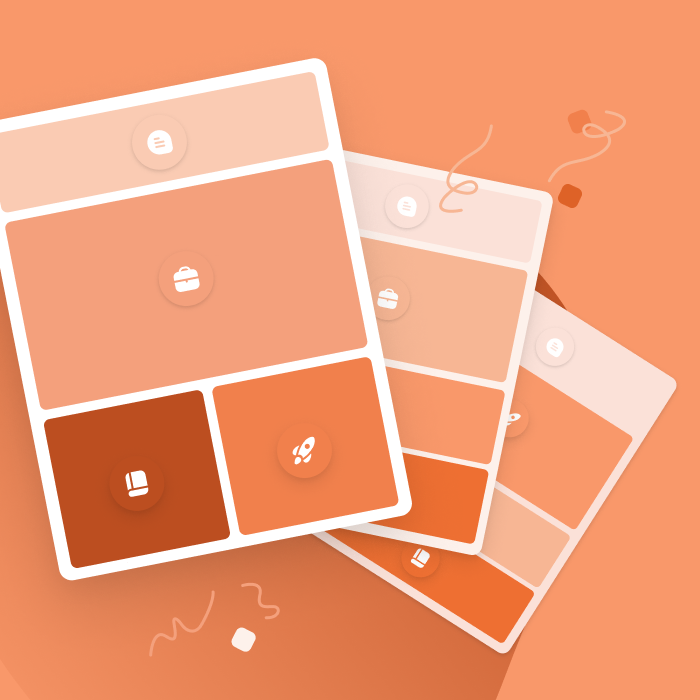 Learn how to pick a resume format that highlights your strengths and downplays your weaknesses by reading our HR-approved guide.
3. Use standard font(s) and margins
Using proper resume formatting shows hiring managers you're professional even if you lack experience.
So choose a standard resume font like Times New Roman or Arial and keep your font size between 10–12 points to ensure your resume looks neat and employers can read the content without any issues.
Additionally, use 1" resume margins to distribute your information evenly throughout the page.
However, you can adjust your margins within a range of ½"–1″ if you need to.
4. Begin with a clear resume objective
Starting your resume with a detailed resume objective helps you introduce yourself briefly to a hiring manager by telling them your career goals and why you're passionate about the position.
In 2–4 sentences, your resume objective should:
state your skills
highlight your relevant experience
detail your education or training
identify the role you're applying for
Additionally, the relevant experience can be something you accomplished at school or elsewhere in your life — as long as it relates in some way to the job.
This is an example of a high school student's resume objective for their first job:
Resume for first job objective
High school honors student with 2+ years of volunteer experience. Aiming to use acquired interpersonal and problem solving abilities to effectively fill your retail position at Cotton On. A quick learner looking to fulfill the company mission and grow in the role as fast as possible.
5. Mention your hard and soft skills
When writing a resume for your first job, think about skills you picked up from classes, projects, clubs, and sports. Then place the most relevant skills (both hard and soft) in your resume's skills section.
6. Emphasize your education and coursework
When writing a resume for your first job, don't neglect your resume education section. Here are some achievements you can highlight from school in your first job resume:
academic accomplishments
additional projects
coursework
If you're writing a resume as a college freshman,  list a class you've taken if it relates to the job you're applying for.
For example, mention in your resume that you took an advanced computer science course if you're applying for a job in IT.
By putting relevant coursework on your resume, you prove you have educational experience in the field you want to join. It's possible you even picked up hard skills from this classroom experience that can apply to your first job.
Finally, you can consider whether to list your GPA on your resume. A strong GPA (3.5 or higher) is good. And if an employer asks for it, then follow their directions. If your grades aren't great, then leave your GPA off.
7. Include related non-work experience
Internships, volunteer work, and extracurricular activities are great additions for your first job resume. However, what you choose to emphasize depends on which past experiences are relevant to the job.
Internships
An internship on your resume is great to list because it:
proves you can work in a professional environment
represents practical experience in your chosen career
allows you to take responsibility for major projects
Internships also help you fill up your work experience section with information valuable to employers, which is hard to do with little (or no) work experience.
Volunteer Work
You can also add volunteer work to your resume. Volunteering shows you've gained some valuable practical experience and gives you extra talking points during an interview.
Even if your volunteer experience isn't related to the position, many of the necessary skills are transferable, such as communication skills and time management skills.
Extracurricular Activities
Additionally, enhance your resume with extracurricular activities, like sports or clubs. Extracurricular activities give your employers an impression of who you are and how you spend your time.
Extracurricular activities can showcase even more of your top skills. For instance, if you held a leadership position, like captaining your college lacrosse team, you could add leadership skills to your skills section.
8. Use a resume builder
If writing your resume for your first role still seems difficult, or if you're short on time, consider using a resume builder.
A resume builder is a tool that helps you make a resume in a few minutes by asking you questions about your educational background, previous experience, and notable skills.
You'll end up with a professionally formatted, up-to-date resume that accurately reflects the industry you're applying for.