Whether you're a recent college graduate or a seasoned professional, you might be wondering if you should put volunteer work on your resume. Resume space is valued real estate — so how much of it should you spend on your volunteer experience?
We'll answer this and other key questions below.
1. Should you include volunteer work on your resume?
If you're on this page already and you're wondering if you should put volunteer experience on your resume, chances are you should.
Volunteer experience illustrates important skills you possess, and shows that you're involved in your community. This gives the hiring manager a more complete picture of who you are, making you a more compelling candidate.
According to a LinkedIn survey, 1 out of 5 hiring managers in the U.S. agreed that volunteer experience was a factor in why they hired a candidate. That's why LinkedIn allows users to boost their profiles with a volunteer experience field.
Similarly, Australian job searching site, SEEK, found that 85% of hiring managers consider volunteer experience just as valid as paid positions — as long as the volunteer work was relevant to the role.
In what situations should you include volunteer experience?
You should incorporate volunteer experience whenever you can. After all, it's an opportunity to display your attractive qualities and leave a lasting impression on the hiring manager — so, why would you leave it out?
Listing volunteer work is especially important if you:
Have limited paid professional experience, like a recent high school or college graduate.
Are transitioning careers, especially if it's in a field tangential to your volunteer work.
Have a resume gap, such as a stay-at-home mother about to re-enter the workforce.
Aim to highlight leadership skills that you haven't accrued as a paid professional.
To avoid coming off as unprofessional, you have to be smart about where and how you incorporate volunteer work in your resume.
2. How to list volunteer work on your resume
Where and how you list volunteer work on your resume depends on whether it's applicable to the job you're applying for.
If you have relevant volunteer experience
If you have relevant volunteer experience, list it in your professional experience section as if it's a paid position.
Add quantities to your duties and achievements to show the hiring manager exactly what you're capable of. Be concise — describe how great you are in as few words as possible.
Here's an example of a weak volunteer experience listing for an applicant for a teacher assistant role, and an example highlighting how you can vastly improve it:
Additional Activities
Attends weekly yoga classes
Volunteered at Happy Smiles Daycare
Goes hiking frequently
Happy Smiles Daycare
Volunteer Child Care Worker / Washington, D.C. / June 2017-July 2018
Assisted the head teacher in classroom management for a class of 15 children aged 3-4 years old.
Served food during lunch and snack times in an orderly and efficient manner by coordinating with other volunteer child care workers in a team.
Sang and told stories to prepare children for nap time, successfully putting them to sleep in less than 15 minutes.
Maintained a secure environment by being constantly vigilant regarding children's health and physical safety.
If you have non-relevant volunteer experience
If you have non-relevant volunteer experience, list it in a separate "Volunteer Experience", "Community Service", or "Additional Activities" section at the bottom of your resume.
However, don't downplay your experience — you should still take the time to describe your time spent volunteering even if it isn't directly related to the job at hand. Emphasize the transferable skills you learned while working as a volunteer and describe your duties in quantifiable terms.
Here is an example of how an applicant hoping to become a accountant may choose to depict non-relevant volunteer experiences, and a more impactful way to do it:
Community Service
Fundraised for Congresswoman Shelley
Participated in monthly park cleanups
Volunteered at the local homeless shelter
Community Service
Fundraised over $30,000 over the course of eight months for Congresswoman Shelley.
Participated in monthly park cleanups, coordinating a team of 15 volunteers.
Volunteered at the local homeless shelter, serving food and preparing clean bedding for 40 individuals.
3. Should you put volunteer experience in a separate section?
Although it might be tempting to cut seemingly extraneous volunteer work from your resume, keeping it in a separate section is a much better move.
Not only is it a great way to demonstrate transferable skills, but it's also an intriguing talking point for your interview — think of it as an extra opportunity for you to elaborate on what you bring to the table.
So, don't deprive yourself of an opportunity to shine by sharing experiences that makes you stand out from the rest!
4. Volunteer work on resume example
If you still have questions about incorporating volunteer experience into your resume, take a look at our volunteer work on resume example below: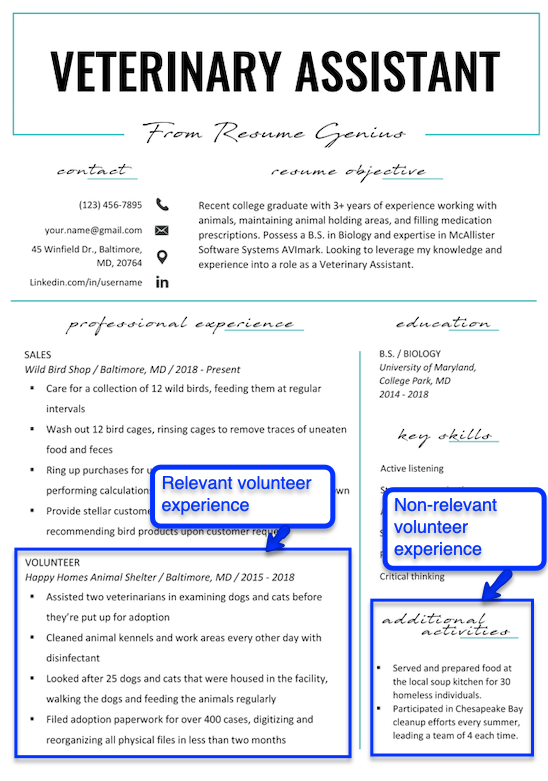 Final Takeaways
Although you may be tempted to leave volunteer work off your resume, you shouldn't. Use your volunteer experience as an opportunity to show a different side to yourself, as well as reinforce the qualities and skills that make you an appealing candidate. You'll be hearing from the hiring manager in no time.
If you need further resume writing help, don't forget to check out our free downloadable resume templates or our easy-to-use resume builder!