Not sure what skills to put on a resume, or even where to put them?
We have answers, plus many resume skills examples for you to explore.
But first, here's a list of good hard and soft skills to put on a resume:
We also dive into specific job skills. If you're in one of the following industries, check out its corresponding page:
Ready to make a skills-powered resume that lands you more interviews?
Read on to learn the primary resume skills for job hunters, and how to list them in your application.
Best Skills to List on a Resume
Even if you already have a list of good skills to put on your resume, you can't simply include all of them. You must be strategic, and each ability you list should reinforce the fact that you're a great fit for the job.
Plus, there are two main types of job skills for a resume that hiring managers evaluate when looking at your application. It's important to target both if you want to come off as a well-balanced candidate.
Known as hard and soft skills, these abilities combine to create the best employees. Employers know this. If your goal is to be the top applicant for any given position, you need to touch upon both of these areas in your resume.
Hard Resume Skills (Examples List + Definition)
Hard skills are job-specific or technical skills that must be learned through education and/or training. Hiring managers look for these on every application, because they prove that an applicant can actually handle the work at their company.
For instance, if you apply for a Chinese-English interpreting job, you must be fluent in both languages — otherwise you would simply not qualify for the position. These "hard" resume language skills are required to do the job. If you're to have any hope of landing this gig, you must mention language skills on your resume, and include any language-related certifications as well.
Common hard skills on resumes include fluency in a foreign language, Office 365, and words typed per minute (WPM). There are thousands of other examples, but to make things easier, we've honed them down to a list of 20 hard skills that employers are seeking in 2019:
Foreign Languages
Social Media
Teaching
Design
Computer Technology
Accounting & Finance
Business & Data Analysis
Nursing
Economics
Automotive Services, Parts and Design
SEO/SEM Marketing
Cloud and Distributed Computing
Data Presentation
Database Management and Software
Electronic and Electrical Engineering
Copywriting
Statistical Analysis and Data Mining
Perl/Python/Ruby
User Interface Design
An impressive toolkit of hard job skills will definitely help you in your quest to find fulfilling work. However, these alone aren't quite enough to show that you're the best candidate for a particular position. For that, you need soft skills.
Soft Resume Skills (Examples List + Definition)
Soft skills are innate abilities. They're closely tied to your personality, as well as the way you handle various situations that arise in a work environment — everything from actual work to dealing with colleagues.
Your list of soft skills helps show hiring managers what type of employee they're getting when they hire you. And since almost every job requires a mixture of hard and soft skills to perform at the highest level, employers want to make sure you have this mixture before they make you an offer.
How you leverage your hard and soft resume skills will likely determine your success on the job hunt.
Some of the major soft skills to add to a resume that will attract hiring managers include the following 20 examples:
Adaptability & Flexibility
Attention to Detail
Collaboration & Teamwork
Creativity & Innovation
Independence
Problem Solving & Analytical Thinking
Professionalism
Work Ethic
Brainstorming
Initiative
Delegation
Troubleshooting
Mediation
Written Communication
Stress Management
Still not entirely sure about the difference between hard and soft skills? This chart breaks each down into their three main characteristics:
| | |
| --- | --- |
| Key Traits of Soft Skills | Key Traits of Hard Skills |
| Useful across all industries | Industry Specific |
| Natural abilities | Learned through training |
| Related to emotional intelligence | Based on technical knowledge |
How to List Skills on a Resume
Now that you have an idea of the top skills to put on a resume, it's time to use them to your advantage.
Here are four strategies for effectively spreading your resume skills and abilities throughout your application, so you can make a good first impression on hiring managers.
1. Identify Professional Skills Common in Your Industry
Before you dive too far into building your resume, it's a good idea to familiarize yourself with key abilities associated with the job you want. While you may already know many of them, it's unlikely you have them all neatly organized in your head.
The best way to identify these important job skills (soft and hard ones) is to analyze job openings in your target industry. Take this "Senior Digital Marketing Manager" job ad, for instance. For your convenience, we've highlighted soft skills in green and hard skills with blue.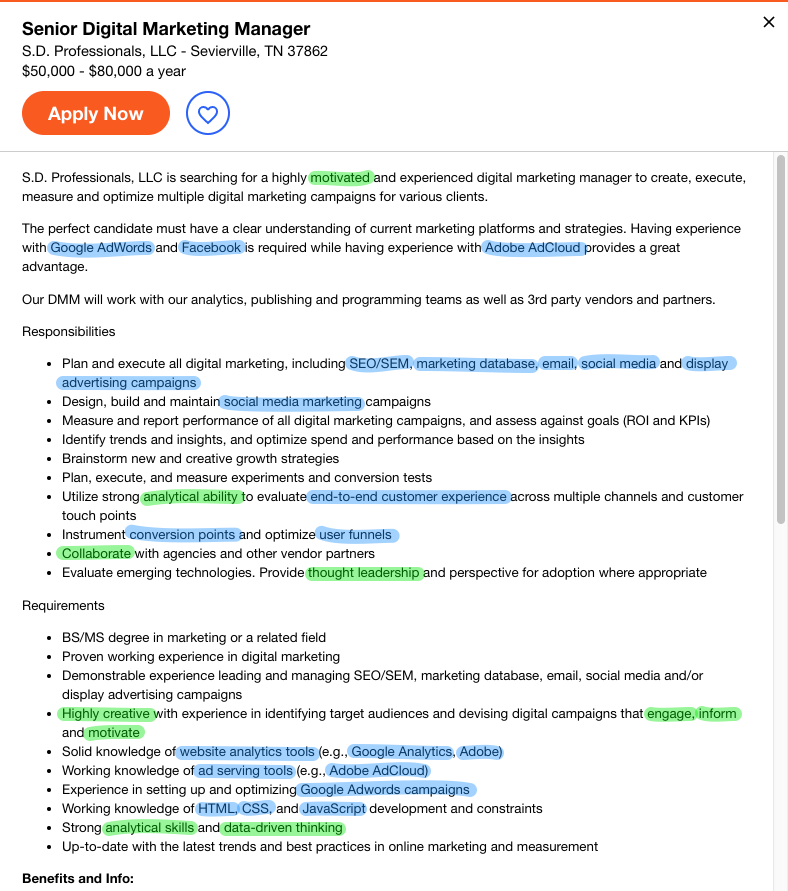 In a single ad, you can quickly see several good resume skills. This includes a range of hard, professional skills needed for the position, as well as a variety of soft skills that help define the best candidate for the role.
Once you've looked at several such ads within your target industry, it will become increasingly clear what hiring managers are looking for (in terms of job skills).
2. Solidify Your Skills Section
There are two primary types of resume skills sections, and your skill set plus industry will determine which type is most suitable for you.
Additional Skills
For most job seekers, including "Additional Skills" on a resume is standard practice. However, many people don't capitalize on this prime resume real-estate, and end up misusing it.
The best skills to include on a resume are those that are related to the job.
It's okay if this section is strictly hard skills, but including a key soft skill or two can also be an effective way to strengthen your case.
Some good skills for your resume include:
Hard Skills Examples
Spanish (or other relevant second languages)

Google Analytics

HTML

Copywriting

Scheduling

Lesson Planning

Budget Management

MS Office Suite
Soft Skills Examples
Public Speaking

Cultural Intelligence

Analytical Thinking

Multi-tasking

Conflict Management

Empathy

Self-starter

Strategic Planning
Technical Skills
While these additional skills for your resume provide support to your application, they are of secondary importance when compared to your relevant work experience. If you have a wide range of technical skills, however, your abilities may end up being precisely what gets you hired.
If you think this is the case for you individually, try featuring your skills and abilities more prominently on your resume.
Check out the following example to get an idea of how this might look for you: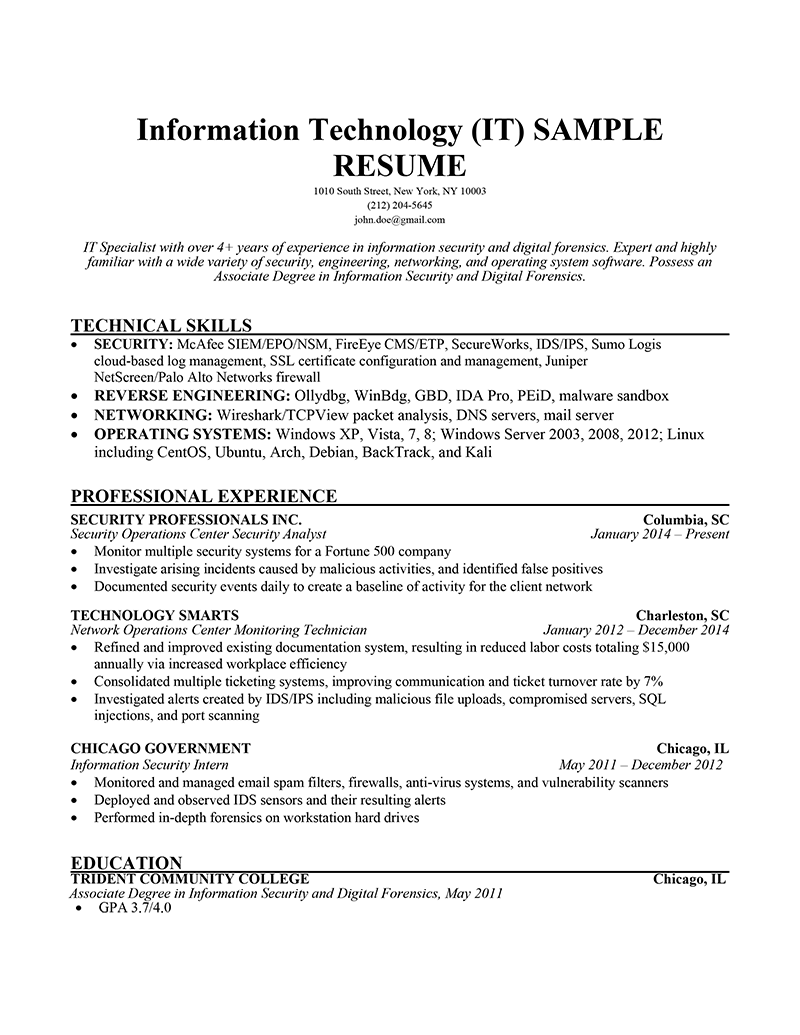 Since IT work demands a special set of abilities, this IT-industry applicant begins his resume by listing key "Technical Skills" at the top.
He also breaks them down into core areas, which helps organize what would be an extensive resume skills list into easy-to-digest chunks for the hiring manager.
Some industries where a technical skills section may work better than an additional skills one are:
Manufacturing
Technical Writing
Executive Level Positions, like CEO
Regardless of the various ways you fit skills on a resume, a "technical" or "additional" skills section can help solidify yourself as a viable candidate. Once you've determined the most suitable type, you'll be ready to start inserting these abilities into the rest of your resume and application.
3. Include Skills in Your Work Experience
One of the best ways to showcase your skills on a resume is by crafting an achievement-oriented professional experience section. This allows you to not only show that you possess certain job skills, but also helps prove you've used them to produce results for previous employers.
Simply follow these three steps and you'll be able to reinforce your experience section with abilities that help you attract recruiters and impress hiring managers.
Step 1: Make a List of All Your Relevant Skills
Compile a list of every ability you feel is relevant to your target position. If you're struggling to think of any, you can try using the job descriptions of ads within your industry, as well as looking at LinkedIn profiles of people working in similar roles.
Once you've created your list, go through and circle all the skills you've touched upon while working at previous jobs or even as a student. These should be your focus.
Step 2: Create Achievement-Oriented Bullet Points
Once you have your list, the next step is to convert those basic skills into bullet points that show you can produce results. The easiest way to do this is by using the Problem, Action, Result (PAR) method.
Problem: First, identify an issue or responsibility at work
Action: Then, show how you used a skill to address the "Problem"
Result: Finally, highlight the positive result of your "Action"
Check out how a project manager used this method to emphasize their communication skills:
Problem:

Ensuring all departments understand every aspect of a project

Action:

Communicating with departments

Result:

Smooth completion of project
Then, they took this information and turned it into an achievement-oriented bullet point:
Communicated the needs and problems of 3 different departments to department heads, ensuring the smooth and timely completion of projects.
In a single bullet point, this project manager illustrates how their communication skills helped produce actual results at a company. If you can make bullets like this, it will go a long way toward proving your value and highlighting skills in your resume.
Step 3: Quantify your Abilities
Quantifying your skills and abilities on your resume — particularly in the experience section — will make you come off as a stronger candidate. Adding numbers, percentages, and other bits of concrete data make bullet points weightier, and give hiring managers a clearer picture of what you bring to the table.
Take a look at some experience bullet examples where quantification is used effectively:
SEO/SEM Marketing:
Increased conversion rates by 10% on a client's web-based service offering through SEO/SEM campaigns
Data Analysis:
Conducted data regression analysis of the relationship between company stock prices and industry trends, achieving a 15% more accurate prediction of performance than previous years
Leadership & Management:
Hired, trained, and coached 50+ staff members on customer service skills, food and beverage knowledge, and health and safety standards in preparation for the restaurant's July 2015 grand opening
Conflict Resolution:
Implementing a three-step conflict resolution protocol for children displaying unruly behavior, resulting in a 15% decrease in conflicts
For more relevant examples of quantification in action, take a look at a resume example from your industry.
4. Place One (or Several) in Your Resume Introduction
There are certain skills to put in resume introductions that can help job seekers quickly convey their competence to hiring managers. What those special skills are depends on your industry and background — do some research (job boards, LinkedIn) to see what's in demand, and then think about how those demands align with your abilities.
Once you've landed on your top industry-specific hard and soft resume skills, be ready to fit them into your introduction.
Whether you decide to go with the classic resume objective or something more flashy like a resume summary, every type of introduction provides space for you to mention your best resume skills and abilities.
In a resume objective, for instance, you have three sentences to convey not just your experience and work aspirations, but your job skills as well.
And in a qualifications summary or professional profile, at least one bullet should mention key skills and abilities you bring to the table.
Additionally, consider adding a list of core competencies on your resume to quickly communicate your most relevant skills.
Conclusion
The best skills for your resume are abilities that truthfully put you, as a job seeker, in the best possible light. This guide was written to help you identify those good, marketable hard and soft job skills, as well as teach you how to include skills to create the most effective resume possible.
If you're able to leverage your top abilities throughout your job application (including the content of your powerful cover letter), you'll simply attract more interviews in the long run. We hope that our resume skills examples, lists, and how-to guide have helped (and will continue to help) you in this endeavor.
If you're ready to start crafting your skills-based resume, check out our free and easy-to-use resume builder that will help you strategically fit resume skills throughout your document.
Infographic: How to Put Skills on Your Resume