Our free-to-use resume builder can make you a resume in as little as 5 minutes. Just pick the template you want, and our software will format everything for you.
Key hard skills for receptionist resumes
Hard skills are acquired through your educational background, training, or on-the-job experience. Adding hard receptionist resume skills increases your chances of being selected because they tell employers they won't have to spend time training you for certain tasks.
Here are the top hard skills to include when writing a resume for a receptionist role:
1. Computer skills
Nearly every receptionist job today requires computer skills. Show hiring managers you're skilled at emailing clients, doing data entry, filling in spreadsheets, and typing (by listing your words per minute, or WPM) to show you're ready to do the job.
2. Administrative skills
Receptionists perform several administrative tasks like scheduling meetings, answering phone calls, filing paperwork, and managing databases.
Employers will see you as the ideal receptionist candidate if you include these administrative skills on your resume because they prove you're organized and reliable.
3. Microsoft Office knowledge
Microsoft Office (MS Office) is a popular word-processing tool that companies use. As a receptionist, you're likely to work with these Microsoft programs:
Listing your MS Office skills tells employers that you can handle word and data processing tasks as their future receptionist.
4. Language skills
Being bilingual can set you apart as a receptionist, especially if you're applying to a company with non-English speaking clients or visitors.
Even if the job doesn't have a bilingual requirement, having language skills shows that you can communicate with a diverse range of people by building rapport with customers or explaining procedures to them in a different language.
5. Technology skills
Typical workplaces today revolve around technology, and employers want candidates that can use different tools and software.
As a receptionist, you'll likely use a printer, photocopier, phone systems, fax, databases, or CRM (customer relationship technology) software. So highlighting these technical skills shows that you're tech-savvy and increases your chances of getting interviewed.
6. Writing skills
Receptionists are required to send and respond to emails, write reports, and use messaging apps in the workplace. Emails filled with errors and typos won't be good for the company's image, so having excellent writing skills is a necessity for a receptionist.
Aside from highlighting your writing abilities in your resume, writing a strong cover letter is a great opportunity to showcase your writing skills.
7. Using office equipment
Working in any office requires you to use certain types of equipment.
While employers may not include these skills as a job requirement (things like using document scanners and paper shredders), they may expect that you have a basic idea of how they work, so list your knowledge of these skills if you have them.
Top soft skills for receptionist resumes
Soft skills are character traits that are necessary to succeed in the workplace. These skills relate to how you interact with customers and colleagues, work collaboratively, and manage your time.
For instance, receptionists regularly work with both customers and colleagues, so it's crucial to prove you have people skills to handle the job.
Here are the top soft skills needed to perform receptionist work:
8. Customer service skills
Having strong customer service skills is vital to ensure you can interact with customers, resolve their complaints, and ensure they're satisfied with your services.
Here are some other customer service skills for your receptionist resume:
Patience
Confidence
Attentiveness
Responsiveness
Adaptability
9. Communication skills
Clear written and verbal communication is essential for any role — and even more so for a receptionist.
You want to show employers that you can answer tricky calls, receive and transmit messages verbally and in writing, and interact with people at various levels, so highlight your communication skills.
10. Interpersonal skills
Interpersonal skills relate to your ability to interact with other people. Since your role is to interact with customers and colleagues, you need to be an excellent listener, build a connection with colleagues and management, and communicate effortlessly with them.
If you're writing a resume with no experience or as a recent college graduate, consider listing your relevant coursework, certifications, seminars, or volunteer work to showcase your interpersonal skills.
11. Time management skills
A receptionist's roles include juggling numerous tasks — from responding to phone calls, making appointments, typing documents, and scheduling meetings.
Employers want to know that you can effectively manage your time and easily switch between tasks, so list your time management skills.
These are other time management-related skills for your receptionist resume:
Prioritizing
Decision making
Resource allocation
Multitasking
12. Organizational skills
Receptionists should be organized. It won't leave a good impression if the reception area of an office is untidy and or the front desk is covered with unresolved paperwork.
A receptionist should have an efficient filing pattern that makes it easy to sort paperwork and contacts. So highlight your organizational skills to show employers that you can keep up with the job's demands.
13. Attention to detail
Being detail-oriented is essential for communicating to employers that you are accurate when completing receptionist-related tasks.
You should know how to pass along the right documents and also correct any mistakes while receiving or processing information.
14. Stress management
Including stress management among the receptionist skills in your resume tells employers that you take your health seriously. After all, a stress-free workforce is a healthy workforce that typically leads to increased productivity.
15. Problem solving skills
Prove to employers that you're an effective problem solver by taking on issues relating to clients and general matters or through speaking directly to a supervisor.
Essential problem solving receptionist skills for your resume include:
Conflict resolution
Brainstorming solutions
Troubleshooting issues
16. Phone etiquette
Having effective phone skills is critical if you're a receptionist.
Typically, you're responsible for screening phone calls, responding to inquiries, and resolving issues on the phone, so don't forget to add your telephone skills to prove you're an excellent communicator.
17. Memory
As a receptionist, you're the center of the discussion at the front desk — so you need to be able to hold attention, reason, and process new information while also remembering what you discussed earlier.
For instance, you can't keep asking people to repeat themselves. A receptionist should have excellent cognitive skills by remembering people from their previous visits and recalling previous information.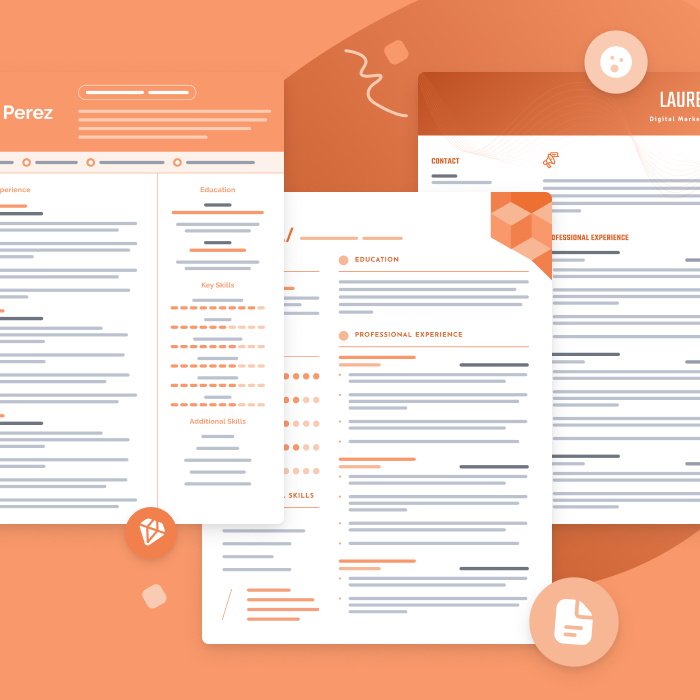 One of the best ways to make your resume is by filling out one of our free resume templates. All our templates are designed by experts and free to download for Microsoft Word or Google Docs.
How to list receptionist skills on your resume
Your receptionist resume isn't complete without highlighting the relevant skills. Here are some simple tips to help you easily integrate these skills into your resume:
1. Include your receptionist resume skills in your work experience section
Besides listing your top skills and qualities in the skills section of your resume, try to also add them to your work experience section.
For example, we've used bold lettering to highlight this work experience entry by showcasing an applicant's communication and problem solving skills.
Resolved 20+ customer technical complaints daily in a professional and courteous manner

Completed 17+ typed documents within 3 days for DroidBay's upcoming press conference with 100% accuracy
Also, mention job-related keywords listed on the job description to help you beat applicant tracking systems (ATS) — software that filters and selects suitable applicants who use the most relevant keywords on their resumes.
2. Use hard numbers to explain your achievements
Hard numbers like percentages, data, and hours worked enhance your work accomplishments by providing relevant context to employers about the depth of your skills and experience.
For instance, an employer may overlook a generic cover letter or resume phrase like "exceptional communication skills" but won't forget that you answered 30+ calls daily.
Hard numbers also allow you to easily highlight accomplishments such as resolving customer issues or responding to several daily emails, and ultimately help hiring managers visualize how you'd be suitable for the role.
Here's an example of how to use hard numbers (shown in bold) to highlight your achievements as a receptionist:
Successfully updated and scheduled meetings within a week for the next 6 months (January 2021–June 2021)
3. Write a powerful resume objective showcasing your receptionist skills
Your resume objective is the first thing a hiring manager sees when they pick up your resume. The resume objective section is also a great spot to introduce your most relevant hard and soft receptionist skills.
Write a clear and impactful resume objective by including your:
1. years of experience
2. schooling and relevant certifications
3. top 2–4 receptionist skills
4. desired role in the company
Here's an example of a professional resume objective for a receptionist (using colored underlines for your reference).
Receptionist with 3+ years of experience in telephone and problem resolution, and account administration. Possess a BA in Communications and a Udemy certification. Aiming to use my proven technical skills and excellent communication skills to effectively fill the Office Receptionist role in your company.