Language abilities are difficult to put into concrete terms that employers can understand, especially if it's a language that you're not fully fluent in.
Luckily, there are a few generally accepted ways of describing language proficiency on your resume.
Read on to find out how and where to list language levels on your resume.
Our free-to-use resume builder can make you a resume in as little as 5 minutes. Just pick the template you want, and our software will format everything for you.
How to list languages on your resume
Check out our video below, where resident career expert Eva shows you exactly how to list languages in your skills section, with examples:
Determine your level of proficiency
One common resume mistake job seekers make is to exaggerate their language abilities on their resumes. If an employer hires you assuming you'll be able to communicate with foreign clients and business partners in their native language, you risk getting in trouble if it turns out you're not as fluent as you claimed to be.
To prevent this from happening, you need to determine your level of language proficiency. There are a few ways to do this at home:
Take an online test – If you search for "X language level test" on Google, you'll likely find several websites offering free tests that can help you figure out what language level to put on your resume
Consider how much experience you have – If you've been studying a language consistently for ten years and use it on a daily basis, you can safely say that you're at an advanced level. If you've only been studying on and off for 6 months, you should state that you're a beginner.
Watch movies – How much are you able to understand? While listening comprehension is only one part of language proficiency, it can help you determine what level you're at.
Approximate your language skill level with an adjective
In most cases, the following scale is an acceptable method for describing levels of language proficiency on your resume that any employer will understand:
Scale for resume language skills
Basic: suggests that you understand basic words and phrases, but are unable to hold a conversation.
Intermediate: suggests you can hold a basic conversation in the language, but have limited vocabulary, a low understanding of grammar rules, and may not be able to read.
Conversational: suggests that you can hold full conversations in this language but not at a fluent level. You may struggle to find the right words and keep up with native speakers. Additionally, you may not be fully literate.
Proficient: suggests you have a high level of comfort with the language, but not to the same level that fluent or native speakers would. Proficient speakers have a larger vocabulary and more developed skills than conversational speakers.
Fluent: suggests you're highly comfortable writing and reading in this language and that you can hold conversations to the same level as a native speaker.
Native: indicates that this is your mother tongue, and that you're fully comfortable speaking, reading, and writing in this language.
The only time you shouldn't use this scale is if you're applying for a role where a high level of detail about your language skills is required. In this situation, you should use an official, internationally recognized scale.
Additional ways to showcase your language proficiency levels
Here are some of the most common scales used to measure language proficiency that you can follow when writing your resume:
ILR
The Interagency Language Roundtable is the grading scale used by the U.S. government.
It rates ability from 0 ('no proficiency') to 6 ('native or bilingual proficiency').
If you want to work for the U.S. government, this is the system that you should use to list language levels on your federal resume. Most federal agencies hold their own ILR tests, and a few private companies also offer exams that can give you an ILR rating. There's also the option of taking the ILR's online self-assessment.
CEFR
The Common European Framework of Reference for Languages is an international scale for rating language ability, and is the rating system that you'll most often see used in Europe.
It also has a 6-point scale, but this one runs from A1 ('beginner') to C2 (native level). Depending on the language, you can get formal certifications via in-person and online exams. You can also assess your own abilities online.
ACTFL
The American Council on the Teaching of Foreign Languages is an American organization that aims to improve and increase language teaching at all levels.
Its proficiency scale, which is recognized worldwide, has 4 basic levels ('Novice', 'Intermediate', 'Advanced', 'Superior'), which are divided into 3 sublevels ('Low', 'Mid', 'High'). You can take an ACTFL test with Language Testing International, ACTFL's official testing partner.
Proficiency exams
Different languages may also have their own standardized (usually government-issued) proficiency tests for students, which you can list on your resume.
For example, if you're a Mandarin Chinese learner, including your HSK or TOCFL score on your resume is an acceptable way to showcase your skill level with the language.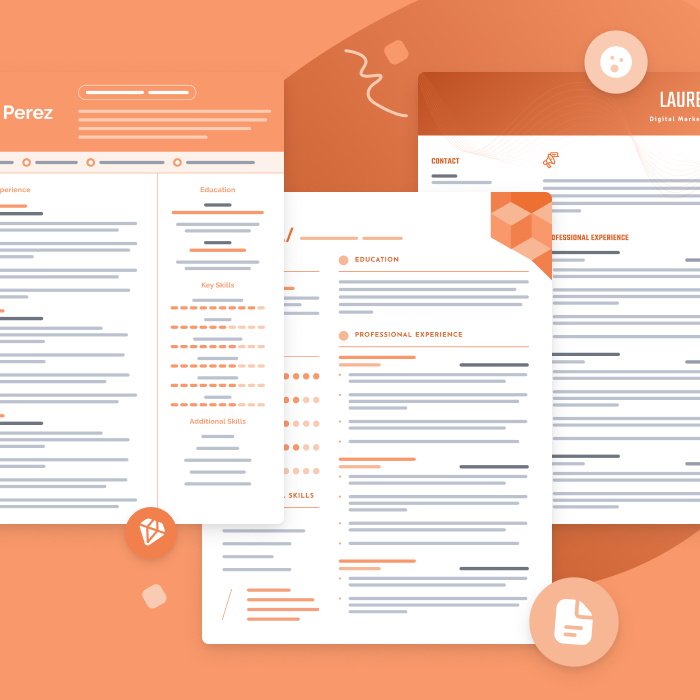 One of the best ways to make your resume is by filling out one of our free resume templates. All our templates are designed by experts and free to download for Microsoft Word or Google Docs.
Should you list language skills on your resume?
Yes, you should list language skills on your resume in the following situations:
They're relevant to the job you're applying for
You're applying to a position that requires interacting with customers or clients (such as retail)
You're an inexperienced job seeker and need some qualifications to add to your resume
Even if this hard skill isn't required for the job, knowing a second or third language could help you make a sale or build rapport with new clients.
However, if you're applying for jobs that require little social interaction and don't require you to speak a foreign language (like software engineering), then you don't need to include language skills when writing your resume.
Where to put levels of language proficiency on your resume
Regardless of which resume format you choose, there are three places on your resume where you can add your language skills.
1. Skills section
The first option is to add them to your resume skills section as bullet points.
This is most suitable for job seekers who only speak one or two additional languages, and don't want to dedicate too much space on their resume to their language skills.
If you speak multiple languages but are running out of space on your resume, carefully read the job ad to find out what languages are most relevant. For example, if the company is expanding into South America, mentioning that you know Spanish or Portuguese can give you an edge.
2. Dedicated language section
The second option is to include you language skills in a separate section. Most resume templates don't have a language skills section, so you might have to add it yourself. However, you should only do this if you speak three or more different languages and want to showcase your impressive linguistic talents.
Include a dedicated languages section on your resume if you're applying to roles where your language skills are a primary selling point, such as international marketing or translation.
3. Resume introduction
If you'll be using your language skills on a daily basis, it's a good idea to mention them among your top skills at the start of your resume in addition to including them in one of the sections listed above.
This immediately lets the hiring manager know that you fulfill one of the basic requirements of the job.
Examples of language skills on a resume
Here are some samples demonstrating how to list language proficiency levels on a resume:
Example #1 (general scale)
ADDITIONAL SKILLS
SEO
Social media
Copywriting
Spanish (intermediate)
Example #2 (CEFR scale)
LANGUAGE SKILLS
French (C2)
Italian (C2)
German (B1)
Example #3 (HSK proficiency test)
SKILLS
Project management
Statistical analysis
Mandarin Chinese (HSK 4)
Business analysis
Example #4 (CEFR scale)
RESUME SUMMARY
Bilingual Tour Guide with 3+ years of experience giving informational and entertaining tours of Manhattan in English and German. Possess a B.A. in Travel and Tourism Management and a Goethe Zertificat (C2). Looking to leverage my excellent people skills and local knowledge to fill the position of Tour Guide at your company.
Example #5 (general scale)
LANGUAGES
Hindi (native)
English (fluent)
Tamil (proficient)
Bengali (conversational)
Example #6 (casual description)
ADDITIONAL SKILLS
Budgeting
Proficient in Czech (written and spoken)
Strategic planning
MS Office Suite
Project management