Landing the job you want in 2021 isn't easy. Many parts of the economy are still recovering from the lasting impact of COVID-19, and there's plenty of competition for good positions.
However, the best way to get a job hasn't changed. Writing a professional resume that advertises your relevant skills, experience, and achievements is the key to attracting the attention of employers and earning an interview.
But writing a good resume is easier said than done, especially if you lack formal work experience.
To help you succeed on your job hunt, we explain exactly how to write a good resume in 10 basic steps, and provide detailed examples along the way: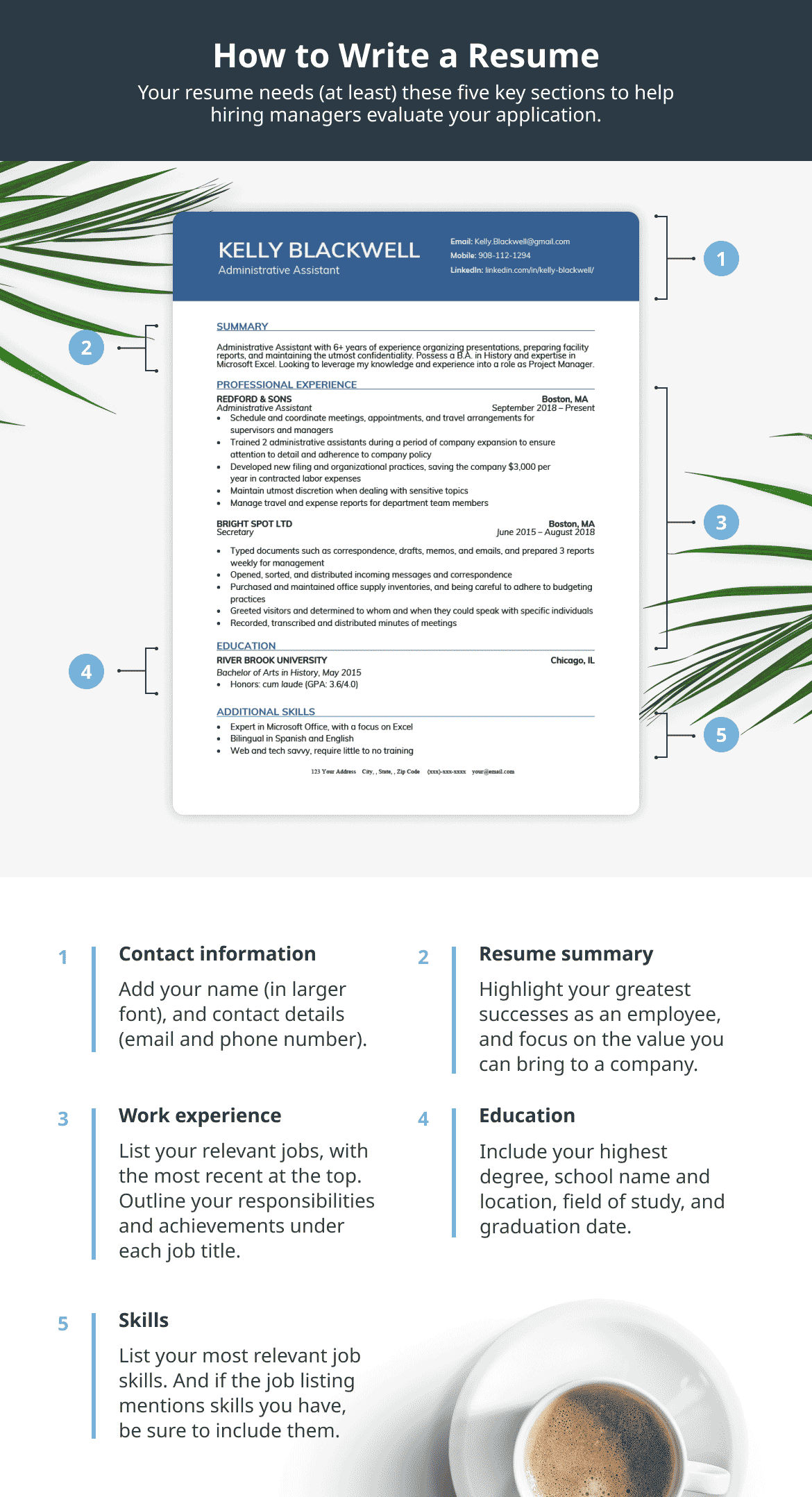 From industry-specific resume formatting and writing suggestions to proper fonts and margins, we outline every detail of writing a resume.
Ready to learn how to make a resume that lands you your dream job?
1. Choose the most suitable format
Before you start writing anything, the first step is to decide on the right format for your resume. There are three basic resume formats used by job seekers today: reverse-chronological, functional, and combination. Each format has advantages and disadvantages based on how the resume sections are arranged:
Chronological resume format
A chronological resume is the most popular format, and is appropriate for nearly all job seekers. It lists your work history in order of when you held each position, with your most recent job listed toward the top of the page.
Functional resume format
A functional resume focuses on your skills rather than your chronological work history, and is mostly used by people who are changing careers or trying to de-emphasize a gap in their employment. The biggest feature of a functional resume is that it groups your experience under skill categories instead of job titles.
Combination resume format
A combination resume mixes elements of both a functional and chronological resume. Combination resumes are typically used by experienced candidates with extensive, specialized skill sets. This resume format features a chronological work history section along with a highly detailed skills section.
Which format is the right choice for your resume?
Fortunately, there's a simple answer: the reverse chronological format is the best choice for the vast majority of job seekers. Most employers are used to seeing chronological resumes, and it's considered the standard format for job seekers in every industry.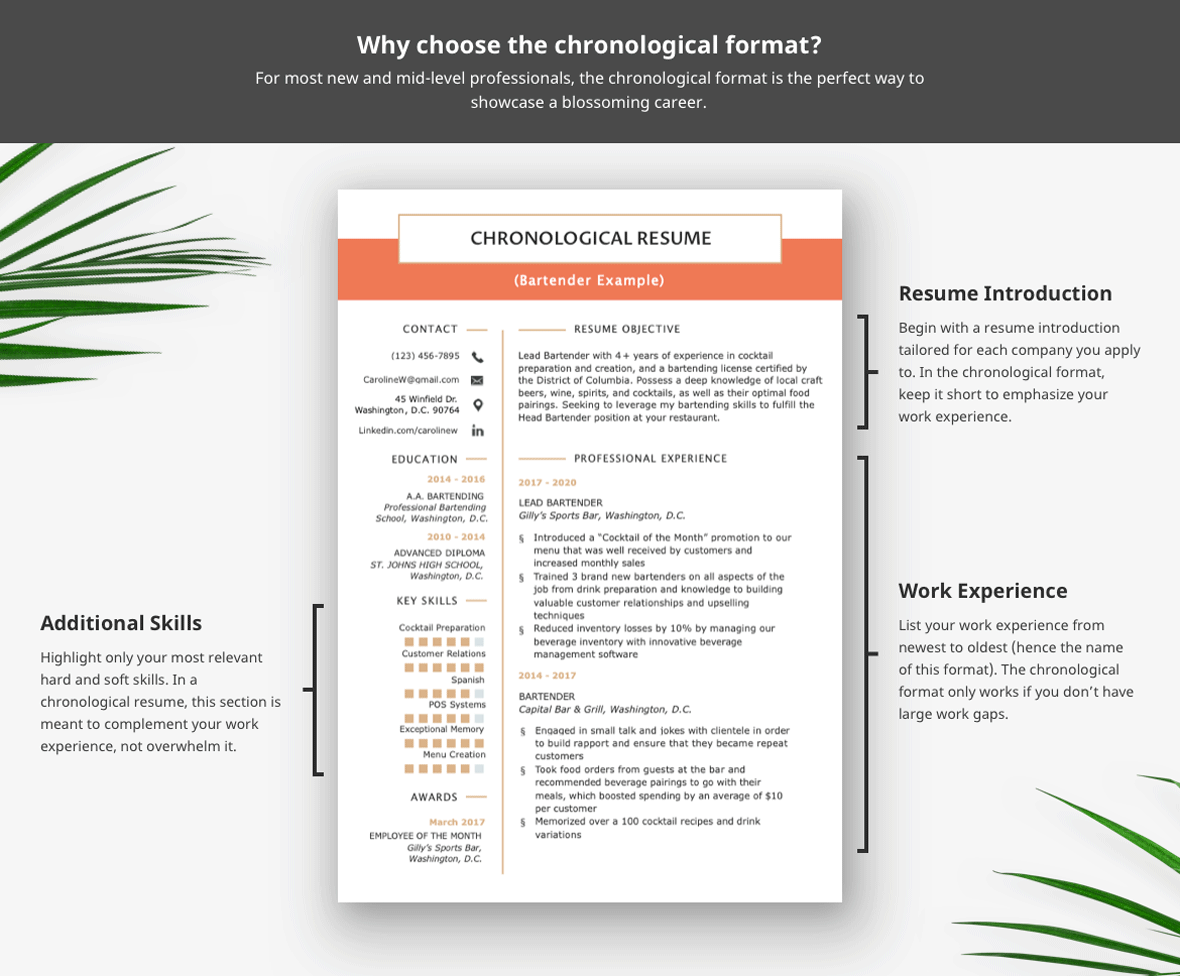 However, just because the chronological format is the most common doesn't mean it's ideal for everyone. If you're switching careers, a highly trained specialist in your field, or trying to downplay a resume gap, you may be better off using the less traditional functional or combination resume formats.
2. Arrange your contact information
Now that you know the format you're going to use, it's time to start your resume. First thing's first, employers need to know who you are and how to contact you.
List the following contact details in your resume header at the top of the page:
Name (largest font on the page, middle initial is optional)
Telephone number (check that you have an appropriate voicemail message)
Email address (make sure it's appropriate, don't use your happyypanda45@gmail.com account)
Link to online portfolio (optional, include if relevant)
LinkedIn profile (make sure your LinkedIn summary is up to date)
Traditionally, you would also include your mailing address on your resume. However, this is no longer mandatory because most job applications are sent via email.
Here are two examples of how you can format your contact information section:
Example 1

Example 2

3. Write a winning resume introduction
Placed at the top of your resume, a well-written resume introduction briefly introduces your key qualifications and skills, and convinces employers to continue reading your application.
There are many different types of resume introductions used by job seekers today, including the:
Resume objective (also known as a career objective)
Resume summary (also called a professional summary)
Summary of qualifications (or qualifications summary)
Resume profile (sometimes referred to as a professional profile)
Resume "About Me" section
However, the two most commonly used introduction styles (and the ones we recommend most candidates use) are the resume objective and the resume summary.
Resume objective
A resume objective (or career objective) is a 2–3 sentence statement that provides an overview of your skills and experience, and explains why you're interested in the position. This introduction is best if you're an entry-level candidate because it focuses on your career ambitions.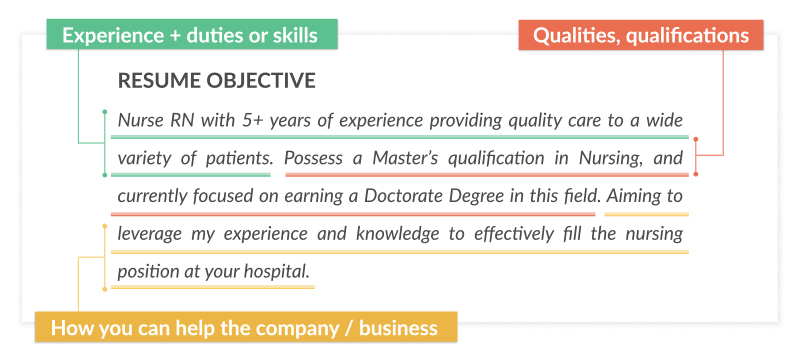 3 Career Objective Samples (Text Format)
Career objective example 1: bartender
Lead bartender with 4+ years experience in cocktail preparation and creation, and a bartending license certified by the District of Columbia. Possess a deep knowledge of local craft beers, wine, spirits, and cocktails, as well as their optimal food pairings. Seeking to leverage my bartending skills to fulfill the Head Bartender position at your restaurant.
Career objective example 2: nurse RN
Nurse RN with 8+ years of experience in providing quality care to a wide variety of patients. Possesses a master's qualification in nursing and currently focused on earning a doctorate degree in this field. Aiming to leverage my experience and knowledge to effectively fill the nursing position at your hospital.
Career objective example 3: middle school english teacher
An organized professional with proven teaching, guidance, and counseling skills. Possess a strong track record in improving test scores and teaching effectively. Ability to be a team player and resolve problems and conflicts professionally. Have the ability to communicate complex information in a simple and entertaining manner. Looking to contribute my knowledge and skills in a school that offers a genuine opportunity for career progression.
I am an entry-level applicant.
I do not have in-depth experience in the industry.
I am a recent college graduate.
I have a wealth of industry-specific skill sets.
I am changing career paths.
Resume summary
Resume summaries (sometimes referred to as "professional summaries") include four to five sentences (either in paragraph or bulleted format) that highlight your past achievements and skills.
This type of introduction is good for job seekers with some experience and an idea of how to tie numbers into that experience.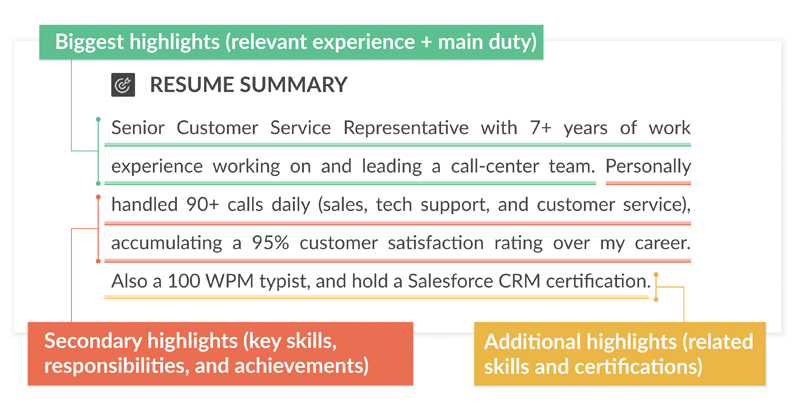 3 Resume Summary Samples (Text Format)
Resume summary example 1: property manager
California state-licensed property manager with 8 years of experience closing successful contracts. Negotiated an average 4.7% discount from suppliers and managed 39 staff members, including a security team. Additionally, I oversaw a portfolio of 85 luxury properties and handled $50m in monthly rent and fees.
Resume summary example 2: mechanic
Expert mechanic with 6+ years of experience in motor vehicle repairs. Have repaired and serviced 2000+ vehicles and test drove 1470 vehicles to ensure work quality. Also possess excellent customer service skills, having greeted an average of 52 customers a week and upsold parts and labor by an average of 47%.
Resume summary example 3: translator
Dynamic Spanish to English translator with 5 years of professional experience. Have translated 1000+ documents from Spanish into English and collaborate with an ever-growing portfolio of clients (currently 47). Have completed 99%+ of assigned translation projects within agreed deadlines with a low rate (<5%) of customer requests for revision on completed translation projects.
I have many accomplishments to emphasize.
I have a broad range of hard and soft skills.
My experience can be quantified effectively.
I'm a student or graduate with no (or little) work experience.
I have few achievements under my belt.
I would struggle to come up with quantifiable data to include.
4. Highlight your relevant work experience
Your work experience section is the most essential part of your resume because it's the best representation of your qualifications.
To create a logical and informative work experience section, list your relevant experience from most recent (at the top) to least recent (at the bottom). For each job, list the following information:
Your title
Company name
Company location (city and state)
Dates of employment (month and year)
If you're still currently working at a company, you can simply write "[month], [year]–present" for the employment dates.
A general rule is that each job title includes about 3–5 bullet points of your main duties and achievements working in that role.
3 parts of a strong bullet point:
1st:

Action verb (should always be first)

2nd:

Quantifiable point

3rd:

Specific and relevant job duty
Example 1:
Trained 5+ cashiers, managing their cash limits and guaranteeing quality customer service at all times.
Example 2:
Spearheaded the development of the first media kit amalgamation for all company projects, increasing national sales by 8%.
One reason the above bullet points are effective is that they use action verbs to grab the attention of hiring managers. Describing your experience using strong action verbs helps illustrate to employers what you've accomplished and what kind of skills you have.
Tailor your experience to the job advertisement
One strategy for making your experience section even better is to create it with a specific job in mind.
Start by looking through the ad for the position you want. Find any skill-related keywords and occupation-specific nouns in the ad, then spread them throughout your resume when possible.
This strategy is a great way to strike a chord with the hiring manager and show them that you're the perfect candidate for their specific advertised job.
Still not sure how to tailor your experience section? Here's an example of a real marketing specialist job ad (with orange underlines for verbs and yellow for nouns/skills) we took from Indeed.com: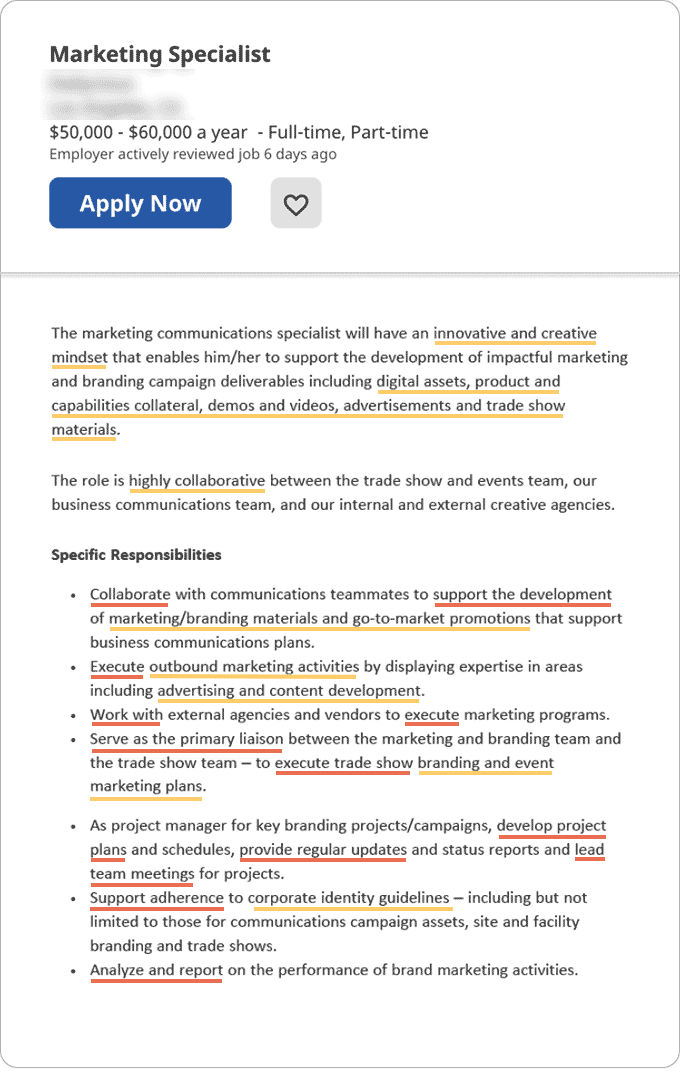 For an aspiring marketing specialist, there are numerous language cues spread throughout this advertisement. It's up to the job seeker to capitalize on them.
Using the ad above, we've created three tailored example experience bullets for a resume where the applicant has one year of relevant experience.
3 Example experience bullets (based on the job ad)
The example below demonstrates how to candidate strategically pepper the verbs and nouns/skills found in the job ad into your work experience section:
Taylord's Marketing Firm, Reno, NV
July 2017 – August 2018

• Collaborated with the outreach department to develop innovative marketing solutions for 6 unique products

• Developed branding materials for a new mobile app, resulting in a 14% increase in sales

• Analyzed weekly performance statistics, ensuring that effectiveness of outbound marketing activities
5. Create a clear education section
Having a clear education section is essential for your resume, especially if you're a recent college graduate or have minimal work experience.
If you lack professional experience but have a good track record in school (high grades, club participation, honors, etc.), your education section should be highly detailed to highlight all of your education-related accomplishments.
On the other hand, if you possess more than a few years of professional experience, then it's appropriate to keep your education section short and sweet.
Here are the main points to include in a standard education section:
The names of your university, community college, or technical school (Don't include high school unless you didn't attend college)
Location of the schools (city, state)
Date of graduation (month, year)
Degree(s)
GPA (only include GPA on your resume if you're writing a college graduate resume and your GPA is above 3.0. Round up to the first decimal place, and use this format: 3.5/4.0)
Additionally, include relevant coursework on your resume if you're a recent graduate and don't have much work experience yet.
Here are two examples demonstrating how to format your education section:
Example 1 (experienced candidate)

Example 2 (recent college graduate)

6. Highlight your relevant job skills
Hiring managers are on the lookout for candidates who have relevant, job-specific skills. While listing a heap of skills on your resume doesn't actually prove you're skilled, incorporating your various skills into different sections will catch the eye of whoever is vetting your application.
For instance, you can showcase your hard and soft skills in your introduction and work experience section. And of course, you should also list your most valuable abilities (particularly any software or technical skills you have) in your resume's skills section.
Hard vs. soft skills: what's the difference?
Here's the difference between hard skills and soft skills:
Hard skills
Hard skills are quantifiable, job-specific abilities learned through education, training, or on-the-job experience. Language skills, computer skills, and being able to operate heavy machinery all count as types of hard skills.
Here's a list of 24 popular hard skills to put on your resume:
24 Hard Skills for Resumes
| | |
| --- | --- |
| Accounting Tools (SAP, Oracle, etc.) | SEO & SEM |
| HTML / CSS | UX / UI Design |
| Bookkeeping | Java Development |
| Business Intelligence | Mac, Linux, and Unix Systems |
| Perl / Python / Ruby | Vulnerability Analysis |
| Content Management Systems (CMS) | Data Engineering and Data Warehousing |
| Adobe Creative Suite | Database Management and Software |
| Cloud Apps (JSON, Rest, etc.) | Automotive Services |
| Statistical Analysis and Data Mining | Public Speaking |
| Foreign Languages | Software Development |
| Software QA and User Testing | Data Presentation |
| Web Architecture | Technical Reporting |
Soft skills
Soft skills, on the other hand, are character traits that positively impact how you work and interact with other people. These are usually natural abilities that can't easily be taught in a classroom.
Skills like being a team player, being driven to succeed, or having a great attitude all fall under the umbrella of soft skills.
Below is a table of 24 soft skills that employers are on the lookout for:
24 Soft Skills for Resumes
| | |
| --- | --- |
| Organization | Self-motivation |
| Discipline | Responsibility |
| Logical reasoning | Open-mindedness |
| Persistence | Decision making |
| Initiative | Integrity |
| Commitment | Professionalism |
| Teamwork | Time Management |
| Empathy | Stress management |
| Patience | Cultural intelligence |
| Diplomacy | Trust |
| Focus | Versatility |
| Self-starter | Critical observation |
Technical skills
Some careers, such as those in the IT or engineering fields, require specialized technical skills.
Across the tech industry, the skills you need to succeed will differ from company to company. A technical skills section is helpful in showcasing your knowledge of certain systems, so that employers at a specific company can determine if you're qualified (or not) for the job.
To prevent this section from taking up too much space, try breaking it up into categories and listing your skills within each. For example:
• Software: Proficient in Microsoft Office Suite, Visio, and Oracle

• Programming Languages: Excel at HTML, C++, and Python
Here's an example of how a Java developer organized their long list of technical skills:
Creating a resume skills section
The skills section is an essential part of your resume. However, there are several different ways to approach creating yours.
Here are a few examples demonstrating the different ways you can format your resume's skills section:
Example 1 (standard skills section)
If you have many relevant hard and soft skills, add them to your resume skills section using separate bullet points, like this:
If you're a student or recent graduate and have no significant job skills yet, there are still plenty of things you can list in your resume skills section. Here's an example of a skills section written by a candidate with no work experience:
Example 2 (skill bars)
Another way to organize your skills section is by using bars to provide employers a rough estimate of your proficiency.
This type of skills section is particularly popular with more creative professions, like graphic design or social media management: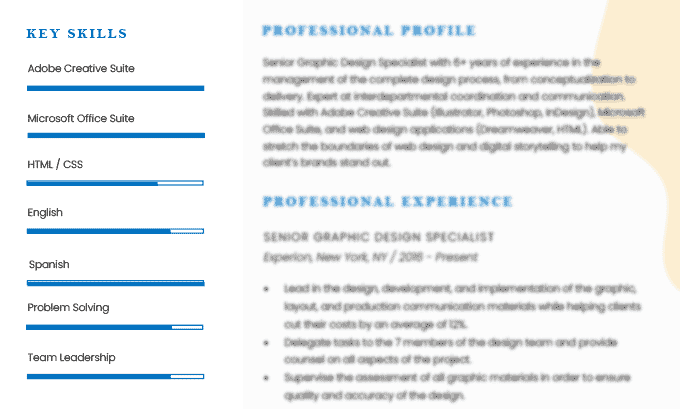 7. Tie in key certifications, awards, & honors
By now you've already added the basic essentials to your resume. Below are a few sections you can add (if possible) to help strengthen it.
Certifications/licenses
Certifications and licenses are vital to list for some jobs and unimportant for others. For example, nursing has strict licensing requirements while customer service does not.
Just make sure you know which licenses and certifications to include in your resume before you send it off (if any), because leaving them out could ruin your application by making you seem unqualified.
If you work in a job where certifications are important, consider adding a dedicated "Certifications" section to your resume, like so: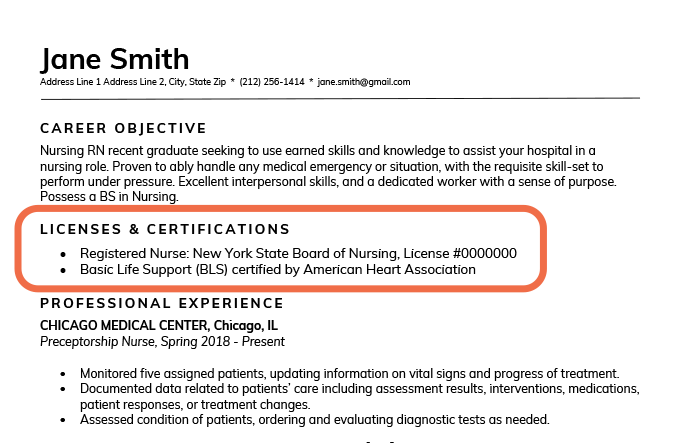 Publications
Adding a publications section to your resume is important for graduate students (if published), academics, and authors because it lets them highlight major examples of their work.
If you're a published academic, list your articles in reverse chronological order by publishing date. And make sure you choose the referencing style that is appropriate to your discipline.
It's also acceptable to add works that have yet to be published. You may label these as "Works in Progress" or "Submitted for Publication."
Here's an example of how to list publications on your resume or academic CV:

Awards/honors/activities
If you've received awards or honors, either through your job or during college, your resume is a great place to show them off. Adding accomplishments and relevant awards on a resume helps you stand out from your competition by showing that you're a reliable, dedicated job seeker.
Here are some awards that you should consider including on your resume:
Grants
Academic honors
Scholarships
Volunteer positions
Professional affiliations
If you have the extra space on your resume, consider adding a dedicated section to highlight your awards, like this:
8. Pick the ideal resume layout
The hard part is over. You've written your resume, and are feeling confident about getting that interview. Now it's time to take a moment and consider your resume's design.
Depending on the industry you work in or the job you want, you may need to adjust your resume layout to fit the expectations of the hiring manager.
Formal resume layout
When it comes to resumes, newer isn't always better. If you work in a highly formal industry like law, finance, accounting, or politics, your resume should stick to a traditional, no-nonsense design.
Using classic serif fonts like Times New Roman or Georgia, simple lines, and dark, printer-friendly colors like navy blue are all great ways to make your resume's layout neat and professional.
Here's an example of an account executive resume that uses a highly formal layout:
Creative resume layout
If you work in a field like graphic design, photography, or social media management, it's important that your resume communicates some of your creative talents. That's where a creative resume layout comes in.
Adding splashes of colors, background art, skill bars, or icons are all great ways to make your resume stand out and better grab the attention of employers.
However, don't add too many style elements. Your resume should still be mostly text-based, and highlight all of your qualifications in a clear, easy-to-read way.
Here's an example of a graphic designer resume that manages to balance substance and style with a perfect creative resume layout:
Resume formatting rules
When putting your resume together, there are some essential resume formatting rules to ensure that it's easy to read, easy to print, and looks professional:
How many pages should a resume be?
The short answer is that one page is the ideal resume length for most candidates. However, if you have a lot of relevant work experience, it can be two or even three pages.
Just note that unless you're applying for an upper-management position or an academic post, one page will be enough for hiring managers. Even Elon Musk's resume (if he had to make one) could be tightened into one page.
What's the best font and font size for a resume?
Certain resume fonts are best suited for particular industries. There are general broad do's and don'ts when it comes to choosing your font and sizes:
Choose easy-to-read fonts.
Use the same font throughout.
Change sizes in descending order for your name, headers, and bullet points.
Choose a font that fits with the text sizes you've chosen.
Don't choose small sizes to fit everything on one page.
Don't pick wacky fonts.
Don't have one uniform text size throughout.
Don't go below 9 pt.
For sizing, many resumes follow a 24, 12, 10 format. This means that the name is 24 pt, the body headers are 12 pt, and the bullet points are 10 pt. If you're not sure which font to choose for your resume, here are some popular font choices in both serif and sans serif styles:
| Serif Fonts | Sans Serif Fonts |
| --- | --- |
| Times New Roman | Calibri |
| Georgia | Tahoma |
| Bookman Old Style | Helvetica |
| Century Gothic | Arial |
What margins should a resume use?
One-inch margins are the standard for most job applicants.
However, if you have a lot of experience you need to fit on one page, then it's acceptable to reduce your resume's margins. Just don't go below .5", or your resume will look overcrowded.
9. Write a matching cover letter
Now that you know how to write your dream resume, you might be wondering: is a cover letter necessary? The answer is yes, always include a cover letter if you have the option.
Knowing how to write a good cover letter helps you round out every application you ever send out, and boosts your chances of landing an interview.
Cover letters are a valuable tool in your job-hunting arsenal because they give you an opportunity to provide context to your resume, show off your personality, and express enthusiasm for the job you're applying for.
Here's an example of what a resume paired with a matching cover letter might look like (always use a matching resume and cover letter template):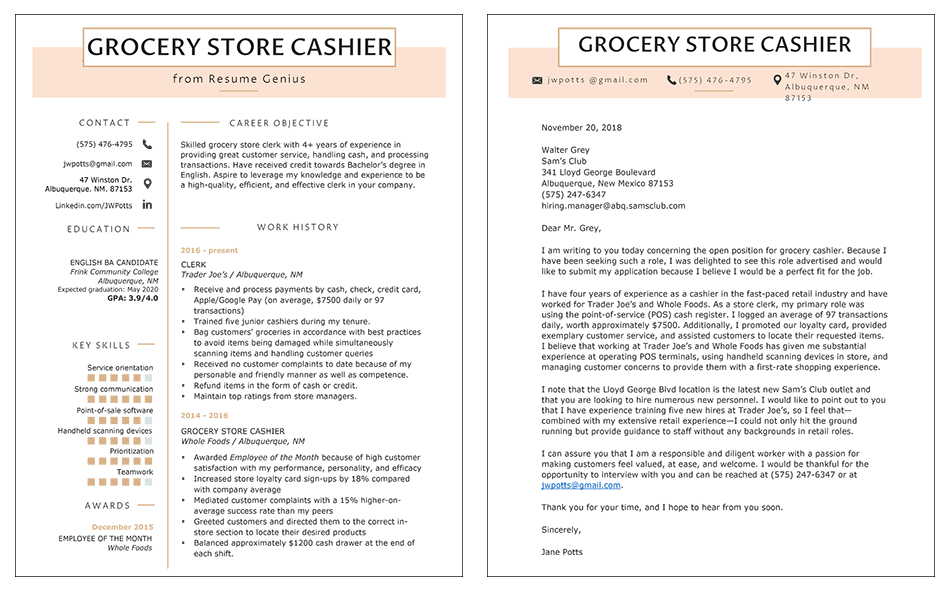 10. Proofread your resume and finish strong
Once you've written your resume and cover letter, you're in pretty good shape to send out that first application. However, you're not quite done yet.
The most important step before sending out any resume is to read it over and make sure that there are no issues (like spelling errors or formatting mistakes) that could get your application discarded.
To help make that process easier, here's a checklist you can go through to make sure your resume is looking spotless:
The Resume Genius Resume Checklist
Is your contact information accurate?
Does your resume NOT include details like headshots or sensitive personal information?
Does your resume fit on one page (or two pages if you're highly experienced)?
Is your information easy to read (fonts are above 10pt, sections don't look too crowded)?
Is the design of your resume appropriate for the position you're applying for?
Did you include all relevant sections on your resume?
Did you include quantified achievements in your work experience section?
Does your resume address the requirements stated in the job ad?
Is your resume free of typos and grammatical errors?
Is all of your information clearly formatted and professional?
Feel free to use our on-page checklist, or make a copy in Google Docs and begin reviewing your resume.
Edit and proofread (more than once)
Even if you're a Harvard-educated doctoral candidate or the state spelling bee champion, proofreading and editing your application documents can still save you from potentially embarrassing mistakes.
Read your resume and cover letter over several times yourself at different times of the day to be sure everything looks good. Something that sounded great the night before might not look as professional in the morning once the sun comes up and you're better rested.
Also, hand your application materials off to a friend or family member who can give them a read. If your friends and family struggle to read your resume and cover letter, it's a good sign that you may need to make some adjustments to ensure the hiring manager can.
Save your files (in multiple formats and multiple places)
Most hiring managers today prefer you send your resume in PDF format. However, some may request a .docx file. If you're beginning a lengthy job search, save your resume in both formats just to save time. Make sure to choose a professional and clear resume name.
You can also save copies on your computer, print off several for your own records, and even upload your documents to Google Drive. These precautions ensure that if anything suddenly happens to your computer, you won't have any problems accessing your resume when you need it.
Email your application
Now that you've got your resume looking polished and error-free, it's time to send it off.
Often, you'll need to email your resume and cover letter to employers. When sending your application over, make sure you include it along with a professional, courteous email to the hiring manager.
There are four keys to writing an email that gets attention from hiring managers for the right reasons:
Use the hiring manager's name. Avoid generic introductions like "To Whom It May Concern" and "Dear Sir or Madam", because they don't sound personable.
Make sure your email flows well and has no spelling or grammar errors. Re-read it yourself, and have a friend or family member take a look too.
Attach your application documents in the hiring manager's preferred format (use PDF if you're not sure).
Let them know you'd be happy to communicate via email, but give them a phone number to reach you at as well. Also, politely let the hiring manager know you'll be in touch after a week if you haven't heard from them by that point.
Additional Resume Writing Resources
In addition to our resume writing guide, we also have many other resources to help you build a competitive job application (no matter your industry or level of experience):
Resume Writing FAQs
If you still have some questions or concerns about writing your resume, here are a few commonly asked questions about resumes that we've answered in greater detail: