Our free-to-use resume builder can make you a resume in as little as 5 minutes. Just pick the template you want, and our software will format everything for you.
Should I format my resume as a PDF or Word document?
You should save your resume in whatever file format a company requests in the job description.
If they don't specify, then both .pdf and .docx are acceptable file formats.
However, many job seekers prefer to save their resumes in PDF format. That's because PDFs have the following benefits:
3 benefits of sending a resume pdf
You have complete control over the formatting. No one can go into your resume and change the layout.
More people can open your resume. Hiring managers with an out-of-date version of Microsoft Word may have issues opening your resume if it's saved as a .docx. But everyone can open a PDF.
Spellcheck underlining doesn't appear. Your resume may have red spellcheck underlining on it if it's saved as a Word Doc, even if there are no errors. However, saving your resume as a PDF file keeps the page looking clean.
But before you save your resume as a PDF, you need to know how to make a resume in Word or Google Docs. Once you've created your resume, you can then choose whether to save it as a Word document or PDF.
Resume PDF format templates
Using a resume template makes creating a professional application much easier and removes the need to worry about proper resume formatting. Check out good resume examples from your industry to get a better idea of what the finished product should look like.
You can choose your favorite template on our resume builder to create and download a resume in PDF format.
Here are ten of our favorite resume templates to give you a little inspiration:
1. Unique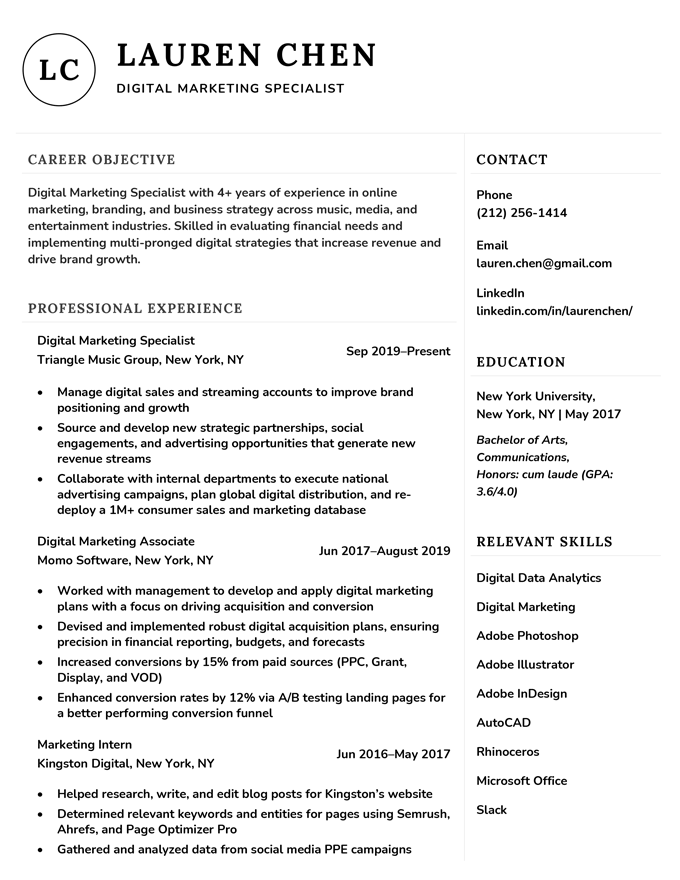 Our Unique resume template is designed for professionals with an eye for minimalistic sophistication. Its simplicity makes it a classic that will appeal to hiring managers across the board, and ensures that your qualifications are the focal point of your resume.
2. Photo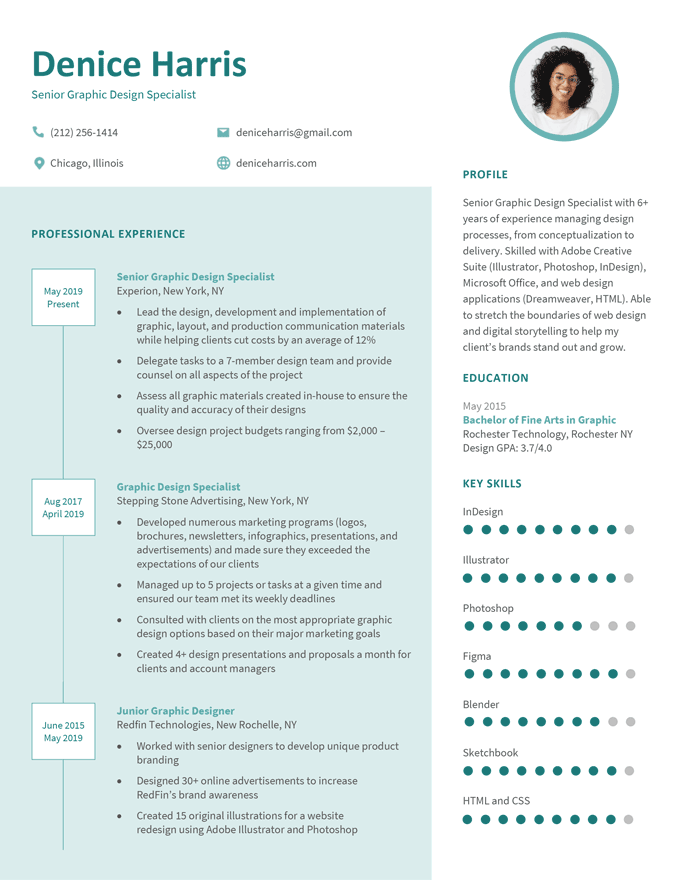 Normally when you write a resume you should avoid using photos. However, there are exceptions. The Photo resume template is ideal for candidates pursuing work in modern creative fields. It uses eye-catching colors to draw attention to and highlight your work experience section. The skill bar helps you effectively showcase your skill levels to employers looking for a more technical set of expertise.
It's not always recommended to include a resume picture like in the template above. Make sure to do your research before selecting a resume with a photo.
3. Everest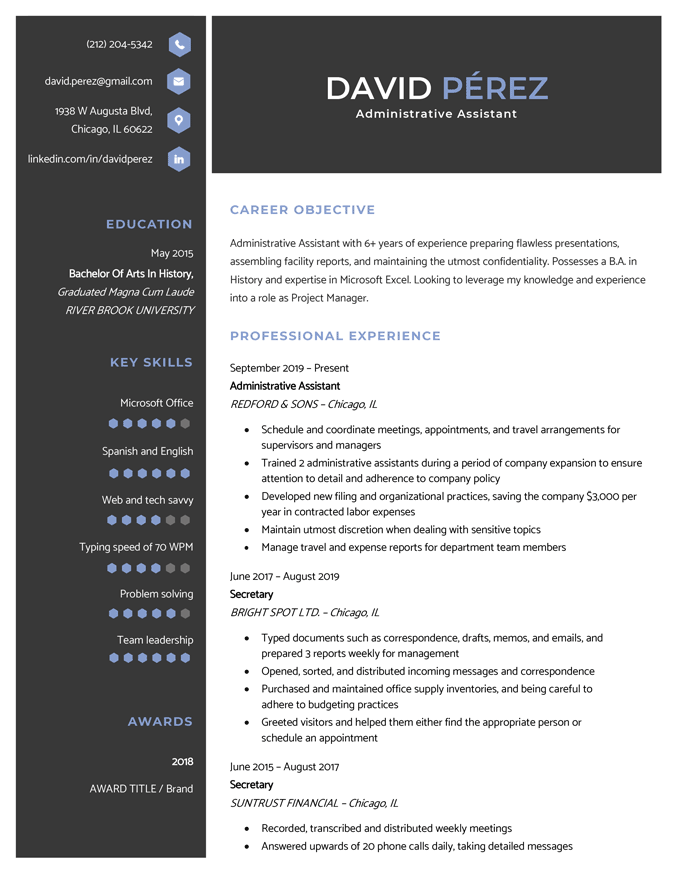 Made for confident candidates, the Everest resume template is both bold and professional. The combination of a strong header and sidebar with a stark light and dark contrast is sure to catch your hiring manager's attention and make your resume stand out from the rest.
4. Milano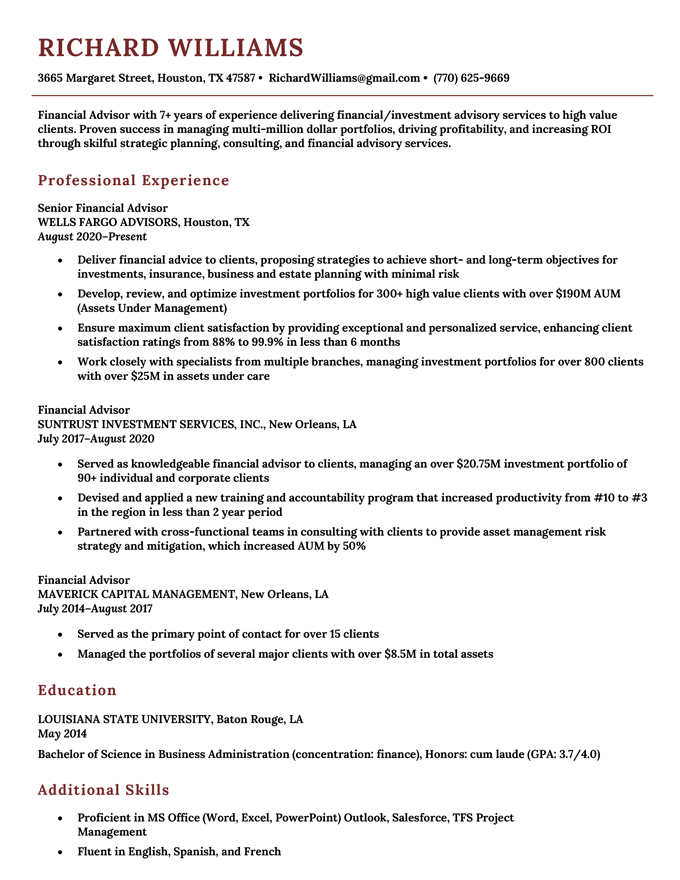 Sleek and sophisticated, our Milano resume template lets your qualifications do the talking. A straightforward top-to-bottom chronological layout makes it easy for hiring managers to scan, and leaves a lot of room for your professional accomplishments. If you're an experienced professional looking for a simple but effective resume template, Milano is for you.
5. New Age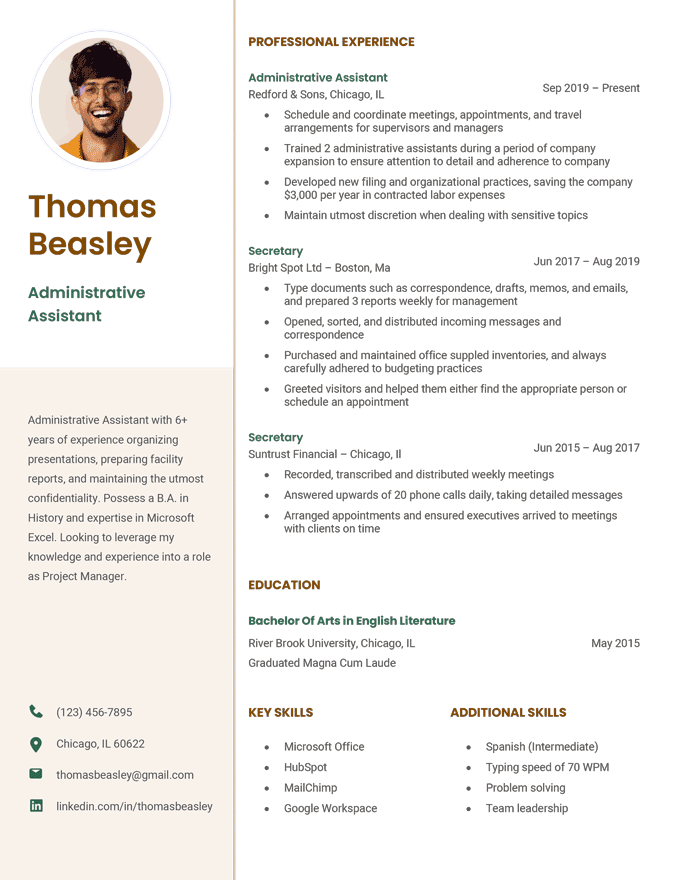 The New Age resume template uses a light color palette to add a modern twist to the traditional resume format, making it the perfect choice for creative professionals. The earthy tones of this resume create a unique aesthetic that will catch a hiring manager's eye. With a simple design, this template makes sure your professional achievements stand out.
6. Clean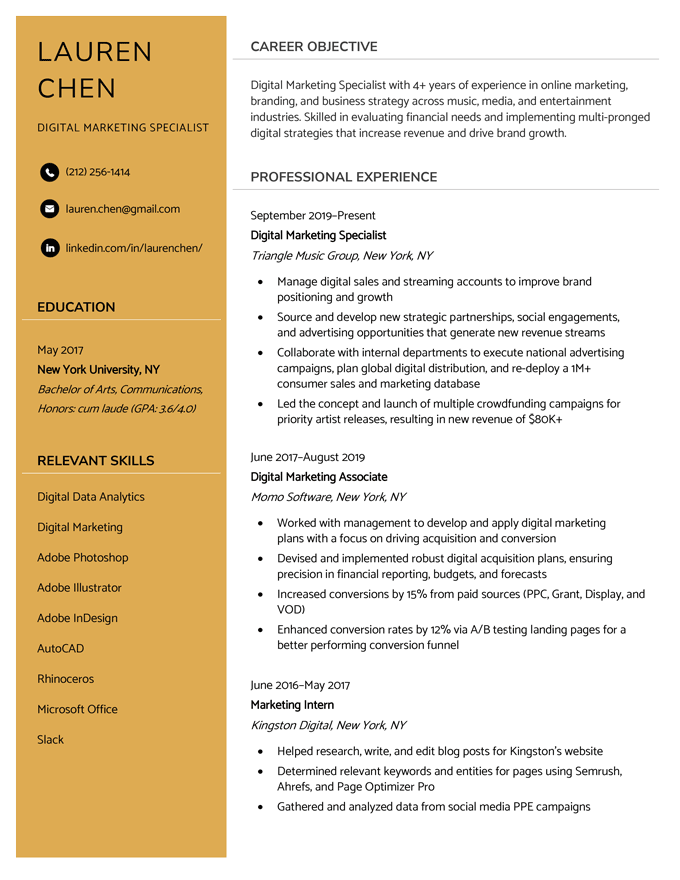 The Clean resume template was created for those who prefer a modern and crisp resume. Featuring a single-tone sidebar and simple formatting, the sections in this resume are clearly defined, making it easy for hiring managers to read.
7. 2023
The 2023 resume template offers a refined design paired with a simple two-column layout. The 2023 has an elegant appeal matched only by its professionalism. If you're looking for a resume template to impress future employers, the 2023 resume template has you covered.
8. Windsor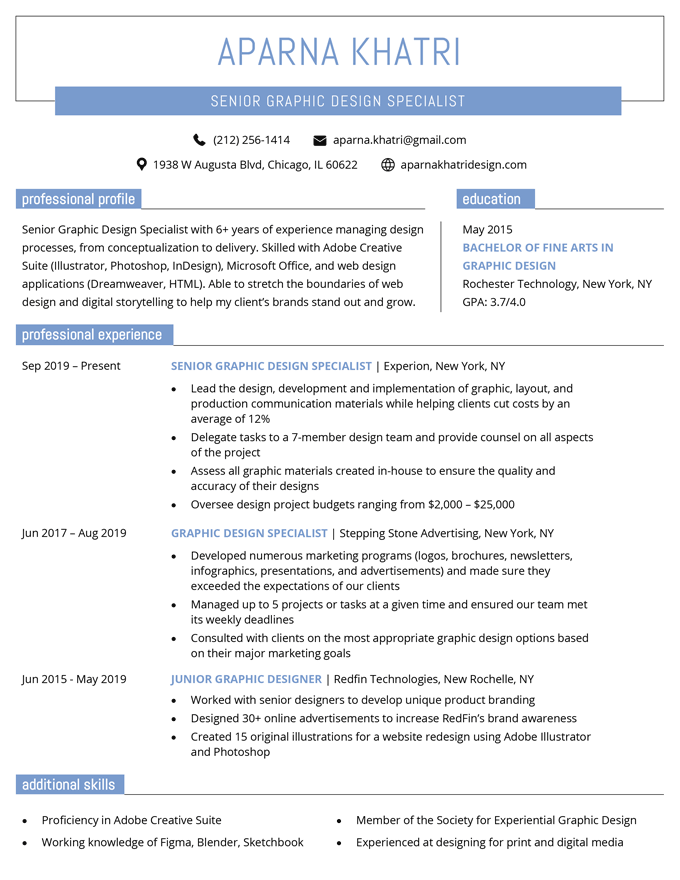 Stylish and understated, the Windsor resume template features a top-to-bottom layout that guides the eye and highlights all your professional accomplishments. A well-balanced resume, the Windsor makes an excellent choice for any professional.
9. Advanced
Ideal for professionals who need to showcase their skills, the Advanced resume template features skills at the top with colored skills bubbles designed to get your hiring manager's attention. This template can help candidates in technical industries like engineering stand out from the competition and impress employers.
10. Corporate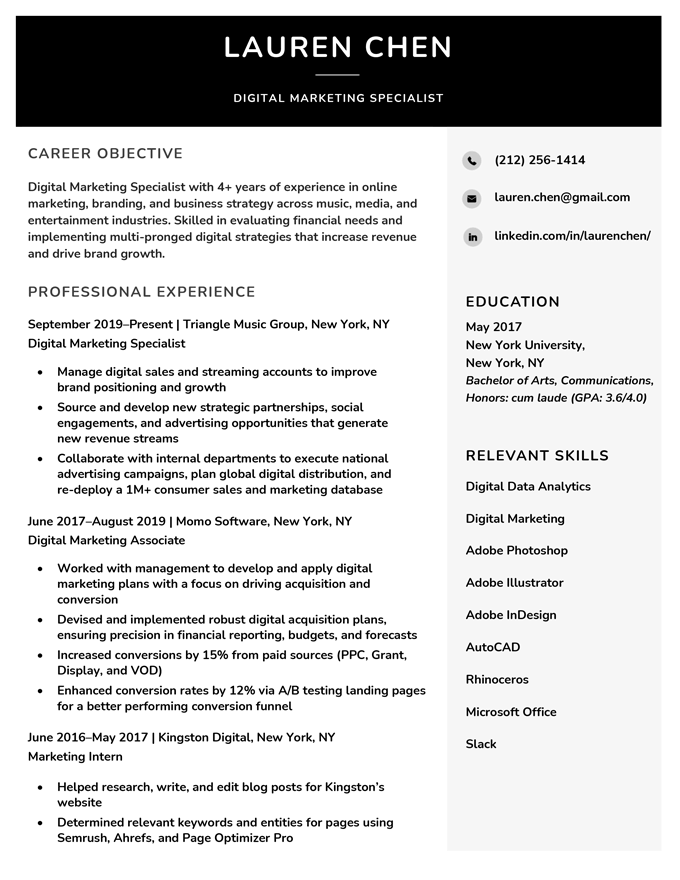 A versatile design that works well for any industry, our Corporate resume template offers a classic layout with a bold header. It's a confident and professional resume that makes it easy for recruiters to read about your professional qualifications.
How to make my resume in PDF format on Word & Google Docs
Now that you've seen some free templates, here's the quick and easy way to save your own resume as a PDF:
Converting a resume to PDF in Microsoft Word
If you're using Microsoft Word, here are four easy steps to save your resume as a PDF:
1. Click 'File', then select 'Save As'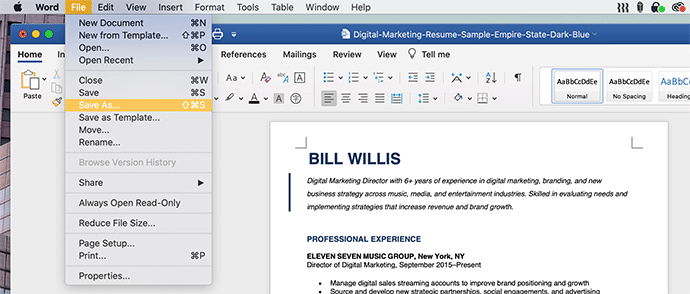 Go to the very top left-hand corner of your Word document, then click on 'File' to bring up the dropdown menu. Clicking on 'Save As' will bring up the option to change your resume file format.
2. Select 'File Format'
Click on the dropdown near the bottom of the box that should have appeared, and click either the up or down buttons on the right-hand side.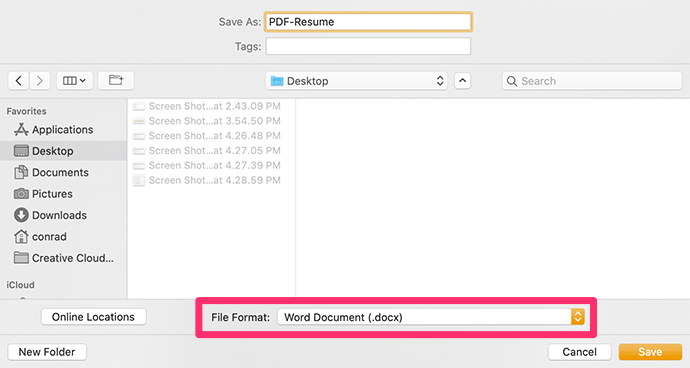 3. Select 'PDF'
Scroll down until you see 'PDF', and select it.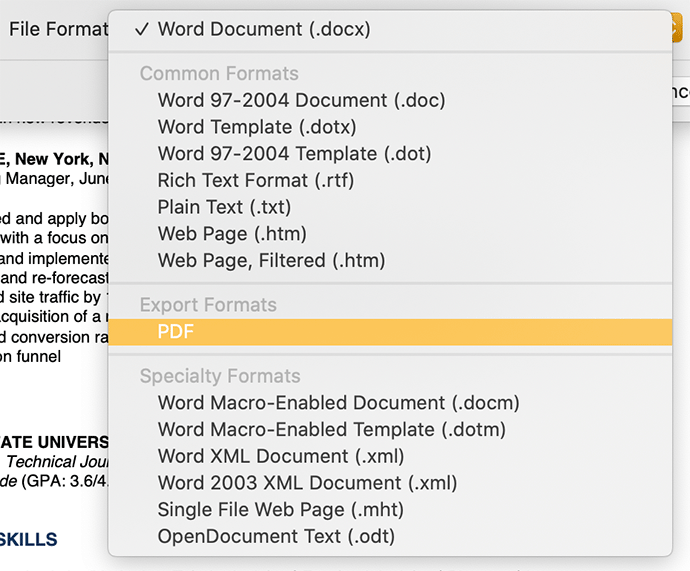 4. Click on 'Export'
Click 'Export' in the bottom right-hand corner to finish saving your resume as a PDF. Depending on how you plan on saving your resume, select either one of the two "Best for" options.
"Best for printing" is ideal if you plan on printing out physical copies of your resume. Meanwhile, "Best for electronic distribution" is better if you're sending your resume PDF via email because it maintains links, like one to your LinkedIn profile, so employers can easily access them.
However, both options are perfectly acceptable ways to save your resume.

This will create a PDF in the same folder as the original Word document.
Converting a resume to PDF in Google Docs
From Google Docs, here are three easy steps to save your resume as a PDF:
1. Select 'File' in the menu bar
2. Go to 'Print'
You can do this one of two ways:
Click on 'File' in the top left-hand corner of the document, then go to the bottom of the drop-down menu and choose 'Print', or
Click on the 'Print' icon in the top left-hand corner.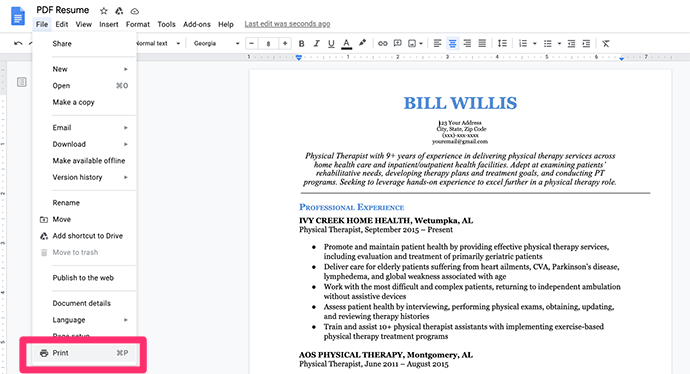 3. Click 'Save'
This will give you the option to save your Google Docs file as a PDF. Click 'Save' to download your PDF resume to your computer. When you save your resume, make sure to choose a professional resume name.