Combination resumes are a proven resume format across all industries because they highlight both your key skills and employment history.
Read on to learn how to create an excellent combination resume with our templates, examples, and HR-approved tips.
What is a combination resume?
A combination resume is a type of resume format that's designed for highly-trained job seekers with previous work experience. It's called "combination" because it combines the most notable features of both the functional resume format and the chronological resume.
Also referred to as a hybrid resume, the combination format features a detailed skills section that groups your skills into categories. Each category features bullet points underneath to illustrate examples of how you used this skill in practice (similar to a functional resume).
Additionally, a combination resume includes a chronological work experience section.
If this seems like a lot of information to include on one resume, that's because it is. Combination resumes are ideal for candidates who've developed a strong set of skills and have experience utilizing those skills.
Structure of a combination resume
Here's an example of what a combination resume looks like, with each section shaded with a different color: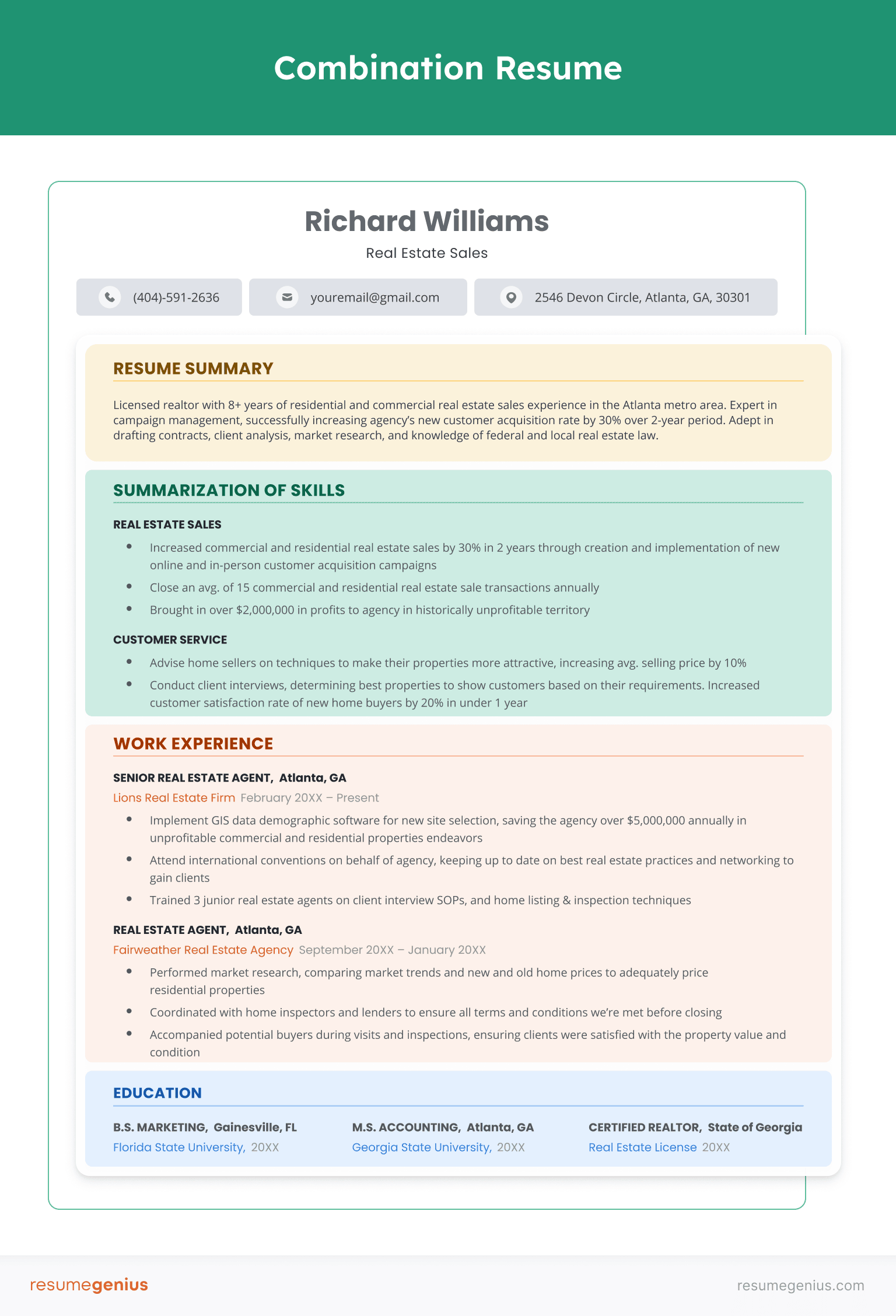 Our free-to-use resume builder can make you a resume in as little as 5 minutes. Just pick the template you want, and our software will format everything for you.
When to use a combination resume
You should use a combination resume in the following situations:
You're making a career change and want to emphasize your transferable skills
You have a specific, well-developed set of technical skills you want to highlight
You're a senior-level candidate with a diverse range of experience and skills
Combination resume template and examples
Now that you have an idea of how a combination resume should be structured, here's a template and some examples for reference:
Combination resume template
Here's a combination resume template that you can easily copy-and-paste into Microsoft Word and fill in with your own information:
1. Resume Heading
FIRST AND LAST NAME
Email: youremail@gmail.com | Phone: 908 775 555 | Address: 122 Samuel Johns Road, NY 17101 | Linkedin: linkedin.com/in/yourprofile
---
2. Resume Summary
Dedicated [industry] professional with [# of years] years of experience. Seeking to apply my skills in [relevant skills] to fill the [position name] position. A diligent worker looking to help achieve [Company's Name]'s goals of [company goals].
---
3. Relevant Skills
First Skill
Include a bulleted list of accomplishments related to this skill
Each bullet point should demonstrate your competency in this skill, using numbers if possible
Second Skill
List any accomplishments or responsibilities that demonstrate this skill
Be specific by mentioning the actual names of software or tools you've used
---
4. Work History
Most Recent Job Title
Employer Name / Location / Start Year – End Year
Make a bulleted list of your responsibilities and achievements
Unless this is your only job, stick to 3 to 5 bullet points
Add hard numbers (such as percentages or dollar amounts) to your bullet points to illustrate specific accomplishments
Earlier Job Title
Employer Name / Location / Start Year – End Year
List your relevant accomplishments from a job you held earlier
Use past tense verbs to describe your responsibilities and duties
---
5. Education
Degree Name / Major
University, Location | Start Date – End Date
---
6. Additional Resume Section
Here's where you should add extra relevant information such as certifications or hobbies
However, combination resumes dedicate a lot of space to your experience and skills, so it's likely you may not have room for another section on your resume
Example 1: realtor
Here's an example of a combination resume for an experienced realtor: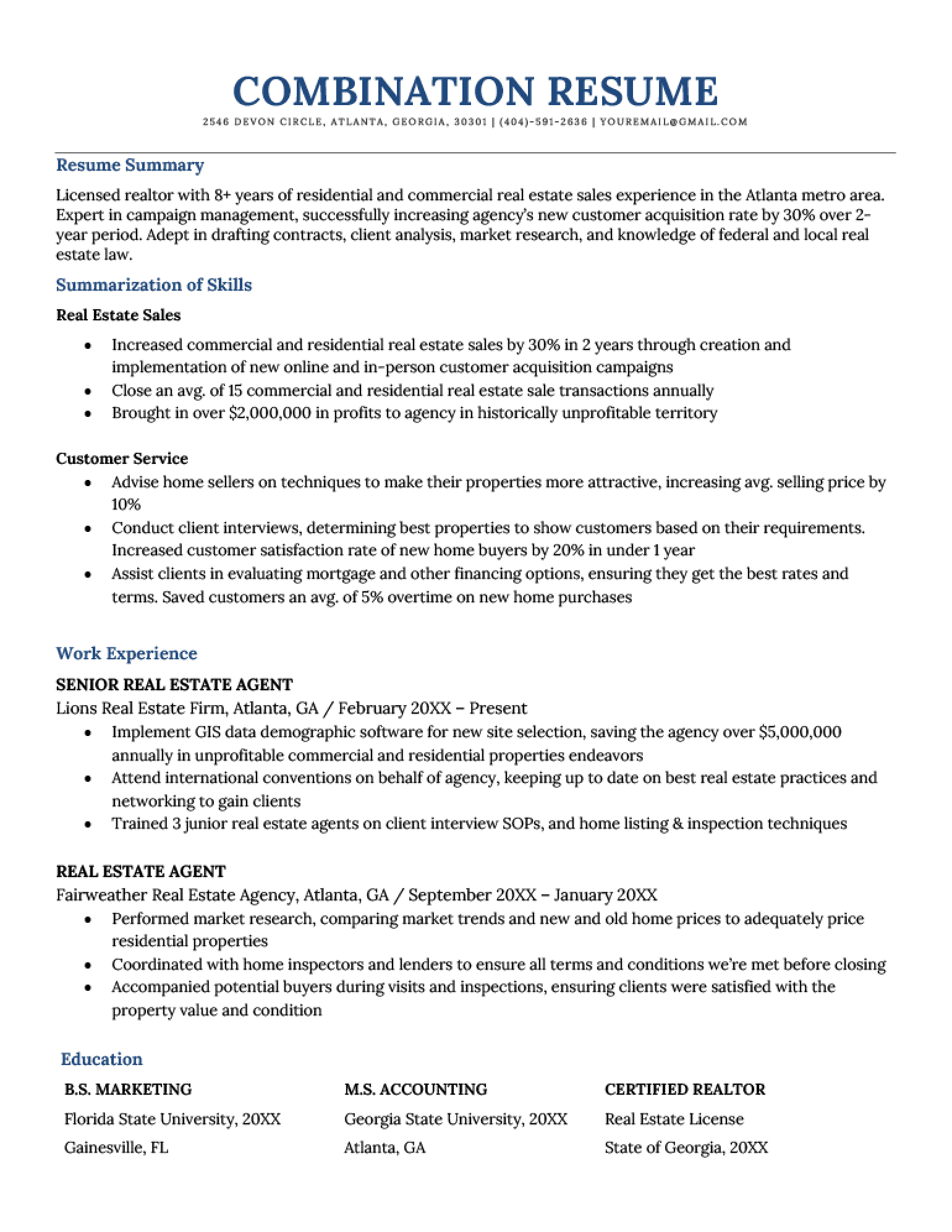 Download This Free Resume Example
Example 2: Java developer
Here's another example of a combination resume made by an experienced Java developer: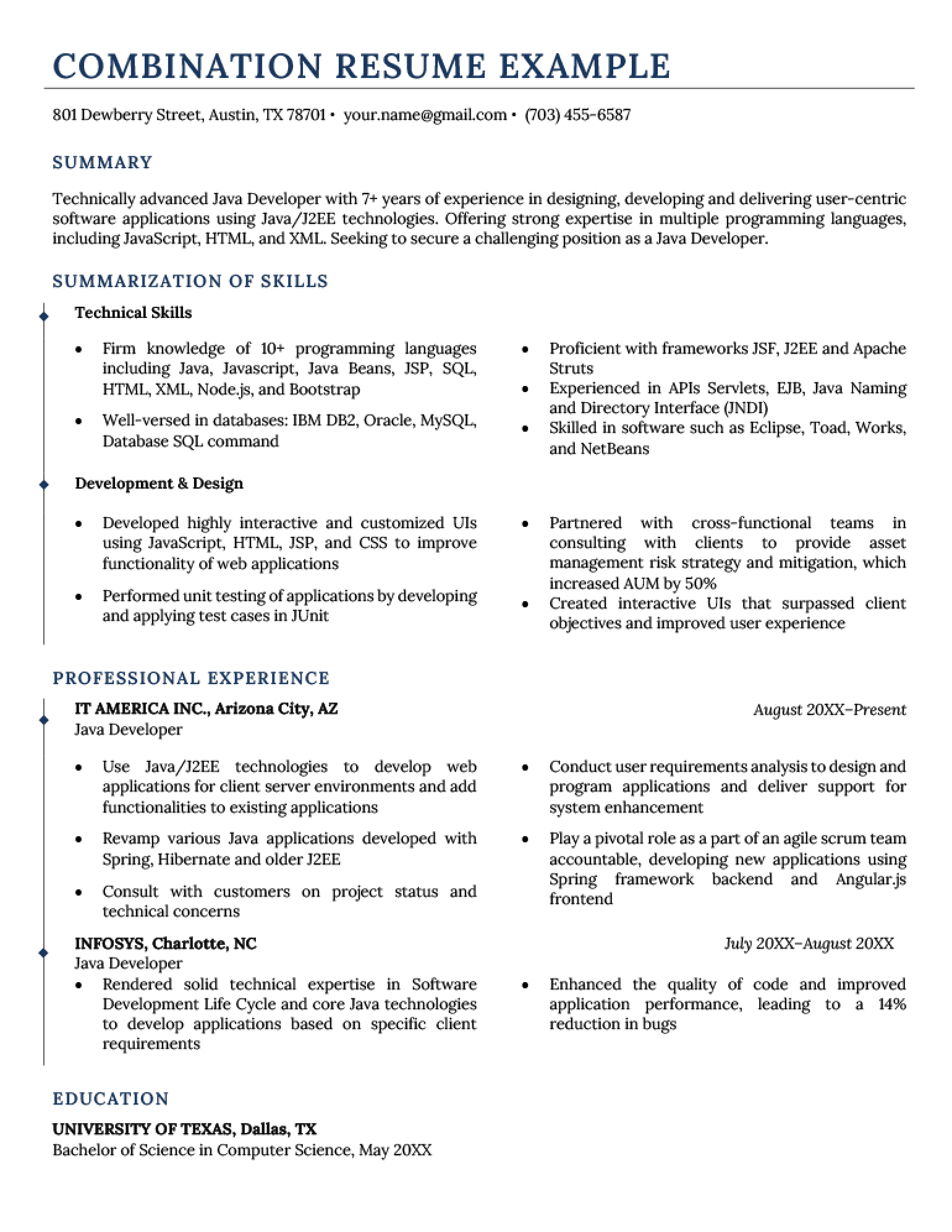 Download This Free Resume Example
How to write a combination resume
Need more guidance on how to write a resume that follows the combination format? Here's a step-by-step guide to writing your own combination resume:
1. List your contact information
Include the following information at the top of your resume so employers can easily contact you:
First and last name
Professional email address
Phone number
Additionally, consider listing your LinkedIn profile and address on your resume. These details are helpful for providing employers with more information about you, but are optional.
2. Add a resume summary
A combination resume needs to begin by emphasizing your relevant skills and accomplishments.
Starting with an achievement-based resume summary is the best way to start your resume off and show employers that you're capable of doing the job.
Additionally, a resume summary is easy to adjust and target for each position, making it a great choice if you're seeking employment at one or two places in particular or are applying to jobs that require different skillsets.
3. Group your skills by category
Combination resumes put a greater emphasis on your skills than a traditional chronological resume. As a result, your resume skills section should be listed before your experience section, and is structured differently.
When writing the skills section of a combination resume, choose two or three broader skills (such as team leadership or software development) that are directly relevant to the job you want. Underneath each skill, write three or four bullet points that illustrate your competency in this skill.
However, your skills section and your experience section should share equal space on your resume, so be sure to keep your bullet points concise.
Here's an example of a properly formatted skills section on a combination resume:
Combination resume skills section
Technical Skills
Firm knowledge of 10+ programming languages including Java, Javascript, Java Beans, JSP, SQL, HTML, XML, Node.js, and Bootstrap
Well-versed in databases: IBM DB2, Oracle, MySQL, Database SQL command • Proficient with frameworks JSF, J2EE and Apache Struts
Experienced in APIs Servlets, EJB, Java Naming and Directory Interface (JNDI)
Skilled in software such as Eclipse, Toad, Works, and NetBeans
Development & Design
Developed highly interactive and customized UIs using JavaScript, HTML, JSP, and CSS to improve functionality of web applications
Performed unit testing of applications by developing and applying test cases in JUnit • Partnered with cross-functional teams in consulting with clients to provide asset management risk strategy and mitigation, which increased AUM by 50%
Created interactive UIs that surpassed client objectives and improved user experience
4. Detail your professional experience (with bullet points)
The experience section on your combination resume should look similar to a chronological resume work experience section, but a bit shorter.
Whereas a chronological resume includes three to four (if you're highly experienced) past positions, a combination resume should only feature your two most relevant positions to save space and keep your resume laser-focused.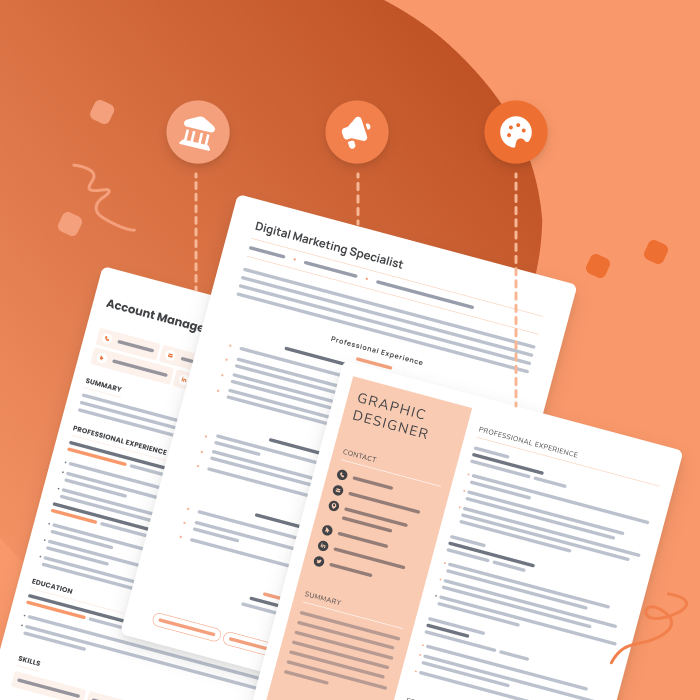 Not sure what your resume should look like? The best way to learn is by taking inspiration from resume examples written by other candidates in your industry.
Regardless of relevance, list your most recent job at the top of this section. Underneath each job, write two to four bullet points detailing some of your key duties and accomplishments.
Like your skills section, you should add numbers wherever possible to illustrate the impact you made at your previous job. This could include dollar amounts, time saved, or percentages.
Here's an example of a well-written experience section on a combination resume:
Combination resume experience section
IT AMERICA INC., Arizona City, AZ
Java Developer | August 2018–Present
Use Java/J2EE technologies to develop web applications for client server environments and add functionalities to existing applications
Revamp various Java applications developed with Spring, Hibernate and older J2EE
Consult with customers on project status and technical concerns • Conduct user requirements analysis to design and program applications and deliver support for system enhancement
Play a pivotal role as a part of an agile scrum team accountable, developing new applications using Spring framework backend and Angular.js frontend
INFOSYS, Charlotte, NC
Java Developer | July 2014–August 2018
Rendered solid technical expertise in Software Development Life Cycle and core Java technologies to develop applications based on specific client requirements
Enhanced the quality of code and improved application performance, leading to a 14% reduction in bugs
5. Note your education history
If you're writing a combination resume, you likely already have an established career and don't need to focus on your education history because it's the least relevant part of your qualifications.
That means the education section of your resume should be as brief as possible and take up minimal space.
Simply include your highest degree, school name, and graduation year. That's it.
If you had a very strong GPA or received impressive Latin honors, you can also include these details. However, you should only do this if you have extra space on your resume, because your key selling points are your skills and work history.
Here's an example of how to format the education section of a combination resume:
Combination resume education section
UNIVERSITY OF TEXAS, Dallas, TX
Bachelor of Science in Computer Science, May 2014