Many job seekers and students are eventually asked to provide a CV when applying for a job. But it's hard to know exactly what someone means by "CV" because it has different definitions in different contexts.
We've got all of your CV needs covered. Learn what CV stands for, get a more thorough definition of what a CV is, check out some CV examples, and find out what to include on your own CV.
Our free-to-use cv builder can make you a cv in as little as 5 minutes. Just pick the template you want, and our software will format everything for you.
What does CV stand for?
CV stands for curriculum vitae, which is Latin for "course of life". A curriculum vitae is a document that gives a detailed overview of your academic and professional experience. Your CV should be continuously updated throughout your life as your experience grows.
Depending on the field and location of the position you're applying for, The meaning of "CV" may change slightly.
CV definition in the US
In the US and Canada, a CV is a document used by college professors, graduate students, and scientists to showcase their professional accomplishments and publications.
Sometimes called an academic CV, this variant of a CV also outlines your profession-specific skills, work and teaching experience, and educational background for employers in academia and fields like medicine and research.
CV definition outside the US
In the UK, Europe, and New Zealand, a CV is used to apply for a job instead of a resume. So, if you're looking for examples of how to write a French resume, for example, remember you'll get better search results if you look for a "French CV" instead. This applies to any European country as well as the UK, New Zealand, and even South America, so do your due diligence.
A CV summarizes your entire work history including your academic background and professional skills. This type of CV is typically two pages long and is used to apply for any type of job.
How CVs differ from resumes
CVs and resumes are different documents used to apply for open positions in different situations.
In the US, resumes are used to apply for most jobs, while CVs are used to apply for academic, research, and medical jobs. Here are some key differences between resumes and CVs:
| US Resume | US CV (Academic) |
| --- | --- |
| One page long in most cases | No page limit |
| Directly targets a job | Less tailored to the job |
| Standard resume sections | Additional sections like "publications" and "conferences" |
| Used for the vast majority of jobs | Used for academic, medical, and research roles |
European CVs include a lot of the same information as an American resume, but also differ in some ways:
| US resume | European/UK CV (for jobs) |
| --- | --- |
| One page long in most cases | Two pages long in most cases |
| Highest degree listed | All academic qualifications listed |
| No "hobbies and interests" listed | Dedicated hobbies and interests section common |
| No headshot | Headshot common (except in UK & Ireland) |
| Includes only relevant jobs | Includes all jobs |
What is a CV for a job?
If you've written a resume but the employer is asking for a CV, don't panic. In some situations, the words "CV" and "resume" mean the same thing in the US.
If an employer asks you for a CV, it's important to understand the context so you know what type of document they expect. Here are the meanings of "CV" in various situations:
Medical CV: a longer CV that demonstrates all of your relevant degrees, licenses, and experience (both in residency and as a certified professional).
Academic CV: An academic CV used to apply for positions in academia like research roles or professorships where you need to showcase your publications, presentations, fellowships, and other relevant information. There is no CV length limit when applying for a job in academia.
International CV: the standard document for job applications instead of resumes. Atlhough these two documents contain much of the same information, make sure you understand the UK-style CV formatting British employers are used to.
Research CV: A CV that follows certain formatting depending on the field, and often extends for multiple pages. Use a multipage CV if your research experience is extensive and important to the school or company you're applying to.
If you're unsure what document is appropriate for your job application, check what the job ad asks you to submit.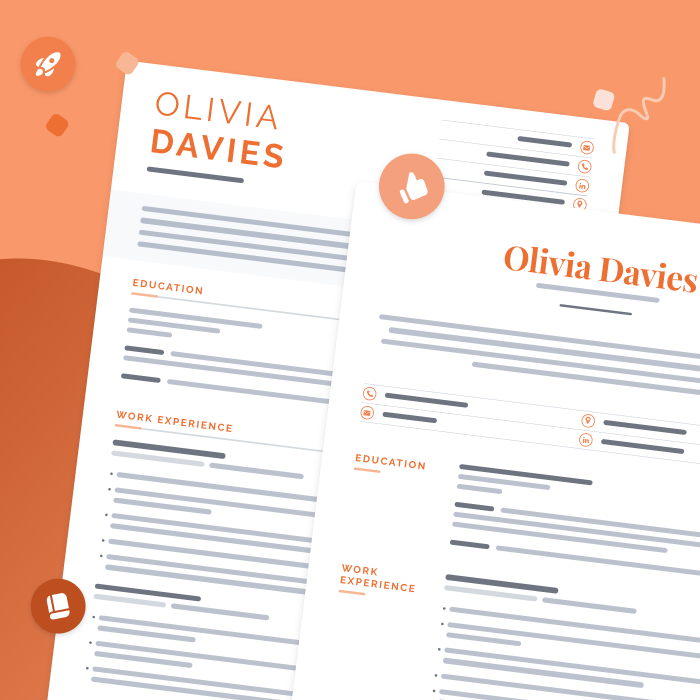 Need to make a CV? The best way to start is by downloading one of our free CV templates and filling it in with your information.
2 professional CV examples
Making a CV for the first time or entering a new industry? Here are a couple of helpful CV examples to show you what yours should look like.
Academic CV sample
Here's an academic CV example for a Ph.D. student from Harvard: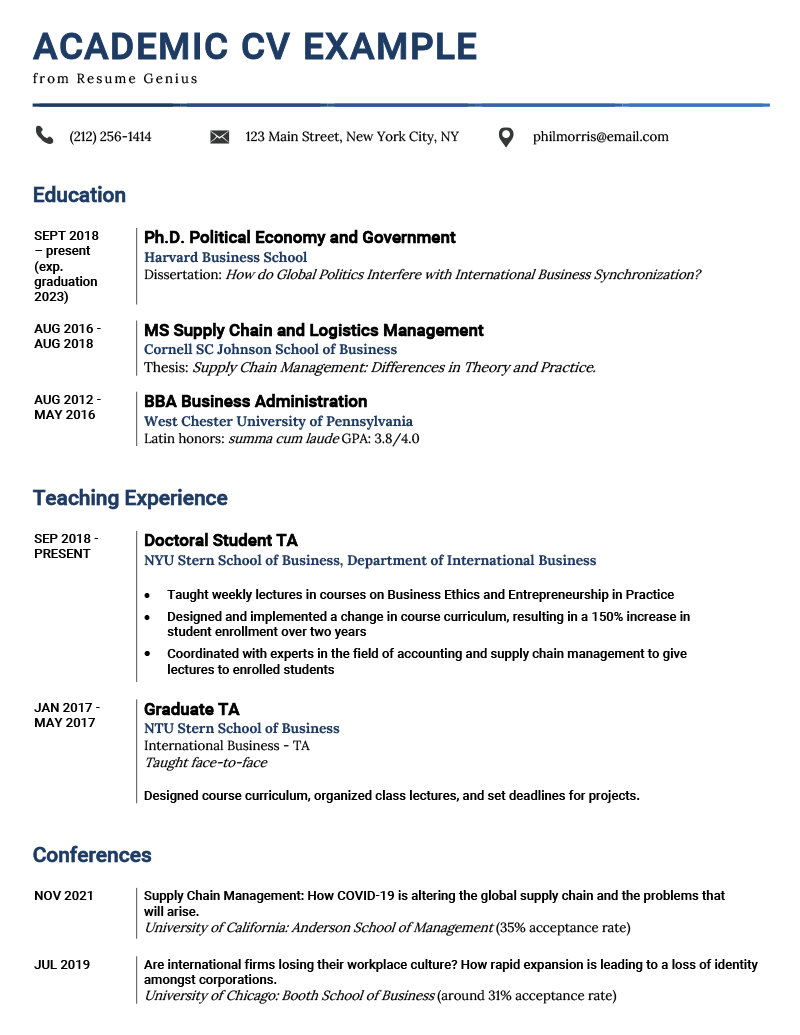 Download CV Template for Microsoft Word
You should put your strongest sections first. For example, this CV includes education details at the top, followed by teaching experience so it's likely this applicant is seeking teaching roles that correspond to their educational background.
What to include on an academic CV
Once you've covered the basics (education, relevant work experience, and updated contact info), showcase your academic background by making sure you know what to include on your CV.
Depending on your experience and preferences, consider adding the following sections to your academic CV:
Presentations
Classes taught
Grants
Research
Conferences
Dissertations
Sabbaticals
Because CVs aren't limited to one page, add as much relevant information as you need to represent your academic career.
To give you a better understanding of what an effective academic CV looks like, our Career Expert Corissa provides helpful steps for you to follow in this video:
Jobseeker CV sample
Below is an example of a CV for a nurse practitioner that you can look at to get ideas as you write your own application document.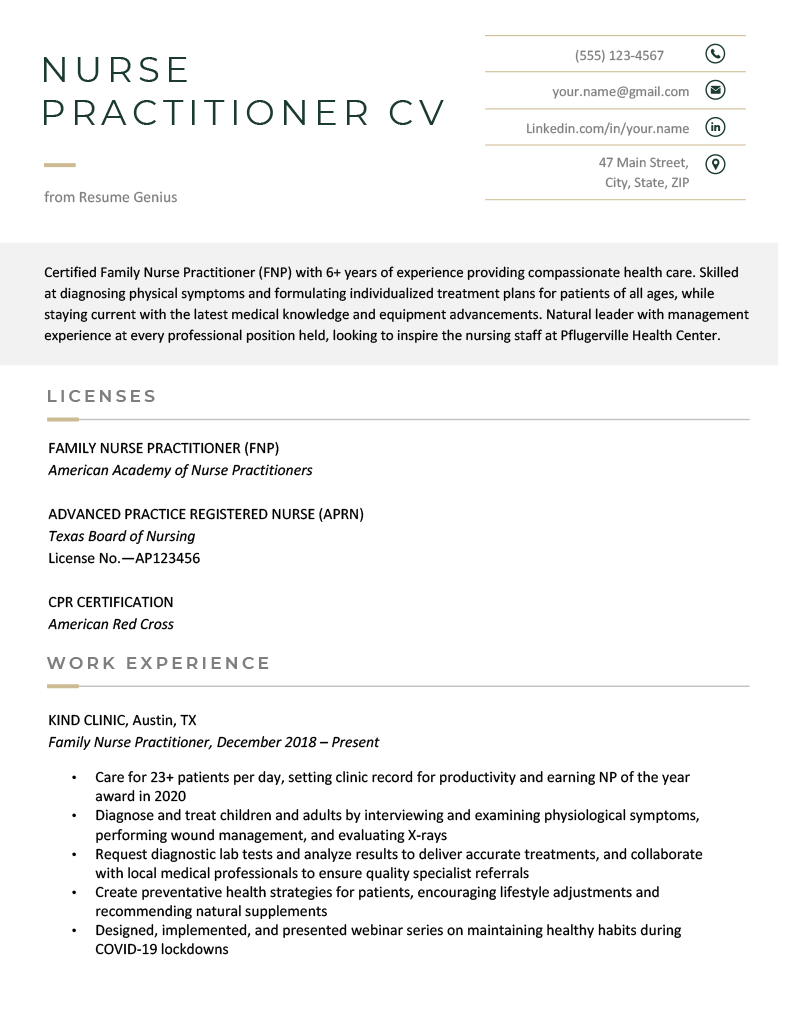 Download CV Template for Microsoft Word
This CV template uses a similar format to a US-style resume and is appropriate for entry-level to mid-career jobseekers.
What to include on a CV for a job
Although CVs have no page limit, don't add too many details when writing your CV. Otherwise, the hiring manager could miss what makes you a great applicant.
Think about what you'd like to highlight on your CV. Which of your achievements and qualifications will stand out to employers? These details should be the focus of your CV, and placed higher up on the page based on importance.
A jobseeker CV should always contain the following sections:
When you start writing your CV, consider what information is most relevant to the position you're applying for, and look at industry-based CV examples for guidance if you're unsure what sections to include.