Whether you're writing an academic CV or a Europass CV for a job in Europe, adding references to your CV can boost your credibility. 
Providing potential employers with first hand accounts of your capabilities, references add weight to your application, making you a stronger candidate in the eyes of prospective employers.
However, there's a right and a wrong way to add references to your CV. Keep reading to learn the difference before you write your CV.
Our free-to-use cv builder can make you a cv in as little as 5 minutes. Just pick the template you want, and our software will format everything for you.
What are CV references?
CV references are a list of people who can vouch for your professional skills and qualifications.
While your CV gives employers information about your previous job duties and achievements, it doesn't tell them much about your work style or personality. As a result, many employers ask for references because they help provide a clearer picture of who you are as an employee. 
CV references example
To give you a better idea of what a references section on a CV should look like, here's an example of a properly formatted CV references section: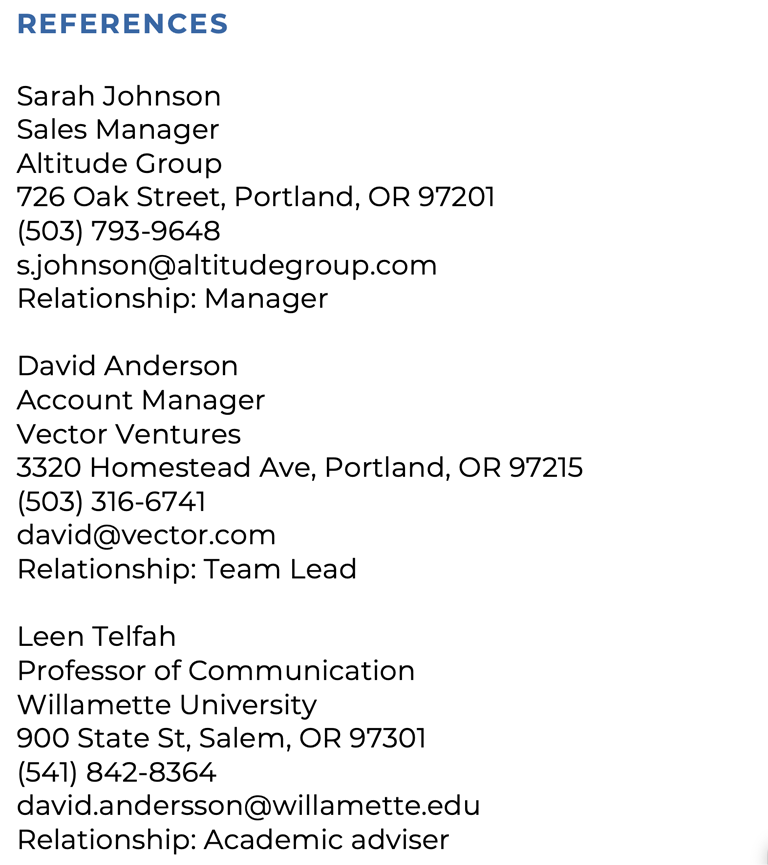 Should I include references on my CV?
Yes, you should include references on your CV if the employer requests it. Otherwise, it's better to use that extra room to draw attention to more of your accomplishments. 
Depending on the kind of CV you're writing, the recommended CV length could be as little as one page, so you don't want to waste space on references if the employer doesn't need them at this stage. Make sure you know what other information to include in your CV before adding references. 
When shouldn't I put references on my CV?
You shouldn't put references on your CV if the employer doesn't ask for them. Wait for them to ask for it before providing your list of references. 
You also don't need to include a sentence at the bottom of your CV saying "References available upon request." The employer will expect candidates to be able to provide references, so there's no need to state that you're willing to provide it. 
CV references format
When putting your references together, include the following information:
Full name

Title

Company or university name

Company or university address

Phone number

Email address

Relationship with reference
Who to list as a reference
When deciding who to ask to provide a reference for you, it's best to choose people who know you and your work well. They'll be able to provide a better, more detailed reference than someone who isn't as familiar with your work.
Ideal references are people who can speak positively about your qualifications and performance. Some examples of people to ask are:
Professors

Managers

Supervisors

Colleagues

Academic advisors

Clients
Remember to only ask connections who've had a positive experience working with you. If you ever had a conflict with an old manager or professor, even if you resolved it, consider asking someone else. You don't want your new potential employer to call up one of the people on your list and have them provide a less-than-stellar reference.
How to ask for a reference
Obtaining permission from your references before you share their contact information with employers is considered good etiquette, so always ask before adding them to your CV reference list.
Not only is it the respectful thing to do, but it will also give them time to prepare. If it's someone you haven't worked with for a while, they might need a few days to refresh their memory and come up with a list of examples that showcase your top skills and achievements. 
They also might not check their emails every day, so it's best to send your request at least a week before you plan on submitting your application.
As for the content of your reference request email, here's a template for you to copy and paste:
CV references request template
Subject: Reference Request – [Your Name]
Dear [Reference's Name],
I hope this email finds you well. I'm reaching out to ask for your support as I'm applying for [role] at [company]. I value the time we spent working together, and I believe your endorsement would add significant credibility to my application.
If you would be willing to speak about my [relevant skills, accomplishments, work ethic, etc] and share your perspective on our [professional/academic] relationship, I would be very grateful.
If you have any questions or need further information, please don't hesitate to ask. 
Warm regards,
[Your Name]