Preparing for a move to Europe? Before you start applying for work in your soon-to-be new home, you'll need a CV that follows the resume format European employers expect to see. This is where the Europass CV comes in.
Below, we explain what a Europass CV is and walk you through how to write one.
What is a Europass CV?
The Europass CV is a format created by the European Union in an effort to standardize job application documents in Europe. The purpose of the Europass CV is to make it easier for job seekers to apply for jobs across the region by providing a structured template that allows applicants to clearly present their qualifications.
Europass CV template
The European External Access Service (the diplomatic service of the EU) has this template available for download on their website: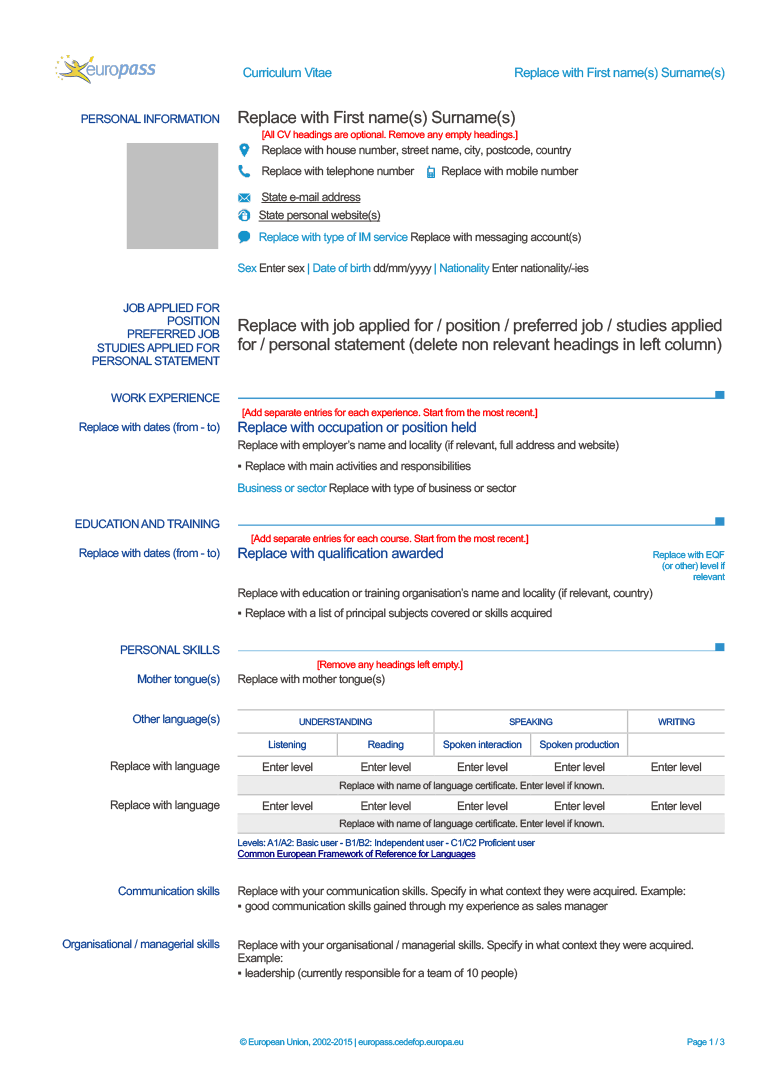 Europass CV example
Below is a Europass CV example to show you what your finished Europass CV might look like:
How to create a Europass CV
The Europass CV can be created and updated online using the Europass platform, or downloaded as a template to be filled in manually.
If you choose to create it using the Europass platform, you'll first need to create a profile at europa.eu. You can also opt for making a Europass CV without logging in, but then you won't be able to save it and continue working on it later.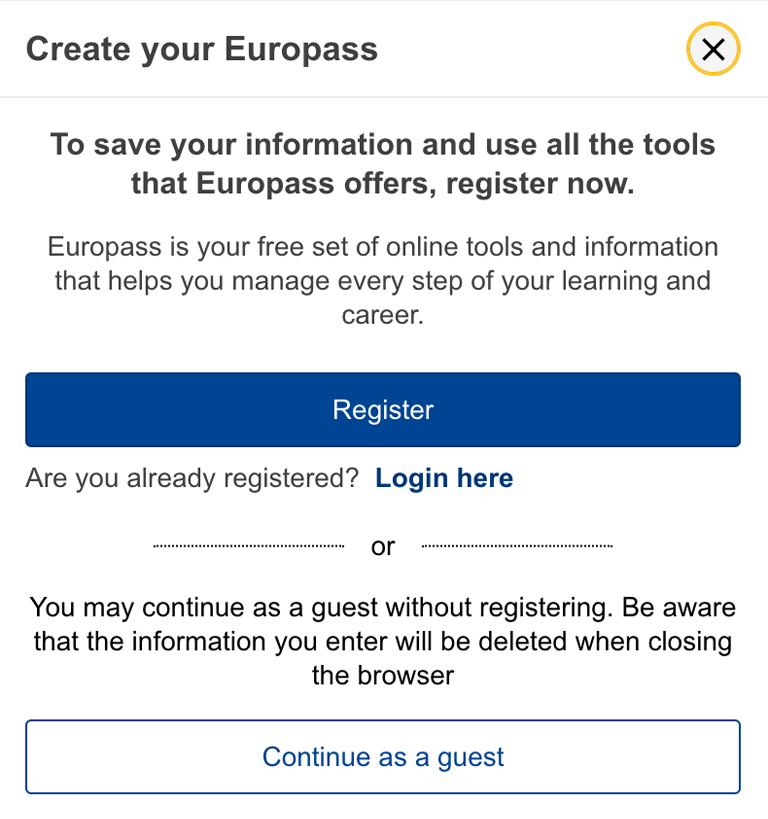 Once you finish creating your profile, clicking on "Library" will take you to your Europass library where you can create your CV and cover letter, as well as upload supporting documents like certificates or diplomas.
Choose "Start from your Profile" to automatically add the information listed on your profile to your Europass CV.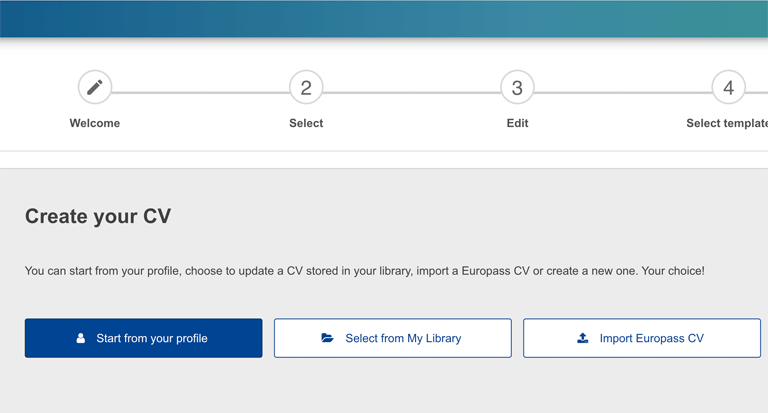 Then, all you need to do before starting to send out applications is to add any additional information or sections you want to include and choose a template. If you're not sticking to the original layout but are changing the order of your CV sections, choose one of the last two templates. The first couple of templates are not as easily adjustable.
Europass CV writing tips
Writing a Europass CV is similar to writing a resume. Here are a few tips to keep in mind throughout the writing process:
1. Quantify your experience
Quantified bullet points are more likely to impress employers because they demonstrate your abilities better than bullet points without hard numbers.
Having numbers and percentages on your Europass CV proves that you're goal-oriented and have a history of achieving positive results for your previous employers.
2. Tailor your resume to each company
Employers can tell when job seekers submit generic applications and when they write CVs specifically tailored to their company. To maximize your chances of landing a job in Europe, tailor your Europass CV to each company you apply for.
Read the job description carefully and make note of any keywords related to skills, responsibilities, education, or other qualifications that the employer is looking for. Then, incorporate these into your CV.
3. Avoid including personal details
When creating your Europass CV, you're prompted to fill in your gender and nationality. However, think about it carefully before you decide to provide personal details.
Having your gender and nationality on your CV isn't necessary, and it could lead to unintentional discrimination.
If you want to highlight that you're allowed to work in your country of choice, write that you possess a valid work permit in your "About Me" section.
4. Include additional sections
When you create a new Europass CV, it will have an about me, work experience, education, and language skills section. If you have other skills, certifications, extracurriculars, projects, or other sections you would like to include, you'll need to add these sections manually.
One of the differences between an American resume and a European CV is that while a resume should only be one page long, the recommended CV length is 1-2 pages. So when making your Europass CV, you can include sections that might not normally fit on your resume.
Include
references on your CV
only if they're requested by the employer.
Pros and cons of the Europass CV
Curious about the benefits and drawbacks of the Europass CV? Here are some pros and cons to consider:
Widely recognized
Simple layout
Suits all levels of job seekers
Available in multiple languages
Easy to edit
Outdated and limited templates
Inconsistent fonts
Limited customization options
Only downloadable as a PDF
Less suitable for creative industries