A properly formatted cover letter has the potential to enhance your job prospects. In fact, recent cover letter statistics show that 13% of hiring managers think that out of all details, your cover letter's format makes the biggest impression.
Now that you know how important cover letter formatting is, let's dive into how to format your cover letter so it creates a memorable impression on employers.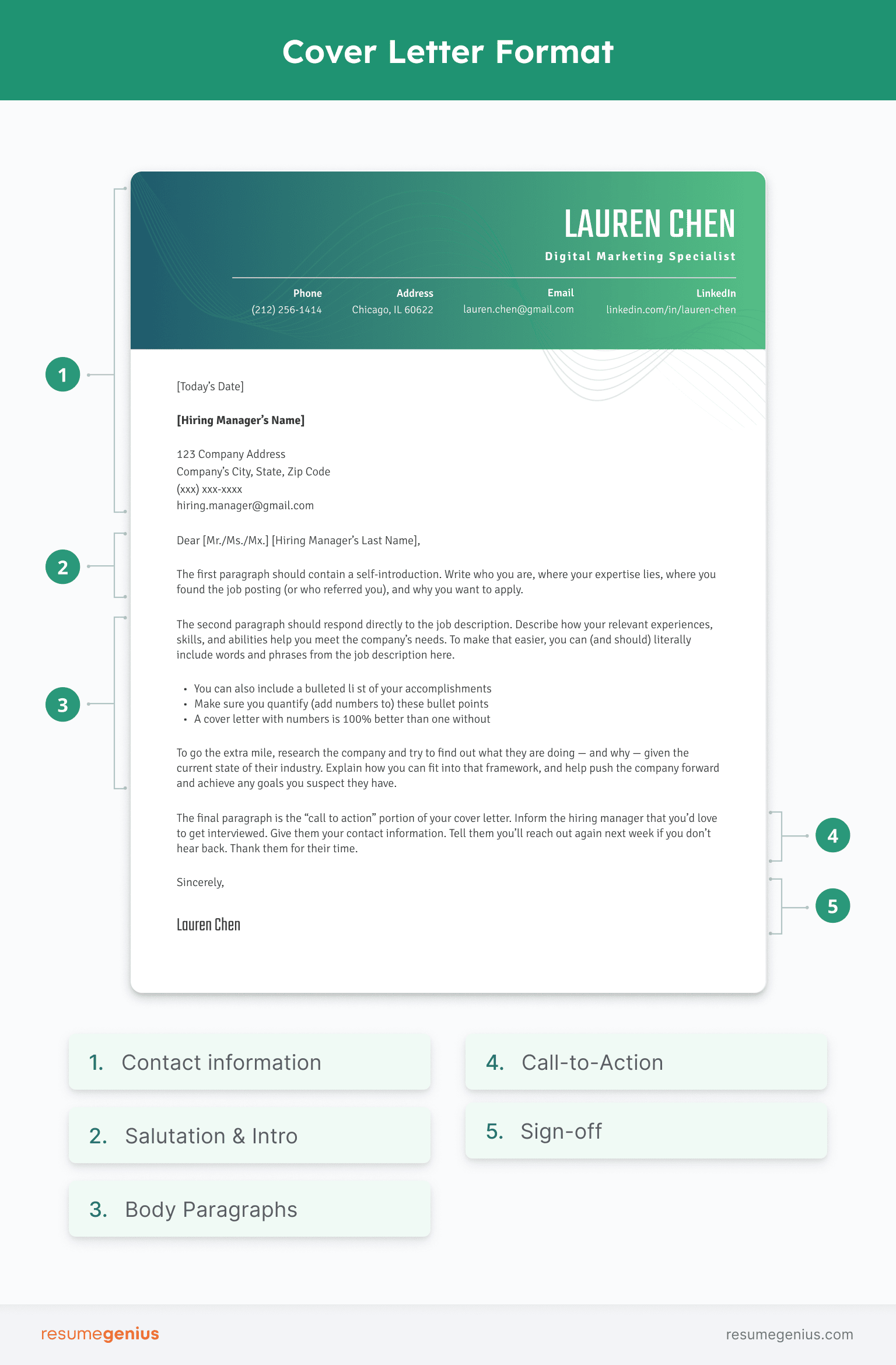 1. List your contact details
First, you need to know how to head a cover letter. At the top of your cover letter, include the following information:
Name: Your full name should be the focal point of your cover letter header, souse a large font size and bold text
Phone number: If you're applying for a job in a different city, state, or country, include your area/country code
Email address: Use a professional email address such as your.name@gmail.com
Online profile: Include a link to work-relevant online profiles, such as your personal website or LinkedIn profile
2. Add the hiring manager's address and today's date
Next, list today's date followed by the employer's contact information. Structure this part of your cover letter like this:
Today's date
Hiring manager's name
Company name
Company street address
Company city, state, and ZIP code
3. Include a salutation
It's good cover letter etiquette to address your cover letter to the hiring manager. To find their name, look for it in the job description or on the company's website. If you still can't find it, try calling the company and asking for the hiring manager's name.
If none of these strategies work, avoid using a generic greeting such as "To Whom It May Concern" or "Dear Sir or Madam". When addressing a cover letter without a name, customize your cover letter salutation for the team or department you're applying to join. Some examples of greetings you can use are  "Dear Accounting Director," "Dear Accounting Team," or "Dear Hiring Manager,".
4. Start with an introduction paragraph
The first paragraph of your cover letter should:
Grab the hiring manager's attention
Provide a self-introduction
List the position you're applying for
Describe where you found the job posting
It's also important to express your excitement for the position when starting your cover letter.
For example, check out this candidate's professional yet charismatic introduction:
I'm applying for the position of dental assistant at Sage Dental. I was thrilled to see your job posting on Indeed and am happy to say that my 4+ years of dental assistant experience matches your clinic's needs perfectly.
If you've been referred to the role by a mutual contact of the hiring manager, include this referral on your cover letter by placing it in your opening paragraph.
5. Add your body paragraph(s)
The body of your cover letter is where you provide context to the information listed on your resume. It should give hiring managers insight into who you are as a professional without repeating your resume bullet points.
In the body paragraphs of your cover letter, highlight your:
Skills
Work experience
Accomplishments
Goals
To exceed the expectations of the hiring manager, research your potential employer. Determine the current state of the industry, the company's position in the market, and if possible, its future plans. Write a paragraph detailing how you fit into these plans, and explain how you can assist the company in reaching its future goals.
You can (optionally) format your career highlights as a short bulleted list between your body paragraphs. Formatting them this way helps draw more attention to your accomplishments, and makes them easier to skim.
Here's an example of how to format the body of your cover letter:

Including quantified bullet points gives employers a quick overview of what you're capable of and what tangible results they can expect you to achieve for them.
6. Close with a call to action
Next, end your cover letter with a strong concluding paragraph that:
Thanks the hiring manager for their time and consideration
Restates your contact information, including your phone number and email address
Finishes with a compelling call-to-action that prompts the hiring manager to invite you in for an interview
For example, check out this candidate's enthusiastic yet professional closing:
Thank you for considering my application. I'd love to join the team at [Clinic Name]. I'm looking forward to having a more detailed discussion with you about how I can join your team and help you achieve your goals. Feel free to contact me at (555) 047-1701 or matthew.clearly@mail.com.
7. Leave your signature
Before signing your cover letter, close it by writing "Sincerely," and then leaving a gap of two to three lines. Then type out your name.
If you want to add some extra flair, you can print out your cover letter and sign your name in the gap you left. Or you can use an electronic signature.
Our free-to-use cover letter builder can make you a cover letter in as little as 5 minutes. Just pick the template you want, and our software will format everything for you.
Cover letter formatting examples
Regardless of industry, cover letters should all have the same basic layout shown above. However, just like when picking a resume template, you should ensure the cover letter template you choose is appropriate for your field.
Check out the cover letter examples below for more inspiration.
Simple cover letter format
If you're applying for a job in a formal industry, such as law or finance, use a more traditional cover letter, like our basic cover letter template below: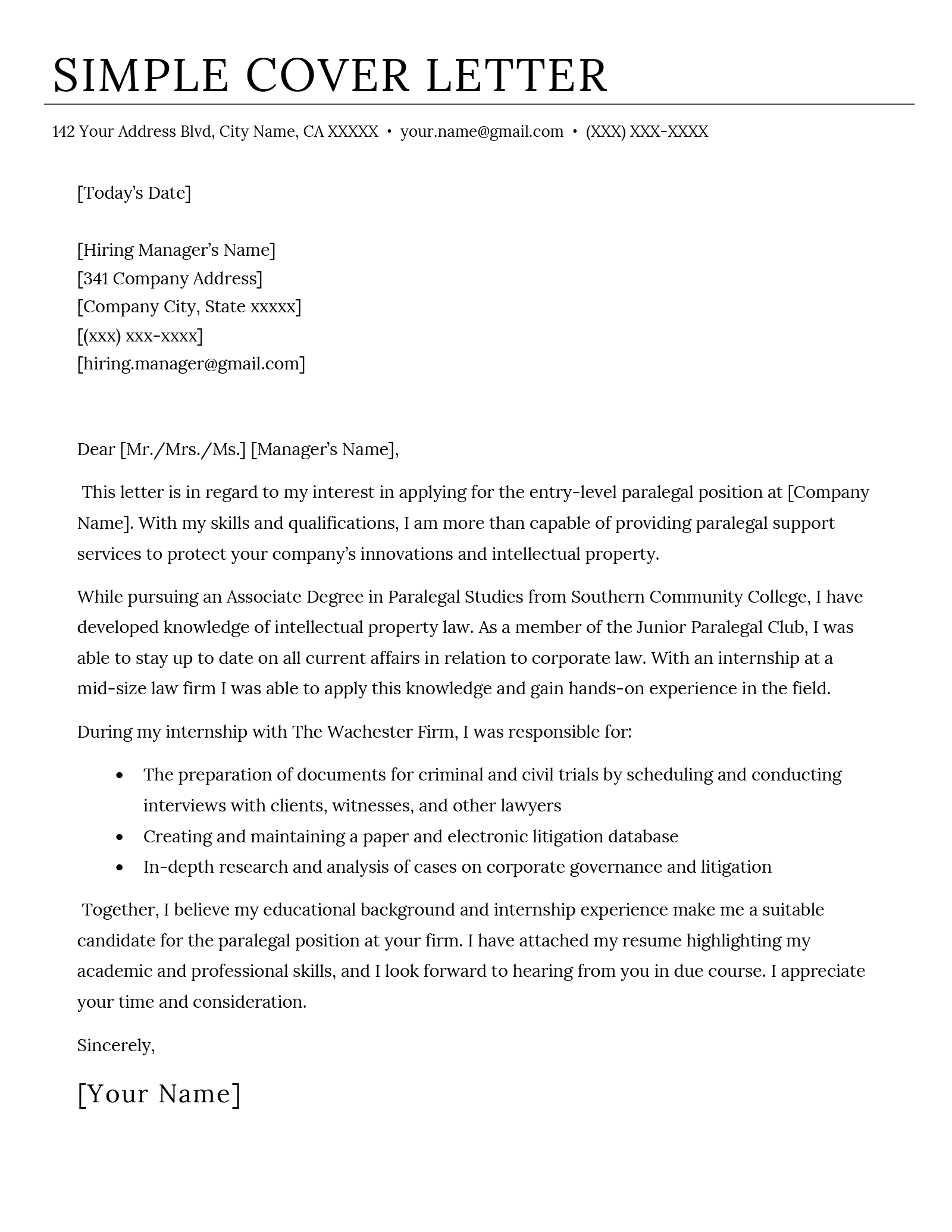 Simple Cover Letter (Text Version)
[Today's Date][Hiring Manager's Name][341 Company Address][Company City, State xxxxx][(xxx) xxx-xxxx][hiring.manager@gmail.com]Dear [Mr./Mrs./Ms.] [Manager's Name],
This letter is in regard to my interest in applying for the entry-level paralegal position at [Company Name]. With my skills and qualifications, I am more than capable of providing paralegal support services to protect your company's innovations and intellectual property.
While pursuing an Associate Degree in Paralegal Studies from Southern Community College, I have developed knowledge of intellectual property law. As a member of the Junior Paralegal Club, I was able to stay up to date on all current affairs in relation to corporate law. With an internship at a mid-size law firm I was able to apply this knowledge and gain hands on experience in the field.
During my internship with The Wachester Firm, I was responsible for:
The preparation of documents for criminal and civil trials by scheduling and conducting interviews with clients, witnesses, and other lawyers
Creating and maintaining a paper and electronic litigation database
In-depth research and analysis of cases on corporate governance and litigation
Together, I believe my educational background and internship experience make me a suitable a candidate for the paralegal position at your firm. I have attached my resume highlighting my academic and professional skills, and I look forward to hearing from you in due course. I appreciate your time and consideration.
Sincerely,[Your Name]
Modern cover letter format
A cover letter for a job in more casual industries, like marketing or graphic design, can use a more eye-catching header, like our modern cover letter template: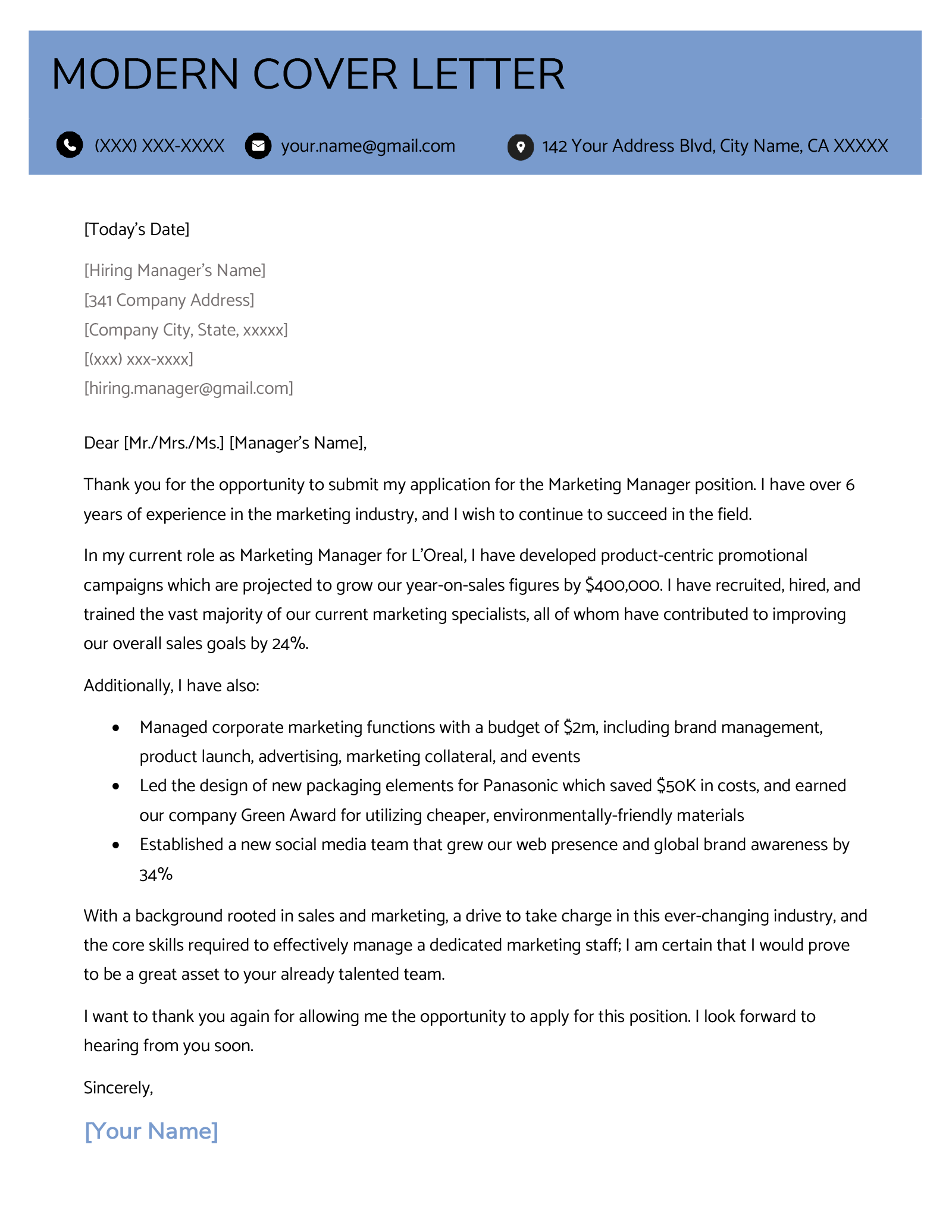 Modern Cover Letter (Text Version)
[Today's Date][Hiring Manager's Name][341 Company Address][Company City, State, xxxxx][(xxx) xxx-xxxx][hiring.manager@gmail.com]Dear [Mr./Mrs./Ms.] [Manager's Name],
Thank you for the opportunity to submit my application for the Marketing Manager position. I have over 6 years of experience in the marketing industry, and I wish to continue to succeed in the field.
In my current role as Marketing Manager for L'Oreal, I have developed product-centric promotional campaigns which are projected to grow our year-on-sales figures by $400,000. I have recruited, hired, and trained the vast majority of our current marketing specialists, all of whom have contributed to improving our overall sales goals by 24%.
Additionally, I have also:
Managed corporate marketing functions with a budget of $2m, including brand management, product launch, advertising, marketing collateral, and events
Led the design of new packaging elements for Panasonic which saving $50K in costs, and earned our company Green Award for utilizing cheaper, environmentally-friendly materials
Established a new social media team that grew our web presence and global brand awareness by 34%
With a background rooted in sales and marketing, a drive to take charge in this ever-changing industry, and the core skills required to effectively manage a dedicated marketing staff; I am certain that I would prove to be a great asset to your already talented team.
I want to thank you again for allowing me the opportunity to apply for this position. I look forward to hearing from you soon.
Sincerely,[Your Name]
Notice how this cover letter sample's format is designed for a digital job, so it's fine to leave out the company's address in this case.
Professional cover letter format
When you're targeting a senior-level role, you'll need a well-formatted professional cover letter template like this one to show employers that you're serious about the job: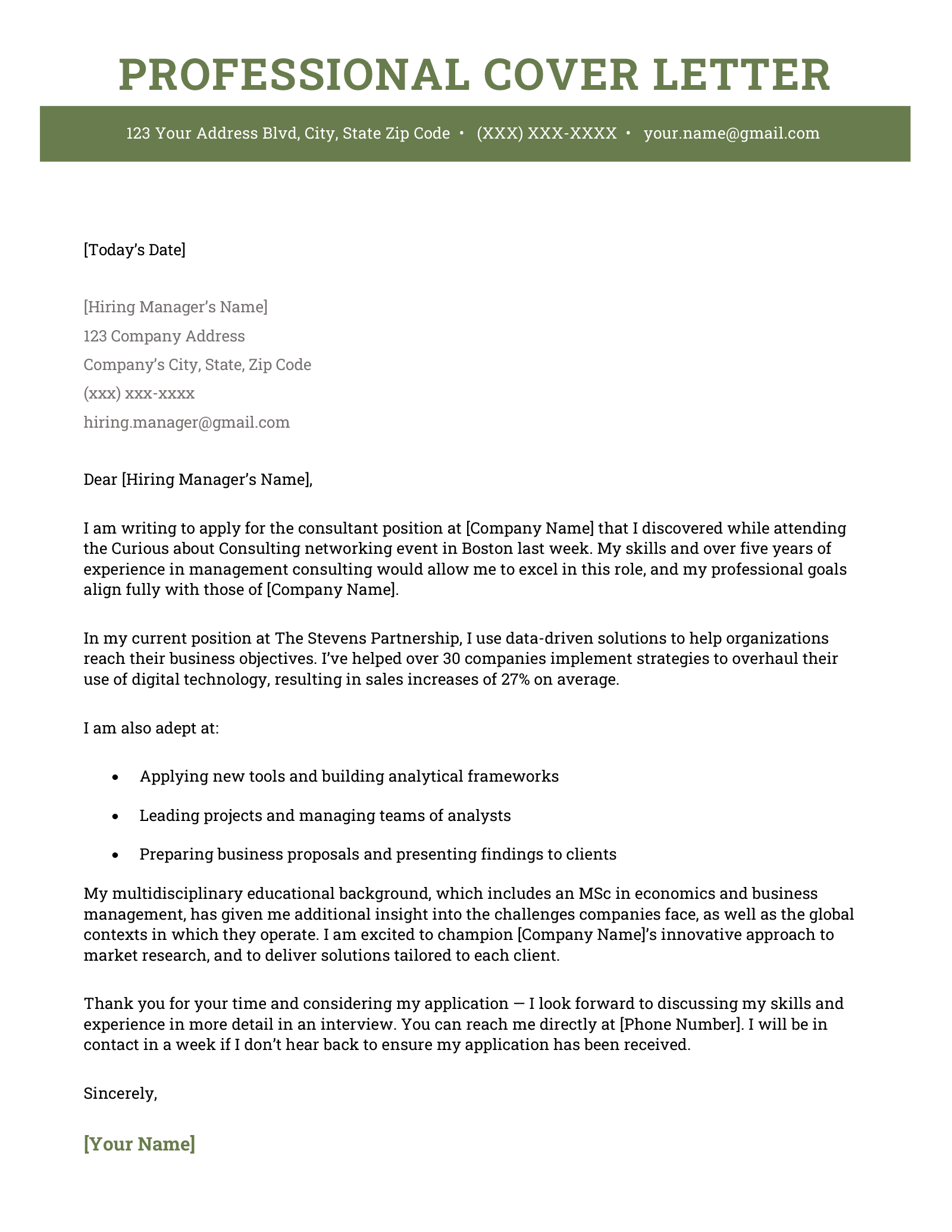 Professional Cover Letter (Text Version)
[Today's Date][Hiring Manager's Name][341 Company Address][Company City, State, xxxxx][(xxx) xxx-xxxx][hiring.manager@gmail.com]
Dear [Hiring Manager's Name],
I am writing to apply for the consultant position at [Company Name] that I discovered while attending the Curious about Consulting networking event in Boston last week. My skills and over five years of experience in management consulting would allow me to excel in this role, and my professional goals align fully with those of [Company Name].
In my current position at The Stevens Partnership, I use data-driven solutions to help organizations reach their business objectives. I've helped over 30 companies implement strategies to overhaul their use of digital technology, resulting in sales increases of 27% on average.
I am also adept at:
Applying new tools and building analytical frameworks

Leading projects and managing teams of analysts

Preparing business proposals and presenting findings to clients
My multidisciplinary educational background, which includes an MSc in economics and business management, has given me additional insight into the challenges companies face, as well as the global contexts in which they operate. I am excited to champion [Company Name]'s innovative approach to market research, and to deliver solutions tailored to each client.
Thank you for your time and considering my application — I look forward to discussing my skills and experience in more detail in an interview. You can reach me directly at [Phone Number]. I will be in contact in a week if I don't hear back to ensure my application has been received.
Sincerely,
[Your Name]
Professional cover letter formatting tips
Using proper cover letter format goes a long way toward making a favorable first impression on employers. Here's everything you need to know about cover letter formatting:
Font style
Keep your cover letter font professional. Use a conventional font such as Times New Roman, Helvetica, Arial or Verdana. Avoid fancy fonts because they can come across as unprofessional to hiring managers — and might not get picked up by applicant tracking systems.
Font size
Use no larger than a 12-point font and no smaller than a 10.5-point font. Small fonts cause hiring managers to strain their eyes, while larger fonts can give the impression that you don't have enough information to fill a one-page cover letter.
Margins
Use cover letter margins between 1" and .5". If you're running out of space, it's okay to adjust the margins. However, avoid large adjustments that make your letter look too thin or too full.
Spacing
Proper cover letter spacing requires you to leave space between each part of your cover letter. Specifically, leave an extra space between the date, recipient's address, salutation, body paragraphs, sign-off, signature, and your name.
File format
If you're submitting a digital copy of your cover letter, submit your cover letter in a PDF or DOCX format. PDFs can't be easily modified by others, don't pose compatibility issues, and can be read by applicant tracking systems.
Naming your file
When saving your cover letter as a PDF, make sure to use an appropriate name such as Your-Name-Job-Title-Cover-Letter.PDF.
Length
Your cover letter length should be between 250-400 words, and use up no more than one page.
Email cover letter format
If you're required to send your cover letter in the body of an email (not as an attachment), the format of your email cover letter should look something like this:
Subject line: Use a professional subject line that clearly states the position titles and your name.
Salutation: Begin your cover letter email by politely addressing the hiring manager by name (for example, "Dear Ms. Prudence,")
The "Intro" paragraph: Introduce yourself and express your interest in the position.
The "Hard Sell" paragraph: Prove how qualified you are. Reference the job posting.
The "Action" paragraph: Thank the hiring manager and express interest in an interview.
Sign-off: "Sincerely," is standard for cover letters, but "Best wishes," "Cordially," and "Best regards" are also acceptable for email cover letters.
Contact information: Provide your contact information at the bottom of your email.
There's no need to include the date or the hiring manager's contact information because you're already communicating over email.
Here's an example of a cover letter in email form: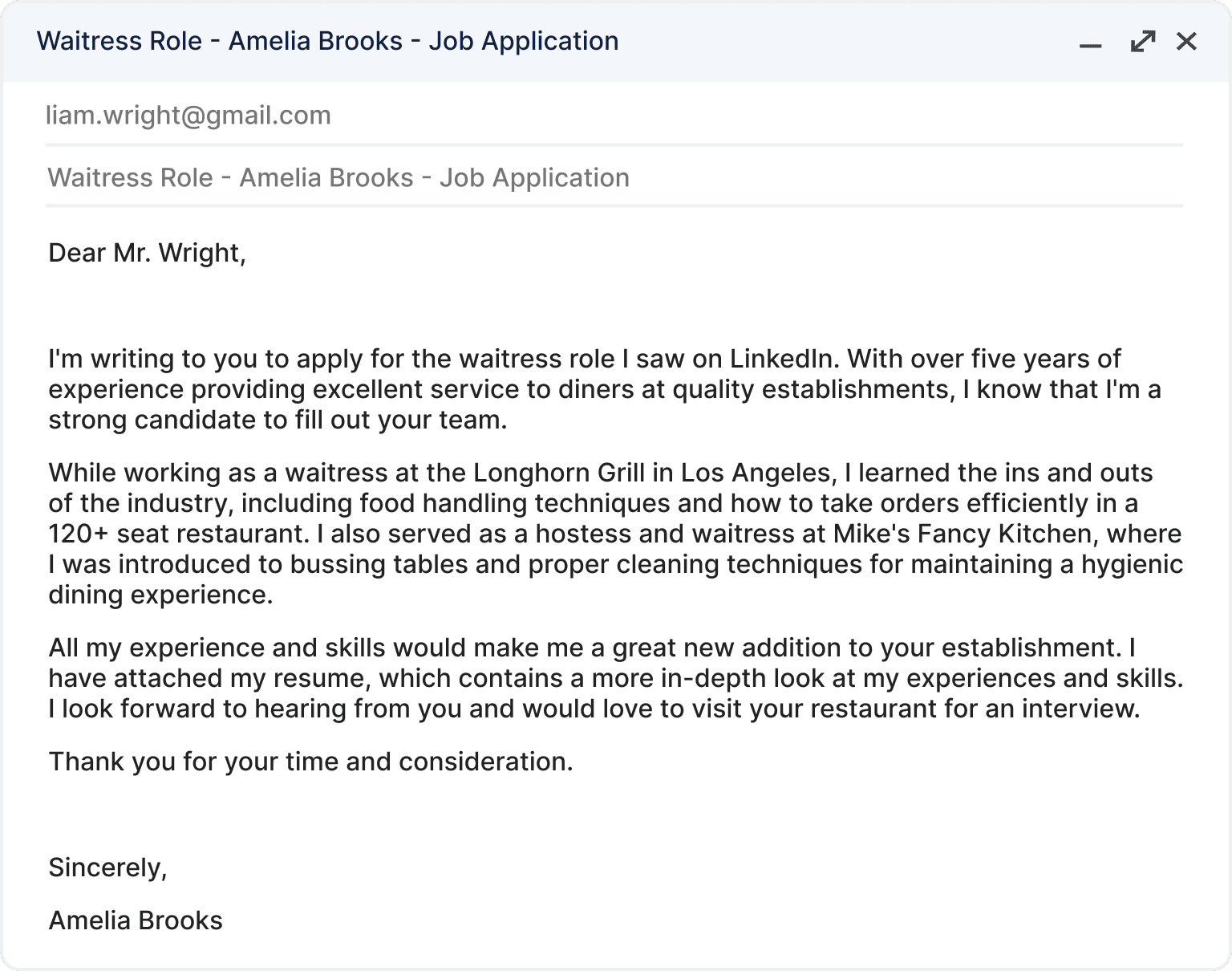 Once you've properly formatted your cover letter, double-check for spelling and typos (and get someone to do a final check) before sending it off.