1. Cover Letter Heading
The purpose of your cover letter heading is to provide your contact information to the hiring manager. In a traditional cover letter, this information would be displayed in plain text in either a centered or left-aligned position at the top of the document. Alternatively, many modern templates feature design-heavy headers with alternative fonts and colors, bolded text, and icons.
Your Contact Information
Regardless of the design, your cover letter header needs to include the following information:
Name: Your full name should be the focal point of your cover letter header with a large font size and bold text.
Address: Traditionally, an address would include your street address, city, and zip code. However, it's acceptable to omit your street address and just list your city and state.
Phone Number: If you're applying for a job in a different city, state, or country, make sure to include the relevant area/country codes at the beginning of your phone number.
Email Address: Use a professional email address such as yourname@gmail.com.
Online Profile: In this digital era, you're encouraged to include a link to your relevant online profiles, such as your personal website or Linkedin profile in your cover letter header.
If you've opted for a traditional cover letter header, it'll look something like this:

Don't be afraid to let your creativity soar. Here's an example of a modern cover letter template heading:
Date & Employer Contact Information
The next step is to list today's date followed by the employer's contact information. Make sure to leave a space between the date and the hiring manager's name. Include the following points directly below the header, in the upper left portion of your letter:
Today's Date
Hiring Manager's Name
Company Name
Company Street Address
Company City, State, and Zip Code
But wait — shouldn't the hiring manager know their own contact information? Of course they do (at least we hope so) — and that's why it's become acceptable for candidates to exclude this information when submitting a digital application. In which case, you would start your cover letter with today's date, followed by a simple greeting for the hiring manager — but more on this in the next section!
2. Addressing a Cover Letter
You only get one chance to make a first impression — so, make sure you start your cover letter with the appropriate salutation.
Ideally, you want to address your cover letter to the hiring manager in charge of the position you're applying for. You can often find their name in the job description or on the company's website. If you can't find it, don't panic — try calling the company and asking for the hiring manager's name.
If you can't find the hiring manager's name, you'll need to use a generic greeting, such as "Dear Hiring Manager." Or if you'd like to make it more personal, tailor your greeting to the team or department you're applying for, such as "Dear Accounting Department," or  "Dear Accounting Team."
3. Cover Letter Body
Opening Paragraph
(The "Intro" Paragraph)
The first paragraph of your cover letter should cover the following bases:
Grab the hiring manager's attention.
Provide a self-introduction.
List what position you're applying for.
Describe where you found the job posting.
Offer a sneak peak into why you're the ideal candidate for the role.
However, be careful not to bore the hiring manager with an overly generic introduction. Let your personality shine through and express your enthusiasm for the position and company. For example, check out this candidate's professional yet charismatic introduction: 
Please accept my enclosed application for the position of dental assistant at [Clinic Name]. I noticed your job posting on [Website Name] and am happy to say that my 4+ years of dental assistant experience matches your clinic's needs perfectly.
If you've been referred to this role by a mutual contact of the hiring manager, include this information in the first paragraph of your cover letter. A referral paired can help you get your foot in the door for an interview. So, don't shy away from including this professional favor in the beginning of your cover letter. 
Middle Paragraphs
(The "Hard Sell" Paragraph)
Now that you've covered the basics, it's time to delve into your experience and accomplishments. But, this section isn't just an opportunity to boast about yourself — match your qualifications to what the company is looking for. Use the skills, experience, and qualifications listed in the job description for inspiration.
At this point, the hiring manager has already reviewed your resume, so don't waste space repeating information. Instead, connect the accomplishments on your resume to the goals of the company you're applying for. For example, watch how this candidate sells their relevant skills, highlighted in bold:
I noticed in your job description that you are looking for a candidate that will require very little training and supervision. After gaining 4+ years of dental assisting experience, I can guarantee that I am completely familiar with the routines associated with patient care, record keeping, performing dental work, and handling scheduling, billing, insurance, and even doing inventory maintenance.
(The "Research" Paragraph)
If you'd like to exceed the expectations of the hiring manager, do some research on your potential new employer. Determine the current state of the industry, the company's position in the market, and if possible, their future plans. Write a paragraph detailing how you fit into their game plan. Explain how you can propel the company forward and assisting in reaching their future goals.
Closing Paragraph
(The "Action" Paragraph)
Congratulations, you've written an impressive cover letter. All that's left to do is tie it all together with a strong concluding paragraph that hits all of these key points:
Thank the hiring manager for their time & consideration of your application.
Restate your contact information, including your phone number and email address.
Finish with a compelling call-to-action, that prompts the hiring manager to invite you in for an interview.
[Optional]: Briefly reiterate what makes you a strong candidate for the role.
For example, check out this candidate's enthusiastic, yet professional close:
I would love to have an opportunity to join the team at [Clinic Name]. I am looking forward to having a more detailed discussion with you about how I can join your team and help you achieve your goals.
You're almost done! Just a few closing formalities to take care of and your cover letter will be complete. Follow this guide to help you wrap up your cover letter correctly.
4. Cover Letter Conclusion 
Your cover letter sign-off, or complimentary close, is your opportunity to bid adieu to the hiring manager. Be sure to use a professional, yet friendly letter close. 
Best
Best Regards
Sincerely
Thank you for your consideration
Yours Respectfully
Cordially
Warm regards
Best wishes
Cheers
Yours truly
Take care
Yours sincerely
With appreciation
Always
Signature
The final step is to authenticate your cover letter by signing below the closing salutation. If you're submitting a digital copy, it's not necessary to include your signature — instead, just type out your first and last name. However, if you're old fashioned and want to include one, it's appropriate to include an e-signature at the bottom of the document.
5. Cover Letter Aesthetics
When it comes to your cover letter, first impressions matter. Follow these guidelines to make sure your cover letter is up to standards.
Font Style: Keep your cover letter font clean and professional. There's no shame in using one of the classics, such as Times New Roman, Helvetica, Arial or Verdana. Avoid using fancy fonts that might be deemed as unprofessional by a hiring manager — or even worse, can't be read by an applicant tracking system.
Font Size: When selecting a font size, aim for the middle course and avoid extremes. Use no larger than a 12-point font and no smaller than a 10-point font. A smaller font will cause the hiring manager to strain their eyes while a larger font might be regarded as unprofessional.
Spacing/Margins: Err on the side of caution and use margins between 1" and 1.5". If you're strapped for space, it's okay to make slight adjustments to the margins; however, avoid making large adjustments that give your document a stretched or crowded appearance.
File Format: If you're submitting a digital copy of your cover letter, it can be difficult to know which file format to use. Unless otherwise stated, most companies expect you to submit your cover letter in a PDF format. This is because PDFs cannot be altered, they don't pose compatibility issues, and they can be read by ATS. When saving your cover letter as a PDF, make sure to use an appropriate name such as Your-Name-Cover-Letter.PDF.
Cover Letter Length: How long should a cover letter be?
The perfect cover letter length can depend on a wide range of factors. As a rule of thumb, your cover letter should be between a half page and a full page (usually this means between 250 and 400 words). Above all, it shouldn't exceed one page in length. Stick to the essentials — use the space to comprehensively, but concisely, showcase your most relevant qualifications to the role.
You could write a short cover letter (less than 150 words) if you want to make extra sure the hiring manager reads it. After all, they don't have a lot of time.
If you submit a three-page document, they likely won't have time to read it.
6. Cover Letter Format for Emails
Let's face it, you're probably not going to be printing your cover letter and sticking it in the mailbox in 2019. The majority (it not all) of the cover letters you send are going to be digital.
If the job posting has an "upload" button or has asked for a file attachment, then you don't need to make any changes to your cover letter format. Simply convert your letter to the appropriate file and hit upload (more on this above)! However, if you're required to send your cover letter in the body of an email (not as an attachment), you'll need to make the following adjustments to the format.
Craft a Professional Subject Line: Hiring managers receive tens, if not hundreds, of applications for each position via email. Therefore, the subject line of your email needs to clearly state your name and the position you're applying for. For example, "Sales Associate Position — John Smith".
Relocate Your Contact Info: It'd be awkward to start an email by stating your name, address, email, phone number, and online profile — your cover letter is no exception. Instead, relocate this information to below your salutation. Make sure you write the details out and don't rely on your e-signature.
Remove the Date & Employer's Contact Info: Since you're sending it via email, there's no need to include these old-school details. Skip straight to your greeting to the hiring manager.
In the end, you're cover letter format for an email should look something like this:
Cover Letter Format for an Email
Subject Line  – Use a professional subject line that clearly states the position titles and your name.
Greeting – Begin your cover letter email by politely addressing the hiring manager by name.
Contact Information – Provide your contact information at the very bottom of your email.
The "Intro" Paragraph – Introduce yourself and express your interest in the position.
The "Hard Sell" Paragraph – Prove how qualified you are. Reference the job posting.
The "Action" Paragraph – Thank the hiring manager and express interest in an interview.
7. Cover Letter Format Examples
Check out the formatting on this marketing cover letter to get an idea of what the finished product should look like.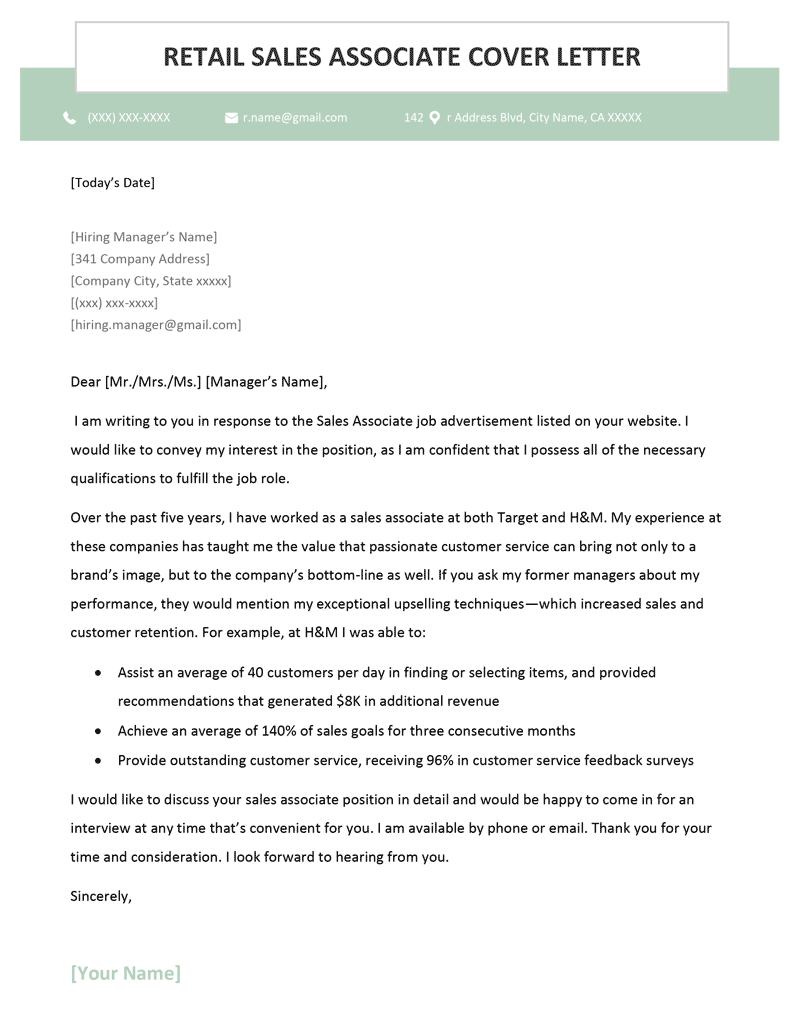 Cover Letter Format Example (Text Version)
[Today's Date]
[Hiring Manager's Name]
[341 Company Address]
[Company City, State XXXXX]
[(XXX) XXX-XXXX]
[hiring.manager@gmail.com]
Dear [Mr./Mrs./Ms.] [Manager's Name],
I am writing you in response to the Sales Associate job advertisement listed one your website. I would like to convey my interest in the position as I am confident that I possess all of the necessary qualifications to fulfill the job role.
Over the past five years, I have worked as a sales associate at both Target and H&M. My experience at these companies taught me about the value that passionate customer service can bring not only to a brand's image, but to the company's bottomline as well. If you ask my former managers about my performance, the first thing they would mention is my exceptional upselling techniques with which I was able increase sales and retain customers. For example, at H&M I was able to:
Assist an average of 40 customers per day in finding or selecting items, and provided recommendations that generated $8K in additional revenue
Achieve an average of 140% of sales goals for three consecutive months
Provide outstanding customer service, receiving 96% in customer service feedback surveys
I would like to discuss your sales associate position in detail and would be happy to come in for an interview at any time that's convenient for you. I am available by phone or email. Thank you for your time and consideration. I look forward to hearing from you.
Sincerely,
[Your Name]
8. Free Expertly Formatted Cover Letter Templates
Don't want to bother with this tricky formatting? Skip straight to the finish line with one of our eye-catching cover letter formats — no adjustments necessary. We've included a few of our most popular examples below, but if you want more options — don't worry, we've got 40+ free downloadable MS Word cover letter templates for you to choose from!
Congratulations, you've covered it all! You're ready to create an aesthetically pleasing and expertly formatted cover letter. Good luck on your future job prospects!
Cover Letter Formatting FAQs