Cover letter spacing for email cover letters
Here's what the spacing on a cover letter written in an email should look like: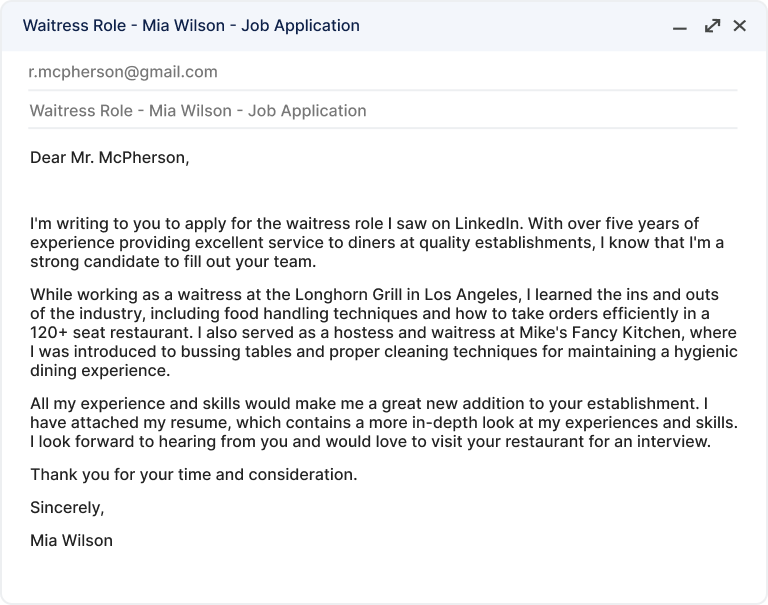 When sending a job application by email, mention your name, the job title, and the fact you're applying for the job in the subject line.
There are seven things to include in an email cover letter. They should be left aligned with no indentations, and have space between each one. In order, these seven elements are:
Salutation: A cover letter salutation addresses the hiring manager by name.
Introduction Paragraph: To start a cover letter, state the position you're applying for, how you heard about it, and why you're a perfect fit.
Body Paragraph: Show the employer what you have to offer and how your experience makes you qualified for the job. This is the most important section when you write a cover letter.
Closing Paragraph: Thank the employer for their consideration and state you're looking forward to hearing from them.
Closing: Choose a professional closing, like "Sincerely" or "Best wishes."
Name: Type your full name.
Email Signature Section: Include your contact information, including phone number and LinkedIn summary if you have one.
Our free-to-use cover letter builder can make you a cover letter in as little as 5 minutes. Just pick the template you want, and our software will format everything for you.
Cover letter spacing for physical cover letters
Here's a cover letter example to show you how to space a printed cover letter: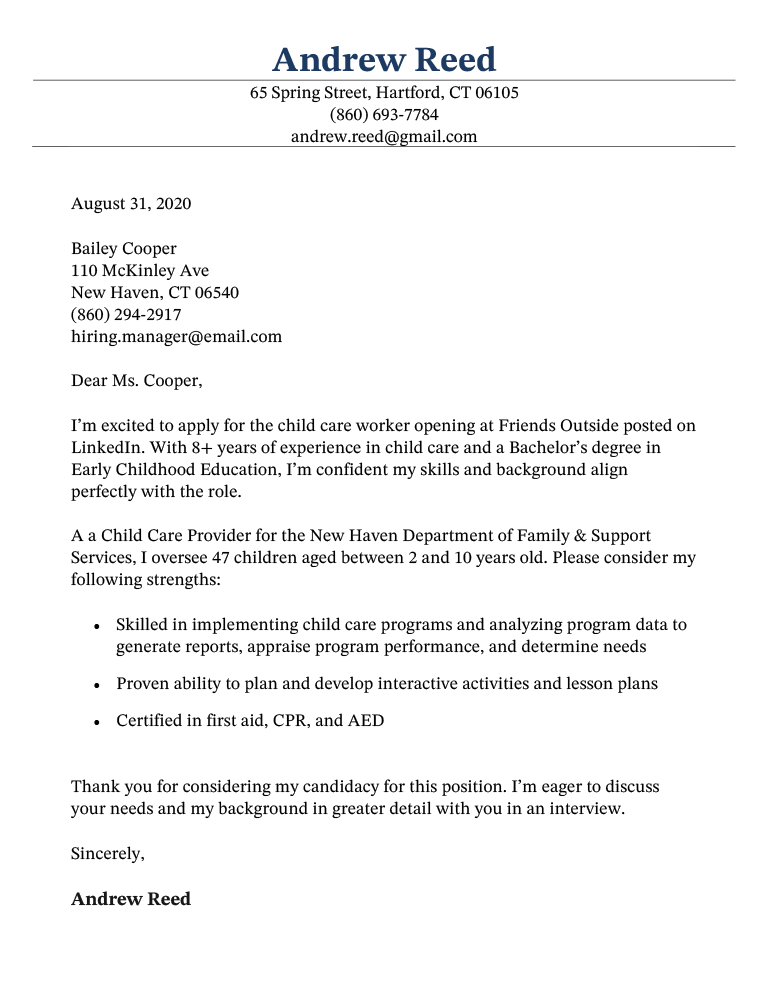 A printed cover letter has nine elements instead of seven. They should still be left aligned with no indentations and space between each one.
Date: The date you're sending the letter.
Hiring manager's address: Address a cover letter to the hiring manager's office.
Salutation: Just like in an email, address the hiring manager directly.
Introduction Paragraph: State the position, how you found it, and why you'd be great at it.
Body Paragraph: Show the employer what you can do for them by explaining how your previous achievements can benefit their company.
Closing Paragraph: To end a cover letter, make your passion for the job clear, ask for an interview, and say you'll follow up.
Closing: A professional sign-off, like "Sincerely".
Signature: Sign a cover letter in ink by leaving three to four spaces between the closing and your typed name.
Typed name: Make sure it's there so there's no confusion about who you are if you're signature is difficult to read.
Cover letter margins
Printed cover letters normally have 1" margins. Depending on how long your cover letter is, your margins can be reduced to ½" margins to keep your cover letter to one page.
Margins on an email cover letter are handled automatically by your email service.
Should a cover letter be double spaced?
A printed cover letter should be single spaced because it's easier to read than a double-spaced cover letter. Employers don't have a lot of time, so the more readable your cover letter is, the more likely it is they'll actually read it.
Once you've set up your cover letter spacing and margins properly, you're ready to start applying for jobs. Pair your cover letter with a well-written resume, and begin your job hunt. Good luck!