Yes, cover letters are necessary in 2023. A good cover letter can provide context for your application and set you apart from other candidates.
A recent Resume Genius survey found that the vast majority of hiring managers read cover letters, and that most of them think cover letters are an important factor in deciding which applicants to invite for an interview.
If you're not sure what a cover letter is or if you need one, don't worry. In this article, we'll explain when to use cover letters and why they're important, then provide you with some useful cover letter resources.
Our free-to-use cover letter builder can make you a cover letter in as little as 5 minutes. Just pick the template you want, and our software will format everything for you.
Do I need a cover letter?
Yes, you do need a cover letter in these common situations:
The job description requests or requires a cover letter
You have a referral for your cover letter
The job requires strong writing and communication skills
Even if the job description says "cover letter optional", it's still important to write a great cover letter and attach it to your resume. Competition is fierce for the best positions, so why not give yourself the extra opportunity to impress an employer?
To find out how often hiring managers really read cover letters, the Resume Genius Research Department recently conducted a survey of 625 hiring managers. We found that 45% of respondents always read cover letters, while 38% usually read them.
How important is a cover letter when applying for work?
Cover letters (also known as letters of application) are important if you're serious about getting a specific job. If you take the time to write and submit a thoughtful cover letter, it improves your chances of hearing back from an employer.
According to our survey, 68% of hiring managers believe cover letters are important, compared to just 6% who say they aren't.
If that's not convincing enough for you, consider this: when asked how cover letters impact their hiring decisions, 82% responded that a strong cover letter can persuade them to invite an otherwise weak candidate for an interview.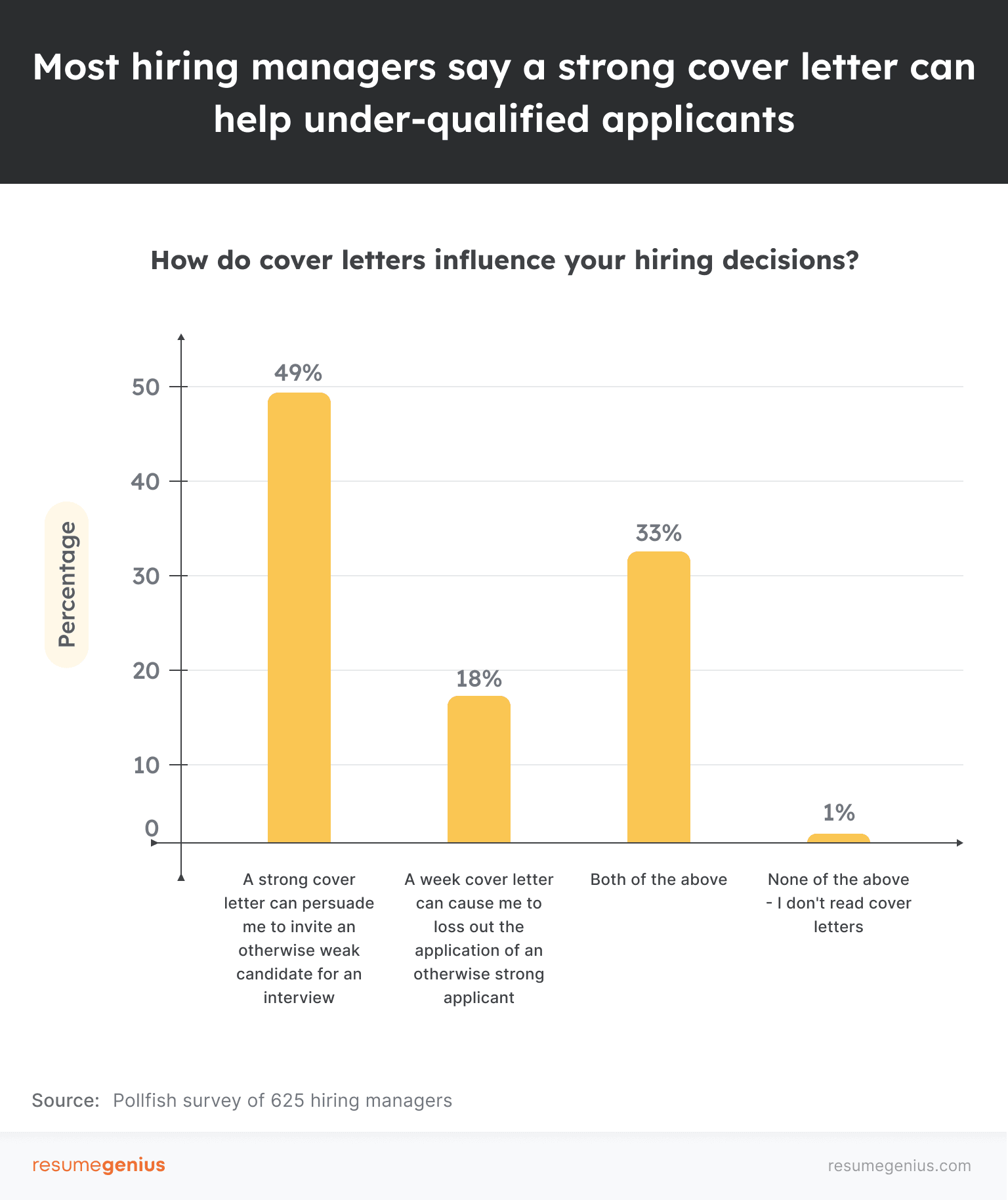 In addition, 51% of hiring managers responded that a weak cover letter can deter them from inviting an otherwise strong candidate for an interview. So, it's important to make sure that if you're writing a cover letter, you're writing it well.
Why are cover letters important?
The overwhelming majority of hiring managers think cover letters are important, and you should too. Here's why:
1. Cover letters complement your resume
Your resume provides a concise, black-and-white look at your qualifications, background, and skills.
Your cover letter, on the other hand, adds a bit of color to your application — giving employers some insight into your personality and motivations.
For instance, if you list some professional accomplishments on your resume, you have room to elaborate on those accomplishments in your cover letter. Or you can take examples from your resume's work experience section, and use your cover letter to describe how those experiences make you the best candidate for the job.
2. Cover letters allow you to describe how you're a good fit for the position
The whole job application process is really all about one thing: showing employers you're the best fit for the job.
While you can do this in your resume by showcasing your relevant experience, your cover letter provides the unique opportunity to elaborate on the why and the how. It's your chance to pitch yourself as the ideal candidate.
Here are some great ways to convince employers you're a great fit for the position with your cover letter:
Show how your specific background makes you uniquely qualified for the position
Describe how you're a great culture fit
Demonstrate your passion and interest in the work
Explain how your past achievements demonstrate the skills needed in the role
Illustrate how your professional goals align with the company goals
3. Cover letters showcase your communication skills
Written and verbal communication skills are important across most industries. Even if your background is in hard sciences or engineering, you still need to write reports, send emails, and communicate with colleagues.
While your resume is a great place to list your skills, a cover letter gives you the opportunity to actually showcase your writing and communication skills.
Cover letters are especially important in industries that require strong writing skills, like marketing, publishing, academia, or media. If you're applying for a job in these industries, submitting a well-written cover letter can help you make a powerful first impression and give you an edge over other candidates.
4. Cover letters help you overcome a lack of experience
With 82% of hiring managers in our survey saying that well-written cover letters can convince them to interview candidates who otherwise lack relevant qualifications, this is perhaps the biggest reason to write a solid cover letter.
If you're a recent graduate and your most impressive experience is relevant coursework, then submitting a cover letter is a good way to convince employers you have the skills and qualities they're looking for in a candidate.
Companies value passionate, engaged employees, and understand that all of our professional journeys begin somewhere. Your cover letter is an opportunity to highlight your passion for a particular career or industry, and show how even without experience, you're ready to learn and grow quickly in the role.
5. Cover letters can help you explain any unusual circumstances
Do you have a significant career gap on your resume or a history of job hopping? Is the address on your resume from a different state than where the company is located?
Your cover letter is the ideal place to clear up any potential questions employers have about your application.
Using your cover letter to explain these things upfront can help improve your chances of getting called for an interview and might spare you some awkward interview questions.
Frequently asked questions about cover letters
Here are answers to some of the most common questions about cover letters:
Do you have to write a cover letter for every job?
No, you do not have to write a cover letter for every job, but writing a cover letter can help increase your chances of getting hired.
If you're really interested in a position, it's best to write a cover letter unless instructed not to.
Tailoring your cover letter to each job makes it much more impactful than sending a generic letter. According to a ResumeGo survey, 78% of hiring professionals said it was easy to tell the difference between a generic and tailored cover letter, and 81% said they valued tailored letters much more.
Is a cover letter necessary for an online application?
A cover letter is not always necessary for an online application, but it can be a good way to introduce yourself to the hiring manager and provide additional information that's not included in your resume.
If the job posting specifically asks for a cover letter, then it's definitely necessary to include one. However, even if a cover letter is not explicitly required, including one can demonstrate your interest in the position and increase your chances of landing an interview.
Do I need a cover letter for a part-time job?
Yes, you need a cover letter for a part-time job if:
It's requested by the employer
You have extra information to share (e.g. explaining an employment gap)
You want to maximize your chances of landing an interview
Should your cover letter match your resume?
Your cover letter and resume should complement each other and have a consistent look and feel. The easiest way to do this is by using matching resume and cover letter templates. Using a matching cover letter will make your application professional and cohesive.
While it's a good idea to make your cover letter and resume match, this doesn't mean that they should be identical. Your cover letter is an opportunity to expand on the information provided in your resume and to personalize your application to the specific job and company.
Should your cover letter be attached to your resume?
Yes, it's a good idea to attach your cover letter to your resume when applying for a job. This way, the hiring manager can easily access both documents and see how your qualifications and experiences align with the position.
When you're submitting your application, you should attach your cover letter and resume as separate documents, usually in a PDF or Microsoft Word format. You should also choose a resume file name that will help the hiring manager easily identify and organize the files.
Are optional cover letters really optional?
Yes, optional cover letters are really optional. However, including a cover letter even if the employer says it's not required will give you a huge advantage over applicants that choose not to send one. Cover letters strengthen your job application because they allow you to do things a resume can't, such as:
Showcase your personality
Display your enthusiasm for the job or company
Provide evidence of your noteworthy accomplishments
Explain work gaps or other issues on your resume
So if you have time to write a cover letter, you should always make the effort.
Is the cover letter dead?
No, the cover letter is not dead. Most companies require you to submit or upload a cover letter as part of the application process. They'll check to make sure you've included one, and if you haven't, they may reject you outright for not doing what was asked.
Additionally, the cover letter is an important factor in the hiring decision for many hiring managers. To maximize your chances of getting an interview, always include a cover letter with your application.
Additional cover letter resources
If you're still unsure if a cover letter is necessary or not, then you should write a cover letter just to be safe. Here are our top resources and cover letter tips to ensure your cover letter improves your application:
Cover letter writing how-to guides
Cover letter formatting
Cover letter templates
Cover letter examples