A proper resume name shows that you pay attention to detail. Read on to learn more about resume names and to find our top file name-related resume tips.
Our free-to-use resume builder can make you a resume in as little as 5 minutes. Just pick the template you want, and our software will format everything for you.
What is a resume name?
A resume name is the name you give to your resume .pdf or .docx file. It's one of the first things a hiring manager sees, so it's important to make sure your resume name is both professional and clear.
How to name a resume file
Unsure how to name your resume file? Below, Eva provides a video guide with a time stamp directing you to the correct chapter of the video:
To expand upon Eva's advice on resume naming best practices, have a look at the instructions below:
First of all, it's important that your resume name contains all necessary information.
Here's how to name a resume file:
Use your first and last name
Include hyphens or underscores between each word
Add "resume" at the end
Here's an example of a proper resume name:
katherine-johnson-resume.pdf
However, this naming convention might not work for every applicant or for every scenario. Here are some additional instructions on how to name your resume file:
Check the application instructions
Before you name your resume file, make sure to follow any specific instructions that the employer posts on the job advertisement.
Some employers use a software system to organize resumes, and require that applicants use a particular naming convention. While this is rare, you should always check just to be sure.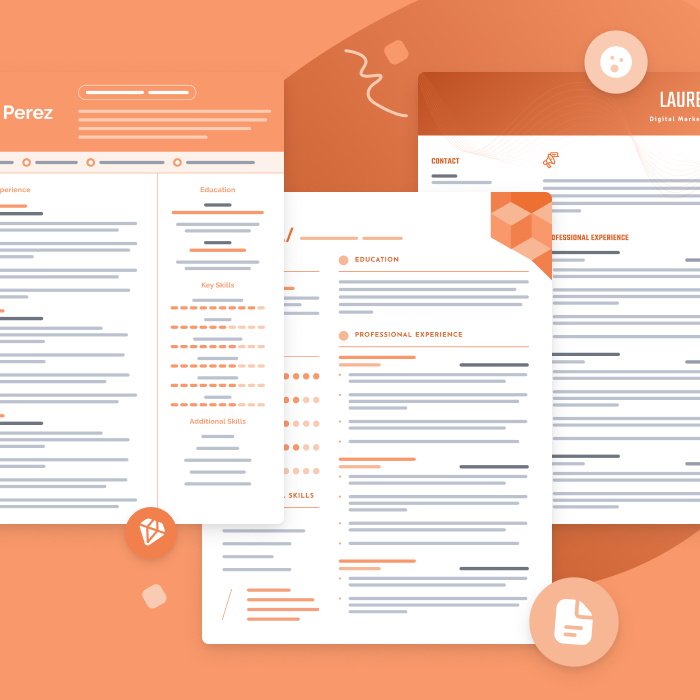 One of the best ways to make your resume is by filling out one of our free resume templates. All our templates are designed by experts and free to download for Microsoft Word or Google Docs.
Keep it simple
Don't make your title excessively long or use special characters like exclamation marks.
Why? An unconventional file name could make a bad impression by appearing unprofessional or careless. Using a long, complicated file name makes a hiring manager's job more difficult by requiring more time for them to decipher.
Make the name of your file clean, clear, and easy to read. Then, hiring managers can quickly find and identify your resume.
However, don't make your resume name too simple. If a hiring manager ends up with more than one generic resume.docx file, they'll likely have trouble finding your application when they need it.
Keep your formatting consistent
While you do have a few options to consider, you need to choose one naming convention and stick with it.
If you want to capitalize the first letter of every word, do so. If you want to use underscores between words instead of hyphens, do that. Just be consistent within each file name.
Elizabeth_Jones_Resume.pdf
Elizabeth-jones_Resume.pdf
If you submit a cover letter, make sure the cover letter name follows the same format and structure as the resume name.
What to save a resume as
There's one more thing to consider as you save your resume: whether to save your resume as a .docx file or a PDF.
The best way to decide is by checking out the application instructions to see if there's a particular file type that's preferred by the employer.
If the employer doesn't specify a file type, PDF is the best file to save a resume. Sending your resume as a PDF is ideal because PDF files are easy to read, are compatible with any device, and guarantee that your resume's formatting stays consistent.
Learn how to make a resume in Word so that you can save it as a .docx file. Once you have your .docx file, you can also save it separately as a PDF file.