Including projects on your resume is a great way to add valuable experience, skills, and other relevant qualifications to your job application.
But it's not always clear how to communicate the experience and skills you gained from working on projects on your resume.
Below we'll tell you what projects are, how to list them and provide you with a template for including projects on your resume.
Our free-to-use resume builder can make you a resume in as little as 5 minutes. Just pick the template you want, and our software will format everything for you.
What are projects?
Projects are any undertaking related to school, work, or your personal life. For example, a project could be an app you coded in your spare time, a piece of freelance design work you did, or a photography collection.
Listing projects on your resume can be a great way to provide evidence of necessary skills and qualifications when you write a resume with no work experience, for example, if you're a recent graduate or those changing careers.
Projects are also very important for freelancers, especially those creating a project-based resume, because your work experience section will likely be entirely devoted to them.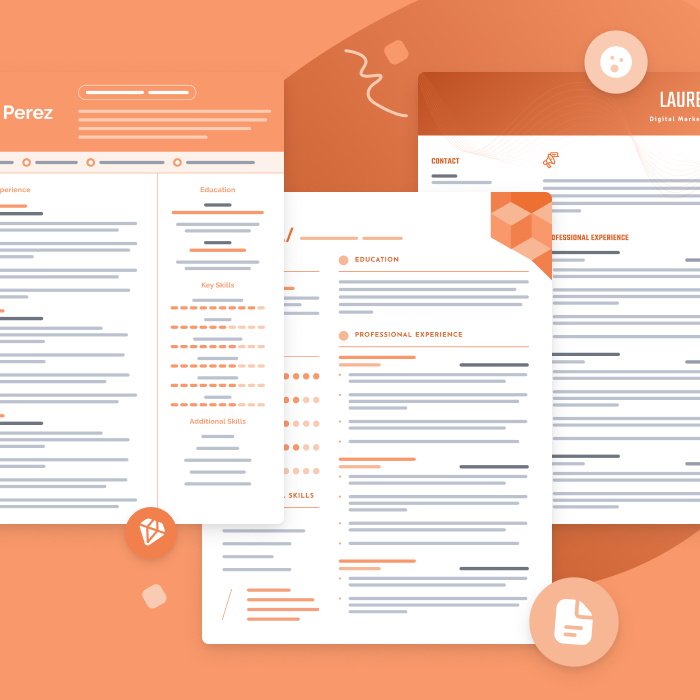 One of the best ways to make your resume is by filling out one of our free resume templates. All our templates are designed by experts and free to download for Microsoft Word or Google Docs.
How to put projects on a resume
There are two methods you can use for adding projects to your resume:
List your projects in separate bullet points or short paragraphs beneath each work experience and education entry
List your projects in a dedicated section on your resume
Typically, you'll want to use the first method (bullet point or short paragraph) for your work and academic-related projects. For personal projects, it's best to create a dedicated section.
To ensure you keep your resume looking clean, organized, and under one page, only include projects that are relevant to the job you're applying to.
Academic projects
Listing academic projects is a great way for students to display the necessary skills and qualifications for a job or internship, especially if they lack relevant work experience.
Academic projects should be listed in your education section as either a bullet point or a short paragraph below your degree information (such as university name, extracurricular activities, and academic awards).
Give your project a name, include dates (or the semester it took place), and a short description highlighting any necessary skills or experience outlined in the job description.
Here's an example of how to add academic projects to your resume: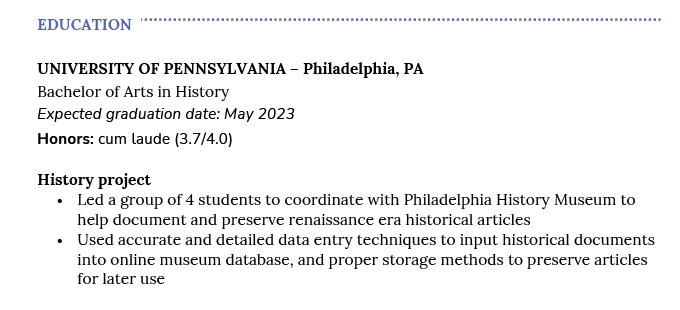 Work projects
In your current or past positions, if you had a special assignment that fell outside the scope of your regular job duties and responsibilities, listing it as a project in your work experience section is the best way to highlight it for a hiring manager to see.
Below each of your work experience entries, include either a short paragraph or extra bullet point describing your duties and responsibilities for the project. You'll also need to give the project a name, even something as simple as "Key Projects" will work.
Similar to your work experience, ensure you include action verbs and hard numbers if you're listing any career accomplishments in your project.
Here's an example of how to include your work projects on your resume: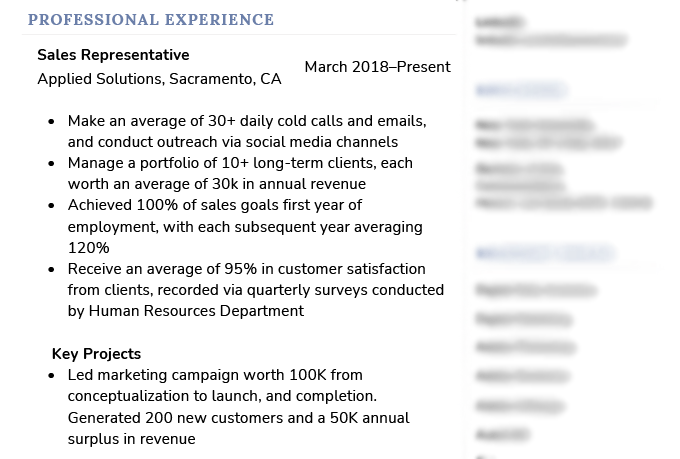 Personal projects
Showcasing your personal and side projects on your resume is a great way to demonstrate your qualifications and hard and soft skills when applying for a job.
However, you'll need to be selective with which personal projects you list and only include ones that are relevant to the job. Remember, you're not listing your personal projects because the hiring manager wants to know what your hobbies are.
Your personal projects aren't related to your education and work experience, so you'll need to create a dedicated section for them titled "Personal Projects" or "Relevant Projects."
For each project, provide a title and dates, and include bullet points that accurately display what the project entailed while highlighting any qualifications and skills you gained from the experience.
Here's an example of how to list personal and side projects on your resume:

For more examples of how to list projects on your resume, check out our video below, where our career expert Eva discusses six types of relevant experience for your resume (find academic projects at 00:34 and personal projects at 02:29):