Putting awards on a resume increases your chances of impressing potential employers. Awards don't have to be shiny trophies. They can come in other forms: honors you've received at school such as placement on the Dean's List, recognition in the workplace, or notable accomplishments you'd like to show off. In this guide we'll explain:
Our free-to-use resume builder can make you a resume in as little as 5 minutes. Just pick the template you want, and our software will format everything for you.
Should you put awards on your resume?
Yes, you should put awards on your resume if they add to your relevant experience and qualifications. Awards are a great way to highlight your skills and expertise in a particular area, and they're an excellent addition for entry-level candidates who may lack relevant experience.
However, if you list an excessive number of awards or include ones unrelated to the position you're applying for, it may come across as unprofessional. For example, if you're applying for a job at a marketing firm, then there's no need to put on your resume that you won first prize in your county's chili competition (but congratulations!).
How to list awards on your resume
Wondering how to include awards on your resume? Our resident career advisor Eva provides some actionable tips on the types of awards that stand out to employers and how to list them properly:
To expand on Eva's advice about awards, here are the details you should always list on your resume:
The award name
Date/year received
The purpose of the award, and the reason you won
Quantify the scale of the award (For example, how many nominees were there, or was the competition regional or international?)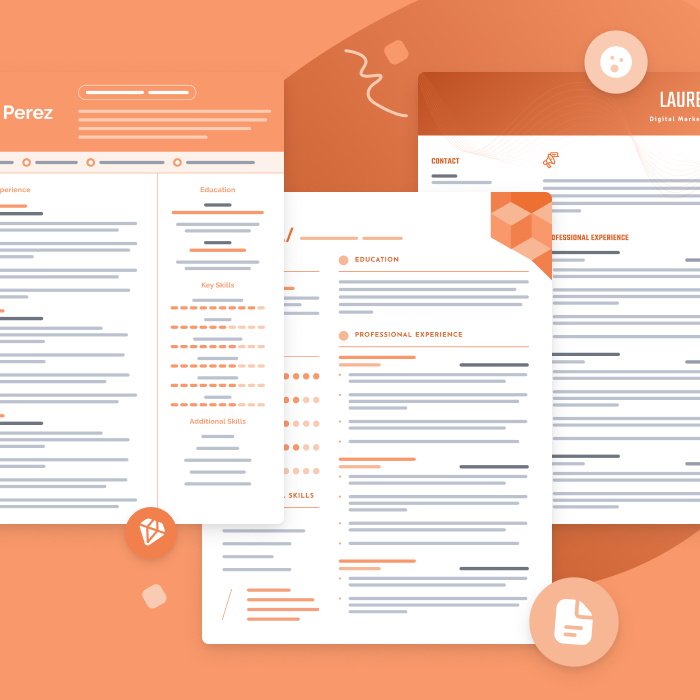 One of the best ways to make your resume is by filling out one of our free resume templates. All our templates are designed by experts and free to download for Microsoft Word or Google Docs.
Where to put awards on a resume
When you make your resume, put your awards in the section where they're most relevant. For example, list an education award in the education section and a professional award in the work experience section. This way, you're embedding awards within their relevant context, providing evidence for your qualifications.
In some cases, it's also a good option to add a dedicated awards section to your resume. For example, if you have extra (relevant) awards you would like to list that don't necessarily fit into other sections, if you're an entry-level candidate lacking work experience, or if you simply want to draw a hiring manager's attention to your awards, then showcase them in a dedicated "Awards" section.
Here's an example of what a dedicated awards section looks like on a resume:

Types of awards to put on a resume (with examples)
Academic Awards

Academic awards show a hiring manager that you care about the quality of your work and have the drive to achieve at a high level. Not only can academic awards demonstrate your qualifications in a specific field, but they can also highlight many of your other skills – for example, a strong work ethic and the ability to achieve long-term goals.
Here are some examples of academic achievement awards you can include in your resume:
Perfect attendance record
High GPA
Exceptional SAT (or other exam) results
Honors societies
Honor roll
AP Scholar
National Merit Scholar
The President's Education Award
An election to student government
College & Graduate Awards
Scholarships
Academic distinctions
Honor roll
Honor societies
College or Departmental awards
Fellowships
Grants
Graduating cum laude (either summa or magna)
Other college awards
Academic awards should be listed in the education section of your resume in bullet points under your school information.
Example
Education

Drexel University, Philadelphia PA
Masters of Science in Biomedical Studies, May 2019


Awarded the Drexel Dean's Fellowship Scholarship 2017-2019 for outstanding academic performance
Won a Research Excellence Award from Drexel University in 2019, chosen from a select group of 30 graduate students for research in Biomedical Sciences, earning $750 for the originality, creativity, and significance of the research
Professional Awards
Professional awards demonstrate a variety of hard and soft skills, from solid team leadership capabilities to exceptional salesmanship. Professional awards can range from annual company awards to industry-wide recognition. Company awards highlight your value as an employee, while industry awards shine a light on your expertise and authority.
Here are some of the professional awards you should put on your resume:
Employee of the month awards
Best performer awards
Leadership awards
Innovation awards
Other employee recognition awards
Awards from a professional organization, association, or academy
Other recognition from respected sources, such as trade publications
Professional awards can be listed in your work experience section as bullet points under the corresponding job. If you've received a prominent industry award, it is worth featuring such an achievement in your resume introduction.
Example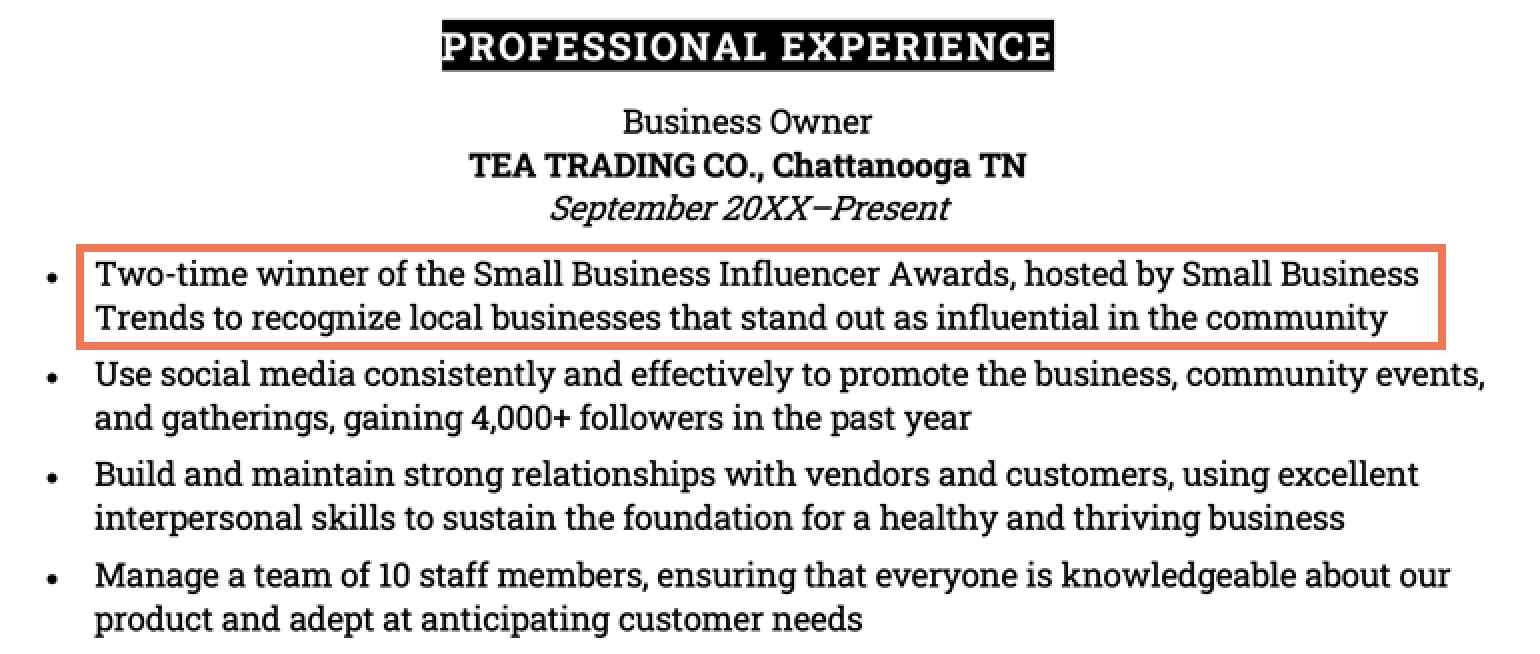 Military Awards
There are a wide range of military awards given to those who demonstrate impeccable technical skills, dedication, or bravery. While these awards aren't directly relevant to most civilian jobs, they highlight a variety of soft skills, such as leadership, loyalty, and teamwork.
If you're applying for a military position, make sure to include them. If you're applying for work in a civilian field, include only the awards that demonstrate skills and qualifications matching the job description.
Here are some of the military awards you might want to list on your resume:
Military academies awards
Personal decorations
Campaign and service medals
Service and training awards
Unit awards
Marksmanship awards
Honorable discharge
List military awards in the work experience under the position in which the award was received, similar to professional awards.
Example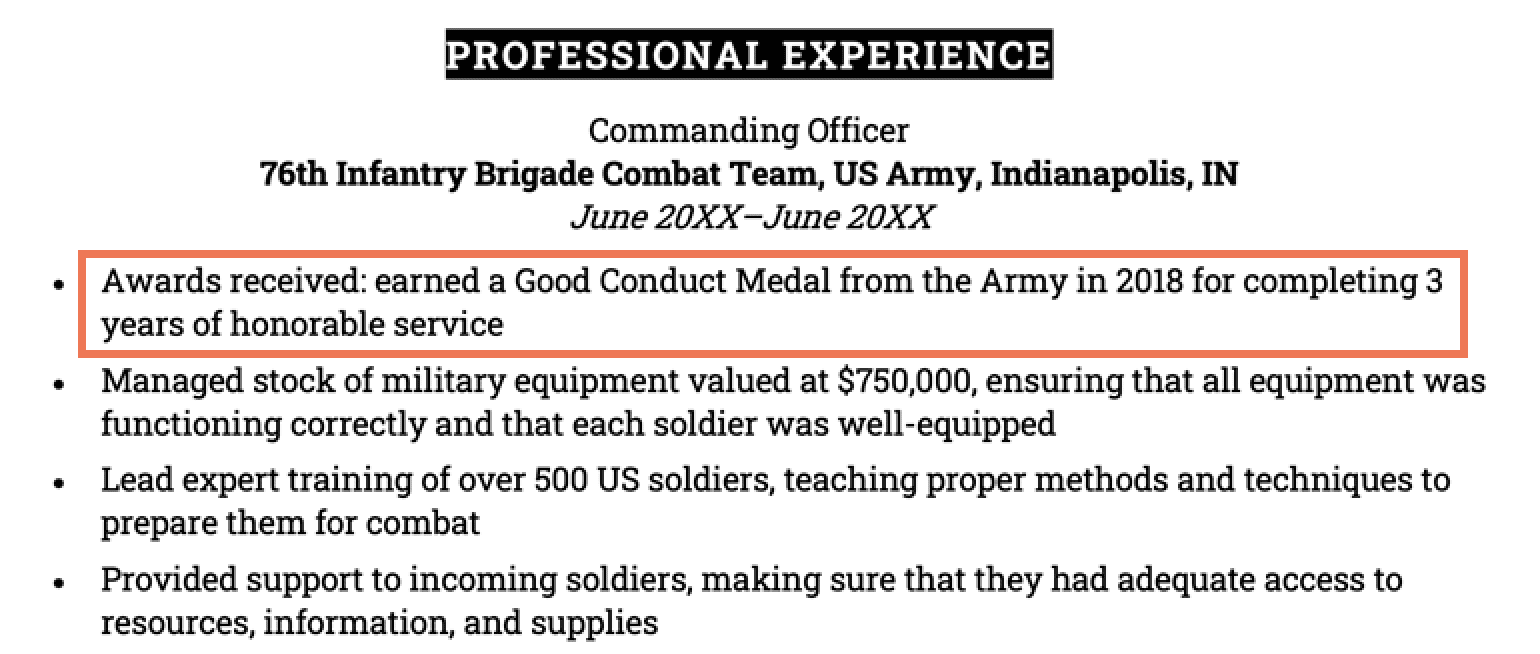 Other Awards
There are all kinds of other awards you can list on your resume, from volunteer awards to community service awards. While not always directly relevant to a career, these awards are strong indicators of valuable soft skills that make you a desirable candidate to any hiring manager.
Here are just a few examples of other types of awards you should include on your resume:
Community awards
Civic awards
Athletic awards
Arts awards
Cultural awards
Service awards
Volunteer awards
Regardless of the resume format you choose, many of these awards may not naturally fall into the work experience or education sections of your resume. If this is the case, consider adding an awards section to your resume, like in the example below.
Example