Should resumes have color?
Yes, in many cases a resume should have color. Adding color to your resume makes it stand out from other resumes and makes your application look more appealing.
But a colorful resume can sometimes come across as unprofessional and detract from the content, especially if it's difficult to read.
Ultimately, whether or not you should include color on your resume depends on the type of job that you're applying for.
Our free-to-use resume builder can make you a resume in as little as 5 minutes. Just pick the template you want, and our software will format everything for you.
In creative industries
If you're writing a resume for a job in a creative industry, using color on your resume is a good way to draw attention to certain parts of your resume or your design skills.
Additionally, using colors to mirror the branding of your target company can be an effective way to show your enthusiasm and demonstrate your compatibility.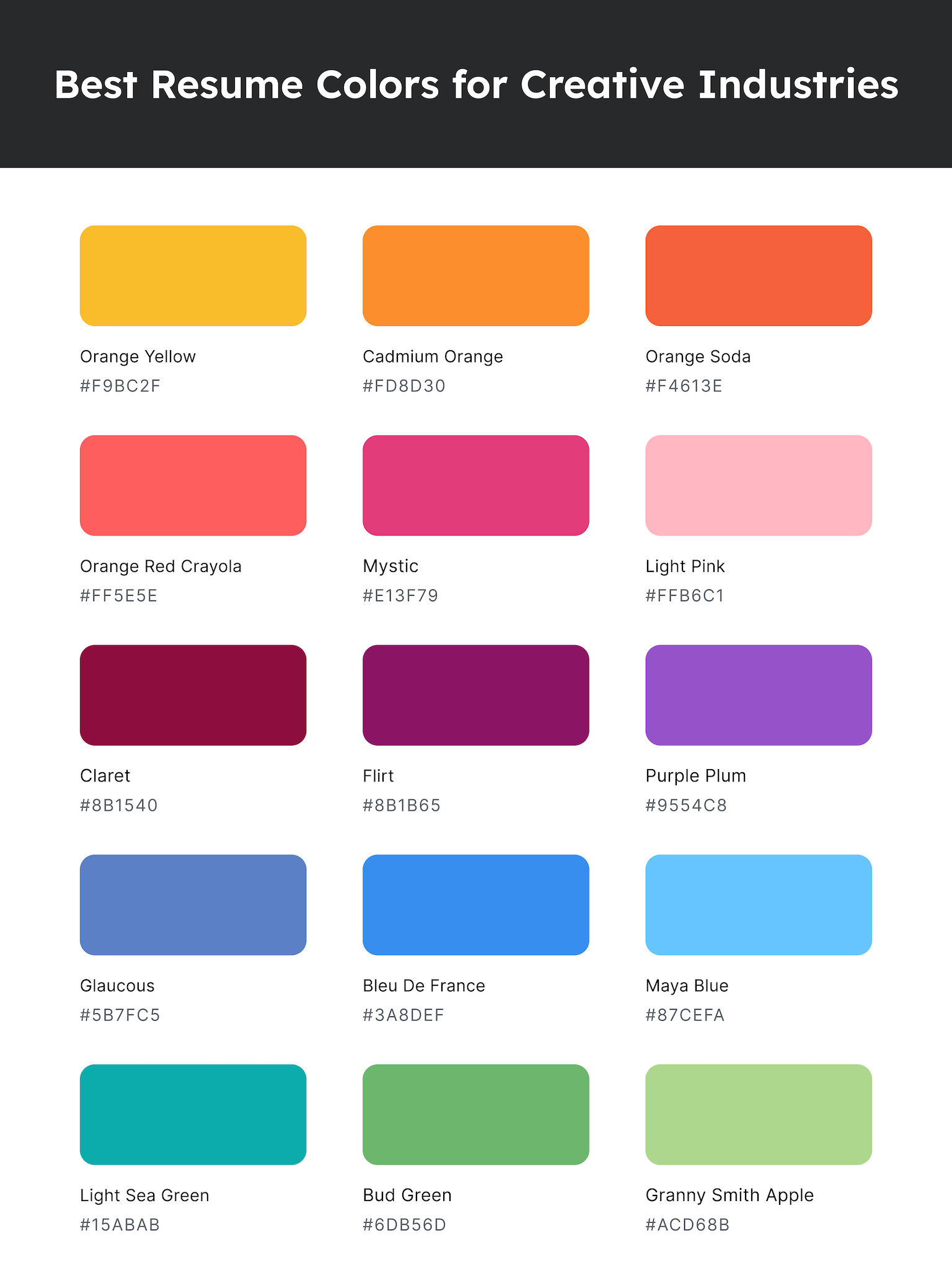 If you're not sure if you should include color on your resume, here are some careers where adding color can help boost your visibility and chances of success:
Illustrator
Advertising professional
Industrial designer
Animator
Exhibition designer
Museum/gallery curator
Film/theatre director
Media professional
In formal industries
If you're applying for a job in a more traditional industry, avoid using bright colors on your resume. In more buttoned-up professions, having a colorful resume is considered distracting and unprofessional.
However, using darker colors like navy blue, burgundy, or dark green on a simple resume template is acceptable.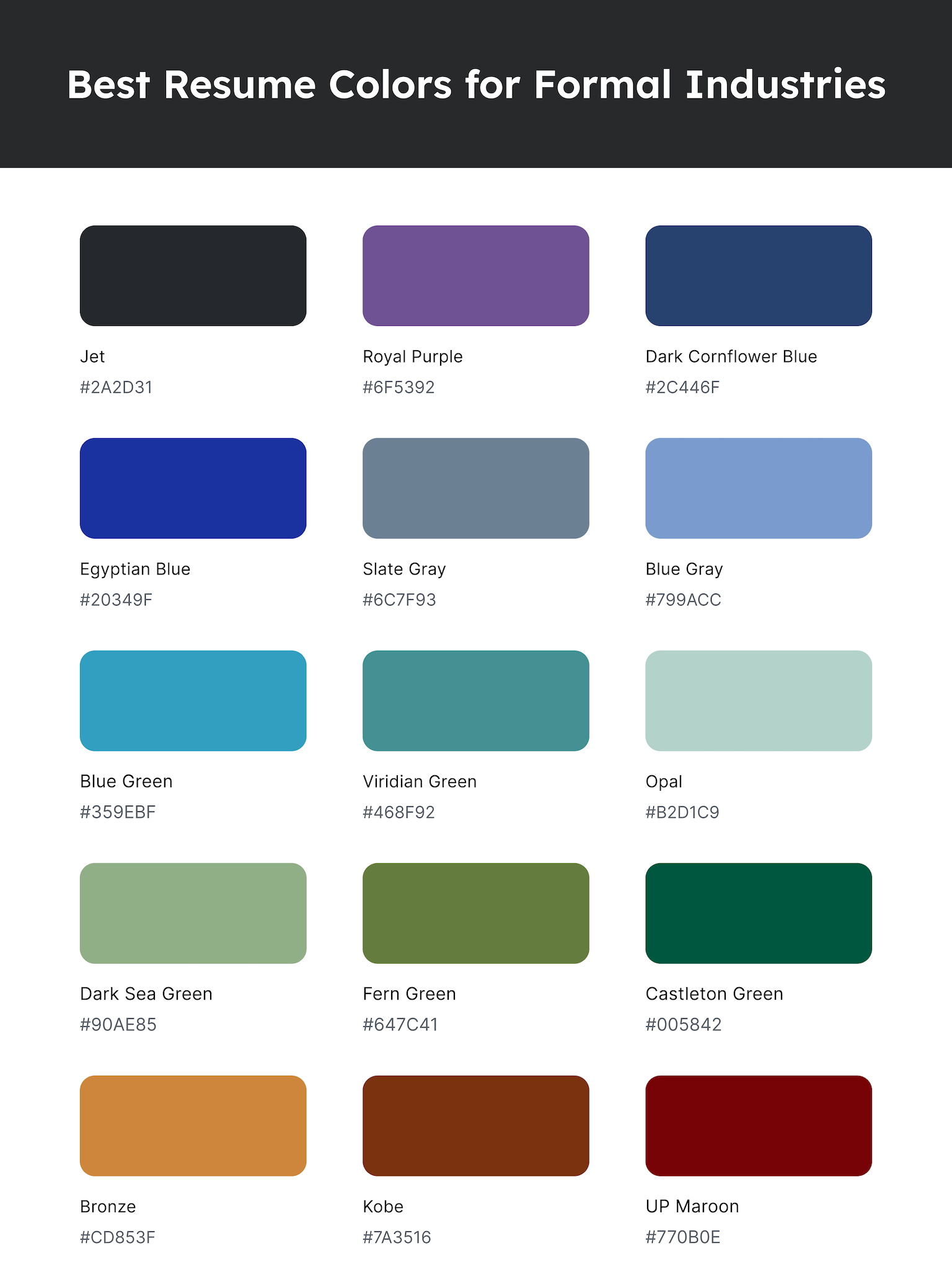 If you're not sure if your job is considered formal, here are some industries where you should avoid using bright colors on your resume:
Law
Politics
Academia
Civil service
Medicine
Veterinary sciences
Construction
Administration
Sometimes using the wrong color on your resume can seriously hurt your chances of landing a job. In the video below, our resident career expert Eva breaks down some of the biggest mistakes you can make when picking a color for your resume:
Tips for choosing the best resume colors
Now that you have a solid idea of when it's appropriate to use color on your resume, you need to know how to choose the right colors.
Check out these tips:
Consider color psychology when choosing a resume color
Creating an aesthetically pleasing, professional resume that stands out from all the others and creates a strong first impression can be a challenge. However, using a little color is a simple and effective way to draw the eye and convey a little personality.
The color you choose can carry a specific meaning, so it's important to consider what impact you want your resume to have on employers.
Here's a graphic to help you decide on the best color for your resume: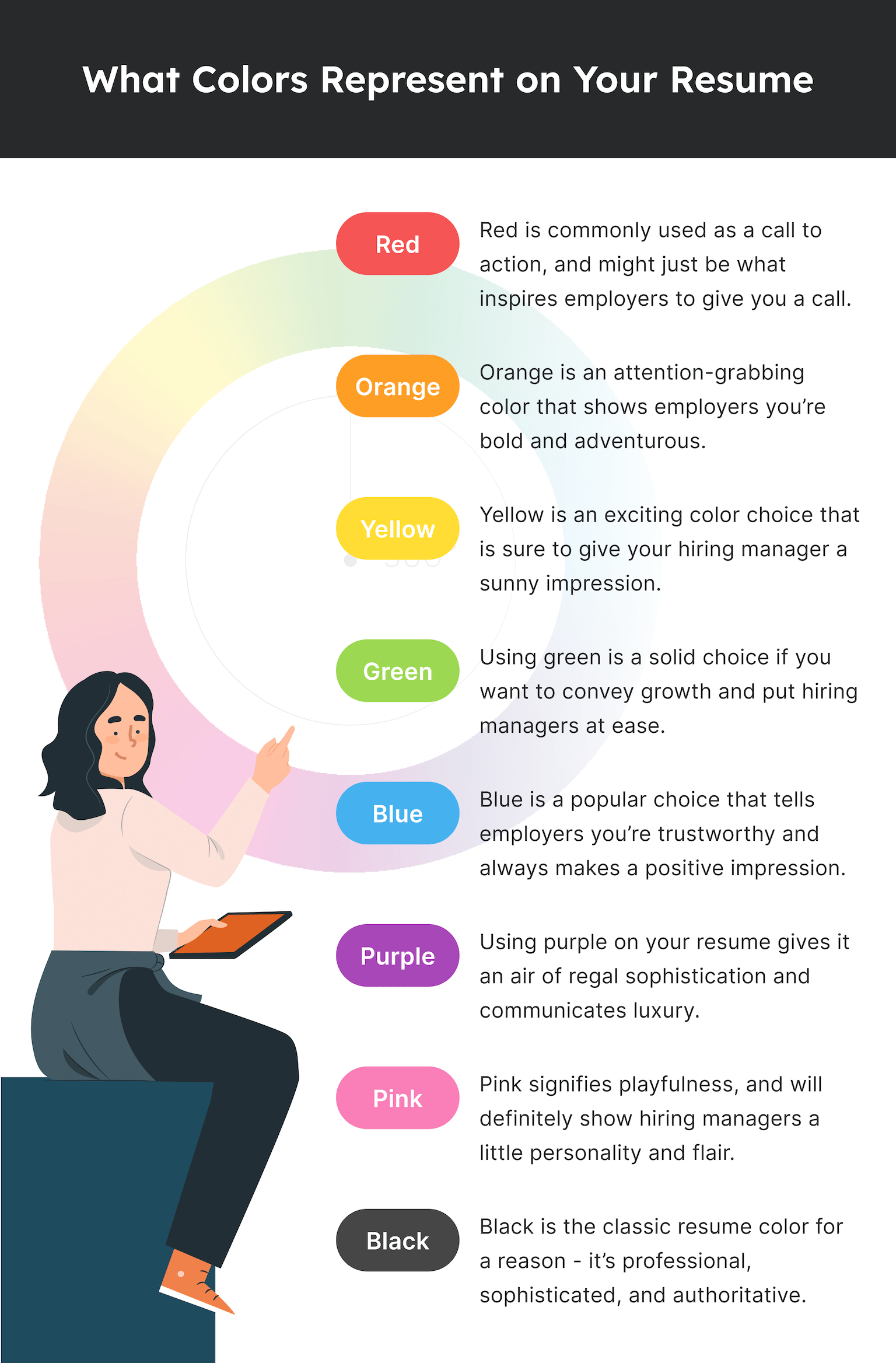 Use a resume color scheme
Sticking to a color scheme is essential if you want to have color on your resume. A set color scheme keeps your resume looking consistent and helps guide hiring managers to the important parts of your resume.
This means choosing a primary color for your header, a secondary color for your subheadings (like the experience section of your resume), and optionally an accent color that you can use to highlight different sections of your resume.
If you really want to make your resume pop, you'll need to use colors that complement each other well. You could, for instance, use dark green as your primary color, gray as your secondary color, and red as your accent color.
Here's an example of a resume color scheme that uses complementary colors: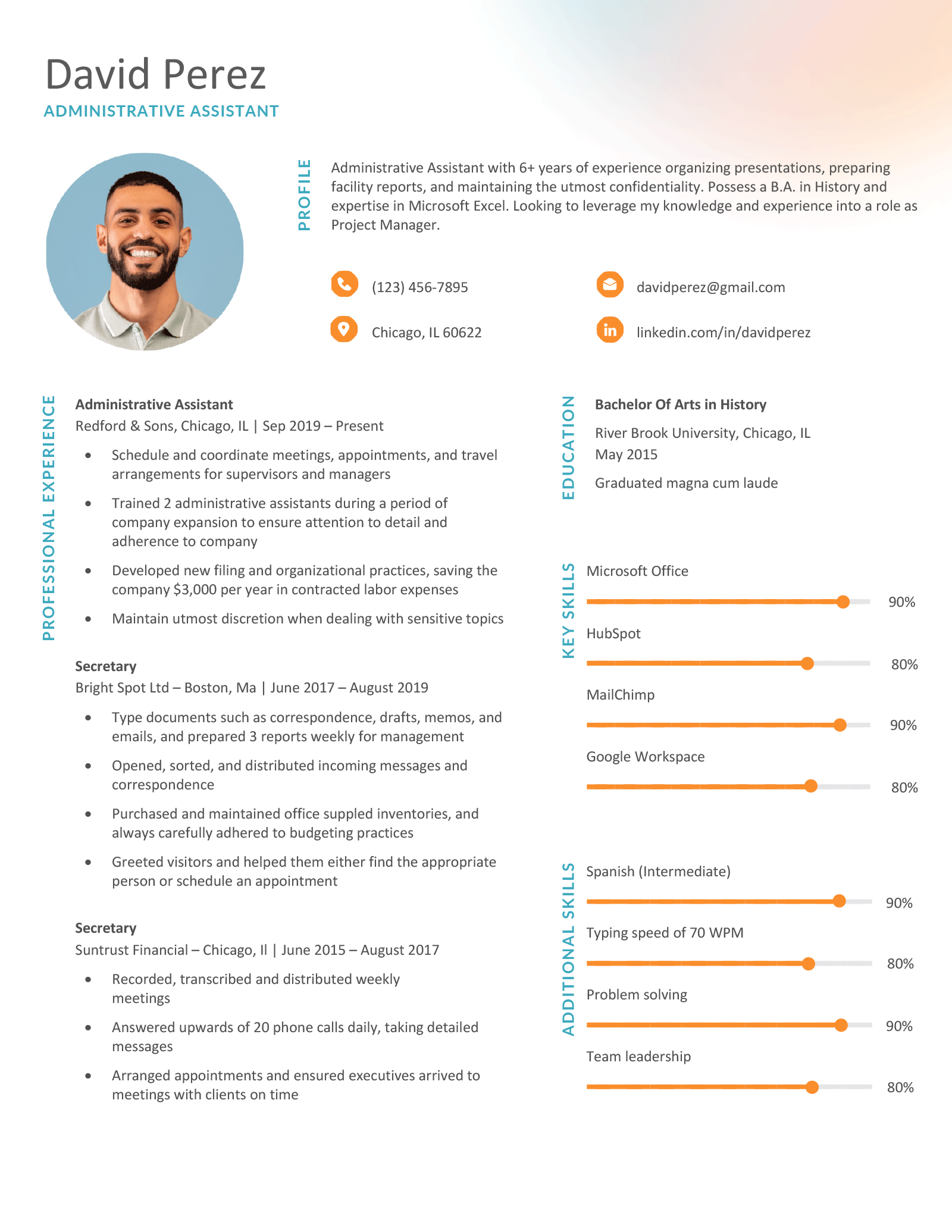 If you want your resume to appear less busy, stick to different shades of the same color. For example, using navy blue as your primary color, and a lighter shade of blue as your secondary color.
Here's an example of a resume that uses a monochromatic color scheme: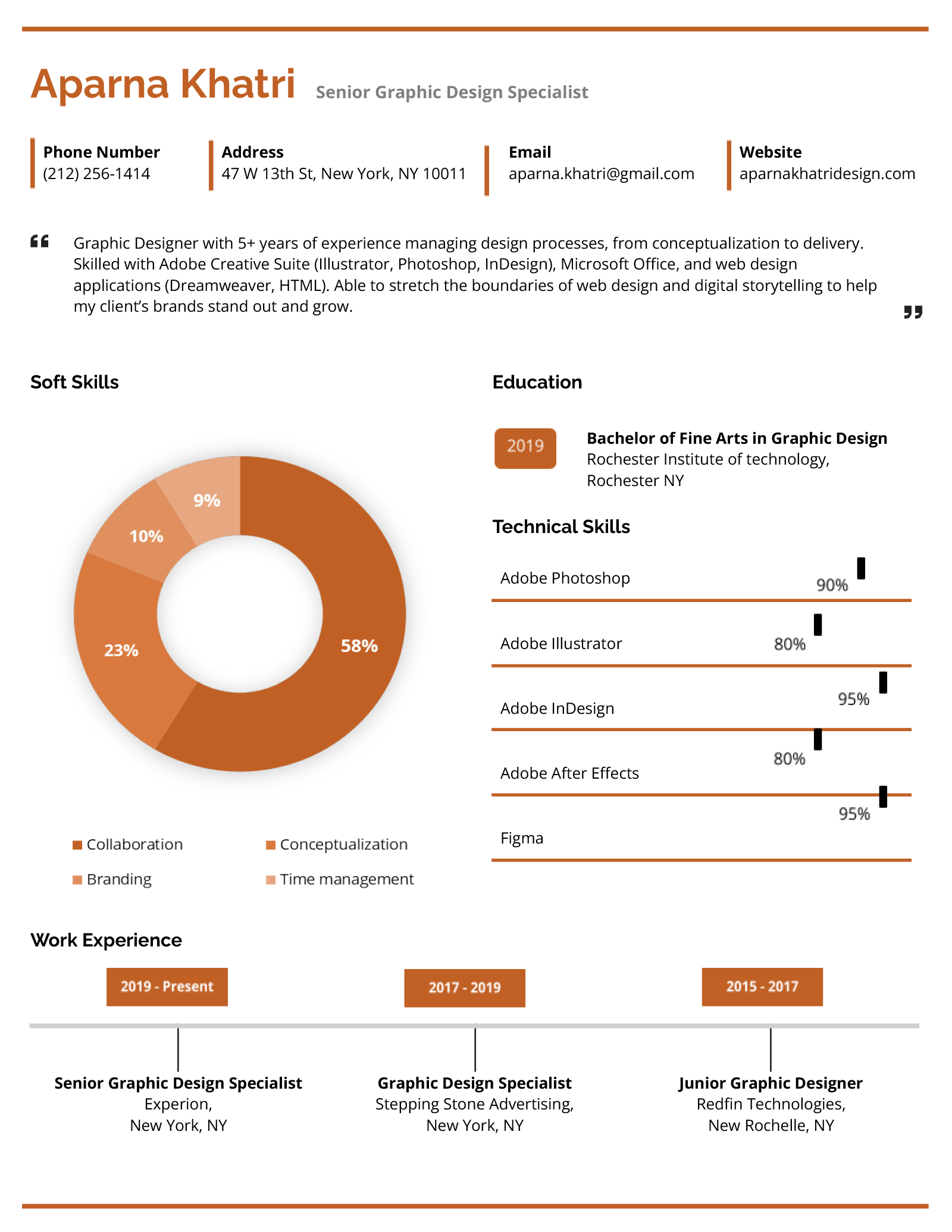 Not a graphic designer? No problem. Here are some pre-made resume color palettes to inspire you: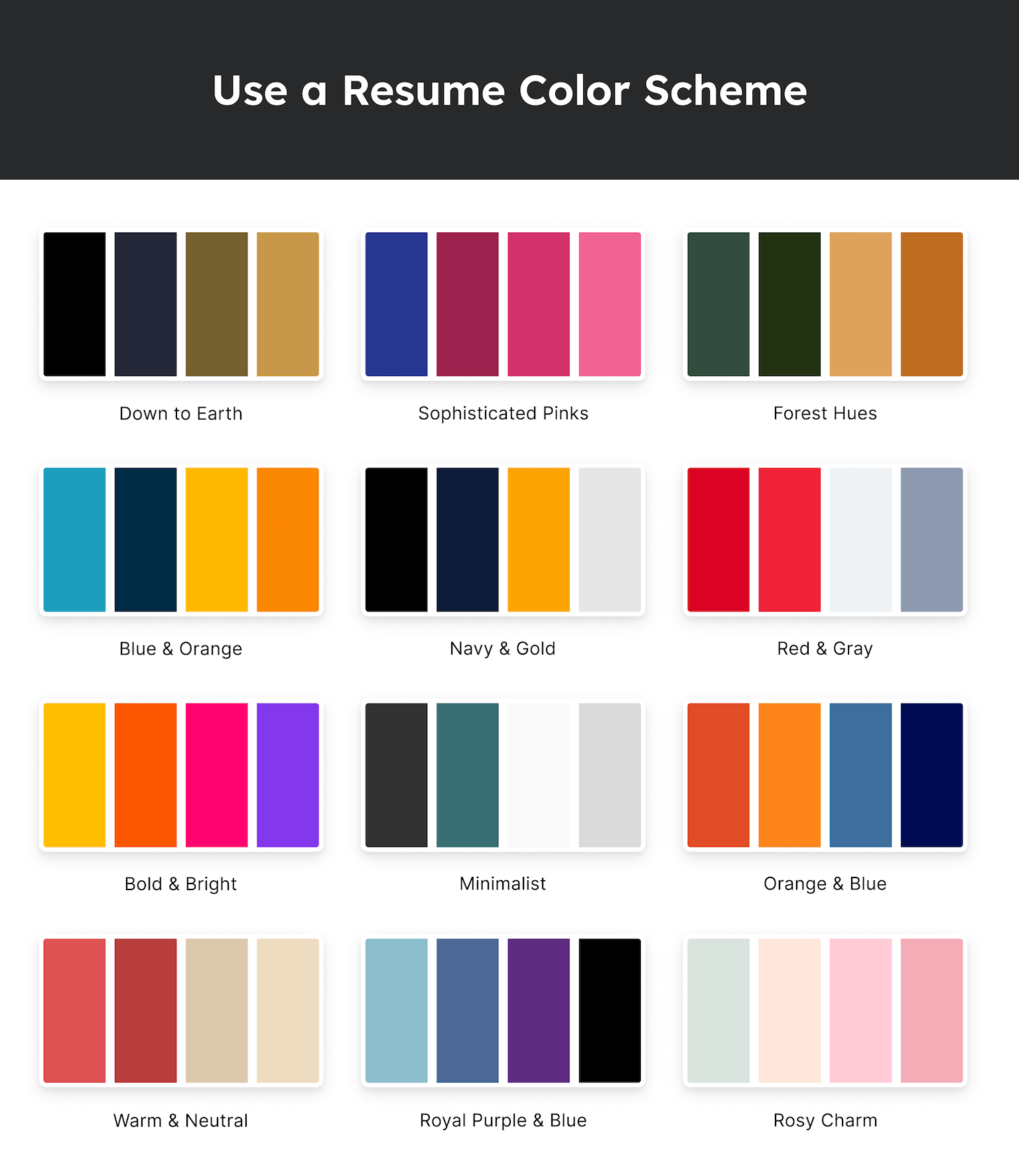 Make sure your resume is easy to read
Your resume isn't doing its job if a recruiter has to struggle to read it.
Whatever resume color scheme you choose, the most important thing is that it's easy to scan. Make sure that the colors you use are high contrast and dark (assuming that you're using a light background), and that the body text on your resume is always in black or dark gray.
Use standard resume formatting practices
One way to help make sure your resume colors highlight, rather than obscure, your qualifications is to use proper resume formatting.
If a hiring manager sees a colorful, badly-formatted resume, they won't be impressed. However, a well-formatted resume can pull off colors while remaining clean and professional.
Perfecting your formatting will ensure that the resume colors you choose enhance your application. In general, these are the rules to follow:
Keep your content left-aligned
Stick to 1" resume margins
Choose an easy-to-read resume font (serif and sans serif fonts)
Make well-defined resume sections
Use clear headings
Describe your professional experience in bullet points
Use a cover letter with a matching color scheme
Another important tip is to make sure that your resume design matches the design of your cover letter.
Specifically, the colors that you use in your resume should always be the same as the ones in your cover letter header. This will make your application look consistent and professional.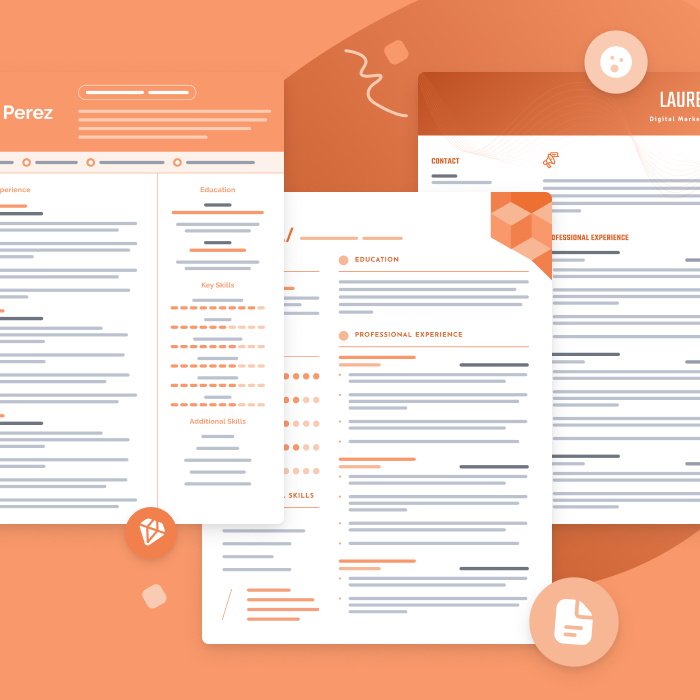 One of the best ways to make your resume is by filling out one of our free resume templates. All our templates are designed by experts and free to download for Microsoft Word or Google Docs.
3 templates with winning resume color schemes
Now that you know how to use colors effectively on your resume, here are three examples to help inspire you:
Cool Colors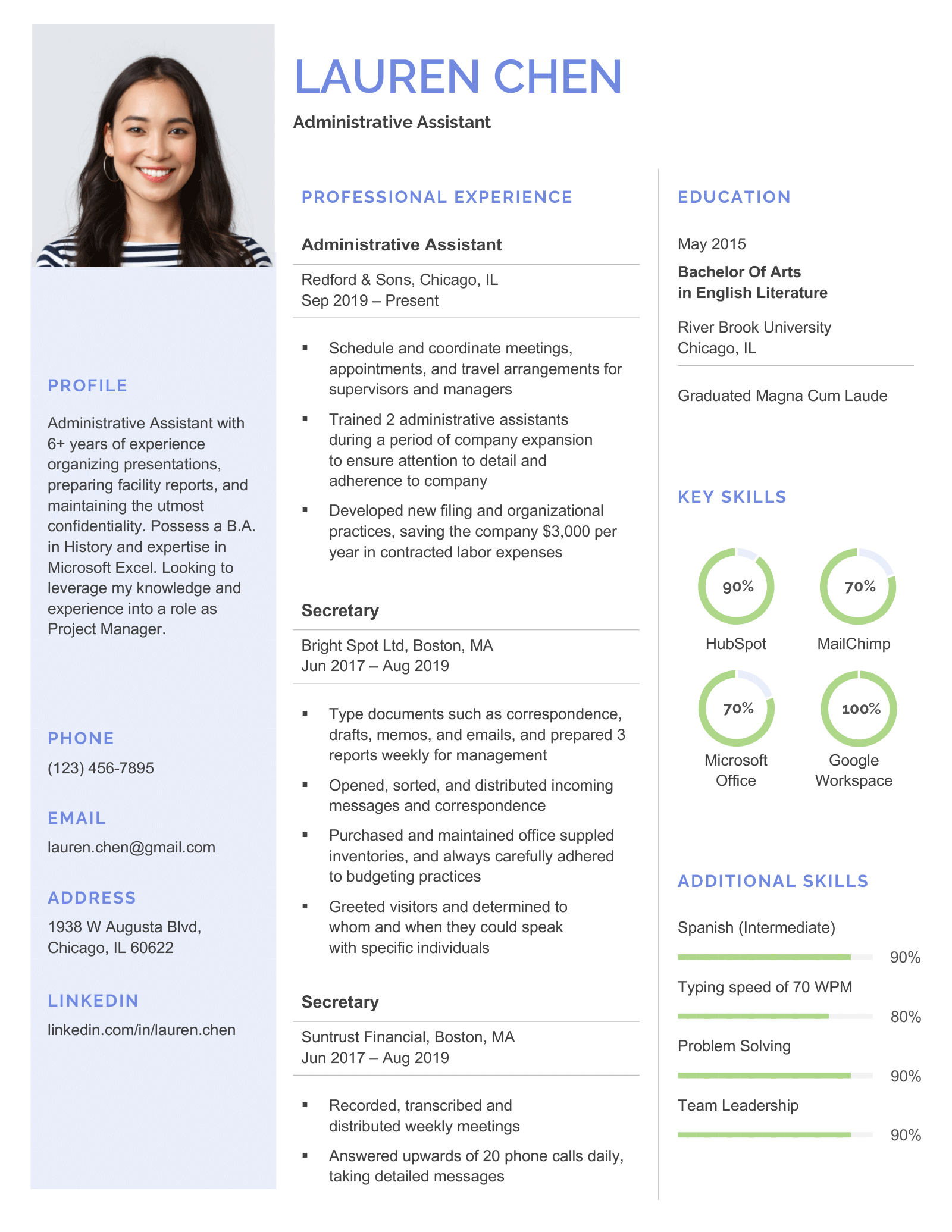 Our Millenial Resume Template uses light shades of cool colors to bring a modern and calming feel to your resume template. Its subtle color palette is enough to add visual appeal without making too strong a statement, making it perfect for creative young professionals.
Bold sidebar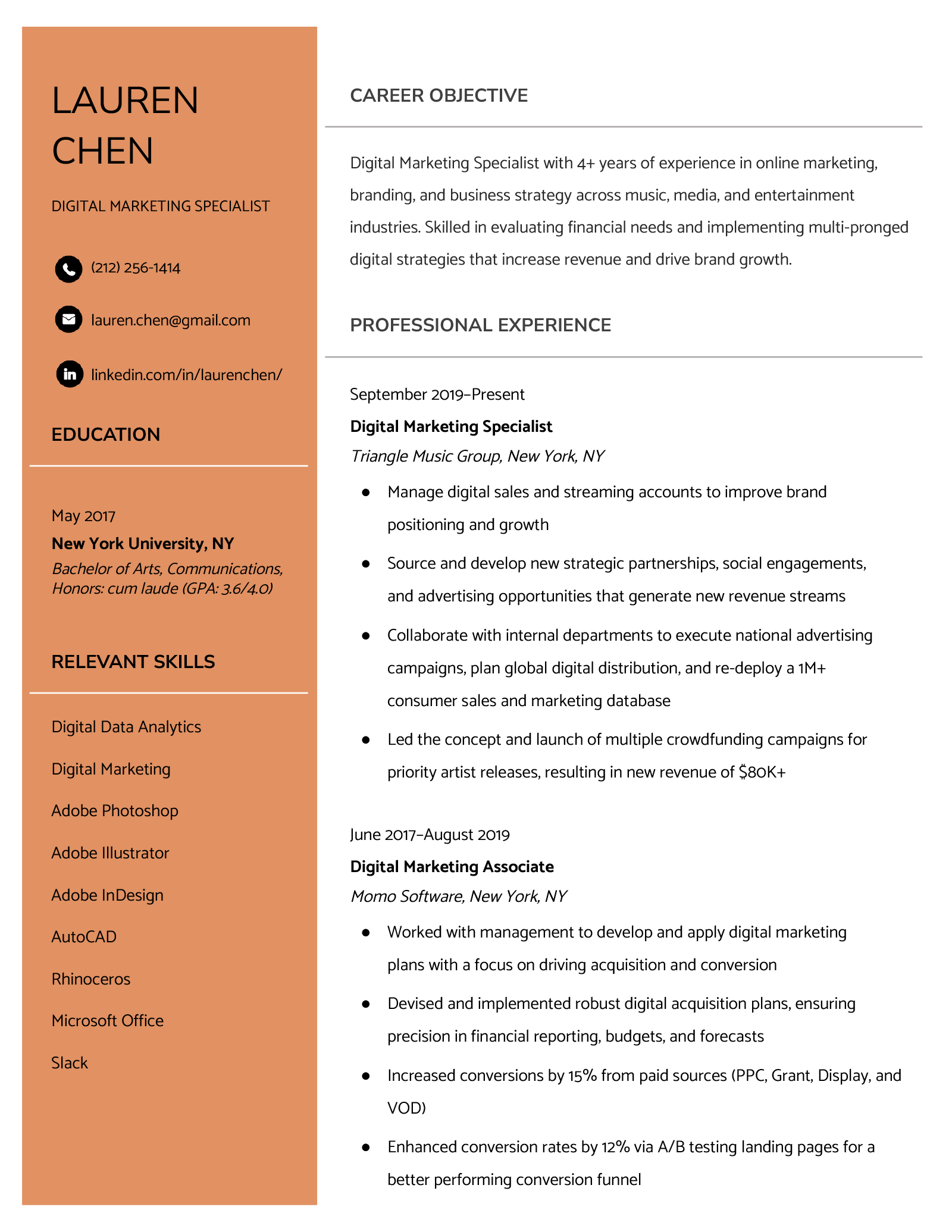 The Clean Resume Template features a bold sidebar that includes the header, education, and skills section of the resume. The only color feature in the design, it makes a powerful impression but keeps the resume clean and professional.
Neutral sophistication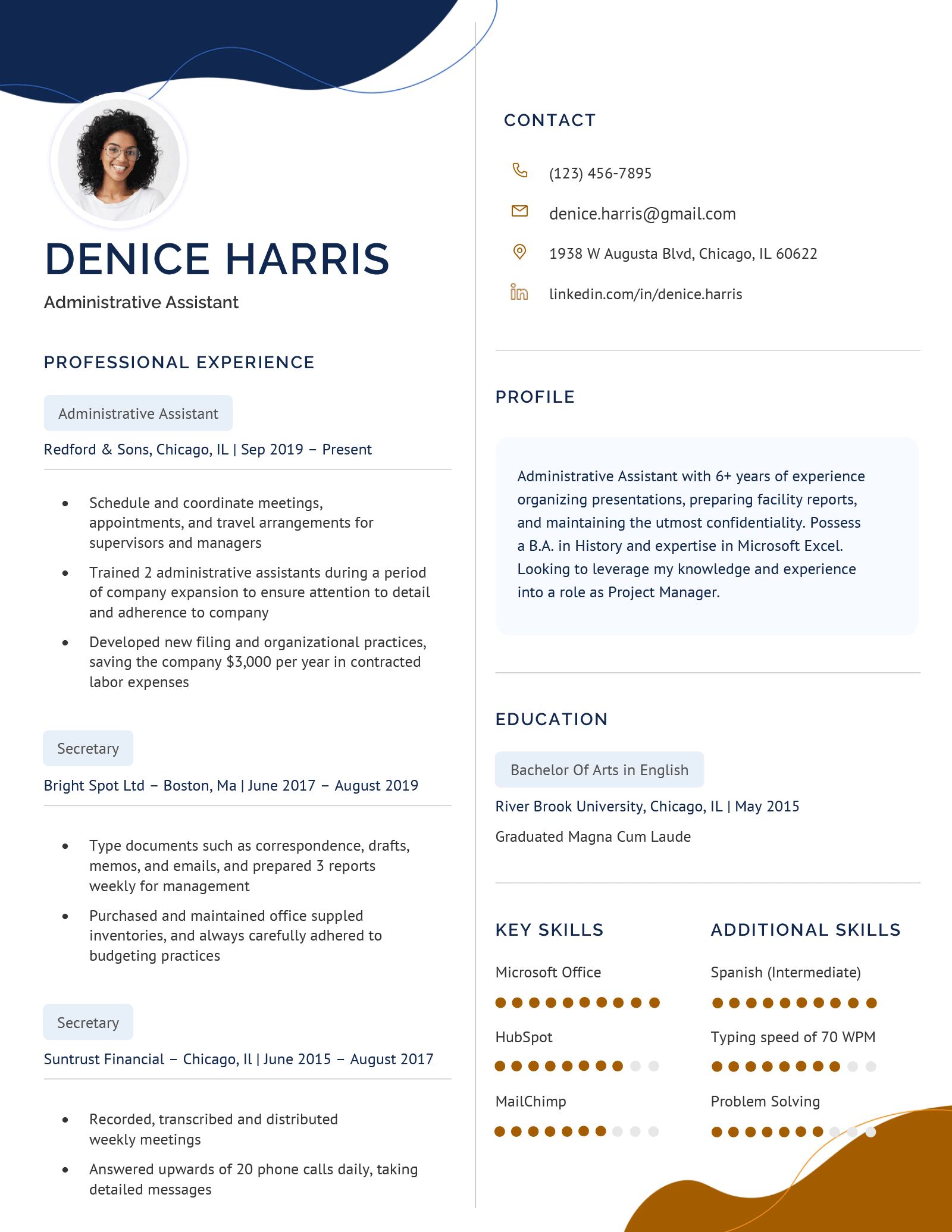 The blue and brown pairing of our Two Column Resume Template offers a professional and understated color palette. With splashes of color featured in the design, this resume template is the perfect choice for those in creative fields.