Whether you're a grad student or applying for a position as a professor, our 400+ CV examples will give you the inspiration you need to write your own CV.
6 good CV examples for different jobs
Just looking for some quick inspiration to make your CV? Here are our five most popular CV samples:
Our free-to-use cv builder can make you a cv in as little as 5 minutes. Just pick the template you want, and our software will format everything for you.
Academic CV
If you're applying for a teaching position at a university (for instance, as a professor or lecturer), this academic CV example should provide some ideas for writing your own CV.
An academic CV includes a detailed education section, publications, research projects, grants awarded, professional memberships, and teaching qualifications.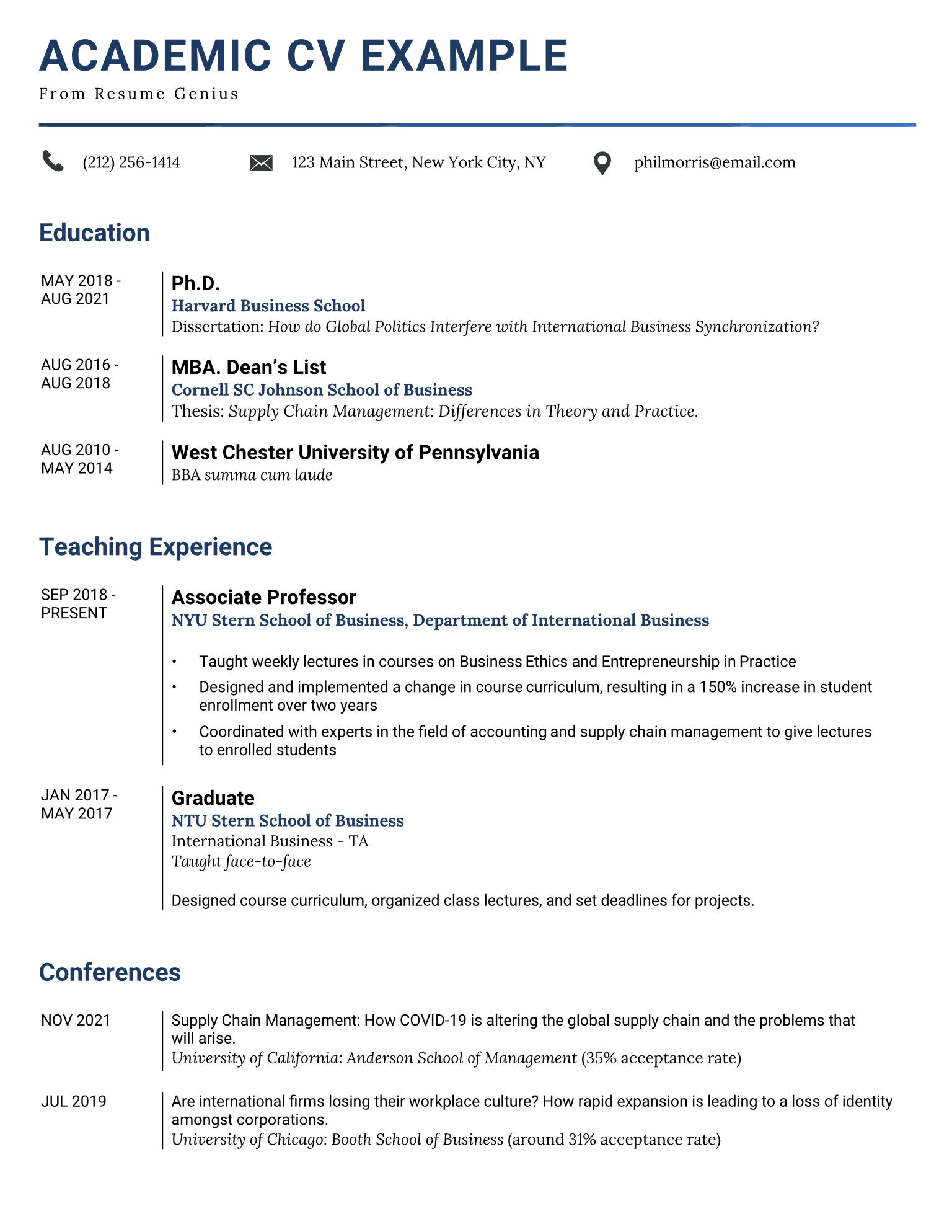 Nurse CV
If you're applying for a role in nursing, you'll need a CV that showcases your medical experience, the type of nursing you're qualified to perform, and your licensure.
Here's an example of a nurse practitioner CV that clearly presents all the candidate's key qualifications as a nurse: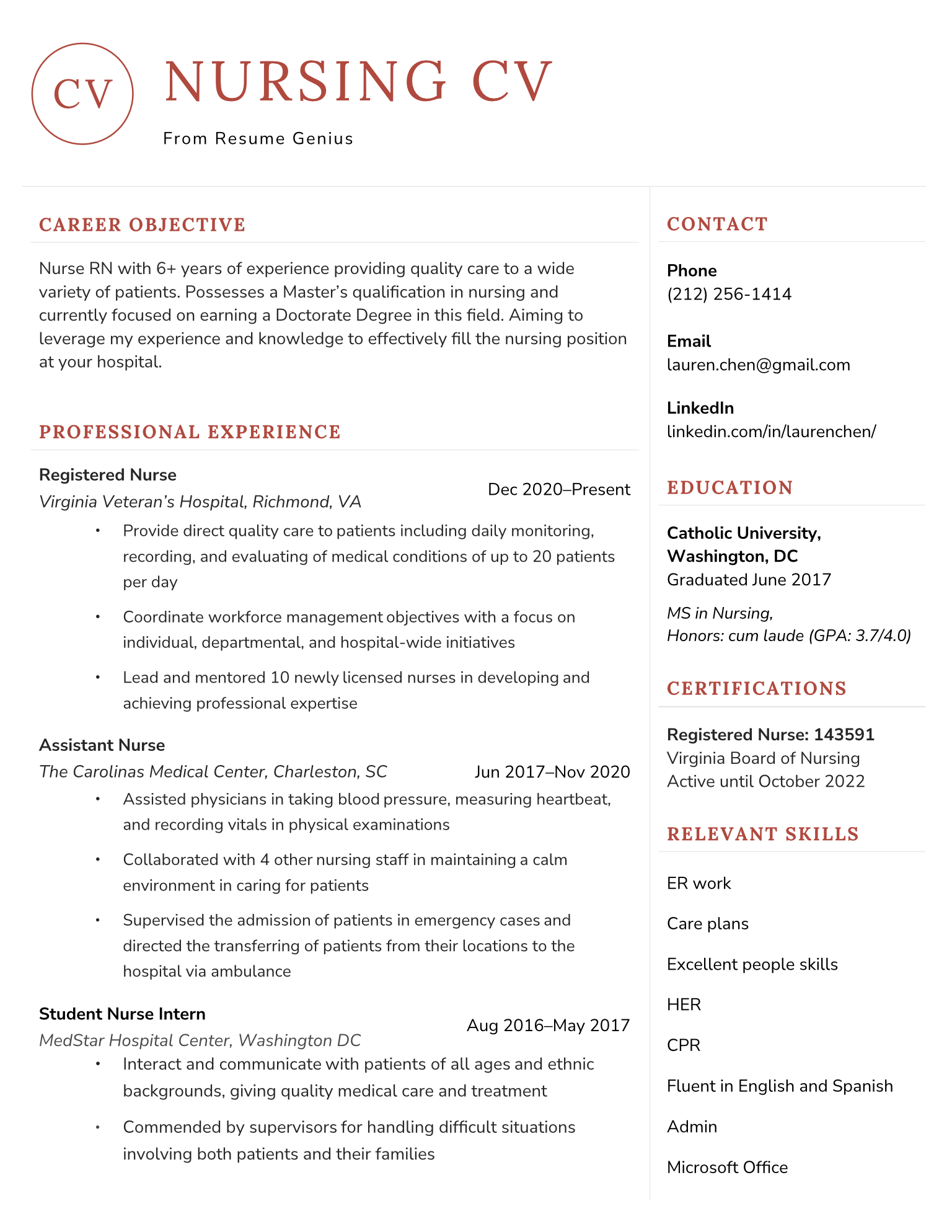 Grad school CV
Writing a CV for grad school? The following example demonstrates how to highlight your academic achievements and coursework on your CV: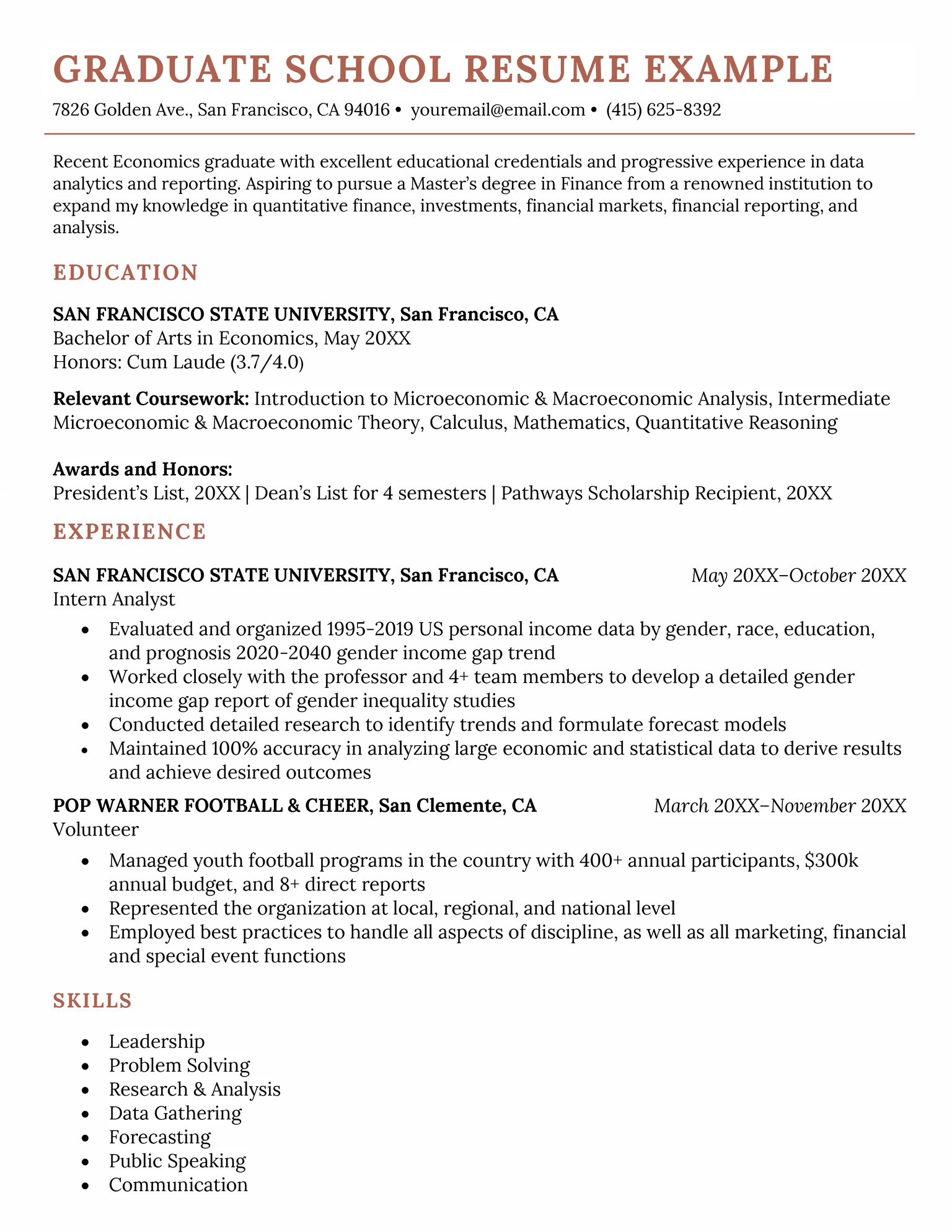 Student CV
Applying to positions as an undergraduate? The student CV example below demonstrates how to highlight your educational achievements and relevant coursework for employers: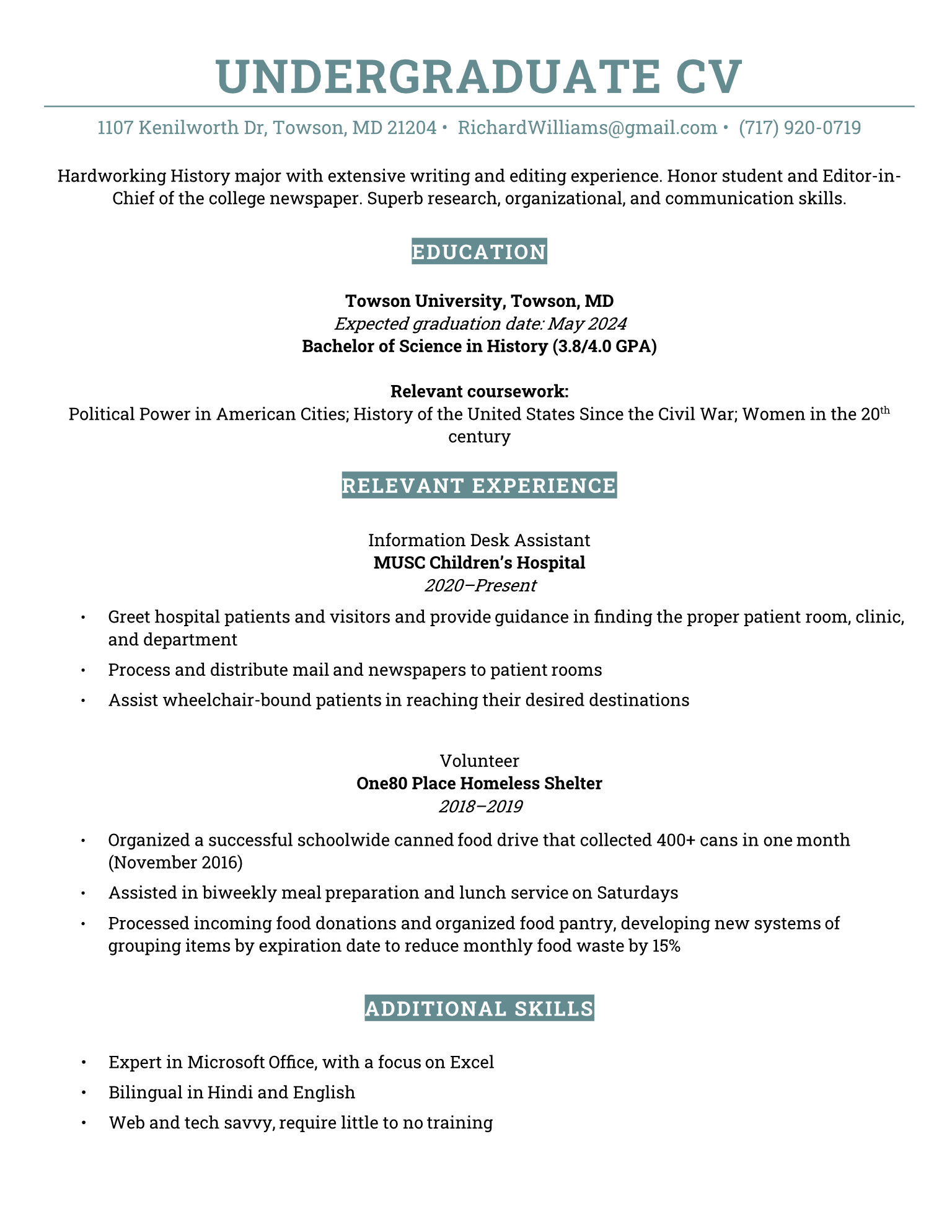 Science CV
Are you a scientist applying for a research or teaching position? Take a look at the science CV example below to see how to properly highlight career accomplishments in your chosen field, including your publications and teaching experience.
Artist CV
If you're a professional artist or art professor, you'll need an artist CV that highlights your exhibitions and published work. Here's an example CV that demonstrates how to write a convincing CV for the arts: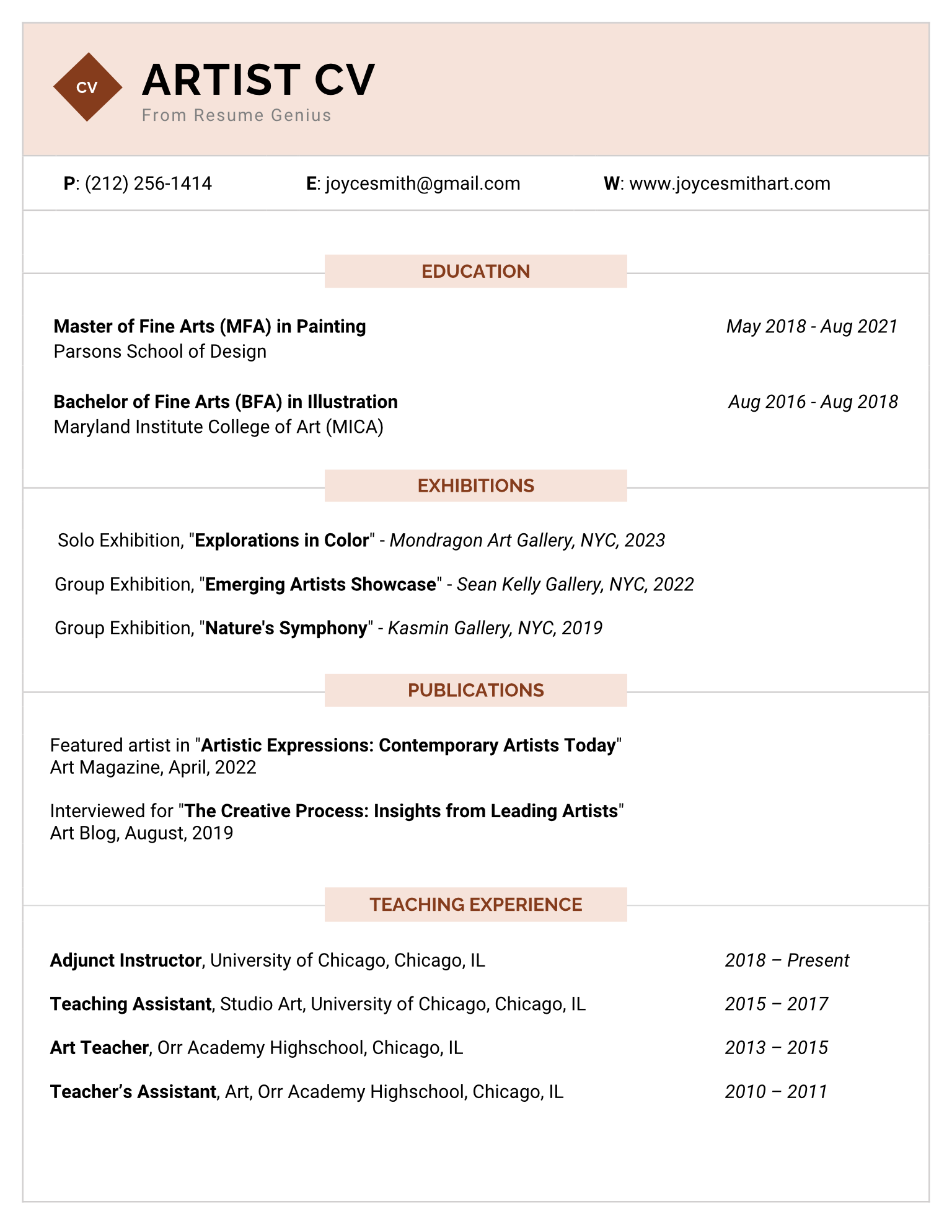 What is a CV vs a resume?
Confused about what a CV is, or what people mean when they say "CV"?
A CV (or 'Curriculum Vitae') in the US is a formal document for applying to positions in research and academia. The sections you can include on a CV are numerous, and create a lengthy outline of publications, teaching experience, awards, and credentials.
However, in the rest of the world, a CV is the same thing as a resume: a professional document used to apply for (almost) any type of work. In this situation, your CV would provide a summary of your skills, educational background, work history, and notable accomplishments.
Our audience is made up of people from all over the world, so we present CV examples of both types. Whether you're looking for academic and research-based CV samples or an example of a CV for a job outside of academia, we provide them all on this page.
380+ professional CV examples
Here are over 380 samples of CVs for job seekers in nearly any industry:
Accounting
Banking & Insurance
Business Development
Business Management
Child & Elder Care
Childcare
Construction
Customer Support
Digital Art & Production
Digital Design
Engineering
Finance
Fine Arts & Aesthetics
Food & Beverage
Food & Drink Preparation
General
Graduate
Health
Healthcare & Wellbeing
High School
Hospitality
Housing
Human Resources (HR)
IT
Law & Government
Life Situation
Logistics
Maintenance
Management
Marketing
Medicine
Non-teaching
Nursing
Office Administration
Production & Management
Public Safety & Security
Retail
Sales
Science & Research
Service Industry
Software & Web Development
Spa & Salon
Specialized Medicine
Student
Teaching
Transportation
Undergraduate
Visual Arts & Music
Warehouse
Writing & Media
CV format template
Not sure what to include on your CV? No problem.
Here's a template for a CV that outlines exactly how to format each section and what information to include. Simply copy and paste it into Google Docs or Microsoft Word and fill it in with your qualifications and work history.
CV format template (text version)
Email: your.email@gmail.com
Phone: (555)123-4567
Address: 123 Your Address, City, State, Zip
LinkedIn: linkedin.com/in/yourprofile
CV Introduction
Skilled [industry] professional with [# of years] years of experience. Seeking to leverage my expertise in [relevant skills] to fill your [position name] position. An intuitive worker aiming to help achieve [Company's Name]'s goals and take on more responsibility as quickly as possible.
Work or Relevant Experience
Most Recent Job Title
Employer Name | Location | Start Date - End Date
Include a bulleted list of your accomplishments
Make sure you add numbers to these bullet points
Earlier Job Title
Employer Name | Location | Start Date - End Date
List any relevant accomplishments from an earlier job
Assuming you no longer perform this job, make sure you use past tense verbs to describe this experience
Education
Degree Name | Major
University, Location | Graduation Date
Skills and Certifications
List your relevant skills and certifications
Include both hard skills and soft skills
Be specific. For example, mention the names of software packages and tools you're able to use.
Additional CV Sections
Here's where you can add any other relevant information
For example, you could talk about publications, languages, volunteer experience, relevant hobbies, conferences, or grants
Making a CV is easier than you think
Now that you've seen some examples of strong CVs in your industry, you hopefully have a better idea of how to make a CV that lands you the position you want.
However, creating a CV from scratch is a whole skill on its own. From CV formatting to design, creating a good CV takes time and effort.If you're still not sure how to create your own CV, here are some additional CV resources for you to check out:

Frequently asked questions about CVs
Still not sure about something? Here are some frequently asked questions about CVs:
What's the best CV format?
The best CV format is the one that highlights your key achievements most effectively.
For example, if you have a lot of teaching experience, you should format your CV so that it comes before other sections. This way, employers see your most notable achievements before the other details on your CV.
How long should a CV be?
A CV for an academic position should be two pages or longer, depending on how much experience you have, how many papers you've published, and how long your career is.
Academic CVs should outline your entire academic career, so they can sometimes get to 10 pages or longer.
However, if you're writing a CV for a non-academic job, you should try to be as concise as possible and stick to one or two pages at most.
Do I need to include a cover letter with my CV?
Yes, you need to include a cover letter with your CV if the position requests one. Even if the job doesn't require a cover letter, you should still include one to show that you're passionate about the position.
Think about it this way: in the event that a hiring manager is deciding between you and another candidate, a well-written cover letter might be what you need to convince them that you're a better fit for the position.
What should a CV include?
A CV should include any of the following sections, as long as they're relevant to the position you're applying for:
Header (with your name and contact information)
Education
Professional experience
Teaching experience
Research
Publications
Grants & fellowships
Presentations
Conferences
Honors and awards
Certifications & licensure
Professional associations
Skills
References
However, if you're writing a regular professional CV, you should stick to this standard format:
Header
Personal statement
Work experience
Skills
Educational history