Table of Contents
1. Professional Social Work Resume Sample
Candidate's situation:
Candidate has 5+ years of experience
Candidate specializes in treating children who have been affected by domestic violence
Candidate possesses a bachelors in Psychology and a masters in Social Work
Click here to download
This MS Word Social Work Resume
SEE ALSO › 60+ Sample Resumes by Industry
2. Social Work Resume (Text Format)
MSW with 5+ years of experience in serving the community, resolving conflicts, and providing guidance for those in need. Dedicated to training in domestic violence, adolescent and children needs. Experienced in crisis intervention and providing support in mental health.
WORK EXPERIENCE
Crossroads Center, Cleveland, OH
Social Worker, September 2014 – Present
Facilitate crisis intervention services and psychosocial assessments to address needs of young adolescence aged 10-18 years
Collaborate with team members to assist in development of individualized treatment plans
Effectively utilize community resources and served in 3-5 weekly therapy groups
Bayside Mental Health Clinic, Chicago, Illinois
Social Work Intern, July 2011 – August 2014
Gave individual assessments and psychotherapy services
Evaluated and provided treatment planning and crisis intervention for those with mental illnesses
Assisted in developing programs for the youth to improve overall well-being and health
Successfully launched events and programs for the community with up to 500+ participants
VOLUNTEER EXPERIENCE
Cleveland Crisis Center, Cleveland, OH
Hotline Volunteer, June 2010 – April 2011
Provided emotional support and guidance on-call through active listening and empathy for those suffering from domestic violence
Assisted in and planned basic case management and treatment programs
University Hospitals, Cleveland, OH
Child Life Volunteer, June 2000 – May 2011
Facilitated activities for 10 to 14-year-old children through interactive games and crafts, also providing additional emotional support where needed
Organized and led play therapy group sessions to ensure healthy development
 Education
Case Western University, Cleveland, OH
Bachelor of Arts in Psychology, May 2011
Master of Science in Social Work, May 2014
LICENSURE
Licensed Clinical Social Worker (LCSW), 2014
Skills
Case Planning & Management, Life-Skills Counseling
Client Advocacy, Client Relations, Client Needs Assessment & Response
Communication, Community Outreach, Fundraising & Donor Relations
3. Social Work Resume Tips
Social work is a field that requires a lot of hands-on experience with people in your community, hence it's critical to demonstrate qualities such as active listening, emotional intelligence, critical thinking, and empathy. Follow the tips below to help you effectively showcase these abilities on your resume.
Write a Career Objective that Highlights you Impressive Abilities
When writing your resume it can be difficult to decide exactly how to start, especially for social workers who can have experience at various levels, including training, volunteer opportunities, and in a professional setting. Luckily, a Career Objective gives you a chance to emphasize your most impressive qualities and knowledge right off the bat. That way, hiring managers can instantly recognize what you bring to the table without having to scan through your entire application.
As seen in the resume sample above, the Career Objective highlights the necessary skills, specialties, and capabilities for a Social Work position: 
MSW with 5+ years of experience in serving the community, resolving conflicts, and providing guidance for those in need. Dedicated to training in domestic violence, adolescent development, and children's needs. Experienced in crisis intervention and providing support in mental health.
If you're not sure if a Career Objective is right for you, then take a look at our flowchart on how to start your resume.
Meet the Needs of the Employer
When you get to the professional experience section, make sure you consider the specific job description of the position you are applying for. A simple trick to addressing the needs of the employer is to use their job description as your guide. If you look close enough, you will find the target keywords that you should include in your professional experience.
For instance, take a look at the real job description for a social work position below:
Notice the highlighted keywords. Once you've identified the target skills that the employer is looking for, the next step is to add those keywords in your professional experience bullet points. As an example, check out how this bullet point addresses the employer's job description above:
Facilitate

crisis intervention services

 and

psychosocial assessments

 to address needs of young adolescence aged 10-18 years
Pay attention to how the bullet point not only includes some of the key terms in the job description, but also uses an action verb (Facilitate) and quantifies their experience by adding the age range of their clients. If you can copy this method throughout your professional experience section, you will certainly make the hiring manager's job easier.
Add Social Work Action Verbs
Use the list of action verbs below to make your bullet points more impactful.
Accelerate
Accomplish
Adapt
Adjust
Analyze
Co-lead
Compile
Controll
Coordinate
Counsel
Create
Devote

Establish
Evaluate
Guide
Handle
Improve
Influence
Oversee
Propose
Provide
Research
Specialize
Train
Need more verbs? Visit the longest list on the internet.
Emphasize your Credentials, Advanced Practice Specialties, and Licenses
According to the National Association of Social Workers, credentials are very important for building your social worker experience.
Below you will find a comprehensive list of credentials available based on the area of your practice.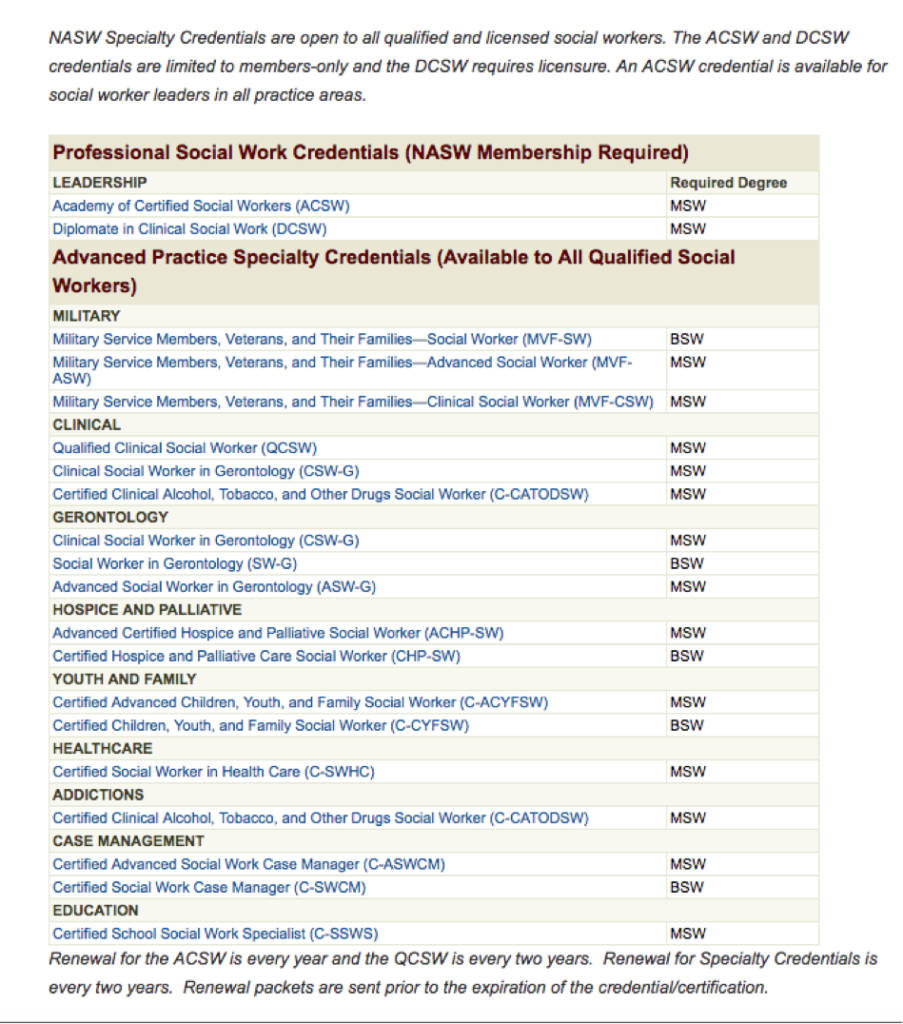 Such credentials or specialty certifications can further validate social work knowledge and experiences gained previously. Keep in mind that to be qualified for these credentials and certifications, a BSW or MSW is required.
Aside from degrees and certifications, clinical social workers are always licensed in every state. For most states, master's level social workers are licensed regardless of whether they are in clinical practice or not.
Social work licensure confirms that social workers have the appropriate education and training in order to provide competent services to the public. This helps protect the public so that issues and treatment are carried out in an ethical and effective manner by accredited professionals.
Different Types of Licensure
Licensed Bachelor of Social Work (LBSW)
Licensed Master Social Work (LMSW)
Licensed Master Social Worker-Advanced Generalist (LMSW-AG)
Licensed Clinical Social Worker (LCSW)
Read more on the state-specific social work licensing requirements from HumanServcesEdu.org.
If you will follow the tips above, you will be well on your way to crafting an impressive social worker resume. If you have a question about your specific situation, feel free to comment below.