Your resume and cover letter need to include both hard and soft skills — specifically, the skills your target employer is seeking. Proving you have both types of skills is important because employers prioritize candidates who possess a balance of technical and interpersonal abilities.
Our free-to-use resume builder can make you a resume in as little as 5 minutes. Just pick the template you want, and our software will format everything for you.
What's the difference between soft skills and hard skills?
If you're unsure how to classify a particular skill, use the following definitions of hard and soft skills to decide: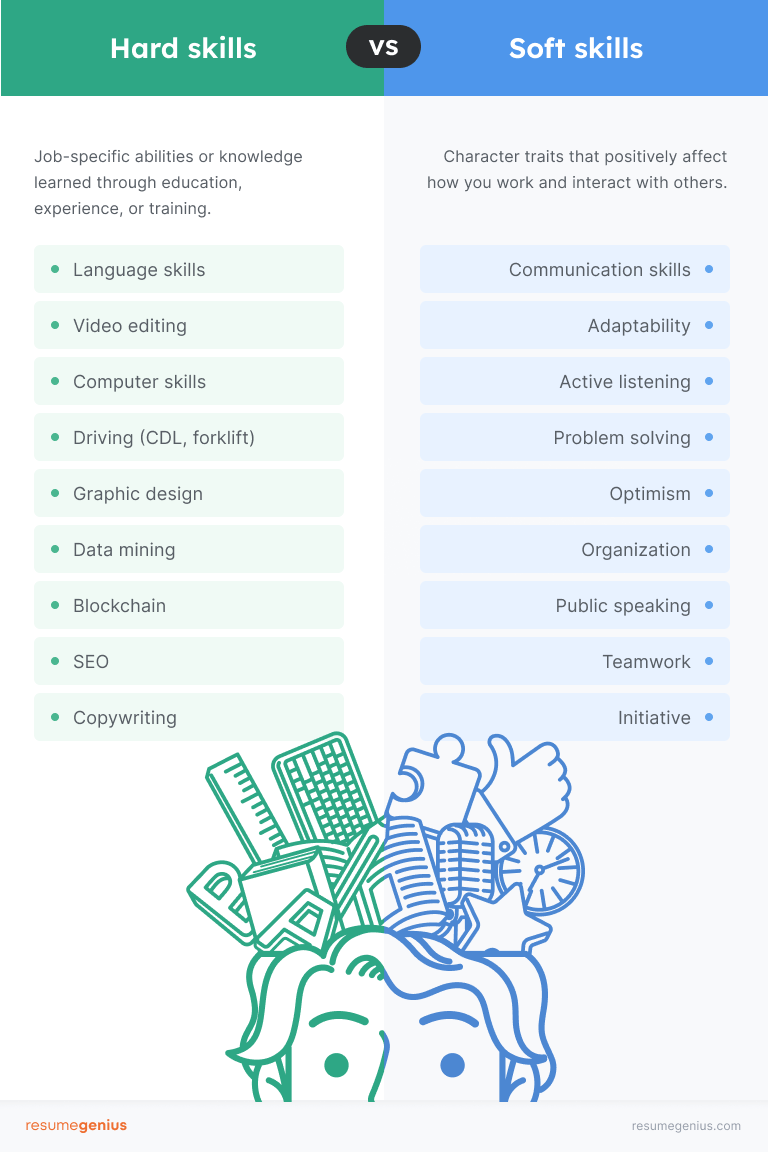 Hard skills
Hard skills (also known as technical skills) are techniques or knowledge you learn at school or through on-the-job training. Examples of hard skills include accounting strategies, computer programming, and plumbing techniques.
Some industries are more hard-skills focused than others, for example, IT, engineering, and science. So if you're in one of these industries, focus on developing your technical skills to stay competitive on the job market.
Here's a list of examples of hard skills:
Examples of hard skills
| | | | |
| --- | --- | --- | --- |
| Typing proficiency | Microsoft Office | Google Drive | Adobr Photoshop |
| Avid Pro tools | QuickBooks | Budgeting | Equipment operation |
| Bartending skills | Refrigerator reparation | Photography | Coding languages |
| UI design | Data analysis | Machine learning | Diagnostics |
| Copywriting | CPR | Welding | Lesson planning |
Soft skills
Soft skills are related to your personality, people skills, and work ethic. Most of the soft skills you possess weren't taught to you but are natural results of your emotional intelligence and life experiences.
Verbal and written communication, confidence, and creativity are a few examples of soft skills.
In the workplace, soft skills will help you get along with your coworkers, work well on collaborative projects, and perform your day-to-day job responsibilities.
Many soft skills are transferable skills, meaning they can be applied in most industries.
Here's a list of examples of soft skills to feature on your resume and in your cover letter:
Examples of soft skills
| | | | |
| --- | --- | --- | --- |
| Networking | Interpersonal skills | Empathy | Curiosity |
| Observation | Negotiation | Decision making | Good memory |
| Persuasion | Critical thinking skills | Leadership | Mind mapping |
| Conflict resolution | Attention to detail | Independence | Collaboration |
| Problem solving | Creativity | Flexibility | Time management |
Hard skills vs soft skills — which are more important?
Recent survey results show that hiring managers believe computer skills will be some of the most important skills of the future.
However, responses also indicate that the rise of AI and automation will make key soft skills (critical thinking, adaptability, communication skills, and work ethic) even more important than they are now.
Whether you're a job seeker looking to strengthen your resume or an employee wanting to upskill before asking for a raise, adding both new hard and soft skills to your arsenal can increase your chances of success.
Compare your skills to accomplished professionals in your field to identify gaps in your skill set that might be holding you back.
How to choose the right skills for your application
Reference the job description as you write your resume and cover letter. Mention every hard and soft skill from the description that you have. The closer your skills match what's listed in the job description, the more suited for the position you appear.
To learn more about how to highlight your hard and soft skills, our career expert Eva breaks down everything you need to know about listing skills on your resume:
The best ways to develop your hard and soft skills
When it comes to growing your skill set or improving skills you already have, there are a few different routes you can take:
Sign up for a class
Websites like edX, Udemy and Coursera offer a wide variety of courses on different topics for all experience levels. Many of the courses are free to audit with the option to pay for a certificate at the end, making them a great option if you're on a tight budget.
Get certified
Enrolling in a certification program won't just help you gain new skills, it'll also look great on your resume. Do some research to find out what certifications are most desired by employers in your field and sign up.
Pick up a new hobby
Whether it's your hard skills or soft skills you want to develop, picking up a new hobby can help you achieve your goals. Want to improve your people skills? Join a hiking group, book club, or do another activity that gives you the opportunity to meet new people. Interested in taking your coding skills to the next level? Start attending hackathons.
Volunteer
Volunteering can be a great way to develop both you hard and soft skills at the same time. Volunteering often involves teamwork, so you'll be practicing your interpersonal, problem solving, and collaboration skills. Look for volunteer opportunities in your area that align with your interests and will allow you to expand your skill set.
Use apps to learn on-the-go
If you're trying to learn a new language (including programming), there are plenty of app available that make the process easier. Duolingo, Drops, Enki and Sololearn are just a few examples. Watching educational YouTube videos during your daily commute or lunch break is another easy and convenient way to grow your knowledge on almost any topic.
Regardless of what method you use to gain new hard and soft skills, remember to set clear, achievable goals and track your progress.
How to highlight your skills during an interview
The best way to highlight your skills during an interview is to use the STAR method. It's a method used to answer behavioral interview questions, and stands for:
Situation
Task
Action
Result
The STAR method is an effective way of demonstrating how your abilities have helped you excel in previous roles.
When asked common interview questions such as "describe a time when you encountered an unexpected challenge at work and how you overcame it" or "tell me me about a time when you had a conflict at work", answer by discussing a specific situation or problem you faced, the task you were working on, the action you took, and the positive outcome of your action.
For example:
I once encountered a customer who was unhappy with an item they bought. They demanded a full refund, but our store policy stated we could only offer store credit. As a representative of the company, it was my job to find a satisfactory solution to the problem. I listened to the customer's concerns and offered to bring up the issue with my manager. Through effective communication and by being patient with the customer, I was able to reach an agreement with them. In the end, they received a partial refund and store credit and now they're a repeat customer.
This applicant demonstrates how they used their communication skills to resolve a conflict in a way that ended up benefiting the company.
Another way to showcase your skills during a job interview is to ask strategic questions. If you've done your research before going into the interview, you should know enough about the business to inquire about specific projects or products the company is working on, expansion plans, or other developments.
Once you're on the topic, mention how your hard or soft skills can help the company reach its goals related to those projects. You'll come across as informed, competent, and eager to contribute to the company's success.
How to list skills on your resume and cover letter
To convince a hiring manager to schedule you for an interview, you must first prove you're a well-rounded candidate by putting your hard and soft skills in nearly every section of your resume. The same principle applies when you write your cover letter.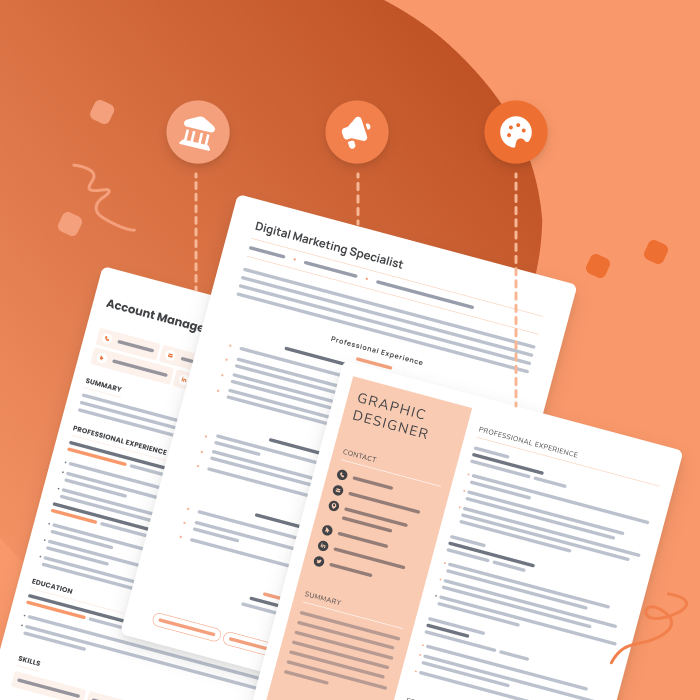 Not sure what your resume should look like? The best way to learn is by taking inspiration from resume examples written by other candidates in your industry.
Whenever possible, use examples and hard numbers to show you've used your skills to produce positive results in past roles.
Here are four tips to help you list your skills on your resume and in your cover letter:
Add your most impressive skills to your resume summary – The resume summary is the first part of your resume that hiring managers read. So, if they see the skills they're seeking here, they're likely to continue reading.
Prove your skills in your resume work experience section – Your work experience section is your best opportunity to provide context for your skills. Prove to employers that you know how to apply your skills in a professional setting by giving specific examples from your career and quantifying your resume bullet points.
List your skills in your resume skills section – When you write your resume's skills section, list relevant skills like certifications, language skills, and software expertise. The skills section is the only place on your resume where you can list skills without hard-number support.
Provide additional context in your cover letter – Your cover letter is your chance to go into more detail about your hard and soft skills and how they can benefit your future employer. Give examples of projects where you used skills your target employer is looking for.