The STAR method is a way for you to respond to interview questions like a pro. STAR forces you to think about four different aspects of an interview question, and ultimately helps you professionally answer that interview question.
We provide examples of STAR interview questions and teach you how to build outstanding STAR answers so you can land a new job.
What is the STAR method interview technique?
The STAR method interview technique (also known as the STAR strategy or the STAR approach) is a framework for responding to questions during an interview. This framework helps you break your response into four parts: Situation, Task, Action, and Result.
The STAR method is effective when answering behavioral interview questions (also called competency-based interview questions) because employers want to know how you'd behave or react in a specific situation. Applying the STAR technique during a behavioral interview gives employers more context about the:
Situation or problem you faced
Task you were involved in
Action you took to complete the task
Result or positive outcome from your actions
Using the STAR framework to answer each behavioral question also:
conveys to the hiring manager you're well-prepared for your interview
demonstrates how you've made positive contributions at your previous jobs
explains how you have the relevant experience and qualifications to excel in your target role
Two STAR interview method examples
Here are two examples of behavioral interview questions, plus our applicant's STAR answers. These examples should help you get an idea of what the STAR interview method looks like in action:
1. A STAR example addressing communication skills
Employers want to know you have several soft skills and can relate well to others, so this applicant's STAR answer demonstrates how their communication skills helped solve an issue: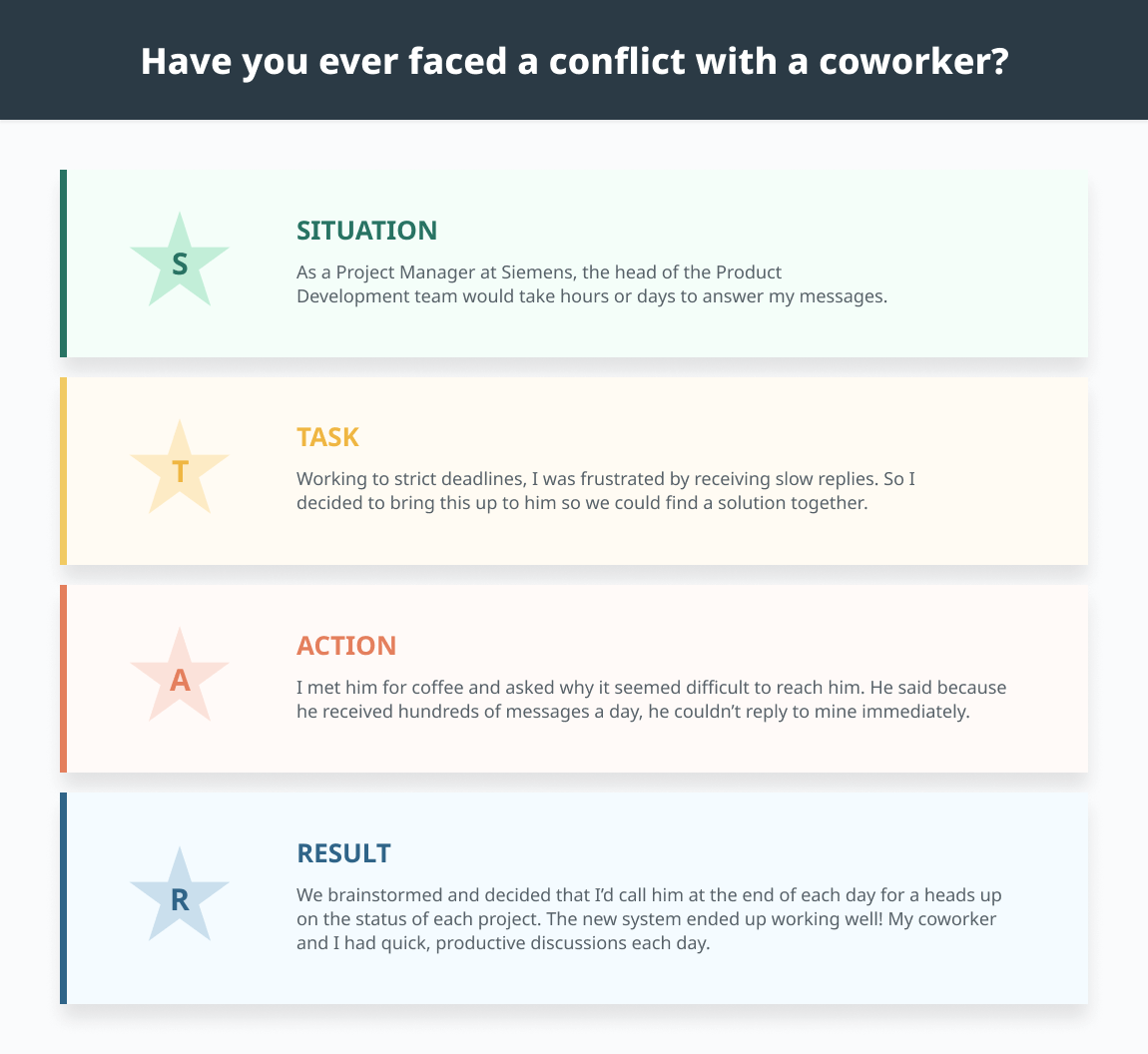 2. A STAR example describing time management skills
Other critical soft skills employers seek are time management skills and reacting well during stressful situations.
Here's how a candidate answers a behavioral question using the STAR format:
20 examples of STAR interview questions
Wondering what questions hiring managers like to ask during behavioral interviews?
We've compiled a list of the 20 most common behavioral questions from four categories so you can understand what transferable skills employers look for in their candidates and successfully prepare for future interviews:
STAR questions about leadership
Give me an example of a goal you set and how you achieved it.
What's your leadership style and can you provide some examples?
Describe a time when your leadership skills made a positive difference.
Tell me about something that challenged you as a leader and how it changed your way of thinking.
How would you respond if a team member came to you with a new idea.
STAR questions related to problem-solving and adaptability
Describe a time when you solved a problem at work that wasn't part of your job description.
Tell me about a situation where you had to make a difficult decision at work and what the outcome was.
Can you talk about a time when you adapted to a new change at work? What did you learn from it?
Tell me your thought process when you're trying to solve an important issue.
Tell me about a time when you did everything you could to improve a situation but still failed. What happened and why were you unsuccessful?
STAR questions linked to teamwork
Have you ever had difficulty working with a manager or team member?
What role have you played in team situations?
Describe what you'd do if a colleague wasn't doing their fair share of the work.
Tell me about the best experience you've had while working with a manager.
Talk about a time when you had to motivate your coworkers.
STAR questions connected to accountability
Tell me about a time when you made a mistake at work.
Describe a time when you had to meet a strict deadline.
How do you respond to constructive criticism?
What do you do when you're overwhelmed and stressed at work? How do you handle it?
How to use the STAR format during an interview
Ready to create STAR statements and make a positive impression on your interviewers?
Here's a great example of how to do so:
To break it down, here are five steps for producing memorable STAR answers during a behavioral interview:
1. Prepare your STAR examples before the interview
First, think of several STAR questions and answers a hiring manager might ask you during an interview. Consider writing a big list of STAR questions and answers a hiring manager might ask so you'll be better prepared for any questions that come your way.
This method is especially helpful if this is your first job interview and you're unsure of how to frame your answers.
Preparing your STAR answers in advance is helpful because you can:
reflect on your previous career highlights and accomplishments
think of personalized examples that communicate your top qualities and meet your target job's requirements
refine each example by removing unnecessary details
show confidence in your answers
Remember to relate your STAR answer back to the role you're interviewing for. For instance, make people skills the main focus of your STAR statement if an interviewer asks you to describe how you get along with others.
Here's an example of the first sentence of a STAR introduction that directly addresses the interviewer's question:
Tell me a time when you resolved a conflict with a colleague.
I liked working with my colleagues at D-link Technologies but sometimes we ran into minor issues because we weren't communicating clearly.
And because you're answering questions in a job interview setting, employers might prefer you to provide examples from your previous work experiences.
If you're a recent graduate or don't have any work experience on your resume yet, try thinking of examples where you exceeded expectations or learned an important lesson from these areas:
2. Begin with the situation or problem you encountered
Introducing your STAR statement clearly is essential. You're giving the interviewer relevant background information about your personal experience(s), and must guide them to think you're a good fit for their company.
Provide 1–3 sentences in each statement so the interviewer can accurately visualize the situation you're describing. Remember to be concise, and only include the most important details. Help the interviewer quickly understand the context, and they'll soon see you're a good communicator.
Try answering these questions when setting up your STAR statement:
What was my role at the time?
What situation was I a part of?
What was the problem or challenge?
Who were the people involved?
When did this situation take place?
For instance, here's a young applicant's short but clear description about a time they worked on a team:
Tell me about a time you worked on a team.
Situation: I enjoy working on a team. For example, I recently completed a Marketing group project with three classmates focusing on Consumer Behavior during my last year of college.
3. Describe the task you worked on
Employers want to learn about your responsibilities from previous jobs, and understand if those responsibilities qualify you for the position you're applying for. So explain your main task (or responsibility) to the interviewer by answering these questions:
What were my tasks in this role?
What goals did I need to achieve?
Who did I report to?
Below, our applicant uses one concise sentence to describe their task:
Task: I wanted to ensure my classmates and I put in the same effort and contributed equally to the project so we could all have a say in the project's quality, and ultimately our English professor would give us a higher score.
4. Explain the actions you took to complete the task
Because job interviews are competitive, communicating to employers how you're a proactive individual who takes initiative highlights your leadership skills and increases your chances of moving forward in the hiring process.
Here are some questions to ask yourself as you describe the actions you took to finish your task:
What steps did I take to complete my goal?
How did I solve the problem or challenge that I was facing?
Did I work alone or with others to complete the task?
Our candidate below directly states what they did to complete their task in three short but action-packed statements:
Action: I asked my group members for their phone numbers and set up our first meeting. I made a Whatsapp group chat so we could discuss our project more efficiently. I also offered to start a Google Doc so we could all easily collaborate with each other.
5. End with a positive outcome or result
Finally, complete your STAR story by describing your action's positive outcomes or results. For instance, talk about a lesson you learned or an accomplishment you fulfilled.
Using numbers and specific details such as percentages, money earned, or time saved is a great way to explain how you made a positive contribution to the situation.
Ask yourself these questions so you can provide an impactful, results-oriented statement:
What was the outcome of my actions?
Did I accomplish my task or goal?
What did I learn from this experience?
Here's how our candidate ends their STAR answer on a positive note:
Result: Because I took the initiative to get everyone in touch with each other through the group chat and Google Doc, it was easy for us to communicate and start brainstorming. We split our roles equally and met in person and online to work on our presentation. Our final project came together in the form of a Prezi slideshow and two interactive games. My classmates and I worked hard, and received a 98% score on our project!