Everyone knows it's important to prepare before an interview.
Maybe you look up some of the most common interview questions and prepare answers ahead of time, or you read up on some helpful interview tips like maintaining confident body language.
But, have you thought about what to do after an interview?
Every interview is a learning opportunity, and to make the most out of it you should ask the interviewer for their opinion on your performance (especially if you didn't get the job). That's why asking for feedback after an interview is so important.
Example email asking for interview feedback
To help you write an interview request email of your own, here's an example written by a candidate who applied for a business analyst position: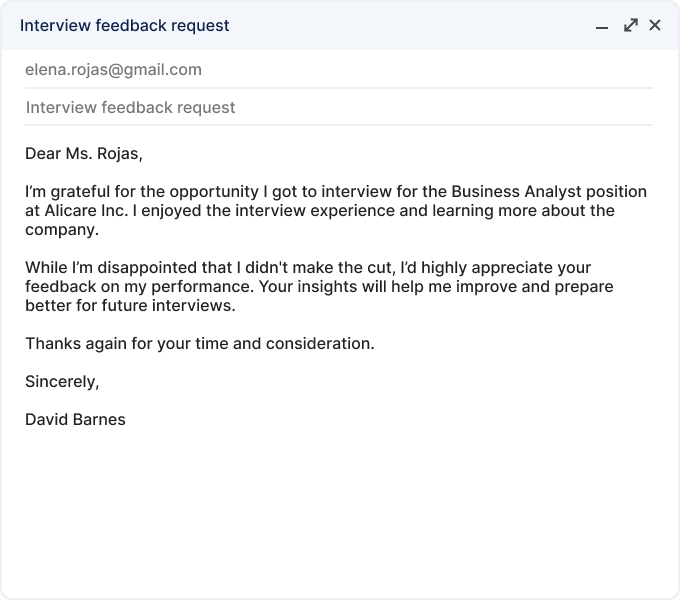 Why should you ask for feedback after an interview?
Here are the top reasons why you should request feedback from your interviewer:
1. To understand what you did well
Asking your interviewers for feedback after the interview will help you understand what different employers want from a candidate. This can help you walk into future interviews more prepared.
Additionally, the feedback you receive will give you insight into your value as a candidate, which can benefit you in other aspects of your career, like salary negotiations.
2. To learn how you can improve
It's likely that your interviewer has experience interviewing a wide range of candidates, meaning they can provide valuable information on how you can improve your interview skills.
Asking for feedback is an opportunity to identify areas of improvement so that you can work on them before your next interview.
Willingness to learn is also one of the best ways to get ahead in your career and something that sets good employees apart from great employees. There's always something to learn from other professionals in your field.
3. To express interest in the company
Even if you didn't get the job this time, another position might open up at the company in the near future. In this case, you'll want the employer to remember that you're interested in the position.
One way to ensure you make a memorable impression is to express passion for the company and a willingness to learn.
When you ask for feedback, interviewers see it as a sign that you're serious about the job and interested in understanding why you weren't the best match for the company at this moment.
4. To gain information on the competition
You might do everything right, from highlighting your top skills to acing tricky behavioral interview questions, and still get rejected because of the tough competition.
But every interview is an opportunity to gain information on your competitors and what qualities they have that employers are looking for. Asking for feedback is a great learning experience that can increase your chances of impressing employers in future interviews.
How to ask for feedback after an interview
The best way to ask for feedback is with an email. Here are a few tips on how to politely request feedback from an interviewer:
Use a clear, concise subject line
Avoid using a vague subject line that could result in your email being ignored. Make the goal of your email clear in the subject line by using a phrase that makes your intention clear.
Here's a good example of an interview request subject line:
Request for interview feedback
An interviewer reading this subject line will know instantly what the email is about.
Thank the interviewer for their time
Interviewers are busy people, so show your appreciation by thanking them for their time in your feedback request email (even if you didn't get the job).
This is a show of courtesy and professionalism and increases your chances of receiving a positive response from the interviewer.
Ask what you could've done differently
If the hiring manager ultimately decided to hire someone else, request input on what you could have done differently in the interview.
Your goal is to learn from an unfortunate experience and improve your interview skills. You can only do this if you make an effort to learn what areas you need to work on.
Keep your email brief
A brief email is more likely to receive a response than an email that includes unnecessary details and a long list of questions.
State your purpose for sending the email in the first line, and make it clear what kind of feedback you're looking for.
Be respectful
You're asking for a favor, so it's important to keep your language polite.
The interviewer isn't obliged to give you feedback, but you improve your chances of getting a reply by being respectful. Avoid making it seem like you expect an immediate and lengthy response.
Interview feedback FAQs
If you're still not sure about some aspects of asking for feedback after an interview, here are some answers to commonly asked questions:
Who should I request interview feedback from?
You should request interview feedback from the person you interviewed with.
If you went through several interviews or interviewed with multiple people, pick one person to send your request email to. If your interviewers find out you emailed all of them with the same request, they might think you're wasting their time.
When should I ask an interviewer for feedback?
You should ask an interviewer for feedback within 24 hours of the interview. This way, your responses are still fresh in the interviewer's mind and they can provide detailed feedback.
What should I avoid when asking for feedback after an interview?
Avoid trying to change the interviewer's mind when asking for feedback after an interview. This comes off as disrespectful and increases the likelihood that you won't get a response.
What if I was offered the job?
Even if you get the job, the interview process is still a learning experience.
If you got the job but still want to learn more about how you came across in the interview, you can send a follow-up email after your interview expressing gratitude and requesting details about your performance.
Other interview resources
Here are some additional resources to help you breeze through your next interview: